Breaking down Spain: Goals, goals, goals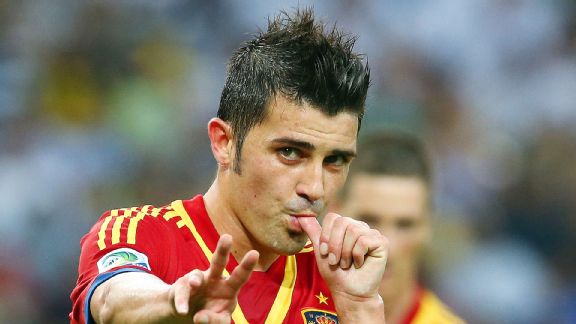 Ronald Martinez/Getty ImagesIf David Villa can find his national scoring touch again, all criticisms about Spain's scoring woes will stop.
Goals, Part I: Spain may be underrated

This week, it's all about goals. It always should be, you might argue. "A game without goals is like a Sunday without sunshine" is one of the most well-known phrases attributed to Alfredo Di Stefano. A cute one, too.

So, apparently, Spain are deficient in this area -- just as a lack of sunshine will leave you deficient in vitamin D, it seems that La Roja's "lack" of goals makes people irritated and forgetful in almost equal measures. There will soon be a spate of incidents in classrooms all over the world:

Teacher: "Where's the homework, kid?"

Kid: "Spain's inability to score masses of goals in qualification, compared to noted tournament-winners England, has made me so forgetful that the trigonometry and physics just ain't done, teacher-lady. Get over it."

The recent Da Vinci code analysis of Spain's scoring shortcomings was sparked by the revelation that, across Europe's World Cup qualification process, the reigning European and world champions are ranked 26th in goal scoring and 36th in shots on goal. Thus, obscured by the usual blizzard of "open mouth, do not engage brain" nonsense, begins the forgetfulness.

I mean, most of those who talk about these stats are like kids, or jackdaws: "There's something shiny -- I LIKE IT!"

At the top of the scoring charts are, in order: Germany, Netherlands, England and Bosnia & Herzegovina.

This is the Netherlands who, in the 2010 World Cup final, confused football with martial arts and thought that sufficient contact by their boots on Spanish bodies might win a technical knockout without the need to actually score a goal. The same Netherlands who, at the European Championships just over a year ago, finished bottom of their group with no wins, no points, two goals and five conceded. Spain keeper and captain Iker Casillas lifted the trophy that summer, by the way.

As for the Germans, Spain defeated them in the Euro 2008 final and the World Cup semifinal -- 1-0 apparently sufficient for victory each time, remarkably enough.

As for Bosnia and Herzegovina, I wish the nation success -- and it's great to see them overpower established powerhouses like Liechtenstein, Latvia, Lithuania and Slovakia with their 29 qualification goals -- but I don't think their case particularly humiliates Spain. In a group so weak that it should require only one team -- either Bosnia or Herzegovina to achieve qualification -- the side reaches the final match still in danger of finishing second to Greece.

Ditto England. Some minor causes for optimism during their Group H campaign but, again, their 31 goals have still left them in a position where only defeat to Poland in the last match might put them in the playoff.

So, those who assail Spain, who love to put the boot in, irrespective of some fundamental truths, begin their irritation and forgetfulness here. The avalanche of goals scored by these four European nations neither vaults them over Spain's recent achievements nor, in two cases, vaults them to World Cup qualification ahead of Vicente Del Bosque's side.

But this forgetfulness is repetitive. Those of the knee-jerk, one-eyed, bovine tendency began to bleat about Spain's "boring" style three years ago. La Roja qualified for South Africa by winning all 10 qualification matches and scoring 29 times. Yet in some quarters they were pilloried for looking a little stilted in qualifying from their World Cup group (reigning world champions Italy went home bottom of their group and England, free scorers with 34 goals in qualification again, returned home ignominiously having failed to play well even once, including a 4-1 thrashing from Germany). Spain won all their knockout matches 1-0, three of the four against teams that either tried to asphyxiate them defensively or kick them out of the tournament, but apparently 1-0 wasn't good enough.

Equally, the Greek chorus of wailers and gnashers gave us their usual "boring" guff during Euro 2012. Four years earlier the general consensus was that Spain's victory was "swashbuckling," "thrilling" and "a breath of fresh air."

This Spain-inspired forgetfulness showed itself when the commentators and social media geniuses dubbed the 2012 side "boring" despite the fact that Del Bosque's team scored precisely the same number of goals, 12, as Luis Aragones' side had in winning Euro 2008 "thrillingly." Just to dwell on the amnesia factor again, when Spain qualified out of their Italy-Ireland-Croatia Group in Poland and Ukraine 2013, they did so to a chorus of critical voices.

This despite the fact that, at that stage of the tournament, Spain were the team with the most goals (6) and the most shots on goal (61, an average of 20 per game). Plus, they had conceded fewest goals (1) and conceded the fewest shots at goal (an average of 6).

They also had most possession, the most time spent in possession in their opponents' half of the field, and the most passes. And, yes, sorry. There's MUCH more forgetfulness. Kids with homework to do, please take note here.

This week Spain are "fumbling, sterile and boring" because they've scored only 14 times in eight qualifying matches -- despite constantly playing against sides who pack 10 or 11 men behind the ball.

Oh? Really?

Since November 2006, Spain have won 43 games by a single goal. And there is no disproportionate swing toward the majority of those narrow results coming recently. In their earlier, younger, less injury-hit, more powerful and "thrilling" days, Aragones' and Del Bosque's teams levered themselves past Greece, Iceland, Scotland, Peru, Armenia, Peru and Iraq by ... a single goal.

What's happened, since 2006, is that Spain have found a winning mentality, matched it with great talent, visionary leadership, careful planning and, as they themselves consistently admit, some luck.

In tournaments when a rival wants to come out to play, Spain cut loose. Three matches against Russia and Italy proved that -- yielding three wins, 11 goals for and just one against. Even the two games against Germany -- Euro 2008 final and the World Cup semifinal in Durban -- were TKOs based on the attacking play and goal chances. On each occasion senior German figures, from past and present, noted that Spain's superiority merited a far greater winning margin.

What appears to me to be sinful of journalists, commentators, former footballers and coaches and, yes, the social media, is that all these things are forgotten AND their false "criticism" is heaped upon a playing system which has proved to be the most successful, most technical and most durable in the history of the game.

Rubbish is spouted about Spain's overemphasis on passing. We have to suffer willful "blindness" about challenge after turgid challenge when Del Bosque's tired and aging troops have to unpick packed defences and skip scything tackles. Could you really blame them for losing a little zip and sparkle?

All of this at a time when Spain's two key goal scorers, David Villa and Fernando Torres, have increasingly been suffering from injuries, loss of form, lack of playing time at their clubs, and the ravages of careers spent at the very top of domestic and international football.

Choose your equivalents of Torres and Villa in any international squad, from Germany, Holland and England to Brazil, Argentina and Italy. Now, imagine their appearances for the national team and their efficiency in front of goal being decimated by horrible injuries like meniscus surgery and a broken tibia, plus whatever else it is you want to argue that Villa and Torres have had to fight against over the last three years.

How would those other top nations fare? It's at least an interesting question.

In the context of no nation ever having produced the continental-world-continental hat trick of trophies, it wouldn't be radical to argue that many teams have figured out an effective, if knuckle-dragging, way of blunting Spain. Nor would it be radical to admit that Father Time is beginning to have his wicked way with some of those key players who have helped Spain carve opposition up over the last seven years.

IF this is a tournament too far and IF Spain don't win the World Cup, their achievements thus far stand unblemished. As does their style of play. For those who want only the jouissance without the foreplay -- go watch the DVD goal compilation at the end of the tournament. Kudos for knowing what you like and a dunce's cap for knowing nothing about football.

Spain hasn't just gifted pretty tournament-winning pictures over the last few seasons. It has taught the value of intelligence, bravery, technique, practice, team spirit, appetite and that rarest of things -- the tournament mentality.

Those who choose to obsess about their use of possession, their passing, and their degree of contentment at a 1-0 win if it puts them closer to a trophy -- and to ignorantly hack at them with these obsessions -- miss two facts.

When football's perpetual motion turns a couple of revolutions once more and this era is replaced either by extreme defence and counterattack, or by overemphasis on the tall, the strong and the powerful, you'll miss Spain. Miss their impishness, their intelligence, their excellence and their very patent love of the football.

Secondly, if the nations that fear they are suffering a skill deficit, that fear that a love of soccer is dying among their young generations, were to extract the basic tenets of this Spanish football era and apply them like balm to existing problems, the effect would, in due course, be magical.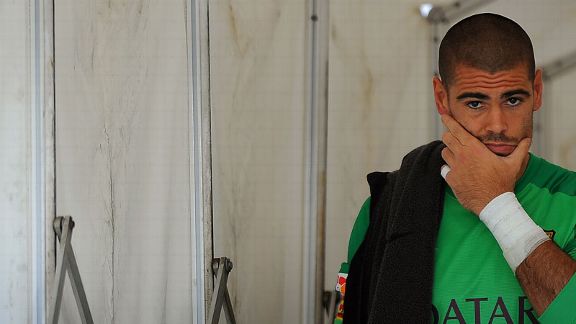 GettyImagesVictor Valdes wants to play abroad when his Barcelona contract expires.
Goals, Part II: The interesting case of Diego Costa

The rules say that Diego Costa is eligible to play for Spain; Diego Costa wants to play for Spain. Vicente del Bosque, in whom is vested the power to make the decision, not only values the footballer but has come to know and like the guy.

I hear those voices who say: I wish international football weren't constructed this way. Send your complaints in a stamped, addressed envelope to Sepp Blatter, FIFA, Zurich, Switzerland.

Costa's issue allows the debate about nationality, identity and the Corinthian spirit to rise up ... again. This isn't the place to list all the examples of sportsmen and women who've been able to "choose" which country they play for. But it is the place to say there has been a tidal wave of hypocrisy on the issue. Particularly from Luis Felipe Scolari.

During the Jack Charlton reign in charge of Ireland, they were an immensely entertaining story to follow and often successful beyond realistic expectations.

Irish fans and media delightedly used to boast that so long as some of their players had once visited Ireland, or even sipped a Guinness, they qualified for the boys in green. But maybe that version of the story was fine so long as we were only dealing with underdogs who were having their day?

From a purely personal and objective point of view, I have hugely enjoyed English cricket's recent domination of Australia. Perhaps there hasn't been a single "Diego Costa" among the England players, but a fair few of them were born or brought up elsewhere. The rules said they were eligible and the sporting spectacle which followed was fun.

Scolari's outburst against Spain seemed to me risible. He's not seen the need to select Costa himself. A squad place for last summer's Confederations Cup, following a terrific season with Atletico and a goal while winning the Copa Del Rey, and then just one competitive minute against any of Brazil's rivals, and the subject would have been closed. Costa would be a Brazilian Brazilian, not a Spanish Brazilian.

Big Phil wants him, he needs him? Well, good luck. Perhaps Scolari, the CBF and the prospect of administrative filibustering which might rob the player of the coming World Cup might tilt things back in the Canarinha's favour. Perhaps Scolari is just afraid that Costa could actually bring a few of those goal things which Spain just can't seem to score. Might make them a bit dangerous. No?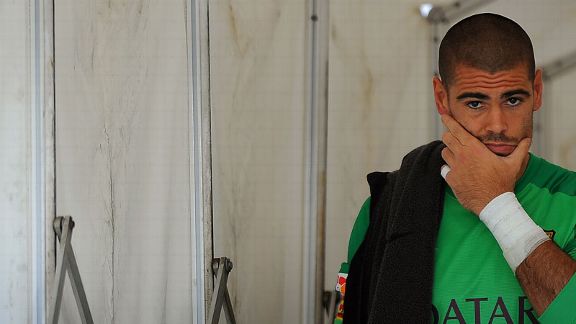 GettyImagesVictor Valdes wants to play abroad when his Barcelona contract expires.
Goals, Part III: Victor Valdes...

I'm certainly not boasting, having been very public about how underwhelming I found my first eyes-on experience of the 16-year-old Lionel Messi. But the first time I saw Victor Valdes play for Barcelona I was sure, utterly sure, that he was the instant remedy to their goalkeeping problems at the time. And over the years since I have resolutely been one of those who has repeated that Valdes' immense value towers above his few defects or occasional lapses. Not only has he been the prototype keeper for this team's style of play, but he is an outstanding footballer and a relentless warrior-competitor. Where he links to Parts I and II today isn't just goals -- he saves them; Costa and Spain score them (or don't). The link is that so many of us don't learn to value what is in front of us.

Now that Valdes has made it utterly clear that not only won't he renew for Barcelona but that he has forbidden his agent to even speak to the club on the subject, the outpouring of love from fans, media and club officials threatens to swamp the keeper. He'd actually like them to shut up and let him get on with making his last season at the Camp Nou a winning one.

Like Scolari with Costa, it's remarkable how sweet fruit becomes when it's forbidden. As most of football will suddenly feel about La Roja when this era has gone. Valdes has been immensely undervalued and underappreciated by just about everyone except his teammates. But what do they know? Right?