Understated Michu earns his Spanish reward
Sunday evening in Luanco, Asturias, and things aren't going well for Real Oviedo. Those supporters who have made the short trip to the small, 3,500 capacity Miramar ground are not enjoying this. It is over a decade since Oviedo were in the First Division. Now they play in Spain's 'Second Division B', the regionalised third-to-sixth division(s) made up of four twenty-team groups. They have even been as low as the 'Third' division, spread across seventeen groups nationwide: down where one man and his dog is not so much a phrase as an attendance.

Every other weekend, Oviedo attract more supporters than some games in the first division, where their fans believe they belong and where they have spent 38 seasons, more than in any other division. When they go away, like today, it is a reminder of where they are and where they should be. There were perhaps 1,500 fans at Miramar, two-thirds of them Oviedo supporters. But at least they are there at all: twice the club has been on the verge of disappearance and twice the fans have saved it. Still, they're desperate to escape.

The problem is that they call the Second Division B "the well" because it's easy enough to fall into but hard to climb back out of. Last season, Oviedo were defeated in the playoffs. "Volveremos," runs the typical song: "We'll be back, we'll be back, we'll be back again! We'll be back in the first division, we'll be back again!" Not playing like this they won't. A Diego Cervero goal gives Oviedo a very early lead but since then ... nothing. It's 1-1 and the team is not playing well. Whistles can be heard, a creeping irritation, fatalism. Not again.

And then, suddenly, the atmosphere changes completely. News filters through and it is good news; there are smiles, excitement. Miguel Pérez Cuesta has been called up to the Spain squad. And in the last minute Oviedo get an undeserved winner.

The chant "Michu seleccion!" was a demand, now it is a reality. "My dad told me about the reaction at Miramar," Michu tells the radio show Al Primer Toque. "There they are playing in a regional derby, drawing at Luanco and that happens ... when my dad told me I could hardly believe it."

But then Michu is an Oviedo fan and former player born in the city who describes leading Oviedo out as captain as one of the best moments of his career. When he was called up to the Spain squad he had to change his plans: on Sunday he'll be at the Federacion's HQ at Las Rozas, just outside Madrid with Iker Casillas, Andres Iniesta and Juan Mata; he hadn't expected the call and had arranged to be at the Carlos Tartiere watching Oviedo versus Avilés, just as he took advantage of the international break back in March to see Oviedo versus Zamora.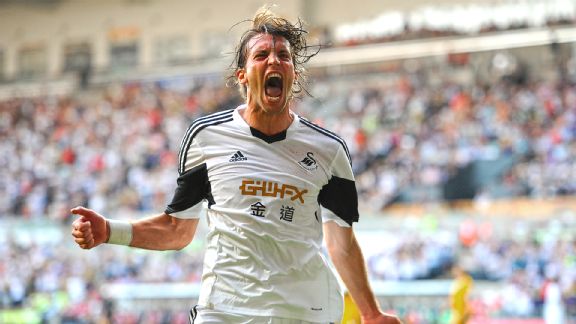 Stu Forster/Getty ImagesIt's hard not to love Michu, a humble man whose talent has propelled him into the Spanish side.
It is not just that he is an Oviedo fan that explains why they were so happy for him on Sunday: it is that they feel that he is one of them, that he has been there for them. Michu once turned down the chance to play in the First Division because the club giving him that chance were Sporting Gijón, Oviedo's rivals and when Oviedo found itself close to going out of existence last winter, like thousands of fans he bought shares. A lot of them. He was on the phone virtually every day, asking how the share-issue was going. Would they survive?

He understood what they were going through better than anyone. He has not just been there for them, he has been there with them.

On Sunday night, Michu rang his friend Diego to congratulate him on his goal. Cervero's response was predictable: you've just been called up to the Spain squad and you call to congratulate me? Cervero, the club's captain, played with Michu's older brother and with Michu too. Michu departed, but Cervero is still there. There is a picture in World Soccer magazine, from the summer of 2005. It shows Oviedo celebrating promotion from the Third Division to Second Division B. On the top of a pile of bodies is Michu. But promotion was followed by relegation and he departed for Second Division Celta de Vigo.

Michu was there when Sporting Gijon came in and offered him the chance to play in the First Division only for Michu to say no. An easy decision, you might think: for a player that good, there would always be another chance. In fact, the opposite was true: there was no guarantee he would make it to the top flight. An old cutting from the newspaper La Nueva España, included in an exhibition set up by the fans group Symmachiarii in the city, shows a very young Michu below the headline: "I'd like to make it as a professional footballer." He was not talking about anything more lofty than playing for a living and many thought that he was a fool for turning down the opportunity in Gijón but he says he didn't think he would be happy there.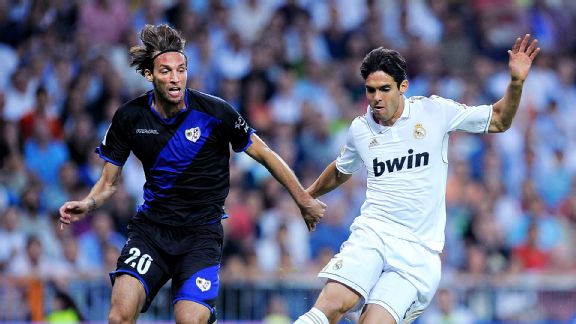 Denis Doyle/Getty ImagesMichu's brilliant spell at Rayo Vallecano helped put him on the map, but his history with Oviedo runs deep, as does Oviedo's love for him.
He wasn't much happier in Vigo, where things were not going well: a defensive midfielder, he was not playing often. Friends say that the timid smile that characterises him had gone. Confidence and continuity are two things every player needs but he got neither. He wondered whether he had missed his one opportunity, kicking his heels not the ball, and he sought the help of a psychological 'coach.' "That helped in those moments when you feel low," he admits. "I wasn't playing and I thought: 'bloody hell,' but you have someone telling you that you can make it."

Eventually, another opportunity to play in the First Division came with a free transfer to Rayo Vallecano, who were destined to fight for survival until the very last seconds of the very last game. Michu was a revelation, though: one day the coach Jose Ramon Sandoval put him up front in a training session and he scored five goals. He ended up scoring 17 goals in 37 games that season. "It's all about the confidence that the coach has in you: Sandoval really trusted in me," he says. "He realised I could do more damage further up the pitch."

Michu left for Swansea and scored 22 goals in 43 games, including one in the final of the league cup, helping the Welsh club to win their first major trophy in over 100 years of history. He was voted Player of the Year. He has already got five this season and when Swansea went to Mestalla a few weeks ago, they won 3-0. Michu was handed an ovation as he left the field. He provided the first and scored the second. The goal defined him: it was a counter-attack but one that unfolded with precision rather than pace, almost as if they attacked in slow-motion. The timing of the run was key.

Arsene Wenger recently likened Michu to Denis Bergkamp. It is some compliment. There is an intelligence in the way Michu plays: always simple, always releasing the right pass, happy just to move it on and move on himself. He slinks away from people's attention, almost hiding, ready to reappear at just the right moment. "I like the team I play for to dominate, to have the ball," he says. "And one of my most important characteristics is to surprise people coming from the second line." As Julio Cesar Iglesias put it in Marca: "Michu's call up to the Spain squad arrived like he arrives in the penalty area: unexpectedly."

It had happened because of an injury to David Villa, but many had demanded his presence before. He has made an impressive case: over 40 goals in the last two and a quarter seasons and the kind of player who can offer Spain something different, whilst also being able to do it their way too.

He had done it the hard way; it was not obvious that he would get there. His first call up has come now, at the age of 27. When Michu joined Swansea, Michael Laudrup, the club's coach, admitted that he couldn't believe that no one else had tried to sign him. Alex Ferguson admitted that he had not heard of him. He had cost £2m. The Swansea chairman Huw Jenkins says his price is now over 30 million pounds.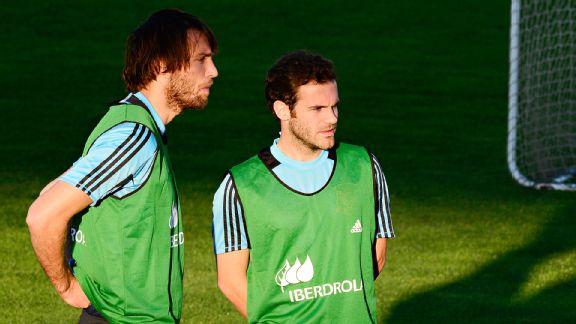 Javier Soriano/AFP/Getty ImagesHelping him assimilate to La Roja is Juan Mata, fellow Asturian and another graduate of the Oviedo youth system.
Michu talks about "humility and work" and it is not just a cliche. There's a kind of timidity, a shyness about him, that is blown away when he is on the pitch. Michu is unique in the Spain squad in having played in the country's Third, Second B, Second and First Divisions. Now he is in the English Premier League. There's something symbolic about his journey, something that defines him. This is a different kind of triumph. In the first few months that Michu spent at Swansea, the team trained in a local sports centre, players changing alongside everyday punters in the dressing room. "You see a dad taking his son swimming and you say hello; that [normality] helps bring everyone together," he says.

Before that he was at Rayo, the club that more than any other defines a tough, humble but gutsy working class neighbourhood fighting against the odds that Michu says it is impossible not to identify with. In Sandoval's office at the club's training ground a picture of Michu hung from the walls; in it, he celebrates a goal with the fans, swinging from the crossbar and shouting. "That's the image of this team," Sandoval said.

And before that there was Oviedo. His team, down in the third division where they played on little better than park pitches, in the mud. Now, here he is at the Federation's HQ ... to where, incidentally, he turned up a day early. "I'm just so happy, so lucky to be here," he said. No wonder they championed him back home. No wonder the mood changed at Luanco.

On Tuesday evening, Michu walked out of the Spanish national team dressing room at Las Rozas for the first time and headed down the slope to the training pitch. He was accompanied by Juan Mata, a fellow Asturian and another Oviedo fan and former Oviedo youth-teamer, but one who departed at fifteen before he got the chance to play for the first team. He had taken it upon himself to look after the new arrival. Mata warned Michu that the ball would fly around fast: this was another level. And it did too. At one point, Xavi Hernández sent a through ball the new boy's way. Michu controlled it with his first touch and with his second he scored.