A very Real dilemma in Madrid
All the ingredients are there for a crisis -- or at least the Real Madrid version of one. They lash out the most money on signing a player in the history of football and by mid-October Gareth Bale will have spent far more time injured than playing. They spend well over 150 million euros on new squad members and a new coach but, thus far, look disheveled despite the new grooming. In five out of eight league games Madrid have conceded the first goal, they are five points behind joint Liga leaders Barcelona with just one game between now and the first Clasico, and they've lost their second Madrid derby in succession having previously not been defeated by Atletico since 1999.

This is a club that has only won four of the past 11 Spanish titles and hasn't been to the Champions League final for approaching 12 years -- the second-longest drought in their history. They can be excused some nerves. But I believe, analytically, there are evident green shoots of spring, even approaching winter, and that Madrid can aspire to rude health over the coming months.

These are five things that either need correcting or that offer light at the end of the tunnel.

1. Carlos Ancelotti has a dilemma matching personnel to formation

It has unquestionably added to the difficulty in bedding down a relatively new, relatively young team that the coach keeps changing formation. For a number of weeks it seemed clear that Ancelotti was sure that 4-4-2 was his tactical starting point. You can understand the logic. Two wide men on the edges of midfield, say Bale and Angel Di Maria, two of the club's plethora of central midfielders (Xabi Alonso, Sami Khedira, Luka Modric, Asier Illarramendi, Casemiro) doing the ball-winning, defence protection and organising between them, plus Cristiano Ronaldo and another striker (Karim Benzema, Alvaro Morata) up front.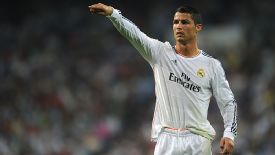 APCristiano Ronaldo doesn't enjoy playing centre-forward.
But Bale hasn't materialised, Ronaldo doesn't enjoy playing centre-forward and this formation doesn't provide the best platform for the wonderful Isco.

There have been some matches when the principal structure has been, like in most of the previous three seasons, 4-2-3-1. In this way Isco can play either wide left or in the No. 10 position behind the striker. Ronaldo can play wide left with Isco at the No. 10 spot and either Di Maria or Bale (when fit) on the right. Benzema or Morata the striker. The main problem with this idea has been Alonso's absence. Perm any two from Modric, Khedira and Illarramendi and there appears to be too little defensive coordination, too little ball-winning, too little organisational intelligence without Alonso.

Each of the other players has his strength, and Modric is in particularly good form, but in Alonso, Real Madrid get all their skills plus extra vision, calm, experience, control, grit and intelligence.

So now there has been a joint move, between staff and players, to try a 4-3-3 structure. Ronaldo left, Di Maria right, Benzema down the middle. Perm three midfielders from Khedira, Modric and Illarramendi and all seems quite positive. Whether that style suits Isco is another thing. His football skills are beyond reproach. His understanding of balance, timing, use of space, his instinct for goal and his natural comfort on the ball are all outstanding. He averages a goal every other game for Madrid which, at this age and in a first season, ain't bad.

But right now Isco neither looks the paciest footballer nor the one with the engine to run box-to-box over and over again as is demanded in this role. The closer to goal he is, the more damage he does. Perhaps when Alonso returns, Ancelotti will revert to 4-2-3-1, perhaps it will be easier to accommodate Isco plus Alonso and Modric or Alonso and Illarramendi in a 4-3-3 and still get the best out of this superb young talent.

Whatever, the manager needs to find solutions, apply them, make the players believe in them and then impose a pattern that the team can grow accustomed to and apply automatically week after week. The less consistent the formation, the more inconsistent the results and performances will continue to be.

2. Defence is the best form of defence.

There seems a clear profile of Real Madrid's best back four, and it is Daniel Carvajal, Sergio Ramos, Raphael Varane and Marcelo. Above all, especially if Ancelotti insists on rotating goalkeepers Diego Lopez and Iker Casillas, the defence in front of them needs to move as one. When to press up, when to prepare for a counterattack against them, which defensive positions to take up when a Real Madrid move breaks down, when to step up for offside, who is the first to jump for defensive headers, and whose is the voice of command -- there is a plethora of intricate, finely tuned decisions that need to mesh if a back line is to become stingy.

I don't want to be hypocritical here because I've previously argued that Marcelo's decision-making about when he is a "winger" and when he's a left-back, plus his occasional lapses in how many kilos he carries, can make him a point of attack for the best opponents Real Madrid face. I'm not sure he's shaken off all those tendencies. But right now there is a deficit of leadership, aggression and will to win in this group. Currently trim and athletic, Marcelo fills that gap. His football has always been full of invention and talent going forward. How his competition for this position, Fabio Coentrao, starts ahead of him is a complete mystery. Since getting fit again, the Portuguese is playing like he doesn't really want to be at Madrid. Marcelo is now significantly more important than Coentrao at left-back. Varane is a gem of a defender, calm, quick powerful and accomplished in charge of the ball. He's the ideal counterpoint for Ramos and, if on full form, worth consigning Pepe to the bench.

That Ancelotti is attached to Alvaro Arbeloa makes sense to me. A warrior, quick, aggressive, brimming with will to win -- there's a reason he's held on to his starting place throughout Spain's last two tournament wins. However, Carvajal appears to be at that moment in his career when, if given a stretch of nine or 10 straight games, he'll make the right-back position his own. Again, he is aggressive in a sporting sense, bringing something that Madrid have lacked since the best days of Michel Salgado, a terrier player who will snap and harass and annoy the opposition's left-sided player into submission and then double the damage by galloping forward with the ball. Carvajal has already proved he likes to burst forward, that he uses the ball pretty well when he's high up the pitch (see his goal assist for Gareth Bale against Villarreal), and that he has good stamina. It's his time and he'll bloom if shown the coach's confidence.

3. The Factory has produced the goods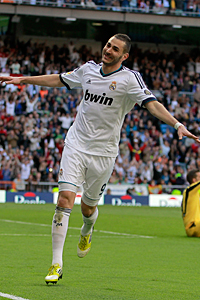 APKarim Benzema has not had too much to celebrate this season.
Perhaps some will want to make a case for Paco Pavon or Raul Bravo (be my guest) but I'd say that not since Casillas broke into the first team 14 years ago has a kid from the Real Madrid youth system, La Fabrica, or "The Factory," truly established himself as a first-choice starter and stayed in the team during a successful era. The club's system produced and wasted Juan Mata, Roberto Soldado, Alvaro Negredo, Borja Valero and needed to buy back talents such as Diego Lopez, Carvajal and Arbeloa. Now it appears that they have three gems: Morata, Jese and Nacho. The latter has made his debut for the full Spain side and looks a far, far better bet as Marcelo's left-back deputy than Coentrao. But it's the two strikers who offer Real Madrid some instant positives in the midst of the current turmoil.

Once again the spotlight falls on Ancelotti. Between the preseason and the beginning of La Liga and the Champions League, Karim Benzema commenced his first season in Gonzalo Higuain's absence with decent numbers in goals and assists. But from the beginning he has also contrived to produce comedy gold in how to miss glaring chances, he's had an on-pitch row with Pepe for not working hard enough, and he's been regularly booed or whistled by the Bernabeu crowd. The players like him ("Karim is a real worker," Varane has said) and when he was finally substituted in the home game against Getafe, they rallied around him, clapping him, patting him on the back and urging the fans to applaud him off. As far as squad spirit goes, these are healthy signs.

But the best in the business, Sir Alex Ferguson, always argued that one of the main reasons he kept on winning was that he was happier to grasp thorny problems more quickly and more resolutely than other managers. Ancelotti take note. Benzema's goals have dried up in the league and it has become imperative for Madrid to start taking the lead in matches rather than always having to mount a fightback. Morata has shown that he's powerful, confident, assured in front of goal, able to play on either wing if Ronaldo goes down the middle and, what's more, his presence ignites the fans.

There is a time for all ideas to come to fruition and this is his. Benzema is likely, given his clear pedigree, to get a good number of goals and games for the club this season but he should already have been relegated to the role of impact sub so that Morata can start a slew of matches in sequence. Take away his age, take away the fact that he's home-bred, take away the fact that the crowd are baying for him and just watch the comparison between him and the Frenchman in how they are playing. Morata is the clear choice, and the one who's likely to get goals.

As for Jese, he's like a Tasmanian devil. Open the box, let him out and he's all fizzing energy, pace, direct running and powerful shooting. Still an impact sub, you'd say, but one to use earlier in matches ... and more often.

4. We have to talk about Xabi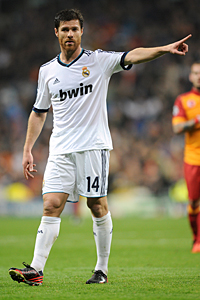 APXabi Alonso has been a big miss in the Real Madrid midfield.
It was evident throughout 90 percent of the Mourinho years that if Madrid used the 4-2-3-1 formation and Alonso was absent, there was something of the headless chicken about the team. He's lived in an age when all the international kudos has rained down on his fellow Spanish internationals Xavi, Andres Iniesta, David Silva -- the cherubic conjurors of heavenly football. But nobody who appreciates the game can have failed to spot this player's confirmed stature as a modern Spanish great. Alonso is a hard-nosed player, serious, intense but a terrific reader of the game, very smart about which positions to take up, thorough in his short passing and excellent in long passing.

It's not a criticism of Madrid that they miss him when he's absent. There aren't very many Xabi Alonsos out there. But now that the doctors and physios are speculating that he might return to action in the Malaga match, one week ahead of the Camp Nou Clasico, there's going to be a massive amount of weight on his shoulders. The team needs him, but this is a return to duty after over four months out and he'll need time to regain match tempo and match sharpness. Moreover, if he regains both of those and stays fit, his impact on Madrid's season is bound to be notable.

All of which makes the fact that he's out of contract at the end of this season a turning point for the club. Given the purchases of Modric, Illarramendi and Casemiro in the past two summers, Madrid aren't giving off the impression that they expect to keep him. And at Alonso's age, perhaps the smart thing for him to do is land an enormous payday by reuniting with Mourinho at Chelsea on a freedom-of-contract move? At any rate, either Madrid have a well-kept contract-renewal secret up their sleeves or they need to be looking hard at how this midfield has coped without him, and how they might do so from June onwards.

5. Ancelotti is planting seeds in scorched earth.

I'm a disciple of the Mircea Lucescu way of thinking when it comes to Jose Mourinho -- he's a ruthless, winning coach with a clear line of success to point to, yet he's a hard act to follow. Lucescu, once Inter coach but in charge of Shakhtar for 10 years now, took a recent look at Rafa Benitez's success at Napoli and reflected, sympathetically on the Spaniard's brief time at Inter. His assessment was: "Benitez's problem was that he took over from Mourinho, and that is pretty much an impossible task for any coach. It's like Mou 'brands' his players and then squeezes every last drop of juice out of them. That's how he wins everything. Anyone following the footsteps of the Special One has a struggle on his hands. Ancelotti will be going through that right now at Real."

I think that's true. There remains ill feeling between certain players following Mourinho's reign; Higuain was absolutely determined to leave because of his two seasons playing one game on, one game off and, for my money, Casillas is benched because the former coach unnecessarily had a bee in his bonnet about him, and now Diego Lopez isn't giving an inch. Alonso's injury might have been treated sooner had he not been required to play constantly -- but that's a moot point.

What's not in any doubt is that after Mourinho left Porto they burned through four coaches in the next two years. Chelsea did precisely the same, and so did Inter. Now perhaps Victor Fernandez, Co Adriaanse, Avram Grant, Felipe Scolari, Guus Hiddink, Benitez, Leonardo and Claudio Ranieri are all duds ... but I don't think so.

There is a post-Mourinho effect and while there's absolutely nothing wrong with him squeezing every last drop of mental and physical effort out of his players while they win everything in sight for him, that's not the way it ended at Real Madrid. The burnout affected training and team morale, and Los Blancos kissed goodbye to the three big trophies in pretty traumatic circumstances. Ancelotti has some intense matches coming up, two against Juventus from which four points would seal group domination and put the Champions League to bed until February. Then there's the Clasico. A point at the Camp Nou married to four from the Juventus ties and those who are wearing brown trousers right now, or gratuitously hammering the beginnings of this Ancelotti era before he has all his resources to hand (Bale, Alonso) will need to calm down and let the man do his work in peace. Over to you, Carlo.