Spanish clubs bring the magic in UCL play
A couple of years ago, Bayern Munich press chief Markus Horwick told me a good wee story about Sir Alex Ferguson.

The year is 1983 and Bayern have just been paired with the relatively little-known European force known as Aberdeen FC in the quarterfinal of the European Cup Winners' Cup. Horwick had just been appointed as press officer for Bayern, one of the first such appointments in the Bundesliga, and the club sent him to glean every last possible piece of information about the Scottish Premier League club that was managed by some guy called Ferguson.

Back then, Aberdeen trained on the hard, red gravel of their match-day car park just outside Pittodrie Stadium. So ahead of the first leg in Germany, it's there, in the pouring rain, that Horwick is standing pressed up against the railings watching Ferguson's team train one Friday morning. Camera in hand, his task is to note formations, style of football, take pictures... dare to ask for a few interviews if possible.

Seeing this, Fergie is part bemused, part amused. Walking up to the small, young, bedraggled man who is being soaked by the cold rain and buffeted by the wind blowing in off the adjacent North Sea, the Aberdeen manager pretty much says: "Who the hell are you … and what are you up to?"

On hearing that this was the informal "spy" from the mighty Bayern Munich, the Scot's demeanor changed instantly. Horwick was told he was not only welcome, but that Fergie would make sure every player would be made available to chat to him and that he could get as much information as he wanted -- Bayern were welcome at Aberdeen.



"How much longer are you here for?" Fergie enquired, and was told that Horwick's duties included his getting the bus or train down to the next day's match against Celtic in Glasgow and filing a report about how that game went.

"So you haven't fixed your travel yet?" came Fergie's follow-up inquiry. On hearing that the bold Horwick hadn't done so, it was immediately made clear that he'd be invited to travel down with the Aberdeen players. Guest of honour. "Just tell me which guest house you are in and the team bus will be outside waiting for you at 8.30 in the morning tomorrow..."

Amazing. Different times.

It's a neat payoff to the story that Ferguson's Aberdeen side knocked Bayern out of the tournament 3-2, with the winning goal coming from a trick free kick in which current Scotland manager Gordon Strachan and teammate John McMaster stood over the ball and pretended confusion by each running up to take the kick, half-bumping into one another and exchanging heated words. The trick was that the wall and the defenders marking in the box would briefly relax but Aberdeen's strikers wouldn't -- in this instance, the lofted free kick, taken the instant that Bayern thought McMaster and Strachan were having a row, ended with substitute John Hewitt scoring the winning goal en route to Ferguson's team subsequently beating Alfredo Di Stefano's Real Madrid in the final.

The anecdote is partly helpful in reminding those of a younger persuasion that European football was, once, a bagful of surprises. No Internet, no handy video cameras for scouts, no 24-hour football channels, no nonstop flow of live football matches from every nation in the world if you so choose. Scouting was more perilous and more haphazard, and very often opposition teams could present huge surprises in tactics, lineups and squad numbers.

These days, and for some time, football bears no relation to those days. Only the inept don't know their opponents inside out. There are now computer programs that can tell you what the Addis Ababa Wanderers full-back had for breakfast two weeks ago and at what time he habitually takes his ferret out for a walk in the park.

There is so much information out there that it has narrowed the gaps. Good teams, those that have established they play a particular way and that carry the responsibility of winning all the time -- Bayern, Milan, Manchester United, Juventus, Barcelona, Real Madrid and their ilk -- find themselves planned for and defended against in the most detailed, most effective manner.

It can be utterly stifling, which is partly why three-quarters of Spain's Champions League performances this week were so interesting -- uplifting, even.

Francisco Leong/AFP/Getty Images Diego Simeone's free kick trick worked wonders for Atletico, much as it did for Argentina back in 1998.
Atletico's special comeback

There is a huge premium these days on invention and creativity, the spark of absolute excellence -- genius, even -- that can separate an elite team from a decent (or even pretty average) side that is extraordinarily well-drilled and motivated. When Cesc Fabregas spoke on Monday, in complimentary terms, about comparing Celtic manager Neil Lennon with Atletico Madrid manager Diego Simeone, he was drawing on themes that united the clubs' playing styles and not just the intensity of the two managers.

Lennon has shown across three meetings with Barcelona that he finds, assesses and applies football information very well, indeed. The Scottish champions have now made life intensely difficult for their Spanish equivalents in those three meetings over the last 12 months.

As Cesc pointed out, Simeone shares not only intensity, drive, passion and bursts of fury with Lennon, but also a massive hunger for the game and its glories. Equally, Simeone's team -- albeit with some fabulous footballers who elevate Atletico above Celtic's current level -- still works, harries, presses and makes life difficult for opponents, just as Lennon's men do.

But it was a moment of thrilling, clever, daring invention from Simeone and his assistant "Mono" Burgos that caught my attention this week and linked three of the performances from La Liga's representatives in the Champions League. Having trailed 1-0 at Porto, Atletico came back to win 2-1. An immense result, particularly off the back of a draining Madrid derby win. The clinching goal was a thing of beauty.

From a free kick within shooting range of the Porto goal, Arda Turan "hid" behind the Porto wall, as if he was going to try to muscle his way between two of the home players in the wall in order to allow Gabi to shoot directly at goal through that nefariously gained gap.

Not at all. As Gabi ran up to take the kick, Arda ran along the back of the Porto wall without their knowing what he was doing because, naturally, their backs were turned to him, and he appeared in full sight of everyone and just stepped into a little gap of space to the left hand side of Porto's defensive barrier. Gabi simply passed the ball to him, and Turan swiveled and crashed the ball over Helton for the winning goal.

On the touchline, Simeone exploded into a manic run and celebration that ended with his leaping fully into the arms of the man-mountain Burgos and holding on as if he'll stay there forever. The two men celebrated similarly when they first used that exact free-kick strategy for Argentina when knocking England out of the 1998 World Cup. Back then, it was Gabriel Batistuta running over the ball and Juan Veron sliding the ball to Javier Zanetti, who'd been hiding behind Darren Anderton in the England defensive wall as David Seaman prepared to try to repel the Argentinian free kick just before halftime, in a game England led 2-1 at that point thanks to Michael Owen's wonderful, attention-grabbing goal.

Simeone and Burgos just dusted the trick down, taught their Atletico squad what it was they wanted, and produced the winning goal in Porto. It was a moment that pushed the Spanish cup holders ahead of their Portuguese hosts in the group. In fact, they're top now and also earned an extra 500,000 euros -- the difference between drawing and the 1 million euro win bonus.

But the satisfaction of that Simeone-Burgos embrace was not about that, it was about coming up with an inventive moment, a spark of the special.

Just what Angel Di Maria produced, too, the following night.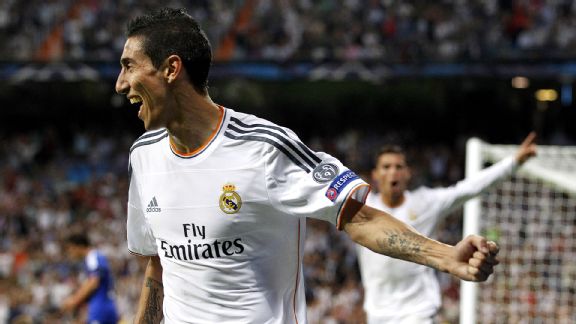 Angel Martinez/Real Madrid/Getty ImagesAngel Di Maria's absurd bit of ball skill was a highlight of an otherwise expected Real Madrid performance.
Real romps thanks to its Angel
OK, Real Madrid's processional win over Copenhagen was expected. It also wasn't a top-quality performance. But it wasn't bad. It drew on many of the things that the demanding Bernabeu crowd expect: hard work and the promotion of talented young players like Raphael Varane, Dani Carvajal and Asier Illarramendi.

But it was Di Maria who produced the spark. His moment of brilliance might be something we see from time to time, but it's still thrilling to watch it produced in full flight and end in a goal.

The Argentinian winger is very, very left-footed. The message that it's all right to be totally dependent on one foot when you are a professional footballer isn't the theme of this column -- but if you are so good with it that you can bend it around the back of your standing foot in order to complete a physical Mr. Twister in full flow and cross the ball for Cristiano Ronaldo to head home? Well, that's worth the fans' ticket money. And it patently took Copenhagen completely by surprise.

What Di Maria did, snaking that left foot behind his right leg and lofting a perfect cross ball in front of the goal, is called "Una Rabona." Strictly speaking, to do a "rabona" is to play hooky from school -- which might (but probably doesn't) explain how this particular trick got its name. Because Di Maria evidently wasn't in class when his peers were being taught how to use their right boot!

Nevertheless, when the move began with a perfectly timed Benzema back-heel and the actual assist was as fabulous as this, it's the cream in our Champions League coffee.

Then there's Cesc Fabregas. During a terrifically difficult and points-threatening night in Glasgow against Celtic, the Catalan produced an absolutely towering goal.


Barca stood, Cesc delivered
When Fabregas was at Arsenal, part of the appreciation he won from the British footballing audience was that he had some archetypal British footballing qualities: a ball winner, aggressive, smart and capable of working from box to box -- an on-pitch general. A leader.

His own preference would be to be play in creative midfield, occupying the place Xavi now has in the Barcelona middle three. But a mixture of Pep Guardiola, Vicente Del Bosque and now Gerardo Martino has produced their "invention," and in many senses Fabregas is now this breed of "false" No. 9 player. Able to score, create assists, hold the ball and act like an out-and-out striker, but smart and technically gifted enough to drop very deep and operate in the thoughtful, creative role that we often call "the No. 10" -- a role you'd associate with the likes of Alessandro Del Piero, Michel Platini and Francesco Totti.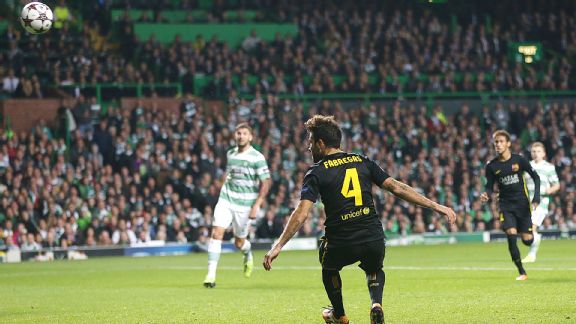 Ian MacNicol/AFP/Getty ImagesThe degree of difficulty on Cesc Fabregas' game-winning header was extreme. So too was its importance to Barcelona.

Because Celtic captain Scott Brown was sent off for kicking out at Neymar, because Victor Valdes needed an incredible reaction save to stop Celtic taking the lead, and because Charlie Mulgrew missed an open goal with his header, I think the absolutely immense nature of Fabregas' goal has been somewhat missed.

His run to connect with Alexis' cross was so clever, moving one way and then dropping off in another direction. And his header, put back over the gigantic frame and arm-reach of Celtic goalkeeper Fraser Forster, all while Fabregas was falling backwards -- well, that was just remarkable.

We live in an age when every fan can see pretty much every team on television and the Internet. There are precious few secrets if you want to study. But what we all love, what fans and sponsors pay for, and what even the very best opposition scouting can't prevent, is when the great stars produce either planned or improvised moments of complete invention. The stuff that makes us leap off our seats, cough up the beer and pizza in surprise, and talk animatedly all the next morning about what we've seen.

This week, three Spanish clubs provided three vintage moments, as far as I'm concerned. As far as Real Sociedad goes, the part of their Champions League campaign they are going to have to stop inventing is ways to consistently allow their opponents to score either just before halftime or just before full time. It won't do.

Back to the drawing board, chaps.