Hate him or despise him, Diego Costa's a star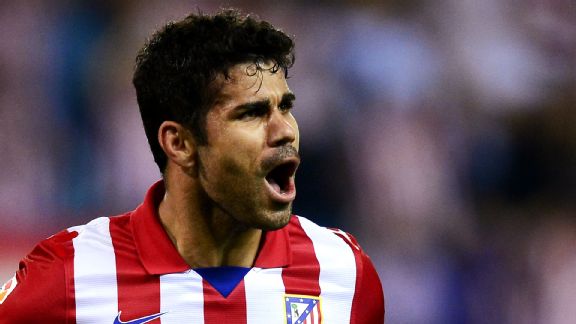 Javier Soriano/AFP/Getty ImagesDiego Costa's largely unloved, but his form for Atletico demands respect.
You know you're doing something right when the best international team of all time tries to sign you up.

Last week, the Spanish Football Federation sent a formal letter to FIFA asking for permission to call Diego Costa to the seleccion even though he is a Brazilian. They did so before Costa's standout performance so far this season, but they had seen enough already. Here is a man who could improve the world and double European champions. "He's playing very well," Spain coach Vicente del Bosque said on Monday night.

That's an understatement. On Saturday, Diego Costa scored the goal that saw Atletico Madrid defeat Real in the league for the first time this century. The 1-0 victory put Atletico joint top of the table with Barcelona, having won seven out of seven games -- the best start in the club's history. They're unbeaten in 10 competitive games across the league, Champions League and the Spanish Super Cup, and sit five points clear of their city rivals. They had waited 14 years and 25 matches to defeat Real, winning the Copa del Rey final at the Bernabeu in May. Four months later, they were back and they did it again.

- Ball: Atletico's joy compounds Real's flaws

Costa scored in the Copa final and again in the league in September. It was his eighth goal in just seven league games this season, putting him level with Leo Messi, and there was something familiar about it. Koke's clever pass released Costa, who opened up his body and slotted smoothly past Diego Lopez; the top assist provider and the top scorer had combined once more. Of Costa's past 17 goals, 11 have been provided by Koke.

Furthermore, Costa has now scored in every league game this season. His record at this stage is as good as any of those boasted by the illustrious list of Atletico strikers before him: Diego Forlan, Sergio Aguero, Radamel Falcao, Fernando Torres, Christian Vieri, Jimmy Floyd Hasselbaink ...

It is also better than anything he has produced before. Costa has scored a goal every 77 minutes so far this season and is only two goals off his best-ever season total: the 10 he scored last year. His league goal-scoring totals going back six seasons in Spain read: 10, 9, 6, 7, 9 and 5. Two of those seasons were in the Second Division. He has played at Celta, Albacete, Valladolid and Rayo, all of them on loan, none of them the most glamorous of locations.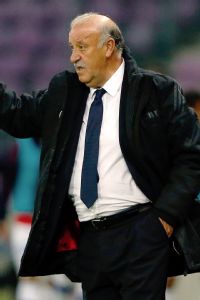 REUTERS/Denis BalibouseVicente del Bosque would love to call Costa up to represent Spain, but will it happen? And would it be the right move?

As such, Atletico Madrid were not entirely sure. This summer was the first time in six years that he knew where he would be playing; he turned down a move to Liverpool to continue at the Calderon. A cruciate ligament injury prevented him from moving to Turkey in 2011. Safe to say that he's done it the hard way.

But if Atletico were not always sure, coach Diego Simeone was. In Costa, he saw a player in his own image -- tough, aggressive, determined, clever, tactically astute and streetwise. Simeone brought him back from loan at Rayo and, he admits, then watched Costa tear it up in training. He was excited; this guy could make some difference in the first team. He has too.

The departure of Radamel Falcao, Atletico's top scorer with a hugely impressive 28 goals last season, appeared to be a disaster but Costa has taken a step forward. The more important he has felt, the better he has become. Sensing this, Simeone has made him the central figure, while David Villa, Spain's all-time top scorer this summer, has so far played a supporting role. Atletico play for Costa now; before, he was the auxiliary. "He's such a good player. That's why we play the way that he needs," says Gabi, the captain.

There was already a glimpse of his impact last season, a hint that Atletico could face life without Falcao with optimism. Costa got 12 goals in all competitions since December, compared to just three before that. Though he was growing into the role, this run of form still comes as a surprise. So does his age.

Look at his record -- Sporting Braga and Penafiel in Portugal then Atletico, Braga again and a string of loans around Spain -- and it feels like he has been round longer.

Look at his face -- brooding, heavy-browed, castigado or "punished," as the Spanish phrase has it -- and it feels like he must be getting on a bit. In fact, he is only 24, still improving and maturing. For the first time, he feels settled and comfortable.

Costa is a tough, aggressive player. One of the words that is often used to describe him is "jailhouse." He winds people up and gets wound up back; as one newspaper put it, he has "arms like a Swiss Army Knife." He never pulls out of a tackle, he bullies defenders and he doesn't mind pulling a dirty trick or two. He is good at what in Spain is sometimes called "the other football." Costa came into this season having already picked up 35 yellow cards in his career -- only five players in the league have committed more fouls than him this season.

On Saturday night he went nose-to-nose with Diego Lopez, the Real goalkeeper. He then confronted the referee too, Arda Turan sprinting across to drag him out of trouble. But Diego Simeone claimed afterwards that he was not worried about Costa getting a red card. "Diego handles those situations well," he said. And del Bosque was quick to insist that Costa's character would not be a problem for Spain either. Besides, on Saturday, Costa was also right. Yes, he appeared to be involved in every confrontation, forever looking for trouble, but trouble comes looking for him too. If it seeks him out, it found him; he won't hide. And each time he complained on Saturday he did so with some justification; he was more victim than aggressor. This season only Neymar has been fouled more.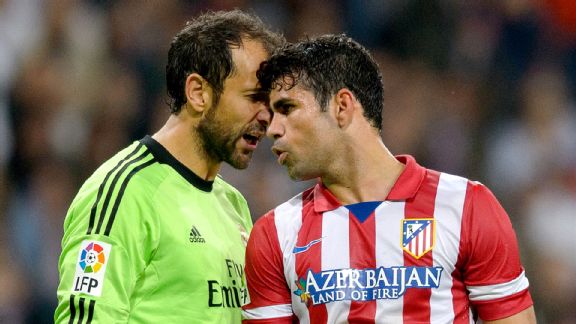 Dani Pozo/AFP/Getty ImagesDiego Costa was a constant antagonist vs. Real on Saturday, though to be fair to the striker, he is as much victim as he is aggressor.

If they foul him, it is also because they fear him. Watch Costa carefully and, apart from his technical ability and simple talent, what is most striking is his movement. He is extremely clever. His runs are varied. He draws defenders out, dropping deeper or towards the wings. He is adept at hiding from his markers, slinking away from the move, ready to appear at the right time or presenting himself as an obvious, more static target to create space for others. Above all, he knows how to time his runs to reach the space behind defences already at speed and without getting caught offside.

On Saturday, some of Real Madrid's fans abused him. Like Real's defenders, they feared him too. At one point they chanted: "Diego Costa is not Spanish!" That is true, but he is good enough for the Spanish to have their attention drawn to him, to at least want the chance to call him up. They should get it too. He does have a Spanish passport and although he has already played for Brazil, it was not in an official competitive game. As for Costa himself, he has maintained a discreet, noncommittal posture while also appearing open to the idea. Last week, Scolari did not call him up, despite complaining about Spain's interest.

On Friday, Spain could call him up. But it remains a difficult and delicate decision; Spain have good strikers already, even if it is the position that sparks the greatest doubts, and although del Bosque's tone was welcoming on Monday night, he had previously hinted that calling up a Brazilian was not really an idea he particularly liked. On a human level, he also has to be careful not to implicitly make a promise he cannot keep if he calls Costa up now. This is a player's international career at stake.

"I still haven't been told if I can call him up," del Bosque said. "It will be a sporting decision. He has all the necessary criteria: He has Spanish nationality, he has been here five years since he was 18, he was formed here [as a footballer], he has not played official games for Brazil. Plenty of foreign players have played for Spain. Some see it almost as an attack [on the nation] but he is integrated here and has been here since he was 18. The thing is, no one has talked to him. And if we call him up we are almost, almost obliged to take him to the World Cup. We have to be absolutely sure. It's still in the air."

"If Diego continues like this, he could be a key player in the league," Gabi said.

He could yet be a key player at the 2014 World Cup too. In yellow or red.