Of mattresses and conspiracies
It's a measure both of Real Madrid's present predicament and Atletico's position of strength that anything other than a mattress-maker win would have seemed like a shock. Atletico Madrid, in case you didn't know, are called "Los Colchoneros" ("the mattress-makers"), which has nothing to do with making your bed and lying in it. It actually refers to the beginning of the 20th century when the mattress industry used red dye for stripes, Atletico adopting red and white in 1911 (they actually started out in blue and white) and picking up this nickname. And though I appear to digress, this historical sweep helps lend perspective to the fact that on Saturday they beat Real Madrid in the Bernabeu (in the league) for the first time since 1999 –- it was actually the first time they'd beaten them at all in the league since that date, home or away –- and in so doing chalked up their seventh successive win from the beginning of the season, a club record that goes all the way back to when mattresses had red stripes and were filled with straw.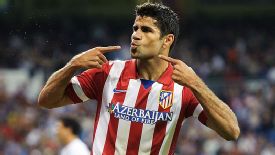 GettyImagesDiego Costa celebrates after he scored the winner in the Madrid derby.
It was a nice way to write the club into the history books, simultaneously twisting the knife into their wealthy neighbours' heart. Over in Almeria, Barcelona were doing the same, establishing an identical record themselves of seven straight wins from the off, and further clouding Real Madrid's horizon. In his Sunday morning report of the match in Marca, the otherwise excellent writer Santiago Segurola repeated the strange phrase I keep reading about Real Madrid at the moment –- that they are a team in transition, a work in progress. Excuse me, but I don't quite get this one. Real Madrid's starting line-up consisted of nine players who all knew each other very well. Only Isco and Asier Illarramendi were new faces, along with the coach, of course. It hardly represented revolution, but the new apologists for the cause will try to find some way of limiting the damage, at least for now.

Real Madrid and Barcelona are not really football clubs any more, in the strictest sense of the word. They are corporate institutions whose image must continue to survive, for the purposes of present and future investment. And although Segurola was generous in his analysis towards Atletico, there was still a suggestion that Real Madrid lost the game through a lack of collective identity, caused by this "transitional phase."

It's too early to write Real Madrid off, of course, and still too early to really endorse Atletico as title challengers, given the relative thinness of their squad, but the derby on Saturday night was a simple example of the difference between building a side on the basis of a clear philosophy, and building a side on the whims of a president's chequebook. Well, I suppose the money is transferred these days -- the Spanish have never been too keen on cheques anyway -- but it's a strange universe we live in now, where suddenly Atletico Madrid are being hailed as the exemplars of Spanish football after years in which their badass image and chaotic off-field circumstances lent them an almost pariah status.

But that's the way it is. Suddenly everybody is talking about Diego Costa and Koke, and everything that fits in around them. Atletico's new hero, whose only real problem in life was to be christened Jorge Resurreccion (George Resurrection), sensibly decided to divert attention away from his name by going for something a bit more snazzy in Koke. He's only 21, has already been called up and used by Vicente Del Bosque, and is another of the candidates queuing to take up the future baton and keep the Spanish midfield gene pool well stocked. Illarramendi played well enough in the first half of the derby, and was unlucky to be substituted (why not take off Khedira, surely?) but it was interesting to see him, Isco and Koke all on the same pitch again after their starring roles in Spain's recent Under-21 triumph.

Talking of the Spanish national side, Diego Costa is Brazilian but doesn't seem to have fully convinced Felipe Scolari. He has two caps for Brazil but his recent Spanish nationalisation means he could now play for Spain, if Del Bosque thinks he has a role.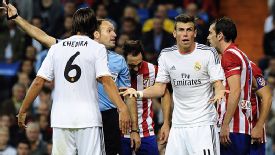 GettyImagesReal Madrid have so far struggled to find a natural role in the team for Gareth Bale.
Costa, of course, is not a very popular chappy, but he is a wonderful player. He scored the winner in the derby (from Koke's pass) and generally made a nuisance of himself. Costa is the kind of player who only gets affection from his mother and from the side he plays for. He is roundly despised in La Liga for his provocative style, but grudgingly admired for his slightly inelegant yet effective play –- always making the right decision, always making defenders think twice, always poking and probing. He has scored eight goals in the first seven games but it's not really this facet of his play that stands out. Rather it is his ability to "jugar entre lineas" ("play between lines") -- the ability that the Spanish most admire, dropping off and occupying a deep-lying position, lurking in the shadows that Radamel Falcao cast last season and which this campaign have been maintained by David Villa.

In terms of his playing ability, it's difficult to see how Costa wouldn't be an asset to Spain, but his unpopularity –- whether he's in truth a circus villain or not -- might dissuade Del Bosque from taking him on and disrupting the feel-good factor that the squad has built up, despite the internecine difficulties that the presence of Barcelona and Real Madrid players have always posed. Spain tend to win games by out-playing people, as opposed to provoking them. Costa might just have to continue to work on Scolari.

Poor Real Madrid had no answer to Atletico's organisation, concentration and sheer will to win. They'll be fine, of course, if they can get Karim Benzema back to this life, get Xabi Alonso fit and manage to devise a system in which Gareth Bale can plunder and pillage, but there looks to be some agony on the way, with Mesut Ozil rampant in England and Gonzalo Higuain playing well in Italy. It sows the seeds of doubt, and even might even make some hard-core followers nostalgic for the days of Jose Mourinho. Poor Carlo -- but he knew what he was letting himself in for.

His cause was hardly helped by last week's juicy scandal, in which referee Muniz Fernandez, he of the gelled-back locks, awarded Real Madrid a penalty in the 96th minute of their away match at newly promoted Elche, handing the visitors the three points. Elche had equalised four minutes earlier, but with time already expired, Pepe wrestled Elche's Carlos Sanchez to the ground, and Muniz obliged with one of the most absurd penalties in recent history. Real Madrid were happy with the points but probably not with the implications of all the subsequent hullabaloo, although most of the debate has centred around the organisation of the refereeing collegiate here and its inherent protectionism. So universal were the condemnations of Muniz, long seen as the worst apple in a rotten basket of windfalls, that he was "relieved" of his duties for three weeks by the referees' disciplinary committee, an autonomous body that answers to no one. The word "suspended" was not used, as if Muniz needed a rest as opposed to a few basic lessons in the game of football.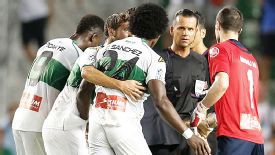 GettyImagesElche players surround referee Muniz Fernandez after he gifted Real Madrid a 96th-minute penalty on Wednesday evening.
The rumours flying around the scene here are that Muniz, who belongs to the Asturian collegiate of refs, is the protected pet of Manuel Diaz Vega, head of the refs' committee and himself an Asturian. Diaz Vega, an ex-referee himself, famously accused Johan Cruyff of "p---ing in his pants" every time he took Barcelona (as a coach) to the Bernabeu, and earned himself the nickname "Darth Vader" for his uncompromising stance on any possible suggestion that he was fallible. He made for good entertainment, as opposed to Muniz, who hides behind his yellow cards and metes out a weekly dose of incompetence so blatant that it causes that rarest of creatures to emerge in Spanish dialogue -- consensus.

Muniz's father is an old mate of Diaz Vega's, and was often his linesman and later his assistant when the ex-referee began to move in the right circles. Diaz Vega, according to ex-referee Paradas Romero, pulled a fast one last season and relegated Romero to the Second Division instead of Muniz, who was everyone's candidate for the chop. It's an unseemly idea, that referees can be promoted and relegated by a dubious cumulative points system, but at the very least it does objectify the worst offenders. Quite why the lower divisions should be then subject to the most incompetent referees is another question, but there's never much point asking logical questions these days about La Liga.

The point, I suppose, is that Muniz is not being accused of pro-Madrid sentiments, but rather of sheltered incompetence and of being a major cog in the wheel of La Liga's inbred inequality. The week before, you will recall, Muniz disallowed Cala's goal for Sevilla, who were otherwise looking good against Barcelona. And so, if he is simply a puppet in the preservation of corporate investment that determines the big two must remain at the top of the tree, then he is merely the latest in a long line of these individuals, who have not exactly been corrupt but who have understood on which side their bread is buttered, right back to when Franco was sitting in the best seats in the Bernabeu.

It's a problematic state of affairs, because by saying these things the author always invites the accusation that (s)he is at best naive, at worst paranoid. Does La Liga really have some sort of active conspiracy going on, to protect the interests of the biggest investors? No, it probably doesn't. What it does have, damningly, is a system in which too many people have become untouchable, and who act with relative impunity because they know that the waters can always be muddied, that their tracks can always be covered over. After that, your guess is as good as mine. What odds do you think you'll get on Muniz being handed the first clasico on the weekend of October 26? His "rest" will be over by then. Go on, have a flutter. You know it makes sense!