No matter the result, Madrid rivalry no longer one-sided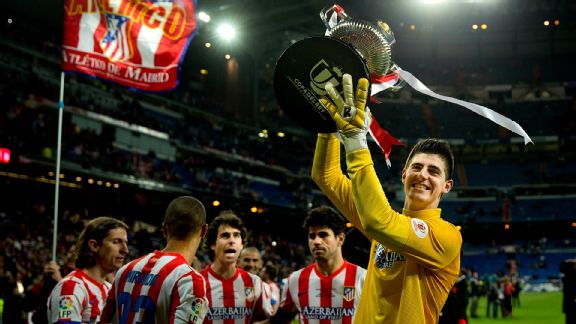 Gonzalo Arroyo/ Getty ImagesAtletico's Copa Del Rey triumph over Real back in May showed that Los Blancos' seemingly endless dominance had come to an end.
Everything changed on the night of May 17. When the sun came up on the morning of the 18th, Atletico Madrid's players and supporters were still celebrating. For the club that had witnessed more false dawns than Truman Burbank, this was a new dawn and this was real. At long, long last. For the first time in 14 long years, they had beaten Real Madrid. Twenty-five games later, they had defeated their city rivals. Better still, they had defeated them in the Copa del Rey final and in their own stadium. This was not just about the past; it was about the future too.

On Saturday night, Atletico return to the Bernabeu for the first time since then and this time it feels different. For over a decade Atletico were afflicted by a terrible fatalism against their rivals, paralysed and beaten before the city derby had even begun. There was always something, some increasingly bizarre reason they could not win, and they knew it. Over the past few years, they simply capitulated. There was just no competition. Derby day was Groundhog Day. But not this time; the changes that coach Diego Simeone has brought to Atletico were never better symbolised than that May night at the home of their rivals. No fear, no fate but what you make.

On Thursday night, Atletico Madrid's president Enrique Cerezo insisted that his side would beat Real Madrid. He would say that, of course, and while honesty is not really his strong suit, it no longer feels as impossible as it would have done a year ago. Real Madrid are yet to truly find their feet this season; they drew at Villarreal, where they were fortunate not to be beaten. Before their game in midweek at Elche, Alvaro Arbeloa gave a motivational talk to teammates as they warmed up on the pitch. In it, he admitted that they had played poorly in Villarreal and Granada and insisted that "we can't afford to drop a single point more, lads."

They almost did, only for a 95th-minute penalty to give them a fortunate 2-1 victory. The referee had fallen into a trap laid by defender Pepe. "The team is too slow," Carlo Ancelotti admitted afterwards. "We're not seeking solutions between the lines. We're playing very sideways and that makes it easier for the opposition's defence." Then he added, starkly: "If we play like this in the derby, we won't win."

- Report: Elche-Real ref taken off duty
- Hunter: Analyzing Madrid's 'Dark Knights'
- Story: Ancelotti issues derby warning

In over a decade, Atletico cannot have come into a derby better positioned. Over the last three years they have won more trophies than their city rivals; in fact, Diego Simeone won more in 18 months than Jose Mourinho did in three years. Simeone has been quick to dismiss "impossible" suggestions that Atletico can challenge for the title and he is right; over the course of the season, they are likely to drop points that the big two do not and their true tests may yet be to come. It is, Simeone insists, a question of resources. Madrid's front three on Saturday could well have a combined cost of almost 250 million euros.

But right now Atletico sits above Real Madrid in the table, second only on goal difference to Barcelona. They have won every game. They only missed out on the Spanish Super Copa on away goals after two draws with Barcelona -- 1-1 at the Calderon and 0-0 at the Camp Nou -- and they have had a perfect start in the Champions League. Amid doubts about Barcelona's identity and Real's style, Atletico have a clarity that few can boast. Intense, organised and supremely competitive. Nasty when they need to be.

They have scored 22 times (more than Real on 21) and have conceded just five, but that statistic is less telling than this one: Real and Barcelona's goalkeepers have had to make twice as many saves as Thibault Courtois.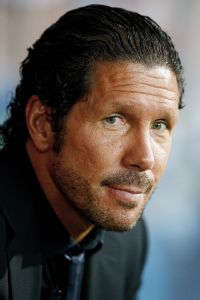 Gonzalo Arroyo Moreno/Getty ImagesDiego Simeone is still working with fewer resources than Real but has managed to close the gap both tactically and mentally between the two teams.

The question mark with Atletico is likely to be their ability to find a way through those teams that sit deep and look for the counterattack. Can they chase a game? Last season's derby, which saw both sides set up to play on the break, was one of the most soul-destroying experiences imaginable. There was excitement then, too, albeit in the build-up to the game. During it, there was none. The teams waited for each other (and waited and waited and waited), but they never showed up.

This season, there are signs of Atletico evolving. There appears to be greater variety to them now, glimpses of a side than can go after teams, plus a touch more subtlety and creativity. There is also more of a rounded squad, not just a starting XI, the ability to assimilate injuries better and to allow some tentative rotation. Raul Garcia has scored twice. Up front they have David Villa and Leo Baptistao.

They also have Diego Costa, of course. La Liga's top scorer with seven goals in six games, his contribution could hardly have been more consistent: He has scored in every match. Now the central figure, he feels important. No Atletico player has had a goal-scoring start to the season this good since 1956. He is Brazilian, but this week, Spain's football federation formally requested permission to call him up for the national team, which kind of says it all. The man who scored Atletico's first in the Copa del Rey final, Diego Costa is the embodiment of his team and of Simeone's: relentless, ambitious, dynamic, aggressive, focused and talented. Utterly convinced and not afraid of anything.

On May 17, he and Atletico proved as much by bringing 14 years of fatalism to a close. On Saturday night, Atletico might lose the city derby. Logic says they will: Real are at home, where they have won three out of three, scoring nine times. At 70 euros a go, so far only 30 Atletico fans have bought tickets, compared to 35,000 in May. Madrid know they cannot afford to drop points; for the past two years the champions have dropped just 14 all season. Ronaldo got two more goals in midweek and just keeps scoring. And Real Madrid have the most expensive squad in history; put bluntly, they have more talent than Atletico.

But once upon a time Real Madrid had other advantages too. They just knew that no matter what else happened, they'd win. No more. Atletico may well lose the city derby, but they won't lose it for the same reasons they used to.