Referee fallout and analyzing Madrid's Dark Knights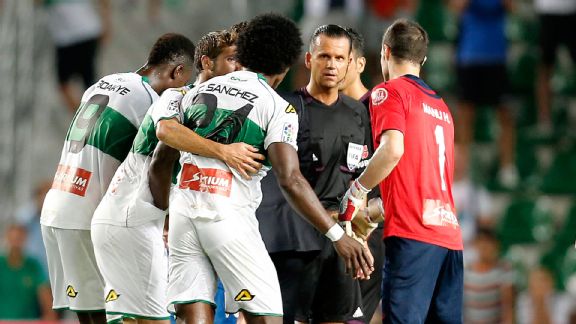 Jose Jordan/AFP/Getty ImagesReferee Muniz Fernandez was the center of attention in Wednesday's Elche-Real Madrid match when he awarded a dubious late penalty against the newly promoted hosts.
In the half-hour after Real Madrid won at Elche (near the seaside town of Alicante) on Wednesday night, Spain's national police received about 120 reports of a robbery having taken place.

"We'd just like to make it clear we are in the business of protecting you," their happy-face tweet emphasized. (Not intervening in football arbitration -- you could read between the lines.)

The irate calls that a crime had taken place centered on the refereeing performance of Muniz Fernandez who had erred on various occasions including: not red-carding Sergio Ramos; calling a nonexistent free kick before Cristiano Ronaldo's first goal; awarding a risible penalty from which the Portuguese struck the winner and waiting a remarkable amount of time beyond the formally announced "additional minutes" before blowing the final whistle.

- Train: Real escapes Elche courtesy of Ronaldo, ref
- Report: Pique, Arbeloa clash over penalty row

So as long as no bank robberies went un-thwarted and no cats were left stuck up trees because of the unwarranted draw on police time, let's file the eruption of apoplectic emergency calls in the Spanish football comedy folder. The complainants' wrath certainly echoed the emotions the newly promoted home side were suffering.

"That was a robbery!" Elche captain Edu Albacar said while the police switchboards were buzzing and both Carlos Sanchez and Elche coach Fran Escriba were being red-carded.

Objectively, and even accepting that refereeing at the top level is a job where applying the laws can be a secondary skill behind "not being conned by the cheats," the penalty decision was exceptionally bad. Fernandez could barely have been better positioned and Pepe's tug-down of Sanchez was made still clearer by the body positions plus the exact manner in which the two men pirouetted to the ground.

Given that this is also the referee who restarted after half time when Athletic Club played Granada last season without noticing that their keeper, Gorka, hadn't taken to the field; who wrongly sent off Jose Antonio Reyes for taking a free kick which he himself had whistled permission to continue with; and who made the atrocious decision to rule out a perfectly legal Sevilla goal at the Camp Nou a couple of weeks ago, you'd hope that his garden is going to get some extra weeding and watering over the coming few weekends. Years, even.

However, there has already been a microscopic focus on the Asturian referee this week, making his abysmal performance all the more newsworthy. One of his former whistling colleagues, Jose Luis Paradas Romero, decided to speak openly for the first time, to Diario AS, about why he suddenly quit top-level refereeing last season.

In an extremely candid, calm and articulate interview, he admitted that he'd been sickened by a row with the refereeing supervisor, Manuel Diaz Vega, over the rights and wrongs of not sending Jose Mourinho off during a Madrid derby against Rayo Vallecano.

Paradas Romero stated, controversially, that he'd been humiliated, that the tone of the dressing-down was beyond acceptable, and then he made two further allegations that he may have to substantiate.

This is precisely how the interview developed:

Paradas Romero: "Previously I'd been surprised because in the referee seminars they'd shown some clips in which I'd failed to spot a shirt being tugged, but they didn't show, for example, any video from where the game was allowed to begin with only ten players from one side out on the pitch."

AS: "Do you think that this whole episode concerning your decision over Mourinho in the Rayo game has been created to protect Muniz Fernandez?"

PR: "I can't say that but it's what I intuit. What is clear is that there were referees who were put in cold storage [the colloquial term for short bursts of gardening leave -- and Muniz was one] three or four times last season, but I wasn't once. Not even after the decision not to send Mourinho off during the Madrid v Rayo match."

The direct inference is that Paradas believes there is favouritism involved. Either there is hard proof of this or Diaz Vega's name should be left unsullied.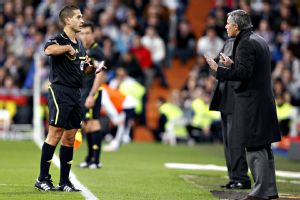 David R. Anchuelo/Getty ImagesFormer referee Jose Luis Paradas Romero, seen here with former Madrid boss Jose Mourinho during a 2010 match, revealed in a recent interview that he thinks favortism exists among referees in Spanish football.
However, as head supervisor, Diaz Vega must now be seen to recommend that Muniz is dropped for a significant amount of time, reassessed during training courses and then there must be a firm examination, at the end of which he should determine whether Muniz is fit to continue at all.

Such a queue of atrocious decisions leaves Spanish football open to the kind of knee-jerk accusations that are flying around the social networks. If supporters, media, sponsors and some other players are ever left with the impression that there is organised bias, then the foundation of a sport begins to be corroded.

Sadly, it has been proved that other refereeing officials around the world have deliberately adulterated results, leaving us all with the need for extreme vigilance and constructive responses.

Elche deserve our total sympathy (as did Sevilla in the two aforementioned incidents), but more importantly football deserves protection, probity and justice being seen to be done.

Given that Muniz has recently refereed as if he were an untrained football fan newly plucked from a local bar, the refereeing committee must prove that it, too, is not unfit for purpose.

Size and whether it matters

While we are on the subject, the other allegation Paradas offered up is that he thinks that he was being picked upon (sufficiently for him to have quit despite having five years of a lucratively paid career ahead of him) partly because of his height. He alleges that Diaz Vega has been telling people that Paradas "is where he should be ... among other things because of his height."

"It's absurd -- all referees need to be 180 cm now?" he asks of Diario AS.

My own view over the years was that Paradas wasn't an elite performer and that some of what we are dealing with here is the kind of personal feud that can erupt in any major organisation. But even the spectre of this "good big guy beats a good little guy every time" debate in this country polarizes views.

Spain has just experienced its golden age of international football, with the impending World Cup still within their ambitions, thanks to a series of "compact but bijou" footballers like David Silva, Jordi Alba, Xavi, Andres Iniesta, Santi Cazorla, Jesus Navas and Juan Mata.

The emergence of this generation wasn't without birthing pains. There was widespread cynicism and ignorance when Luis Aragones began to trust the national team's future to Cesc Fabregas, Silva, Xavi and Iniesta. At the Camp Nou, around a decade ago, there was a legitimate debate when people like coach Frank Rijkaard and then-vice president Sandro Rosell felt the Brazil of World Cup-winning coach Felipe Scolari and the emerging Chelsea of Mourinho mapped the way forward: height, power, athleticism, domination given a premium over technique, ball possession, intricacy and craft.

Which I think makes it all the more interesting how Spain's two dominant clubs, Real Madrid and Barcelona, have chosen to develop the philosophy.

Perhaps the Ronaldo-v-Messi debate, which is interesting, perennial and polarizing, is about to metamorphose into the Messi and Neymar-v-Ronaldo and Bale argument?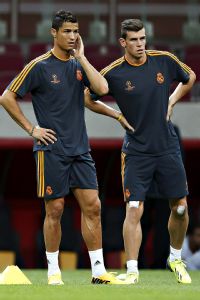 Angel Martinez/Getty ImagesThe Cristiano-Bale duo gives Madrid a lethal combination of power, speed and height.
It's a lovely temptation for headline writers in Madrid that if you amalgamate their two highest-profile players to get Cristiano-Bale you pretty much get the guy who gave life to the powerful, menacing, muscular Batman franchise of "The Dark Knight" and "The Dark Knight Rises."

Expect much dipping into the anthology of chiropteran stories when the two men begin to play, win and score together -- Zap! Pow! Holy Merengues Batmen!

But it's an inescapable fact that, particularly compared to the lithe, diminutive, elfin pairing of Neymar and Messi, Ronaldo and Bale represent the epitome of blending raw power with natural ability: the Batmen to Barcelona's Boy Wonders.

Soon the debate will develop from: Is Ronaldo better than Messi (and vice versa) to which club invested better? Which "partnership" is better? Are height and power more marketable than anarchy and improvisation? More successful?

Of course the whole subject has been given a false start by the fact that Bale pulled up, feeling pain, as he was about to make his home debut last weekend.

In theory, he'll be back to fortify what was a curiously stale and lumpen Real Madrid performance at Elche when Spain's capital derby re-enacts last season's Copa del Rey final that Atletico won so infamously during Jose Mourinho's penultimate match at the Santiago Bernabeu.

Because Barcelona were more advanced and more successful in their purchasing strategy, Neymar, despite his weight loss following tonsil surgery, has fit in admirably. Quick to understand the hierarchy, well-behaved and modest -- an ideal new employee from his employers' perspective.

His match performances, little explosions of skill, assists and even the odd goal are what Florentino Perez and the Real Madrid fans would give their eyeteeth to have seen (or to now see very promptly) from their world-record signing, Bale.

I'd still contend that his was not the priority signing. Barcelona are significantly short of a specific type of central defender, who could also play full-back as Branislav Ivanovic does for Chelsea, for example, and at the moment that still appears like an incredible Achilles' heel if they aspire to win both La Liga and the Champions League. Neymar has arrived quite nicely in time to fit in, find his feet and, in theory, flourish sufficiently to look pretty good to the Camp Nou voters when they go to the polls in the 2016 presidential elections.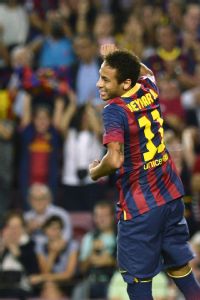 Lluis Gene/AFP/Getty ImagesNew arrival Neymar has appeared to fit in seamlessly since joining Barcelona.
Neymar will most certainly be required to add muscle and power to his upper body -- anyone who has charted the rise of either Messi or Iniesta will understand that the two little geniuses are massively tougher and more "resistant" than they initially were when talent alone took them into the first team. The pairing of Ronaldo and Bale comes at a time when your antennae might whisper to you that football, ever-changing, is just in the process of moving on a chapter.

Bayern Munich, while tremendously skilled, found enormous benefits from height, power, stamina and pace while winning the treble last season. Bayern succeeded a Chelsea side driven on by Frank Lampard, Didier Drogba, John Terry, David Luiz, Ivanovic as European champions. Barcelona, destroyed by the Bavarians in the Champions League semifinal, seemed to move further away from their routine brilliance the less they were able to call on the height and power of Yaya Toure, Seydou Keita, Eric Abidal, even Thierry Henry, which had embellished the other side of their remarkable skill set. The irresistible "wee men."

Juan Mata, probably Chelsea's best player of the last two seasons, suddenly can't get a game under Mourinho. Diego Costa, not only Brazilian-born but a beast of a centre-forward to have to mark, seems to be sufficiently en vogue that there is at least a chance of him making Spain's World Cup squad as Marcos Senna (and others) did before him.

Where I think the emergence of the Cristiano-Bale partnership does nothing to detract from the Spanish gains of the last few years is that they are both tremendously intelligent, technically exemplary footballers. Messi, Xavi, Iniesta, Silva, Cesc, Alba and Cazorla have not emerged because they are diminutive; it's because they are fabulous football players. Well-trained, inventive, consistently excellent, technically rigorous, creative, hungry. All of those adjectives apply to Real Madrid's caped crusaders.

That they can shoot harder from distance, win and score headers, muscle players off the ball more easily and out-sprint opponents must only be bonuses -- for their teams and for neutral fans.

More, Real Madrid initially wanted to add Neymar to their portfolio and genuinely thought they were going to. They believed that they would gain an advantage, gain some balance by adding the will-o'-the-wisp Brazilian to the Portuguese man o' war. Instead, the brilliant, bulging Cristiano-Bale partnership will feed off a man who, at age 20, precisely fits the Iniesta-Xavi-Silva template, but is probably ahead of each of them in his development: Isco.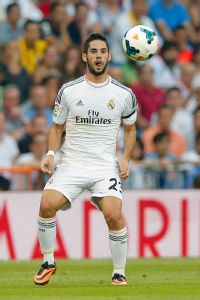 Helios de la Rubia/Real Madrid/Getty ImagesThe play of Isco may be the key that unlocks the true potential of the Cristiano-Bale pairing at the Bernabeu.
Small but perfectly formed, as a footballer, I think he's the element that might cement Cristiano-Bale as an exceptional pairing -- Isco's vision, craft, distribution, technique unleashing these two Dark Knights. I must say I find that tremendously exciting as a prospect over the next few seasons.

Fabregas is performing just that role between Messi and Neymar for Barcelona this season, probably producing the best football he's shown since coming home. That, too, is thrilling to watch but it doesn't add any of the height and power that Madrid have introduced via Bale.

For those who start to compare the Cristiano-Bale v Messi-Neymar tandems in the lead-up to next month's Clasico and the remainder of the season before the winter transfer market, perhaps the words "balance" and "equilibrium" will feature.

Perhaps many who have enjoyed the balletic skills of Barcelona over the last few seasons find it easy to either underestimate, even sneer, at the values of physique, height, athleticism and power. Each to their own. But it would take a short memory to ignore the fact that the most dominant era of Barcelona's "little men" came when they had colleagues with some of the armoury that the Cristiano-Bale combination is about to give to Real Madrid.

As a postscript, even thinking about the excellence on show when you analyze four players like Messi, Bale, Neymar and Ronaldo, it makes it all the more risible that someone like Muniz Fernandez might be allowed to continue to earn a living in the same sport with such atrocious performances.