Michael Laudrup's brilliance shines again in Spain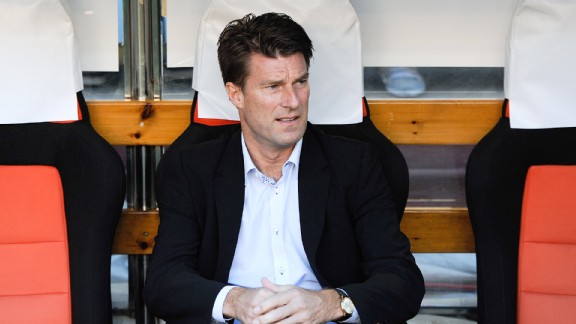 David Ramos/Getty ImagesMichael Laudrup has boosted his stock with his record at Swansea.
Pablo Hernandez had reserved 50 tickets for family and friends -- and he was the one who wasn't playing. The former Valencia winger, now with Welsh side Swansea, missed out on the chance to play against his former club due to injury, but his teammates did get the chance to play in their former country. It was the first game of the Europa League group stage and Swansea's starting XI at Mestalla contained six Spaniards. Valencia's, by contrast, contained four.

When Michu was taken off with a little over 20 minutes remaining, he was handed an ovation by the Valencia supporters even though he had helped to inflict a painful 3-0 defeat upon them. "I hope Valencia qualify from the group with us," he wrote afterward. "It was a pleasure to play in Spain again. Thanks for making me feel at home."

Michu had got the second goal; Jonathan De Guzman the third. Not a Spaniard, though he did xdefjoin the club from Villarreal having previously played at Mallorca, where he had worked with his current manager Michael Laudrup.

- Report: Swansea shocks Valencia in Europa opener

This was a special night for Laudrup too, a significant one. At every turn, he saw familiar faces, familiar surroundings. Spain has marked his career more than anywhere else. He belongs. He played at Real Madrid and Barcelona and coached at Getafe and Mallorca. When he was not working, he lived in Spain too. And if he is a big deal, a famous face, in Britain, it does not even begin to compare with Spain. Before yesterday's game it was Laudrup more than his players who was sought out by fans for a photograph. Laudrup may be Danish, but in Spain it is as if he is one of their own.

On 8 January 1994, Laudrup was the creative fulcrum of the Barcelona team that defeated Real Madrid 5-0; on 7 January 1995, he was at the heart of the Real Madrid team that defeated Barcelona 5-0. He had departed the Camp Nou after the 1994 European Cup final and crossed the divide. He once described the night that he returned to the Camp Nou as a Madrid player, a few months later, as the worst of his life, but the hostility soon dissipated. Now, strikingly, there is a kind of shared, even contested ownership of him. He is often asked who he identifies more with: Madrid or Barcelona? The inevitable answer is: both. And both of them identify with him.

Last night, Laudrup was asked whether the 3-0 victory was the greatest night in Swansea's history; he was asked too how it ranked with his own big night. "I can't say," he replied to the first question. "I have only been here 15 months; you would have to ask the fans who have followed Swansea all their lives." In response to the second, he escaped softly: "I'm very happy for the players." Even privately, away from the news conference room, the smile was almost shy, one of enjoyment and satisfaction rather than presumption: he had loved watching them.

Charming, modest and eloquent, there is a gentleness about Laudrup. A tranquility. Something fundamentally decent. It is impossible not to like him, and the Spanish like him very much indeed. There is a kind of general feeling that he is a good guy, the kind of person they would like to have around. It is not always articulated clearly, but the notion is there: this is someone they would like back in Spain one day. They will always remember what he was like as a player, all clever flicks and vision. Class. Now with his success at Swansea, that feeling has been enhanced. He is followed, not forgotten.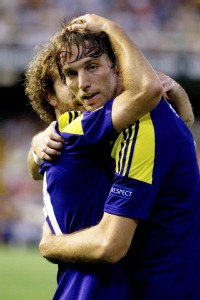 Jose Jordan/AFP/Getty ImagesMichael Laudrup started six Spaniards, including Michu, in his lineup vs. Valencia, who only started four. Despite the heavy win, Laudrup was well-received.

Of course, Laudrup's status as a player has helped him as a manager. It is not the only reason that Spaniards are so happy to go to Swansea -- there is a straightforward economic imperative, for a start, while the exodus of Spain's footballing middle class embodied in the fact that no one would pay 2.5 million euros for Michu is genuinely worrying -- but it is certainly one of them. British players and fans may have a vague notion of Laudrup as a great player; Spanish players of this generation do not need telling. Laudrup is an icon. If he calls, you listen. He still plays in training sessions and, one players says with a smile, he's still the best.

He also represents a style of football that is increasingly well-received and more fashionable than ever before: although their relationship eventually suffered, Laudrup still feels Johan Cruyff's influence on him. One former player who worked under Laudrup describes him as "the personification of attacking football." He was seen as the perfect fit for Swansea's philosophy. In fact, there were changes, but it was an evolution, not a revolution. The essential coincidence of ideas was one of the reasons why the Dane was a candidate in the first place.

It hasn't always been easy, though. Not long after arriving at Swansea, some players found the intensity of the sessions too much. But Laudrup's status and personality helped to ease some doubts while the commitment was steadfast and success has reinforced his ideas and his position.

Swansea was in the European Cup at one point and is playing in Europe for the first time since 1991, the first time the Welsh side has ever been there by a route other than the Welsh Cup. This was some way to announce their arrival too. "No one expected us to get three points here," Laudrup said. "This was a great night." The win at Mestalla was huge, some Welsh journalists wondering if it might be the best result in their history. Laudrup took Getafe to the quarterfinal in their first UEFA Cup appearance; now, Swansea have enjoyed a perfect start to the group phase.

Laudrup is one of those people the Spanish like and they want to like. In Spain, last night's focus was Valencia's crisis, naturally. But when the Spanish glanced across at the opponents, there was also something about their performance that was pleasing; they want Laudrup to succeed, to be a good coach too. There are doubts, of course, and bad results would damage him as they damaged everyone, but he is someone people want to believe in. Success now is to be celebrated, not least because it hints at a future. A homecoming.

His is a name that always emerges; he is one of those men who, it is assumed, must end up at the Camp Nou or the Santiago Bernabeu. When Pep Guardiola was coming to the end of his time at Barcelona, the presidential adviser Charly Rexach said that Laudrup was among those that could replace him; when Jose Mourinho was coming to the end of his time at Madrid, a poll of 40,000 Madrid fans had Laudrup as the favourite, miles out in front. He polled 78 percent of the votes cast, ahead of Rafa Benitez and Carlo Ancelotti.

But Laudrup knows that the good will only takes you so far and that football is fickle. Patience is a virtue, but Spain's big two don't have the time. Laudrup has been explicit: four bad results at Madrid or Barcelona and he would find himself in trouble. The pressure is intense and put simply, it does not interest him. Not yet, at least. It may not always feel like it, but there are other clubs, other goals to pursue, other, perhaps less tangible ways to enjoy the game.

"I know we won't win the league or even any cups," Laudrup said when he took over. "It is other things that will give us satisfaction." He was wrong about the cup, but he was right about the satisfaction. Last night at Mestalla, back in Spain, you could see it in his eyes.