Barca's style evolution could prove costly
It's quite natural that the first competitive meeting between FC Barcelona and Ajax Amsterdam has led to a great deal of rose-tinted, retrospective writing and broadcasting.

After all, the two most intoxicating periods of football in the Catalan club's 114-year history are owed to a transfusion of Ajax DNA. When Johan Cruyff took over as coach at the Camp Nou in 1989 it's irrelevant whether there was more of his or Rinus Michels' genius in the football philosophy which he installed. The fact remains that until he was removed in 1996, that seven-year spell was the definitive turning point in Barca's entire history.

Then, after a time of increasingly fallow and sterile work at board, coaching, training, development and recruitment levels, the Cruyff/Ajax ideal was reinstated.

President Joan Laporta, elected in 2003, was wholly converted as a Cruyff disciple; Frank Rijkaard preached the same gospel; kids who had been recruited during Cruyff's spell in charge of the club [Xavi, Puyol, Valdes, Iniesta] became standard bearers of the new era. And then came Pep Guardiola.

Talent-spotted by Cruyff as a bandy-legged, toothpick-slim kid with a ball at his feet, Guardiola [coach and player] symbolizes the epitome of the Cruyff/Michels/Ajax-golden age philosophy. He did quite well at the Camp Nou, too.

But as Ajax arrive at the same stadium on Champions League duty this week, they now represent the abyss into which Barcelona cannot allow themselves to fall.

- Corrigan: Cruyff, Rosell continue argument
- Ledwith: Barca's self-analysis on eve of Ajax clash
- Tomas: Llorente a nice plan B?
- Cox: Struggling Bojan returns to Camp Nou

Just in case it has not previously become apparent, I, too, am evangelical about Cruyff.

His beliefs. His philosophy. His impatience with those who will not learn. The brand of football his teaching produces. The way in which kids [boys and girls] develop their skills and their intelligence if the Michels/Ajax/Cruyff bible is followed.

I'd feel precisely the same way if Cruyff's ideals were applied at Real Madrid, BATE Borisov, Glasgow Rangers, Seattle Sounders, Arsenal or Torino.

It's not about the club colours, it's about the betterment of football, the quality of spectacle the intelligence vested in this game the world loves -- it's about excellence, excitement... brilliance.

But there can be no doubt, too, that Cruyff himself is an acquired taste and someone who can burn out those near him if they aren't wholly dedicated to his line of thought. Moreover, to play his/Michels/Guardiola's brand of football properly is tiring, demanding, relentless and only for those who are intensely committed.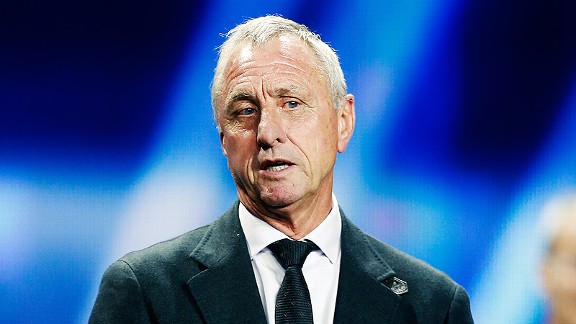 AllsportJohan Cruyff's influence over Barca and Ajax is undeniable. Yet the Dutch club's gradual diversion from his ideals could serve as a cautionary tale for the Catalans.

Thus, after the Ajax generation that either enjoyed their youth development when Cruyff was in charge at the top of the club [the De Boers, Edgar Davids, Clarence Seedorf, Dennis Bergkamp, Danny Blind, Michael Reiziger, Patrick Kluivert], or who were purchased based on existing Cruyff criteria even once he'd left [Litmanen, Overmars, Van Der Sar] moved to other clubs, the Michels/Cruyff ideals were gradually abandoned.

Louis Van Gaal and Cruyff are bitter opponents, often sniping at each other. But Van Gaal's reign at Ajax still put emphasis on similar youth training values -- on there being an identifiable DNA in every kid who came through the youth ranks -- on the importance of there being a consistent football philosophy and on what kind of player to buy in order to supplement the in-house development work.

In the years that followed Van Gaal's departure, the DNA ran dry. Changes were made in scouting, changes were made in youth development, on average the club went through a coach just about every 12 months between 1997 and 2010.

I say changes but usually what happened is that standards simply dropped, poor decisions were made by people not of Cruyff's football intelligence, the template was thrown aside and people who 'knew better' began to make repetitive mistakes.

Ajax went seven, long, bitter years without winning the Dutch title. Seven years.

Had it not been for Ronald Koeman -- perhaps not a true Cruyff disciple as coach but a Cruyff lieutenant in the Barcelona Dream Team of the early 1990's, and someone who promoted heavily from the Ajax youth system -- then the club would have gone 13 years without the national title.

During these fallow years there were many, directors, media, scouts, coaches, who were intent on showing that this 'know-it-all' Cruyff didn't in fact know it all.

That they would re-invent the wheel and make it just as successful in a triangular, or oblong shape. The wheels came off.

Needless to say, the title returned to Ajax only once Cruyff had a voice again and players who had been brought up the Michels/Cruyff/Ajax-golden age way were re-introduced.

Frank De Boer learned his craft as a player in an Ajax nursery where Cruyff's teachings were gospel. He's the manager but he also has a handful of men around him at the club who know, understand and apply the 'old ways'.

Three straight Dutch titles and regular revenue from the Champions League plus a victory over Manchester City last season began to suggest that the wheel, after all, was better when round.

Now, for one reason or another, Barcelona are edging away from the Cruyff philosophy. President Sandro Rosell has made his mistrust of and dislike for Johan Cruyff pretty clear over the years and thus those who voted him into power were, of course, giving him a mandate to steer the club away from the philosophy which has brought 21 trophies since 2003.

Who wouldn't want to try to polish up a shabby record like that?

When he was first a Barca Vice President, Rosell was of the view that the modern game required a philosophy which was in tune with the Phil Scolari and Jose Mourinho school of thought. Height, power, athleticism and, yes, skill.

Being imposing, hard to play against and full of the will to dominate -- that was what he originally advocated before walking out when the Laporta era put the advancement of Xavi, Iniesta and Messi on a higher plane.

Then he looked foolish. But does he now?

Some of those elements are, clearly, what the current Barca side lack. He has hired Tata Martino, and our condolences from all at ESPN at the sudden death of his father.

The Argentinian initially spoke very clearly about only wanting to regenerate the Guardiola philosophy -- to recuperate all the values of 2008-11 when this squad was scintillating. The best in the world.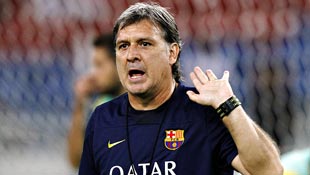 Stanley Chou/Getty ImagesGerardo Martino is trying to make Barca play with more speed in attack but the transition is tough due to the club's incumbent style.

The weekend's game, against Sevilla, showed that while change might do you good, change is also challenging. Not only did Sevilla merit at least a point, there were spells when they, despite hemorrhaging talent in the transfer market, looked the more organised, intelligent and sharper team -- just as Atletico have done already against Barca this season.

Right now there is no reason to put Martino's work or his declared aims in doubt. It is early, he inherited a tired and aging squad and many of his footballers suffer from the curse of being grossly overplayed. He's due fairness, patience and attention.

However, the Ajax trajectory indicates that, sometimes, change can lead to an abandonment of central tenets which prove to be vital. Sometimes the end of an era can lead not to a better, brighter, fresher future -- but a stark downturn.

Martino wants Barcelona to be quicker on the break, to essay a few long passes, to dwell on possession less. The trouble is, he has a good number of soldiers in his squadron who have been drilled and drilled and drilled. It's not that they only know one way, it's that they are automatically programmed to do 'A' if 'B' and 'X' if 'Y'.

To learn new tricks it is sometimes important to unlearn, or forget, old ones. Maybe it will eventually prove that Martino's vision is not only clear but accurate. Perhaps all he and his charges need is time, practice and greater mental freshness given that several of them played large chunks of the summer and then have had two international breaks after a short preseason.

Perhaps.

Yet the impression lingers that this is a club which, despite the evidence already indicating that the journey is extremely perilous, now thinks it knows better than those who went before.

Slaves to Hysteria

None of which excuses the way in which Gerard Pique was jumped upon by certain pundits and columnists for one or two open, interesting and perfectly intelligent points he made in the Italian football paper Gazzetta dello Sport.

In it, during a report analyzing Martino's tactical makeover, Pique said: "We've had home grown coaches for the last few years -- first Pep and then Tito and maybe we just overdid our playing style to the point that we became slaves to it. Now Tata has taken over. He's come from outside the club and, whilst he shares the same basic ideas around maintaining possession, he is also keen to show us alternative approaches.

"For me, having more choices can only be a positive thing and I've found that when an opponent is pressing hard a couple of long balls can buy you a bit of breathing space and stop the them closing you down. It's the kind of thing that that can turn a game around."

"We're now pressing much higher up the pitch and are winning the ball in our opponents' three quarters area. It's much easier to create chances from there than from further back, particularly against those teams who like to close us down."

"To my mind it makes total sense to develop new ideas, variations on the same theme. It's also good from a tactical point of view given that over time your opponents get to know all your moves, how you attack etc. Tata is finding new solutions without damaging our style of play which remains possession based football and it is just what we needed."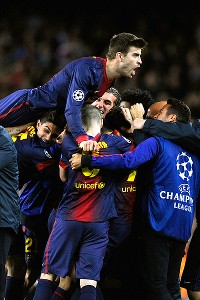 David Ramos/Getty ImagesGerard Pique's comments caused a stir, but has it been for the right reasons?
Of course some simply seized on the phrase "...slaves to" and went into an apoplectic tailspin. Apparently this was close to heretical.

Barcelona got all sensitive about how they were being reported and Pique, a smart cookie, was told by some that he needed to think more about what he was saying. Total, utter rubbish.

What all of us who revere football need, whether we are devoted fans, journalists, coaches, scouts, or merely interested observers, is open, intelligent and articulate debate. We live in an era when footballers are adding excellence almost every season thanks to advances in technology, improved coaching, great leaps forward in physical preparation, medicine, physiotherapy, recuperation and the emergence of innate talents ranging from Hamsik to Vidal, to Messi, to Ronaldo, Isco, Neymar, Kagawa and Balotelli.

Yet communication, and debate, is regressing. Horrifically. Many [clubs, associations, agents, press officers, sponsors] want to neuter and homogenize what is said and others simply want mute footballers.

It's a fight for the soul of the game. Let character, intelligence and even eccentricity flourish where it naturally exists.

Pique's points, without claiming that they were at the level of a breakthrough in particle physics, were insightful, interesting and helpful to fans all over the world who'd like to better understand how things are cooking at the Camp Nou. He should be encouraged, not ticked off.

Yet some halfwits in the modern media think that the supply of golden eggs will always be there even if we keep killing the geese which lay them. I'll tell you who, between them and outspoken footballers, I'd prefer to mute.

Buy Short, Sell As Long As Possible

Finally, a new twist in how to analyze the sale of Mesut Ozil. I admit I'd be amongst those who would react with horror if I was in charge at a given club and someone suggested to me that flogging off the Crown Jewels was a good idea.

I still think that the German is a fabulous playmaker who can open top-level games, who was a central part of how Madrid began to wrench the Clasico battles back towards equilibrium and there are too few like him around.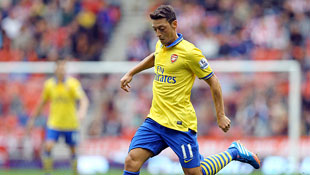 Ian MacNicol/AFP/Getty ImagesGiven the money needed to secure Gareth Bale and tie Cristiano Ronaldo down to a bumper new deal, it's no wonder that Mesut Ozil had to leave the Bernabeu:

Initially, despite the vast 35 million Euro profit on purchase to sale, allowing his departure to fund the arrival of Gareth Bale seemed a mixed blessing.

Wasn't there another way to make the Welshman's deal happen?

Now, it's clearer. With the 100 million Euro outlay on buying him plus another 60 million in wages over the contract it was already vital to generate extra revenue via sales. However in clinching the long, immensely drawn out deal to renew Cristiano Ronaldo's contract [potentially an outlay of another 100 million Euros across the term of his agreement] it's easy to see that a cool 50 mil for Ozil was a no-brainer.

Judging by the Ronaldo who began to wake up at Villarreal and who sunk his teeth right into Galatasaray in the Champions League this week, plus the way in which the Portuguese suddenly looks quite comfortable at having Bale on board -- Real Madrid have just completed two, perhaps three, bits of pretty well-judged business.