Submarines versus Torpedoes
Of the potential points of interest this weekend, the Villarreal versus Real Madrid game was an obvious place to look for what used to be called "journalistic interest." Nowadays that means making sure you're not doing anything else at 22:00 on a Saturday night, finding a bar that has the game on (or invest in Canal Plus), not killing your interest levels by watching any other interesting football immediately prior to that chosen game (such as Barcelona versus Sevilla, for example), and managing to get over the weekly emotional experience of watching your son play a few hours earlier and receive his first yellow card of the campaign.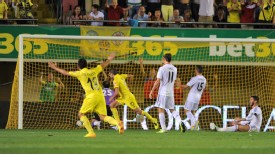 GettyImagesVillarreal celebrate after taking the lead through Cani, who has been at the club since 2006.
It's too early in the season to watch particular games because of league positions -- Villarreal remain third, one place ahead of Real Madrid, so in this case the alternative reasons were obvious. Gareth Bale was making his debut, as was Asier Illarramendi, although the latter fact tended to be on page five, next to the weather. Carlo Ancelotti had announced before the game that Bale would play, thus liberating us all from the eternal Casillas-Lopez debate. Bale had only managed to get in three sessions with his teammates, was nowhere near match fit and was probably still in a mild state of culture-shock but hey -- nearly 100 million euros demands that the protagonist show up for the first night of the new play, titled "Torpedoes and (Yellow) Submarines." Cristiano Ronaldo on the left, with Gazzer Bale on the right. Who would sink and who would swim?

As often happens in these cases, the Villarreal supporting cast, kept afloat by a mere 50 million euros annual budget (a tenth of that of their illustrious visitors) decided to take centre stage and remind us of the fact that a team of men who know each other's names will probably function better than a team that does not. Nevertheless, instead of watching the alleged skills of Bale and Illarramendi, we were treated to some stunning stuff by Villarreal, playing as if they'd never been away and taking full advantage of the hesitancy in the Real Madrid rearguard, with Dani Carvajal and Nacho run dizzy by the pass-and-move ballet of Cani, Giovani and Jonathan Pereira, dictated by a masterclass of midfield orchestration by Bruno.

Pereira started out with Villarreal in 2004 but then spent several seasons in the wilderness, but like the other guys mentioned has benefited from his brief but enriching experience in the second division, and has come back all guns firing. Bruno, a one-team man, has always looked a classy player, but is yet another of his generation who will tell his grandchildren 'round the fire -- "I played four times for Spain" and who will then add "It could have been a lot more I suppose. No excuses. But there were a few good 'uns around then too." Cani (aka Ruben Gracia) is another one who has worn the yellow shirt with longevity and distinction, since 2006. Cani bagged the opener, thus keeping up his tradition of scoring against Real Madrid. He once threw a bottle of water at Jose Mourinho, and I was about to say that he was therefore unpopular with the Real Madrid faithful, but perhaps that's not so true now.

Whatever, there were times in the first half particularly when the hosts ran Real Madrid ragged. This was not entirely surprising. Asier Illarramendi, whose quiet and unassuming nature mirrors the man he is primed to succeed, Xabi Alonso, was the pivot we were supposed to be watching, but Bruno delivered the lecture. Illarramendi likes to keep it simple, likes to build up play gradually, with short intelligent balls that are always released at the right moment -- a skill that is difficult to teach. But his partner on Saturday night, Luka Modric, is also good at that, and is a more dynamic, more restless player, who goes out in search of the action. The brief was unclear, in classic Clash terms. Should I stay or should I go? Illarramendi has good defensive instincts, but on a night when the young full-backs behind him were all nervous uncertainty, and Pepe was indulging in air-kicks, he failed to show his wares. Modric played well, but didn't really help his colleague settle in. Villarreal's counter-attacking kept catching the two pivots on the hoof, exposing the centre-backs to all sorts of nimble yellow danger. There will be easier nights than Saturday for the young Basque to settle in.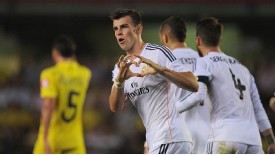 GettyImagesGareth Bale celebrates after netting on his debut, but Madrid were unable to secure the victory.
As for Bale, Marca's Sunday morning cover page predictably featured the Welshman's post-goal frolic, but accompanied it with the headline "Bale, y punto" (Bale and a point) whose literal meaning disguises the word play, since "punto" is a Spanish way of saying "and that's about all, folks." It represented an unusual piece of honesty by the paper, whose normal role is to keep up Madridista appearances, manipulate the makeover, and make a funeral sound like an orgy. In this particular instance, the paper's spin doctors preferred to leave any adjective-fest for some later date.

Bale himself, who continues to look like a vaguely polite schoolboy who has grown inexplicably large overnight, wandered timidly around the pitch looking like he'd lost his satnav. And to return to the schoolboy metaphor, it was as if he'd walked into the senior playground and asked for a game. Unable to understand what he was supposed to be doing, or what the more senior boys were intending, he hung around on the margins, in the vague hope that someone might pass to him. Occasionally, when no one else was available, a senior pupil would pass him the ball to see if the young one might vaguely contribute. But in the main, the game passed him by, despite his instinctive strong-arm run to get into the area and convert Carvajal's cross into his new team's equaliser. It was actually a better goal than it looked, and was unlike the usual barnstorming net-buster in which the Welshman specialises. It certainly put a smile on several corporate faces, anxious to see that their investment got off to a decent start.

Of course it is too early to judge Bale, but there are certain questions that need to be asked, now that the dust of the transfer fee has settled. Neymar's move to Barcelona is beginning to look like a good one, largely (although not exclusively) because his football growth up to this point has been nourished in a petri dish that suits La Liga much more than the one in which Bale has hitherto thrived. I may be wrong, but the doubts expressed over Neymar's apparent over-individualism and its mismatch to Barcelona's collective gig have so far not surfaced in the debate over Bale's ability to adapt to Real Madrid and La Liga. This is rather odd, since Bale's brief at Tottenham was clearly to do whatever he pleased, just so long as the net bulged at the end of it. Andre Villas-Boas may be an articulate post-modern young coach, with lots of interesting ideas, but his approach to Bale was largely one of indulgence, probably because Bale pre-dated him at Spurs by several years. If something works, don't tamper, but the extent to which this has really developed Bale's footballing intelligence remains to be seen.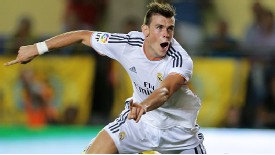 GettyImagesGareth Bale didn't have the best of debuts for Madrid but still had a goal to show for it.
The Bernabeu will take to him, because, like Ronaldo, he is commitment incarnate, a ballsy and driven individual who will never say die. They don't like fancy-dans at Real Madrid, and Mesut Ozil, despite his obvious genius, was never quite driven enough to succeed there. He will be missed, but there was still something of the Guti in Ozil, something not quite right. He will shine at Arsenal in the same way that David Silva, Juan Mata and Santi Cazorla have all thrived in the Premier League, although it doesn't always last. When La Liga players first turn up in England, it's as if they cannot believe how easy the pickings are, how dumb the defending is and how simple it is to make a technical impression. The problems arise when the other teams begin to get these players' measures, to find out how to annul them. But Bale's move to La Liga will require him to be a team player, to think about his game more, and to participate in the more patient game that Ancelotti requires. In a perverse way, Bale would have been more suited to Mourinho's counterattack paradigm. There will be games when his astonishing acceleration will get him behind high-lying defences, and all will be back-slaps and merriment. But it won't be plain sailing. At that price, he can't warm the bench in winter. He has no choice but to make an impression.

Goalkeeper Diego Lopez certainly has, and of course played over 200 games for Villarreal in a five-year spell. Lopez saved Madrid's bacon on Saturday night at his old home, and fully deserves his place in the side. The new nickname "San Diego" (Saint Diego) has now appeared, in ironic homage to the more famous "San Iker." To keep the capital city happy, Ancelotti has now decided to play Iker Casillas in the Champions League matches, and he will play against Galatasaray on Tuesday night. In the end, the debate over the two goalkeepers pivots on two opposing principles. The first one is the Clough-Shankly notion that you are only as good as the last game you played in (whether you have played 500 previously to a high standard or not), and the other is the Del Bosque-Clemente idea that you gather together a group of players that you trust, and make them your starters whatever the weather. Vicente Del Bosque's decision to play Casillas last week against Finland was not without controversy, especially at the Camp Nou where Victor Valdes is in sparkling form and Del Bosque is seen as an indulgent Madrid old-boy.

Personally, I agree with Brian Clough and Bill Shankly (I'm sure they're relieved), because although it's a bit brutal, it sends out the right messages to all the players, old and new. Everyone is an equal. Everyone has to keep it going, right up to the day they retire. It's not about you, it's about the team. Play well, and you keep your place. That's exactly what Diego Lopez is doing. End of story, for some at least.