Cure for FIFA virus? Spain's big clubs need to take a chill pill
Back to life, back to reality. International week is over and club football is back. The question many were asking in Castile and Catalonia was whether they had been struck by that most terrible of afflictions. They call it the "FIFA virus" and the whining is relentless, a constant in the partisan sports media here: Every time there is an international break it is one of, if not the, central themes. Graphics show how far their players have had to travel, great long lists of distant destinations under dramatic headlines. Real Madrid and Barcelona "decimated." The FIFA virus strikes them down.

Well, boohoo. Our hearts bleed.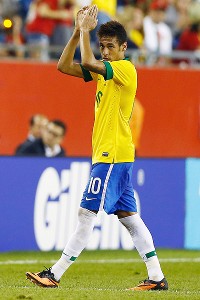 Jared Wickerham/Getty ImagesSigning a big global star such as Neymar is a double-edged sword when it comes to international duty.
Now, there is a serious issue here of course and reason for complaint and debate. The international calendar can often be problematic, and the way some federations (and the Spanish federation in particular) arrange games is far from conducive to keeping players fit and fresh. Fatigue is a genuine issue; travel too. Often players travel halfway round the world to sit on the bench. And, from the clubs' point of view, those are the good cases. Worse is when they risk playing. Clubs are entitled to be irritated that players they pay get injured playing for someone else.

International week means less time preparing for the clubs, and stats show that the results can be affected. Last year Madrid lost in Sevilla after the international break, while Barcelona famously lost 2-0 to Hercules at the start of the 2010-11 season after an international break. And then there's the media issue: Often it is during international week that players say something damaging, momentarily slipping from control of their clubs' media and embraced by their own countrymen.

But, still. The way it is framed in Spain is overblown. From the point of view of other clubs, it is bordering on the offensive. It is, like so much else, all about Madrid and Barcelona. And the whining is intense, the sense of victimization. It is true that Madrid and Barcelona are, in purely numerical terms, the clubs most affected by it. But it is treated as if they are the only clubs with internationals and is if it is somehow deeply unfair on them. Those poor mites, shed a tear.

Of course they are affected more: They have more international players and bigger and better squads. They want, and can buy, the best players in the world, and that means players who play for their countries. Many of the players they have were bought precisely on the basis of what they had done for their national teams; Madrid and Barcelona aspire to reach supporters all over the world, to expand their international marketing. Where does that reach come from?

You can't sign Neymar and boast about what a huge global figure he is, glorying in his performances at the Confederations Cup, and then moan that he has to go and play for Brazil. The universalism of which Madrid became so enamoured, an obsession for them and the foundation stone of their economic model, was initially built with the signings of Zidane and Ronaldo and then Beckham. It was France and Brazil, international teams, where their status was secured; the same status that seduced Madrid.

Then there's another, fundamental question. International week gives the "other" teams an advantage? First, that's debatable. Second, good.

In a league in which Madrid and Barcelona have budgets at least five times the size of anyone else, in which any other team's star would be their substitute, in which Madrid spent more on one player than the entire budget of every other team apart from Barca, a bit of levelling out for a couple of weeks a season may be no bad thing. And if other teams lose fewer players, proportionally they tend to lose more and more important ones. Injury to one or two internationals is a bigger blow for, say, Real Sociedad than injury to four or five internationals for Barcelona.

Spain's big two have massive squads packed with international players. And here's the thing, for those who seem not to have noticed: That is good for them. There is something perverse about presenting that as if it was a disadvantage, something galling for the rest in the constant complaining about it. This week, Marcelo and Fabio Coentrao picked up injuries playing international football. The FIFA virus had struck again, viciously. They will be out for a whole 10 days. Two players in the same position. Oh no. What will they do? Who could possibly play at left back now?

Who indeed?