Zidane, Bale and the Villarreal parallel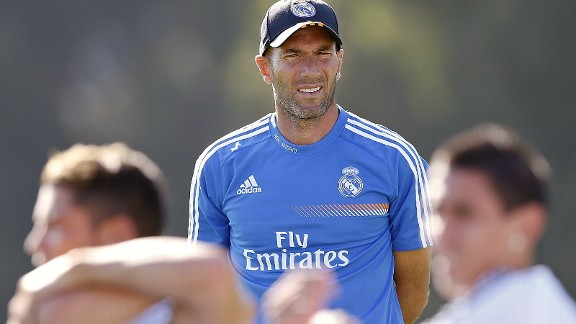 GettyImagesZinedine Zidane has much to teach Gareth Bale, on and off the pitch.
It was both interesting and dangerous for Zinedine Zidane to broach the subject of what Gareth Bale is worth. His point, and his precise quotes, were about whether anyone is worth €100 million -- the fee Spurs would have us believe Madrid paid. Zizou thinks not. In fact he believes it to be "incomprehensible."

We live in an age when it's inevitable that some will believe the Frenchman's words are a put-down for Bale. The Welshman is not yet, and may never be, Zidane's equal as a footballer however impressive he has become. And when Real Madrid are strenuously attempting to convince Cristiano Ronaldo that they spent less on buying Bale from Spurs than they did in setting a new world record to acquire the Portuguese from Manchester United, others will think that Zidane is jealous of how much more Florentino Perez has spent on the new guy than he did on the great Frenchman in 2001. That's absolute nonsense, of course.

Zidane understands the talents, and the potential, of the new stallion Madrid have bought. In fact he was an influential part of the process to prise Bale from an unwilling seller.

Further danger lies in the parallel development of the Spanish football world into more of a Barcelona-Madrid hegemony than was the case when Zidane moved to the Bernabeu, meaning the football media in Spain has become more one-eyed and partial.

Irrespective of the fact Bale is an immense boost to this league, particularly at a time when the economic crisis has led to a "brain-drain" out of La Liga, some Catalan media are already gunning for the 24-year-old to fail and prove a dreadful investment.

What a sad ideal that is.

You can bet that some of them will twist Zidane's theme inside out and use it to tell credulous readers that there is a Zizou-Florentino rift and as "proof" that spending so much money is automatically ruinous and ludicrous.

In fact the Frenchman broached the same theme when he was the new Galactico -- he wasn't comfortable about Real Madrid paying €76 million for him.

Zidane's aim with his words has been (A) to speak honestly (and all of us who adore football should sing hallelujah and pray for more of that) and (B) to take some of the pressure off the young Welshman.

Of the four true Galactico signings Florentino Perez made (Luis Figo, Zidane, Ronaldo, David Beckham) it was the Frenchman who would come close to the Englishman in taking the longest to settle, the longest to begin to show his worth. Early goals didn't mean that he felt comfortable or played to his true potential and coach Vicente Del Bosque did not find it particularly simple to get the best balance of his star-studded team.

It all ended happily enough, despite a third-place La Liga finish and defeat in the Spanish Cup final at the Bernabeu on the exact date of the club's 100th birthday, when Zidane volleyed in the glorious goal at Hampden Park which gave Madrid their ninth European Cup, in 2002.

But Zidane was then a relatively timid soul who found the razzmatazz, the media attention, the Galactico culture hard to assimilate. Is any of this beginning to evoke Bale's current situation?

Now that the Frenchman is one of Carlo Ancelotti's coaching staff he'll do everything in his power to decrease the pressure on the new man -- and he'll give shrewd counsel, too.

And if Bale wants to know how to handle all this, how to confirm to himself that it's just a mad bubble of over-heated attention and to understand that the only proper way forward is to concentrate on the basics (learn the language, train with intensity, play as close to peak as possible) then he should study the Zidane trajectory.

It's a little fluke that Bale stands to make his debut against co-league leaders Villarreal this weekend -- although I'd be very surprised indeed if he starts and his fitness may not permit any game time.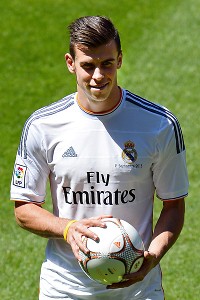 AllsportGareth Bale: The latest Galactico.
It was against the Yellow Submarine that Zidane called a halt to his playing time at the Bernabeu back in May 2006.
One of their all-time great players was leaving, scorer of one of Real Madrid's top four or five goals ever, but his goodbye lacked value, lacked the respect he was due.

Barcelona were already guaranteed to win the title but Madrid, naturally, wanted the last home game of the season to be a success.
However, Villarreal proved more than stubborn, leading 2-1 in the Spanish capital at halftime and 3-2 with a couple of minutes remaining before Julio Baptista's late equaliser.

Such was the deflation and the disappointment that many of the fans, and the majority of the players, drifted away without a proper ovation for the departing Zidane. I well remember Beckham and Iker Casillas furiously insisting to their fellow players that they "damn well get back out on that pitch" so that a phenomenal footballer and valued teammate get the farewell he merited.

World-record signing and author of a Champions League final win one moment, to just a passing player within the blink of an eye. Bale would do well to remember how this crazy bubble of hysteria and super-stardom can go.

I hope, and believe, that this is a healthier, happier and stronger squad/dressing room that Bale is joining.

This Real Madrid will be well coached by Ancelotti, Zidane will add balance and intelligence, there is a nice mixture of youth, athleticism, talent and sporting aggression and the Bernabeu crowd have recently shown, with their jeering of Karim Benzema but adoration of Luka Modric, that they place an increasingly high value on hard work, commitment and industry. Tailor-made for Bale.

But I strongly hope the Villarreal thread of this weekend is not lost. When Real Madrid anted up the money for Bale it was partly to do with the seemingly endless credit they can command (even in a crisis), partly to do with legitimate revenue projections and partly to do with the fact they could sell Mesut Ozil for a remarkable €35 million profit to Arsenal.

When Villarreal were relegated nearly a year and a half ago they were faced with a different economic dilemma.

This is a small club from an even smaller town and one which was only able to light up many of the last nine or 10 seasons with some thrilling and hugely enjoyable football thanks to a benefactor -- Fernando Roig.

Rebuffed in his efforts to buy Valencia, the ceramics and supermarket magnate took Villarreal, then training in a public park because of lack of facilities and lack of cash, to the semifinal of the Champions League in 2006, plus the semifinal of the Europa League in 2011. They waged war on Madrid and Barcelona, in the most attractive fashion, finished second in La Liga in 2008, showed themselves a match for most of Europe and emerged without a defeat from four competitive meetings with Manchester United.

Relegation in 2012 had much to do with a dip in their success in which players they signed (and for how much) and, despite serious investment in youth development (the club now has a terrific training complex and has been consistently aiming to sustain viability through their own football nursery), a lack of top-quality home-bred players breaking through. Manuel Pellegrini had also recently left. I've always felt that his absence was a blow from which the Yellow Submarine never properly recovered.

That relegation left the club with a debt the size of two Gareth Bales. It was quite unsustainable in the second division and so Roig sold a percentage of his holding in a successful Spanish supermarket chain Mercadona. He pumped the cash straight into this characterful, sparky, wee club that he loves.

With that and the sale of players like Diego Lopez, Giuseppe Rossi and Nilmar, Roig was able to announce last summer that: "We now don't have any debt -- not with the banks, the taxman, social security, players or with other clubs."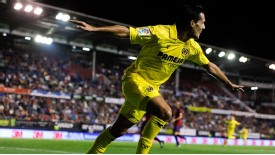 GettyImagesVillarreal are back in the big time and level on nine points with Real Madrid and Barcelona.
What he emphasised Villarreal DID have was a debt to their fans. This Castellon/Villarreal region was heavily dependent on the ceramics industry in which Roig is a major player. With the construction boom over, fewer tiles are being bought and ceramics is one of those areas most badly hit by the current recession. Unemployment has been well more than 28 percent for some years.

A winning football team won't put bread on the table, or buy new clothes or books for kids going back to school in Spain this week. But local pride counts, diversions from the dull pain of unemployment can either be positive or negative and optimism is a rare, beautiful quality during threatening times.

Roig paid his debt to the fans, taking Villarreal back up to the top division at the first time of asking and I'll never forget the huge fleet of buses (around 170 of them) which carried a sea of yellow (10,000 fans) up to Barcelona B's Mini Stadium in June for a crucial end-of-term win which helped clinch promotion. That Villarreal are up in the top division without the coach they appointed to do that is just one, small, sad reminder that it's best to go all-out every day in life. Manolo Preciado was just about to take control of the push for promotion last June when he died, of a heart attack on the day he was appointed, aged just 54. I'll recall him this weekend irrespective of whether Gareth Bale plays or not.

So congratulations to Preciado's replacement, Marcelino, who's put a bright splash of yellow back on the Spanish football map and a smile back on many people's faces. Three wins out of three thus far mean that, in points terms at least, they face Madrid as equals at the Madrigal this weekend.

Even at this early stage that's no small achievement. The last time the two sides met it ended 1-1 back in March 2012. Sergio Ramos, Ozil, Pepe, Jose Mourinho and Rui Faria all committed red-card offences (on and off the pitch) which earned them a variety of bans. Marcos Senna equalised Ronaldo's goal, the Madrigal lapped it all up and it was highly theatrical entertainment in general.

Because of Bale, whether he plays or not, the eyes of the world will return to Villarreal this weekend and I hope that most neutral viewers do so with either affection for the little club from this Mediterranean coast of eastern Spain or at least some acknowledgement that there is another way, Roig's way, to deal with debt, to try and build a successful franchise and to give hope to devoted fans when there isn't a €100 million fee to hand.