Real Madrid must take the responsibility to develop Gareth Bale's game
The last time Real Madrid broke the world transfer record and hosted a "galactic" event at the Santiago Bernabeu it didn't go without its glitches either.

Cristiano Ronaldo was the subject of adulation back then, after a courtship that lasted even longer than that of Gareth Bale, and the fans queued all day in the burning Madrid sun to secure their free entrance to the stadium that evening -- just in case there was a capacity crowd (there very nearly was). Some fans, naturally enough, brought beer with them; others nipped away from the queue for the odd refreshment, and it all meant that there was an extra exuberance in some parts of the stadium by the time the ceremony began to unfold on a raised dais on the pitch.

- Real eye plans to recoup Gareth Bale fee
- Ledwith: Bale unveiled at last
- Marcotti: Bale's seismic move

Cristiano? He was cooler than Paul Newman. Said the right things, did the right things and, like Bale, spoke the truth when he said that this was wish fulfillment in its purest form. He truly had always wanted to play for this club.

During the Galactico era, president Florentino Perez has made a habit of ensuring that the club's honorary president, Don Alfredo Di Stefano (probably still regarded by most as Real Madrid's greatest footballer) is there to add a sheen of "Madridismo" and approbation to the presentation of any grand signings. Due to advanced years and ill health this is the first summer the old warrior hasn't been able to attend.

Back then Di Stefano was talked about in glowing terms by the president. Referred to as a legend and the symbol of all that was important about the club. Lovely.

But as the ceremony dragged on and the crowd wanted more of their new hero, one or two petty boozy fans vaulted the mini-wall at the edge of the pitch and ran on to try to get an autograph, a picture or even a piece of Ronaldo's shirt.

For a second the security guards looked as if they might handle it, but one of those moments arrived when the big crowd looked at the little band of men and asked itself: "What the heck is stopping us. We RULE!" And the trickle became a deluge.

The generals, seeing that their foot soldiers were overrun, hoofed it. Florentino and his directors turned tail with the air of "every last man for himself" ...

The only problem was that 83-year-old Di Stefano, heavily dependent on his walking stick for balance, was left behind.

As the top-level security also whisked Ronaldo away, I was about 20 metres from Di Stefano as he picked his way through the rampaging crowd and exited through the dust that the Real Madrid board members had left behind them. At the time I thought it spoke volumes about the president and the honorary president.

At the Bale presentation this past Monday, there was another unscheduled moment.

Madrid do these events well; the world watched, Bale looked like the man to mark a generation -- it was a good gig.

Then some of the fans, fearful that they might be witnessing some kind of revolving door for heroes (one in, but another important one out) started to chant that Mesut Ozil shouldn't be sold. There is an image, which I think defines an era, of Perez putting his finger to his lips and "shooshing" them. They don't matter, they are only punters, they certainly aren't in the Asian market ... and they were spoiling "his" party.

It's what all president Florentino's pet projects -- Di Stefano, Ronaldo, Ozil, Jose Mourinho, Kaka -- learn sooner or later. At first you matter, more than anything. And then you don't.

In Bale, Madrid have secured a scintillating talent. There are very few with his armoury of weapons, and still fewer with his calm, professional attitude towards team play and self-improvement. He's welcome in Spain and I wish him good fortune.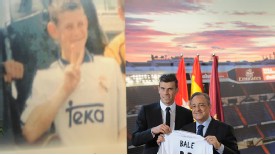 GettyImagesGareth Bale is unveiled alongside an old photo of him wearing a Real Madrid kit as a 15-year-old.
In many ways Bale arrives at a good time. Everyone is asking: What can Bale do for Real Madrid? But to pinch a theme from JFK, ask not what the Welshman can do for the Spaniards, but what Madrid can do for him.

His talents are abundant. However, he's not yet at the peak of his powers, which is where working with Zinedine Zidane, Carlo Ancelotti, Sergio Ramos, Iker Casillas, Ronaldo and Xabi Alonso can be fantastic for his football development. What notably works in his favour is that despite the need for him to learn Spanish there are several people -- Jose Angel Sanchez at institutional level, Ancelotti, his assistant coach Paul Clement and, for example, Luka Modric -- who can help Bale with a variety of matters in English while he's attempting to brush up his lingo.

This should significantly aid him during the infamous period of assimilation when, despite his wealth and privileges, he'll probably feel as if all his senses are being assaulted at the same time. It's worth bearing in mind that it took Zidane a good six months to settle in at Madrid while he was picked apart by a graceless media. Michael Owen's first few months were spent in a hotel to avoid all the distractions.

But the point about Bale's plenitude is that there is a great deal more to come from him and it's Madrid's duty, institutionally and in a sporting sense, to actively develop him rather than just handing over the baton and saying: Entertain us, sell shirts, win trophies.

To be judged on that fee, to start with, is injurious. For anyone to forget that this is still a footballer at the beginning of his development curve would be daft.

As for the finger to the presidential lips Florentino used to tell his Ozil critics that he wasn't interested in them, it indicates several things beyond merely his disdain for the paying punter.

First, the €50 million Madrid were raising from Arsenal was vital. Given Spain and Real Madrid's financial position, the idea of spending all that cash on Bale without offsetting it was deeply unattractive.

Second, football efficiency is not always what this president values.

Ozil has been, certainly over the past two seasons, easily in the top two or three performing Madrid players for the majority of the time. He is world-class. And he's certainly more important to the idea of this football squad achieving greatness than, for example, Karim Benzema. But the Frenchman is very much a presidential predilection.

The crowd jeered Benzema, again, for a perceived lack of effort and willingness to sweat for the cause this past weekend. In comparison, they roared and roared their appreciation for Modric -- talented and hard-working.

Florentino won't see the attraction. Modric ain't blessed with Hollywood looks or Hollywood box office -- all he can do is play exceptionally.

The fans who pay their hard-earned dosh like Modric, like Ozil, like Gonzalo Higuain whom, I expect, 90 percent of Madridistas would have swapped for the sale of Benzema every day of the week.

Thus, I think it's fair to say that the fans are going to like Bale.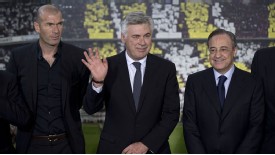 AssociatedGareth Bale can learn plenty from the two men on the left, Zinedine Zidane and Carlo Ancelotti.
He's the epitome of the iron fist in the velvet glove. Not tough like Ramos, not a bully, not as robust as he'll one day become. But an enormous athlete, tremendously hard-working in matches and in training, and with fearsome modern footballing powers.

And just returning to the theme that Di Stefano, not Florentino, is what Madridismo should be about in an ideal world, the one thing everyone who adored the Argentinian "blond arrow" told me is that he dominated a number of positions around the pitch.

Some who were religious followers of his career and some others who played with him point out that what's not greatly recognised when the hall of fame is being populated is that Di Stefano would just as likely pick the ball up at right-back or centre-midfield or work back with a team-mate in order to turn a game. "He was everywhere" is a defining theme of his career.

Now Bale is not -- and will not -- become another Di Stefano. But while the great debate over where he should play, where he performs best and how to fit him in the side rages, it might be worth remembering that the greatest player in Los Blancos history dominated a number of different positions. Di Stefano worked hard, damn hard. Just like Bale will.

Good luck, Gareth; it's one hell of an adventure you're beginning.

That 'champion' moment

When Spain became world champions in 2010 there was a great deal for head coach Vicente del Bosque and his players to learn and assimilate. One of the less agreeable matters was the fact that the World Cup winners no longer qualify automatically for the next competition.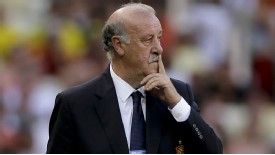 AssociatedSpain coach Vicente del Bosque has some problems ahead of the World Cup qualifiers.
Over the ensuing months I saw stalwarts like Xavi Hernandez and Iker Casillas expressing their disapproval of the fact. My own point of view is that it's quite right for champions to be continuously asked to punch their weight.

Part of what has always prevented the "triple crown" of trophy wins that Spain achieved by adding Euro 2012 to Euro 2008 and World Cup 2010 is that age withers, the constant demands of defending your crown debilitates, and playing groups ebb and flow greatly over a period of two or three years.

The all-time great sides of Brazil, Germany, France, Italy and Argentina never managed Spain's fabled trophy treble, and the reasons were tiredness, age, injury, form, diminished hunger -- sometimes all of the above combined.

All of which makes this international week totally fascinating.

Spain have been in hand-to-hand combat with France for first place in their qualifying group (only one goes through to Brazil automatically), and the matches in Madrid and Paris were totally compelling. Full of drama and intelligence.

Finland landed a body blow on the world champions last season when drawing, stuffily but cleverly, in Spain.

However, Spain's win at the Stade de France seemed to put all the furniture back in place. If La Roja could win in Helsinki then France faced, distinctly, the tougher finish to the group, and that should be that.

Now Spain face the Finns without Fernando Torres, Javi Martinez, Juan Mata, Xabi Alonso, Gerard Pique and Sergio Busquets, and with Casillas not commanding a starting place at his club.

For those who have tired of Spain winning everything, surely this is a jag of adrenalin: Can they cope?

For those who adore the brilliant technique of this era this is just one more test to prove that this squad's spirit and mentality are as powerful as their skill set is.

And for anyone who is interested in the affable, intelligent and interesting man who manages the world champions, del Bosque, it's a fascinating examination of his ability to cope with adversity, to properly judge his players' state of form and to carve a result out of what now looks like a very tough match indeed.

France, who face Georgia on the same night, will be glued to Spain's progress.

Time for the stuff of champions.