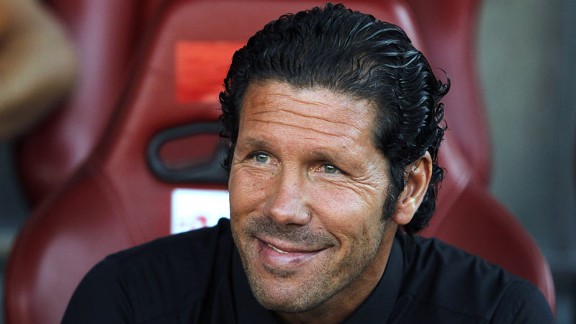 AssociatedDiego Simeone says he is not confident of breaking Barcelona and Real Madrid's monopoly.
You could call Diego Simeone many things, but "subtle" probably wouldn't be one of them. Or as a friend of mine once said, "About as subtle as an air raid." Given these incontrovertible facts, Simeone the player and Simeone the manager have plenty in common, and so when he said, a fortnight ago, that his Atletico Madrid team could not compete with Barcelona and Real and that the limit of his ambition this season was third place (and a decent run in the Champions League), you tended to take the notions at face value. Simeone likes face value. He demands that his players look him in the eye and respond to his two basic commandments -- commitment and unison, from which the rest will follow. If you don't like the Simeone way, you get out of the kitchen, or alternatively you're shown the door. For a player of Adrian's quality to be now considered surplus to requirements shows that this current squad means business. They can't compete with the big two? I'm not so sure that's true.

When Simeone was asked in preseason to define the difference between Atletico and the big two, he replied quite wittily: "A 400 million annual budget." Nevertheless, there is a scary look about the present setup, and the way that the team has continued to progress under El Cholo's simple but effective stewardship. I went along to Anoeta on Sunday evening to see for myself how true it is that Atletico can only finish in third place.

Given that Real Sociedad hadn't lost at home since November 2012 (to Espanyol) the game was an attractive prospect and one that pitched the two in-form teams of the moment into battle. Atletico won 2-1 and looked very good indeed. Their excellent goalkeeper, Thibaut Courtois, made an unbelievable save from Esteban Granero in the final minute of added time, but I am forced to admit, reluctantly, that Atletico are the best side I've seen in Anoeta for some time. If the big two let their guard slip, beware. This is a seriously good team, and it's built to last.

To begin with, it's interesting that the team lost its biggest star in preseason (Radamel Falcao) but seem to be even better without him. Time will tell, because there must be some reason Barcelona would let David Villa go for the unfeasibly paltry sum of €2.1 million -- and one assumes it has something to do with the player's medium-term chances of truly overcoming his serious knee injury, plus the arrival in Barcelona of Neymar, of course. Meanwhile, his new team are looking fairly awesome up front, playing a sort of 4-4-2 with Diego Costa hanging slightly behind Villa, backed up by the excellent Arda and Koke, the two offensive midfielders in the "four." The movement of these four, and the speed with which they have established an understanding, makes for scary viewing. Atletico actually play good football, and despite their cynicism, gamesmanship and all-around bad-ass mentality, they are attractive to watch. Nevertheless, their success is still based on the aggressive deconstruction of their opponents' play, as demonstrated in the Super Cup against Barcelona recently. Their early tactics against Real Sociedad, a team that likes to get a possession game flowing, were to simply harass their three playmakers (David Zurutuza, Carlos Vela and Antoine Griezmann) and demoralise their opponents by niggling, disrupting and, if necessary, committing "professional" fouls in the face of imminent danger.

It worked a treat, although with better referees than the calamitous Ayza Gamez, they might have to watch their cumulative card count. As a quick aside, I wonder if it's possible to answer the question of why a referee like Gamez is allowed, week in, week out, to operate at the highest level when he clearly has no understanding of the game of football. Answers on a postcard please. There are several poor referees in La Liga, a sentence which requires little debate, but Gamez is down there with the worst. And of course, a side like Atletico will exploit this to the hilt. In the end, Sociedad started to muck around, too, diving and niggling, although it is not an integral part of their game. Of course, Gamez fell for it, too. Not good.

Atletico are also solid at the back. Apart from their world-class goalkeeper (not bad after letting David de Gea leave), Juanfran and Filipe Luis are a useful pair of full-backs, running a tight ship alongside the centre-back pairing of Diego Godin and Joao Miranda. With Mario Suarez and Gabi competing like madmen in the centre of the park, you have to be very organised indeed, and mentally strong, to defeat this team. Ask Barcelona. Up to today, Real Sociedad had carried on happily from last season and were looking pretty awesome themselves, having qualified for the Champions League proper in midweek. But on Sunday they came up against a better-drilled and wilier team.

Barcelona lead them in the table on goal difference only, but two other sides, Real Madrid and Villarreal, are also on maximum points after three games. Next weekend there's a rest from the league, due to internationals, but then Villarreal get a chance to see just how real their excellent start has been when they take on Real Madrid at home. It promises to be an interesting game, and suddenly Villarreal's quick nip and tuck into the Second Division last season seems like a brief interlude in their otherwise impressive recent history. Although they started badly last season in the silver division, as Mallorca have done this (they're currently bottom on zero points), Villarreal's policy of keeping their previously top-flight squad more or less together has paid dividends, and now they look comfortable to be back where they seem to belong. It's true that their three opponents so far (Almeria, Valladolid and Osasuna) are not exactly setting the world alight, but the efficiency with which they dispatched struggling Osasuna (3-0) in Pamplona promises a decent season. Joao Pereira and new man Jeremy Perbet ran Osasuna ragged, with old-boy Cani still doing the business as media-punta and Uche not a bad guy to bring on as substitute (he scored, too). Poor Osasuna look like relegation fodder at the moment, unable to score goals (like last season) and probably about to lose their manager (Jose Luis Mendilibar) as the first victim of the season, unless they get something from their visit to Getafe next time out. He was "ratified" after the game, which in shorthand means "get your act together or you'll be on the dole in a fortnight."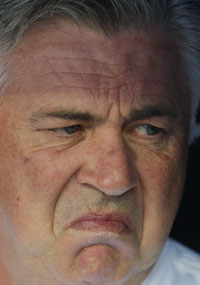 AssociatedReal Madrid manager Carlo Ancelotti may have some difficult decisions to make.
Real Madrid themselves were given a midday match on Sunday, at home to Athletic Bilbao, and it seemed strange to watch the game, bathed in a different light from the one that you get accustomed to seeing on the telly, with long shadows protruding out from the goal areas that made it difficult to follow some of the action. Mesut Ozil was on the bench and there he remained for the duration, and at the time of writing, in the wee small hours, rumours seemed to be projecting him in the direction of Arsenal.

Although Madrid would welcome some money back after the splash-out on Gareth Bale, it seems curious that they would contemplate the exit of this wonderful but slightly temperamental player. The problem with gathering together such a star-studded squad is that someone will always take umbrage. Bale, Isco and Asier Illarramendi must end up playing, as the logic of financial outlay dictates (Kaka, on his way back to Milan, being the exception that proves the rule), but if Ozil leaves then these players must set the new standards. There is already overbooking in midfield, without even considering that Xabi Alonso will eventually return and Sami Khedira is admired and rated by the Madrid faithful. Will there be much pressure on Bale, finally confirmed on Sunday as a Real Madrid player for the next six seasons? According to my son the same evening, if Bale sleeps an average of eight hours, he will wake up every morning having banked a further €16,320, given his salary and publicity earnings. As Bale himself has said, it certainly is a dream to play for Real Madrid.

Over in Valencia, Leo Messi forgot about the taxman for a while and scored a first-half hat trick, only to see the 3-0 lead swiftly reduced by a brace from new boy Helder Postiga in a fantastic, high-tempo game. Barcelona started with Messi and Neymar, and there were moments when the two of them combined with frightening speed and understanding. It looks like an interesting marriage at the moment, Neymar also making the third goal for Messi. Without Xavi, Barcelona looked more vertical but also less in overall control. Valencia played an ambitious but risky high-line game, and they paid the price, but Barcelona have not quite settled into a definitive pattern as yet, the same as Real Madrid. Both have new managers and this is only to be expected. Meanwhile, Mr. Simeone continues to whittle away at that 400 million difference. He says he can't compete but he's kidding nobody, least of all himself.

To conclude, the Champions League draw was fairly even-handed to the four Spanish participants. Barcelona were probably given the "easiest" group, although with Milan there you can never know, and Real Madrid won't over-relish the prospect of Juventus again, but no Spanish side was handed a group of death. Newcomers Real Sociedad are not overly dismayed by a group that consists of Manchester United, Leverkusen and Shakhtar, and Atletico, our focus of the week, will be wary of Porto and Zenit but look now as though they should cope. You get the distinct feeling that the other three sides (the other one is Austria Vienna) will be more scared of them. They should be.