Ronaldo retains top-dog status at Real Madrid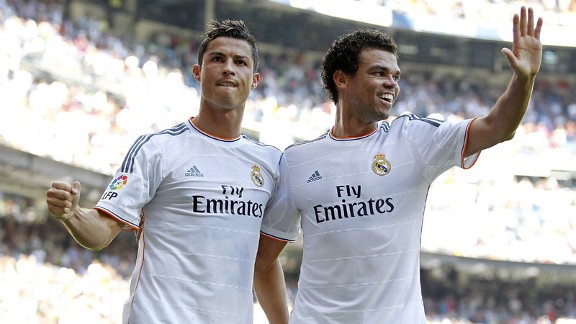 GettyImagesCristiano Ronaldo celebrates his goal against Bilbao alongside Pepe.
MADRID -- A year to the day since Cristiano Ronaldo announced his "sadness," and a day before Gareth Bale looks set to finally seal his move from Tottenham to Real Madrid, the club's current superstar showed the first signs he was warming to the new season in Madrid's 3-1 home win over Athletic Bilbao on Sunday lunchtime.

Rigg: Bernabeu bows to Modric

Bale's imminent arrival -- for either €91 million or €101 million depending on whether you believe the Spanish press (Madrid's leaks and not a world-record fee) or the British papers (Spurs' version, and more than was paid for Ronaldo) -- has led many to wonder how the transfer will affect the situation at the Estadio Santiago Bernabeu.

Pregame talk was also around Ronaldo not looking comfortable so far playing in a new, more central, position under new coach Carlo Ancelotti, and not scoring in the first two La Liga matches of the new season, or in any game since Aug. 10. Another game without a goal would be a famine by his standards, something picked up by the Madrid press this week.

There was also Ronaldo's decision not to travel to Thursday's UEFA player of the season 2012-13 award ceremony, which brought back memories of his low mood last season being reportedly down to Florentino Perez not accompanying the sensitive attacker to last year's gala.

Ronaldo reportedly reacted then by telling Perez he wanted to move, to which the Madrid president said fine, but only if they got a big enough fee to replace him with Messi. That led to the infamous "I'm sad, and the club know why," comment to reporters after beating Granada on Sept. 1, 2012. The pair's relationship has still not recovered from that row, with a coolness evident when they meet in public, and each regularly giving a very different commentary on how their new contract talks are progressing.

This all looked, if not a problem, then at least an issue as Sunday's game began. And Ronaldo was quiet and peripheral for the first 15 minutes, his first real involvement to crumple to the ground under a nothing challenge from Carlos Gurpegui and claim a penalty, which referee Carlos Clos Gomez was having none of. His next was to give the ball away and throw up his hands in frustration at Angel Di Maria for not reading his intentions. The body language was more like the old, petulant, individualistic Ronaldo, not the super focused team-man of the past 18 months.

When he did burst into action, bringing a booking for Gurpegui for bundling him over, it was telling that the action came during a Jose Mourinho-style break rather than an Ancelotti-style spell of possession. Again on the counter, fed by Isco, Ronaldo cut in from the left and had a near post 20-yarder tipped around post by Athletic keeper Iago Herrerin. There was still, however, not much evidence of a real understanding with Benzema of what they were supposed to be doing as a central striking pair -- both went for the same Di Maria cross, with Ronaldo bumping Benzema who sent his header wide.

As the half progressed, Ronaldo looked more comfortable when dropping deep to the left wing. From there he was involved in the opening goal, which started with a nice interchange of passes between him and Isco. The ball was moved centrally to Benzema. He found the ex-Malaga starlet, who coolly controlled and slotted home from close range.

With Ronaldo still looking unsure in open play, it was handy that his best chance came from a dead ball. Just before halftime Di Maria's peach of a delivery, and Athletic's non-existent marking, provided a free header 8 yards out. The header was excellently directed, Herrerin had no chance, and Ronaldo had 11 goals in eight games against Athletic, and 202 in 202 matches for Madrid.

The Portugal captain looked more in the mood from the beginning of the second half, nutmegging Gurpegui and shooting just wide. Benat then also went into the book for a trip when Ronaldo was on another rampaging run from the left wing toward the penalty area. He -- of course -- took the 30-yard free himself, with Herrerin doing well to touch the low effort around the post.

Ancelotti accepted a suggestion postgame that the goal had been good for Ronaldo's morale.

"For him it is good to score, he did not have a problem with this," said the Italian coach. "But to score a goal, for a forward, is always a good thing."

By contrast Benzema looked increasingly uncomfortable, and was whistled roundly by the Bernabeu after not showing enough effort to get to a through ball ahead of Herrerin. His apparent discomfort, and the form of Di Maria and Isco deeper, leaves open the possibility of Ronaldo playing a lone striker's role when Bale arrives.

The Frenchman did also provide the assist for Isco's second goal -- his third in three games for Madrid -- but the feeling persists that he does not feel fully at home at the Bernabeu, and fans remain unimpressed with his "laid-back" movement around the pitch. That was his last contribution, with 20-year-old Jese Rodriguez given a chance to impress.

Ancelotti refused to criticise Benzema afterward, saying supporters should be more understanding, and forwards did not need to always be running around.

"Benzema was whistled a little, all the stadium applauded Di Maria," he said. "That shows the fans look a lot at the work being done. Benzema is in a different position, where you do not need to work as much."

Given Isco's form, and when Bale does arrive, it could be that Benzema and Di Maria (and Mesut Ozil) are all fighting for one spot in Ancelotti's first choice XI. But it remains possible that Madrid -- especially Perez -- would very seriously consider a bid for one of the trio.

€40 million or more would help pay the Bale bill, and also maybe to improve Ronaldo's contract.
AS were still claiming on Sunday morning that a deal tying him to club until 2018, of about €20 million a year after tax, could be announced as soon as this week.

That is perhaps a bit premature, but it is fair to say that Ronaldo, Perez and Ancelotti all left the Bernabeu on Sunday afternoon feeling happier about CR7's situation than when they arrived.