CL draw brings Johan Cruyff, Barca, Ajax history to the fore
H is for history. On Thursday, the Champions League draw brought AC Milan, Barcelona, Ajax and Celtic together in Group H -- four former winners of the European Cup, with sixteen trophies between them going back over 50 years, a champion or two for every decade. Celtic, the first British team to ever win the competition, in 1967; Milan, winners for the first time in 1962 and dominant in the late 1980s and early 1990s; Ajax, three-time champions between 1971 and 1973; and Barcelona, winners three times in the last eight years.

History is one thing; the present another. Yet for Barcelona there is something significant about the draw, and not just because they should progress without great difficulty. This will be the third year in a row that they face Milan, and last season they were of course defeated by Celtic, but it is the first time they have ever played a competitive match against the club that inspired them, the club that helped make them what they are.

The ties are close and there will be familiar faces. Bojan Krkic is on loan from Barcelona. Frank de Boer is Ajax's manager and Marc Overmars their sporting director. Both are former Barcelona players.

- Brewin: CL group analysis
- Marcotti: Ribery's award shock
- Ledwith: Relief and familiar faces for Barca
- FC on TV: CL hope for other Spanish sides?

The last time Ajax won the European Cup was in 1995, against Milan, with 19-year-old Patrick Kluivert scoring the winning goal. He joined the Catalan club soon after. By 1999, none of Ajax's European Cup-winning team was still in Holland and six of them were at Barcelona: five Dutchmen (Frank and Ronald de Boer, Michael Reiziger, Winston Bogarde and Kluivert) and the Finn, Jari Litmanen. Their manager, Louis van Gaal, had moved there too.

Eventually, that caused problems. A banner at the Camp Nou demanded "Mas catalanes, menos tulipanes" -- more Catalans, fewer tulips. Some players, pundits and even politicians complained about a loss of identity. But that was the thing: Barcelona had brought them in precisely because they wanted to recover their identity. And their identity was that of Ajax. "The reason they wanted me in 1997 was that they identified with the Ajax style," van Gaal says.

That identification went back further and it is still there. It focuses, above all, on one man.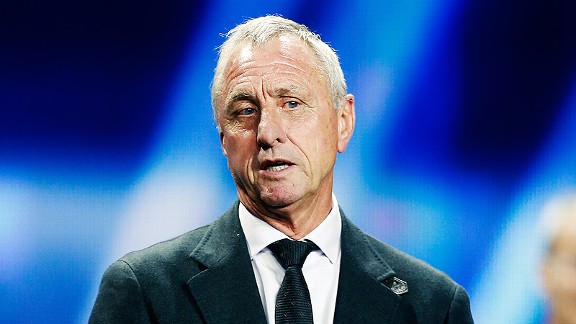 Valery Hache/AFP/GettyImagesNow that Barcelona and Ajax will finally meet in a competitive fixture, the influence and history of Johan Cruyff at both clubs will rise back to the surface.

Johan Cruyff's mother worked as a cleaner at Ajax's stadium; his stepfather worked at the club too. He led Ajax to those three consecutive European titles in 1971, '72 and '73. Barcelona's coach at the time was Vic Buckingham, the Englishman who had given the 17-year-old Cruyff his debut in Amsterdam. He was then replaced at the Camp Nou by Rinus Michels, nicknamed "Mr. Marble" and the man credited as the inventor of "Total Football." Buckingham's bad back was the pretext; the reality was that Michels was made coach ready for the arrival of Cruyff himself in 1973.

From there, Cruyff changed Barcelona's history forever. It was, as one teammate recalls, a "revolution." Their playing style altered entirely: suddenly the emphasis was on touch and technique, passing and positioning. No one else in Spain was really ready for it, either. Barca won the league for the first time in 14 years, beating Real Madrid 5-0 at the Santiago Bernabeu. That summer, Cruyff's Holland were the outstanding team at the World Cup, despite losing the final to Germany -- a loss still lamented far beyond the Netherlands today.

Cruyff's success in that first season at Barcelona (he did not win the league again as a player) laid down a new footballing ideology, an approach inspired by Dutch Total Football, of which he was the leader. "That was the start of the current Barcelona," says Cruyff's teammate Charly Rexach.

Rexach was later Cruyff's assistant manager too. Cruyff, of course, led Barcelona to four consecutive league titles between 1991 and 1994 and the club's first-ever European Cup in 1992; if the idea had been lost (and would be lost again), it was reinforced here. When van Gaal joined in 1997, it was with the explicit intention of continuing the legacy, even as debate raged over whether it entirely worked.

In the middle of Cruyff's midfield had been Pep Guardiola, who publicly dedicated the club's success to "Johan and Charly, the men who started this off." Xavi Hernandez, the Barcelona player who most fits the Guardiola mould, describes the club's footballing philosophy in similar terms. "Our model was imposed by Cruyff; it's an Ajax model," he says. "It's all about rondos, piggy-in-the-middle games."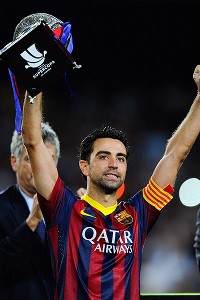 David Ramos/Getty ImagesXavi is perhaps the biggest scholar and keeper of the "Ajax style" at Barca today.

Cruyff stands at the heart of Barcelona's footballing identity more than any other. In fact, a case can be made for saying that he is the embodiment of Barcelona. He stands at the heart of Ajax too, still very much a presence at both clubs. He was at the draw, and when the teams came out drawn together, he insisted that he would be supporting "all" of his teams. This meeting would be the perfect opportunity to celebrate his contribution, his legacy at both clubs; clubs that owe him much. It is not so simple, though.

When Cruyff was sacked as Barcelona coach, it opened up a wound at the club that has never truly been healed, creating factions and a damaging divide. For many, Cruyff is a deity. But there have been problems, and he has enemies. Among them are the former president Josep Lluis Nunez and the current president, Sandro Rosell. At Thursday's draw, Cruyff accused Rosell of failing to pay money that he owes to Cruyff's foundation, and as far as the official protocol was concerned, the Dutchman was identified with Ajax, not Barcelona.

After all, Cruyff is not Barcelona's honorary president any more. Rosell took that distinction from him.

Fear and Loathing in La Liga: Barcelona vs. Real Madrid by Sid Lowe (Yellow Jersey Press) will be released on 26 September