Morbo for Sociedad, Super Atletico and Del Bosque under pressure
Regardless of the original dictionary meaning of the Spanish word "morbo" [literally a "ghoulish fascination" with something], football media in this country have irreversibly commandeered it to apply to any match where there is a nice wee angle or edge.

• Ball: Spain's true colours
• Lowe: Villa proves a point in Barca reunion

In which case scream: morbo, morbo, morbo!!! just before Real Sociedad kick off against Lyon in their Champions League qualifier second leg at the Estadio Anoeta in San Sebastian this Wednesday.

Last week when the Txuri-urdin (the white and blues) striker Antoine Griezmann scored a goal -- which will compete with anything else notched in the competition between now and the final in Lisbon next May -- his parents burst into tears. Small wonder. This electric little front man used to sit in the Stade Gerland as a devoted fan. Lyon are still his club and it's to the Ligue 1 outfit that he owes dreams of what playing in the Champions League might be like.

"Lyon has been my club since I was a kid. I used to come to see all the Champions League matches here with my father. The moment I stepped on the Stade de Gerland pitch, I felt a lot of emotions," Griezmann confirmed. "I even pointed out the spots in the stands where I used to sit."

Perhaps the tears were also for a lad who's trying to find the right track after his football GPS went wonky.

Late last year, he and a handful of others took a taxi from the north coast of France to Paris to rave it up at a nightclub when they were instead supposed to be in an U-21 training camp for vital play-off matches against Norway. France lost, humiliatingly, and when the drinking and dancing came to light, the miscreants were banned, Griezmann from December 2012 until the end of this year. A horrible error for him to make, especially given his mix of talent, explosive pace and general joie de vivre.

When he signed up for duty at La Real in early 2005, it was only a matter of months after the club he supports had knocked the club he was joining out of Europe's elite competition.

That was the last time Real Sociedad had this powerful a blend of local lads and well-liked imports. Xabi Alonso was the key Basque player around that time, while Nihat and Darko Kovacevic were the two much-feared goal-scoring guns-for-hire.

It was a decade ago and the Txuri-urdin had finished second, by two points, to the Real Madrid "Galacticos" of Zidane, Figo, Ronaldo and Raul. They progressed through their debut Champions League group in 2003-04 but with young Griezmann roaring the Frenchmen on from his seat in the Stade Gerland, Real Sociedad shouldn't have been ashamed of two narrow defeats to Paul Le Guen's powerful Lyon, a side starring Juninho, Edmilson, Mahamadou Diarra and Michael Essien.

It was sweet but all too short. Because they had played well domestically and in Europe, the vultures came. Nihat was bought by Villarreal, Alonso was sold to Liverpool and after Raynald Denoueix left, they had four different coaches between 2004 and 2007. The trauma of relegation and an extended stay in the Segunda coincided with the rise and rise of Athletic Bilbao, torture for their Basque neighbours and bitter blue and white rivals. Particularly when Real Sociedad's strategy had left them open to being mocked as football "muggles" while Athletic view their signing policy as "purebloods" only.

Famously, Athletic don't use players from outside the Basque Country -- even if you could argue that there has been a certain flexibility in the application of their rules.

Next year will be the quarter-century anniversary of Real Sociedad going in the opposite direction. Twenty-five years ago they decided to pick off some high-quality foreign signings (including non-Basque Spaniards) in the hope that the policy twist would help them win trophies, and thus make them more attractive to better local payers than Athletic.

Liverpool striker John Aldridge was the first to brave the new territory. This was still at the height of the ETA terrorism and he admitted to me that the graffiti threats to him and his family made him "very nervous" for some months.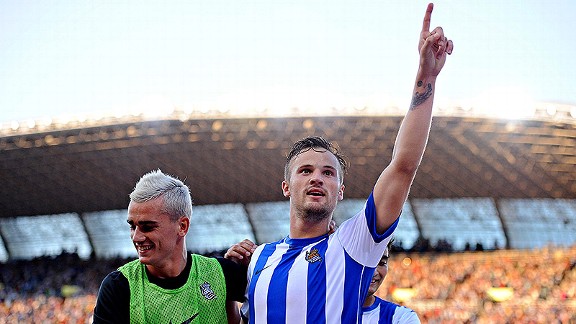 Denis Doyle/Getty ImagesYoung stars Antoine Griezmann and Haris Seferovic have brought Real Sociedad back into relevance.

The fact that he scored home and away in a pair of 2-2 draws against Barcelona and got a goal in a 2-1 home win over Real Madrid cleared up any doubts over whether the city of San Sebastian loved him or not.

The graffiti literally vanished overnight.

Now, as in 2003, it's feasible to say that La Real's strategy looks attractive. There are seven important foreigners in the squad -- perhaps Mexican forward Carlos Vela already stands out -- but key players like Inigo Martinez, Imanol Agirretxe and Xabi Prieto are all Basque natives. Ruben Pardo and Carlos Martinez were born close enough to Basque borders that they "count."

Asier Illarramendi is a Basque too, but his excellence in recent seasons just earned the club 40 million euros from Real Madrid at a time when their coach, Philippe Montanier, was also attracted away. Add the fact that Agirretxe, a thrilling and powerful striker last season, is injured, and the prospect of qualifying for the lucrative Champions League has added lustre in the circumstances.

This club is competing well with the higher profile of Athletic Bilbao for available Basque talent, developing young prospects into high-class footballers, scouting and signing well and serving up the Estadio Anoeta, 20 years old this month, some very attractive football. Sufficiently attractive to have convinced their other scorer in that 0-2 away win in Lyon last week to join La Real.

Haris Seferovic is a talented young Swiss of Bosnian origins and Fiorentina thought they had signed a talented tyro when they captured him from Grasshopper aged 18. But rather than give him continuity within the club, he was consistently loaned out in search of experience, which is where Real Sociedad's scouts spotted him and began to track his progress.

Last December the Txuri-urdin made their move and tied up a deal with the Serie A side.

However, Seferovic was unsure whether a move from a high-profile club in regular trophy contention to Real Sociedad, nine years without European football, a quarter of a century without a major trophy and, more recently, a second division club only three years ago, was the right way to advance his career.

Then he watched Real Sociedad come from 2-0 down to defeat Barcelona last January and he couldn't get on the phone to his agent quickly enough. "Take the deal now," he ordered, and the move was signed and sealed five months before the end of the season.

Good business in terms of forward planning but looking particularly shrewd after the 21-year-old's six goals in preseason, one on the first day of La Liga and a marvelous 30-yard half-volley in Lyon last week that puts his new club on the verge of football paradise.

It's all a good story. There is morbo. But the Champions League is a harsh mistress. Two-nil up and the home game to play is a lovely position. But the foreplay is over. It's time for a big performance.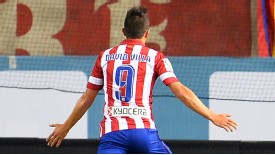 GettyImagesDavid Villa celebrates opening his Atletico Madrid account against Barcelona.
Superior to the champions?

Speaking of which, even though they fluffed their lines just a little in the first leg of the Spanish Supercopa last week, a big performance might just win Diego Simeone's boys their sixth trophy in three years.

Although it was Atletico Madrid who slightly ran out of gas at the Calderon after having led and looking superior to the Spanish champions, the squad rotation that Simeone chose this weekend in the 5-0 Madrid derby win over Rayo indicated that his is a squad full of fireworks. Goals from Raul Garcia and Tiago confirmed that Simeone has a bench and that there are dangerous, match-winning players on it.

Equally, Barcelona toiled in their second consecutive away match, at Malaga, and chose to fly home on Monday morning so that their players could get a good night's rest in Andalucia rather than arriving at Barcelona airport in the wee small hours of the morning.

Messi remains a doubt (again with a minor problem at the back of the thigh that hints at being repetitive), Adriano is out injured, and while coach Martino admits that "in his head, Neymar is ready to play from the start," it's clear that the Argentinian isn't yet wholly convinced.

Part of Barcelona's attraction is that they just don't lose the hunger for trophies no matter how much they win. But they lack the fire and the energy that Atletico, less blessed with magical talent, show as integral elements of their success. Few teams come to the Camp Nou and outplay Barca, but some find that they can either stifle or outwork them.

Because of Barca's crazy preseason tour, which the players openly admitted damaged their preparations, Martino's players are not fully match-sharp. However, Simeone's look much more so.

Wednesday's second leg is at the Camp Nou, Barcelona have a depth of talent and hold an away goal. But things don't look quite right, above all because the champions haven't yet signed the top-class, tall, athletic, quick centre half they quite patently need.

Martino's side will start as favourites but "Tata" will not allow complacency. He'll ask Iniesta, Pique, Neymar, Xavi and company to try to justify expectations and win -- by hook or by crook. But the indications are that if Atletico can make sure that they are firmly in the match and feeling strong come the second half, stranger things have happened than the Copa holders taking another cup home with them.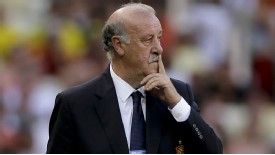 AssociatedSpain coach Vicente del Bosque has some problems ahead of the World Cup qualifiers.
Wise man required. Apply here.

They call Vicente del Bosque's predecessor, Luis Aragones, El Sabio De Hortaleza -- the Wise Man of Hortaleza.

It's a bit ironic that although the story, told to a clumsy journalist who botched it, was in fact, that Aragones' elder brother was in fact nicknamed El Sabio, it turned out that the former Spain manager wasn't short of a bit of football wisdom himself.

It's a trait del Bosque will have to share over the coming days.

Although Spain are top of their World Cup qualifying group, they have a tough away trip to Finland, against whom they drew at home. Meanwhile, France play in Georgia the same day and Spain need to match or better the French result to keep their destiny safely in their own hands.

Del Bosque's dramas are numerous: Spain captain Iker Casillas remains on the bench, Thiago is out for a couple of months, Javi Martinez is also injured, Juan Mata can't get a look in at Chelsea and Alonso, so badly missed during the Confederations Cup, is suffering with a broken metatarsal bone. Lucky white heather, Don Vicente?

That said, he does have resources -- Victor Valdes deputised brilliantly for Casillas in the spring in Paris (how romantic) and both Roberto Soldado and Alvaro Negredo are in goal form in England.

But it's sleeves rolled up, hard work, total concentration ... and fingers well and truly crossed for del Bosque from here until Helsinki in just over a week's time.