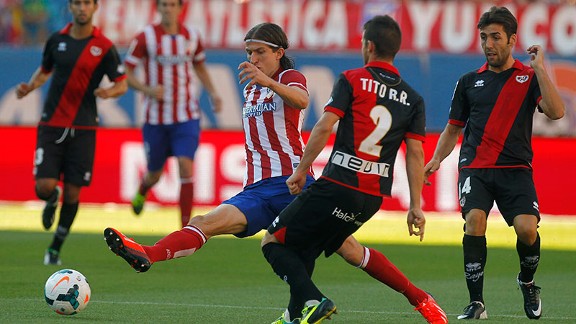 APAtletico cruised to a 5-0 win in their traditional stripes over Rayo Vallecano.
The best thing about the early season games is the colour. There's something about the contrast of the lush green of August (as long as there hasn't been a drought) with the fat sun and the light-blue sky, mixed in with the colour combis of the two teams. I remember my first evening match: Grimsby vs. Stockport in 1967. My folks had let me go with a friend, and it was a warm evening in late August, before the angst of a new school year had taken over.

I remember walking into the ground, with the murmur of a 3,000 crowd, and being captivated by Stockport's orangey-amber shirts, shorts and socks, which contrasted with Grimsby's more cluttered black and white stripes. The soft light made the game more interesting somehow than on a Saturday afternoon, when the light was harsher and the noise more raucous. Maybe I'm a bit weird, but it was that game (a 3-1 win, if my memory serves me well) that really hooked me into football. I couldn't wait to see what the colours of the next visiting team would be.

- Tomas:Neymar demands a start

In the same way that the different exercise books at school made you associate certain subjects with specific colours (French was blue, geography was crimson, math was yellow), the colours of a team affect your whole view of them. I remember watching Manchester United beat Benfica at my friend's posh house (who had a colour telly) in 1968 and feeling a slight discomfort at the fact that United were wearing blue. It didn't suit them somehow, particularly on such an occasion. And the fact that Leeds wore white and were hated when I was a kid, has conditioned my adult ability to like teams that wear a similar kit. There is something scary about all-white, something a bit over-confident. Real Madrid's attitude to life suits their colours well, and I've never liked the way that Sevilla wear black socks against their white kit. It looks kind of unbalanced.

When I first came to Spain it was just a riot of colours, because there were lots of teams I didn't really know very much about. It was like being a kid again. There was an unfeasible amount of stripes around, particularly red and white, quite a lot of green (Santander, Betis), a colour I've never liked on football jerseys -- I've no idea why -- and Valladolid's disturbing violet, offset by a smattering of blue with Oviedo. My feelings toward these clubs was set in stone from that year (1991) onward, and it hasn't changed.

Times have changed, though. Now clubs tweak their colours every year, and have up to three different kits. Last year's model isn't cool. In the street it makes you look like a cheapskate, which is the idea, I guess, and in midweek there were various events that got me thinking about colours again. Real Sociedad played at Lyon last Tuesday in the Champions League qualifier first leg, and won 2-0, but played in all-black. This colour has become popular quite recently (probably since Real Madrid started to wear it) and although I was happy with the result, I couldn't quite get used to Sociedad wearing this colour. It made them look cool, almost flash. And they're a very uncool team. It's a part of their image. The club even dissuades its players from buying flash cars.

I was up at their training ground Zubieta watching my son train two weeks ago, and an old black Volkswagen Golf trundled up the grass track of the pitch and stopped at the top. Out popped Xabi Prieto, Real's captain, to watch the session -- presumably because he had nothing better to do -- but it was difficult to marry the image with the player who was strutting around in Lyon last Tuesday night, all cool in black.

The next evening Atletico Madrid entertained Barcelona in the Calderon in the first leg of the Supercopa, and it was a splendid game. Barcelona were wearing their new away kit, in the yellow and red stripes of the Senyera, the Catalan flag. Although the flag itself is not necessarily a symbol of Catalan nationalism (that's the Estelada), the kit's appearance signals Sandro Rosell's fear that his toning down of previous president Joan Laporta's explicit nationalist rhetoric is losing him some support, especially now that the region is making lots of noise about independence from Spain, or at least the right to hold a referendum. Still, the new shirt looks even odder with "Qatar" written on the front, in a schizophrenic mix of politics and commerce. The Spanish political right has been harrumphing all week about this new kit, and the tabloid Marca could hardly conceal its antipathy, managing to write a diplomatic paragraph about the new kit with its horror scarcely concealed.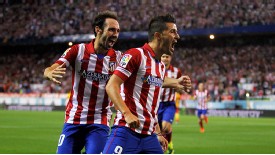 APDavid Villa celebrates scoring against his old team - Barcelona - in the Supercopa.
Meanwhile, David Villa kept up footballing tradition by scoring a cracker against his old mates, and celebrating the goal with some gusto. Leo Messi left the scene at halftime and Neymar stepped up to equalise in the second half, but Atletico's physical and fierce approach put Barcelona off their stride and dampened their ardour a little, after the glow of the opening day annihilation of Levante. It was odd to see two teams playing in stripes, though. It doesn't happen in many of the major leagues now, and is generally discouraged by television. Atletico have carried on regardless this weekend, stuffing neighbours Rayo in the first Madrid derby of the season, and announcing with disturbing confidence that the excellent Adrian is surplus to requirements, while the rumours grow that Juan Mata may be on his way from Chelsea. Rayo -- who sport one of the league's more distinctive kits with a red diagonal "rayo" (stripe) across their otherwise white shirts, chose to wear a natty red and black affair for the Calderon. Obviously not a lucky second kit to begin their away campaign with.

Osasuna wore a happy light green shirt for their game in Anoeta on Friday night, which they lost 2-0 to their temporary hosts, Athletic. Athletic now have six points from six, but, as the Spanish ironically say, they "are making friends everywhere." Not only was it nigh-on impossible to obtain accreditation for the game, but Athletic (who administered the ticket allocations to the two clubs) sent a mere 300 tickets to Osasuna, a club more or less "down the road." Three hundred! With an estimated 22,000 Athletic fans making the trip to San Sebastian, that left 11,000 unfilled seats. Well, 10,700 to be exact. No fans were allowed to buy tickets on the night, for some bizarre reason. Hundreds of Osasuna fans traveled over the mountains in the hope of a ticket, and found themselves watching the game in the bars around the ground. Athletic preferred (there can be no other reason) to semi-fill the stadium with their own supporters and effectively bar the visitors from attending, presumably because they thought it would guarantee them the three points. It's yet another example this season of the scant consideration for the paying supporter. Not good.

Neither does this weekend's programme favour the sleepy supporter. Villarreal and Valladolid, almost a tongue-twister, kicked off on Saturday at 11 p.m. On Sunday Betis and Celta repeated the feat. Perhaps the TV companies could provide free caffeine tablets at the turnstiles, and hammocks for those who don't manage the 90 minutes fully awake. It's definitely getting silly. Nice colours though, under the Villarreal floodlights. Bright yellow against white and puce. Lovely. Oh -- and the yellows won 2-1, making it six points from six on their return to the top flight.

Talking of colours again, Raul turned up in the Bernabeu on Thursday night for the homenaje (homage) that was never really afforded to him when he left Real Madrid three years ago. His current side, Qatar's Al-Sadd, were the visitors and Raul opened the scoring (for Madrid) and looked spookily right again in the all-white kit. Al-Sadd also wear white, so he's OK in Qatar, but I could never get used to seeing him in Schalke's blue. It always made him look like a temporary guest.

Kaka, on the other hand, who was booed by the Bernabeu faithful for (presumably) not leaving and continuing to saddle the club with his enormous salary (which they would prefer to pay to Gareth Bale and Luis Suarez), has never looked right in white, even though Milan's second colours are often thus. Maybe it's because he's hardly ever played -- or that's how it seems. Bale himself, hanging around a two-star pension in Marbella at the time of writing, will look just fine in white, having worn it with Tottenham for the past few years. Maybe that's why he seems to be a Real Madrid-type player, and not a Barcelona one. It's the power of colour again, along with the greater power of mammon. I rather like the 99 million euro price, as if Bale has been bought cheap in the sales, for 9.99. Good price eh? We got him for under 100 million. Meanwhile, Angel Di Maria begins to dream (uncomfortably) in the red and white of Arsenal, since he's apparently happy where he is. Not for much longer, one suspects.

I'm in Menorca this weekend, in a fairly football-free environment, as you might have guessed. Wake me up when August ends. Next week's games straddle September, which makes it feel like the season has really begun. I'll be running the 'scope over Atletico, who visit Anoeta. Can't wait to see what colours they'll be wearing.