Villa proves a point in Barcelona reunion
David Villa did what David Villa does: He scored. The ball dropped just in front of him, he shifted his body and struck a clean right-footed volley into the corner. It was only his second competitive game for Atletico Madrid, his fifth club in Spain, and already he had scored a goal. Not only that, but an opener in Wednesday's Supercopa's first leg, which finished 1-1. It came against Barcelona, too -- the team with which he won two league titles, a Copa del Rey and the Champions League, scoring in the final at Wembley.

• Tomas: Neymar brings Supercopa closer

It was a brilliant goal. The ball moved on rapidly to release Arda Turan on the left; what many initially missed was that the final pass, hit perfectly the first time into the path of the Turk, was Villa's. As he sprinted forwards to continue the attack, looking for the chance to score, he checked his run, coming inside and pulling back slightly, into space and into position. And then the finish -- which could not have been better. The ball hit the net and off he went, sprinting towards the goal and then away again, heading to the right touchline, leaping and punching the air, shouting.

Villa had scored against Barcelona before: five times for Valencia, twice for Zaragoza. But this was of course the first time he did so as a former Barcelona player, and there was something in the way he reacted that suggested a sense of vindication, redemption. Villa had admitted when he signed for Atletico that they had offered him the "affection that perhaps I needed at that moment." Over the course of his final year at the Camp Nou, after he returned from a broken leg, he did not always feel like Barcelona had given him that. Whether rightly or wrongly is another issue.

Before the match, Villa had insisted that, yes, he would celebrate if he scored. He broke a trend of refusing to do so as a mark of respect (and let's face it, it is an increasingly politically correct, rather than heartfelt, trend). He was honest, direct. This is what I do -- it is what moves me. Goals, he said, are always something to celebrate.

Perhaps not always: When he first scored for Valencia against Sporting Gijon, the club at which he had begun his career and the club he supports, he held up his hands in a gesture of apology. But this time was different. Barcelona are a former club, the team with whom he won the most, but not his club. And there was a thorn in his side.

Villa was certainly not holding back. He appeared to have a point to prove, and the competitiveness and determination was clear. He almost scored from a long way out and then went rushing through, only to be closed off. When Sergio Busquets committed a foul in the second half, Villa was among those players sprinting after the referee demanding a second yellow card. After the match, he mentioned it too. "That would have changed things," he said. "Busquets got let off."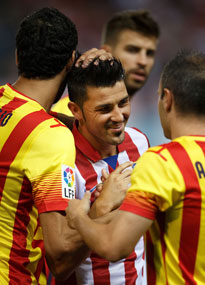 GettyImagesDavid Villa embraced his former Barcelona colleagues.
But no one should have been surprised, nor especially annoyed. At the end, Villa embraced his former team-mates. During the match, it was a different story, and why wouldn't it be? "We knew that we were facing a very good player, a great forward," said Barcelona's sporting director, Andoni Zubizarreta. Besides, the man who had replaced Villa at the Camp Nou, Neymar, also scored.

In truth, however popular he is (or had been), however many goals he scored, Villa's departure is not especially traumatic. He left, he admitted, because he needed to play more. He is 31 now. "Even when he is playing veterans' football, he will have that ability to score," Zubizarreta said. It probably was not intended this way, but it might have been a telling remark. Many fans thought Villa should have played more, and his role was vital when his team came back to beat AC Milan to reach the Champions League quarterfinals last season, but Alexis Sanchez, Neymar, Lionel Messi and Pedro all stood before him.

The question was whether Barcelona should have got a better deal. Villa had expected to go to England until Atletico turned up. They got him for just €2.1 million, rising to €4.1 million if he stays for a second season and €5.1 million if he is at the Calderon for three years. For a player who has scored on average a goal every other game in his 653 career appearances, it is a bargain. Suddenly, losing Radamel Falcao does not look so bad. There can be no better way of proving you're still good enough than scoring against Barcelona.

A lot of meaning was bound up in the goal. For Villa, it looks like the perfect move, too: back in the team and back in the central striking role, embraced and protected. Just in time for a run at the World Cup; just at the point when, for the first time, there might have been doubts about his place in the Spanish national team. When Vicente del Bosque saw Villa score Wednesday night he would have been almost as pleased as the Atletico fans, almost as pleased as the striker himself. There is renewed optimism and renewed opportunity.

No one has scored more goals for Spain in the history of the seleccion than David Villa: 59 in 92 games. By joining Atletico Madrid, his chances of adding to that tally may have grown.