A summer without a Real Madrid spending fest wouldn't be the same somehow, but, so far, it has been Tottenham's Daniel Levy who has managed to prolong the agony for the Spanish club's hungry supporters, who are still feeling undernourished after a mere €65 million payout for Isco (from Málaga) and Asier Illarramendi (from Real Sociedad). Oh, and €6.5 million for Daniel Carvajal, a Madrid old boy bought back from Leverkusen -- but that doesn't really count as a wallet-buster. There still remains a feeling, hanging in the humid summer air, that Madrid have failed to pull off a power signing, a galactic gazumping of Barcelona's earlier capture of Neymar. It was that signing that set the tone for the summer, particularly after the Brazilian's exploits in the Confederations Cup had proved that he was rather more than hype.

• Corrigan: Barca's centre-back conundrum
• Rigg: Big season for Madrid's 'rough diamond'

As students of the Spanish game now know, Real Madrid and Barcelona do not exist as separate entities but as a yin-yang tension, or as further proof of Newton's theory of motion. I was hopeless at physics, but the idea that "forces" always come in pairs -- that when Object A and Object B interact, they exert forces upon each other -- is much easier to understand in terms of Real Madrid and Barcelona. And, of course, the rest can go to hell. This summer, even though the signings have not been remotely as flash-bulb popping as in the old galáctico days, there has been very little media interest over here in anything other than the additions or subtractions to the two clubs' squads. Málaga always knew that Isco was going to leave them, but Real Sociedad were fantasising, in a quiet sort of way, that maybe the big two hadn't noticed "Pea-Mountain" Illarramendi despite quiet rumours to the contrary during most of the second half of last season.

Followers of this column will recall an article about the Basque midfielder, in which the author was trying to convince himself that the player would stay to play Champions League football with Real Sociedad this season, but nowadays, these things are a pipe dream. Illarramendi's excellent performances in Spain Under-21's title-winning early-summer European Championship, alongside Isco, more or less guaranteed the reappearance of Pérez's wallet, just in case Barcelona got similar ideas about the Basque replacing the Germany-bound Thiago Alcantara. Indeed, just so you know something about the life of an ESPN writer, I was hectored in a San Sebastian street this summer by a Real Sociedad supporter, who insisted that Illarramendi's transfer was all my fault. Well, it's nice that folks think that the Fourth Estate has such an influence. Maybe I should write to Florentino Pérez and ask for a cut.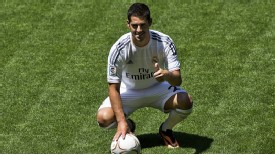 AssociatedIsco is one of the new faces at Real Madrid.
Anyway, enter Gareth Bale. The Welshman appeared on Madrid's public horizon towards the end of last season, just when the Mourinho-fueled dysfunction at the club was winding up to its sorry climax. But now, the issue won't go away, and with Bale himself making it clear to his president (Daniel Levy) that he wants to leave, we're right back to the previous summer, when a similar tug-o'-war was taking place over Luka Modric, now safely installed in the Bernabéu squad. That's where the similarities end, since the €35 million that Modric finally went for seems peanuts in comparison to the €86 million that Pérez is being asked to cough up this time around. Of course, there has been some movement of the revolving doors at the Bernabéu, with Gonzalo Higuaín finally departing for Napoli for €40 million, followed by Raúl Albiol to the same destination for a quick €12 million and José Callejon for €10 million -- completing the old boys' new Italian network.

So there has been some income, but the potential fee for Bale seems worrying, even for Pérez. It seems unlikely that Bale can stay now at Tottenham, but the ridiculous inflation of his transfer fee makes for sorry reading. I mean, in a general sense for the game, not because Levy is making Pérez sweat. However, in footballing terms, if Bale finally does arrive in Madrid, Carlo Ancelotti's squad of old faces and new has a scary look to it a week before the season's opener at home to a Beñat-less Betis next Sunday.

There's a feel-good factor again around Real Madrid. Let's start with Ancelotti, who is already beginning to look like a sound choice for the helm. Pérez sometimes gets it right and sometimes gets it wrong, but, as Philip Roth once wrote, "We get it wrong. That's how we know we're alive." Perhaps Pérez's weakness has been to make executive decisions on emotional instinct as opposed to the more cool-headed approach he has taken in his journey to becoming one of Europe's top construction wheeler-dealers. Mourinho was the right choice at the time, when Madrid badly needed to come back with a bang, after several seasons of whimpering in the shadows of the all-conquering Barcelona. Mourinho's aggression and natural ability to command the headlines was the right choice, and, for a while, it worked. But, as we all know, it always ends in tears with the "Conflictive One," for which reason the election of the avuncular Ancelotti, as oil for troubled waters, was the correct decision in the circumstances. Madrid are too often the plaything of circumstance, and history might condemn Pérez for this reason, but a week before the restart of hostilities, Barcelona are once again looking the vulnerable partner in the ever-shifting dynamic between these two behemoths.

It is a measure of Ancelotti's successful start that so many players who were being pushed towards the exit last season have remained. Pepe is still there, as is Angel Di Maria, Alvaro Arbeloa and Diego López -- players who can make a difference. The exception is Kaká, still hanging around and happy in the new glow of one of his previous gurus, despite the damage it does to Madrid's bank account. Kaká has permanently promised to return to his old self, whilst manifestly never doing so -- and so it would take a minor miracle for it to happen now, but hey. Not a bad player to have on the bench, as they say. Meanwhile, the successful preseason tour of the United States, during which the team even beat Mourinho's Chelsea 3-1 (a result dismissed by the "Conflictive One" as "just a friendly") has thrown up some interesting questions.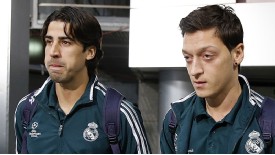 GettyImagesCould the German influence be on the wane at Real Madrid?
Chief among them is the identity of the engine room. Xabi Alonso has been recuperating from a groin injury all summer, hanging out here in San Sebastian with his wife and kids and generally looking as though he's had it with the whole Bernabéu scene. His contract expires next summer, and he hasn't signed a new one. Suddenly, from king of the mambo, he's looking like yesterday's man. Modric, who took his time adjusting to La Liga, is the new cock of the walk and has been awesome in preseason. Expect him to be the carrier of next season's baton. Illarramendi, with niggling injuries for much of the summer, has not really figured, but at €32 million, he cannot be destined for the bench. The Bernabéu wants to see what he can do. Potentially, he is their new organiser, the player who will allow the rest of the star-studded cast to strut its stuff.

Add to the mix the preseason sensation Carlos Casemiro, the young Brazilian central midfielder whom Madrid finally decided to sign after hanging around in Real Madrid B last season, and the picture suddenly begins to look both rich and confusing. Ancelotti won't be complaining, although Sami Khedira might. So long the Alonso shield; he might find his work cut out in the new system, whatever it turns out to be. The picture is further complicated by the fact that Mesut Özil, in many ways Madrid's best player, must surely be the creative fulcrum of the side this season but, obviously, from a position further up the field. This in turn asks questions about the role of Isco, another creative player whose talents promise to shake up the old Mourinho systems. The alternatives seem suddenly multidimensional.

Up front, Higuaín has gone, but Karim Benzema will now be playing with Cristiano Ronaldo (remember him?) in closer proximity, since Ancelotti seems determined to bring in the Portuguese goal grabber from the wider role given to him by Mourinho. To add to this well-known but potent mix both Jesé Rodriguez and Alvaro Morata look to have finally made their way into the first-team reckoning. Morata, perhaps the closest Madrid have come to replacing Fernando Morientes, is Madrid born and bred and would represent the token local boy (along with Carvajal), fighting for a place among the foreign mix. Jesé is from the Canary Islands but has come through the ranks and would also represent a nod to Madrid's previously questioned youth system, which has failed to produce anything significant for some time. Talking of which, the continued presence of the Mourinho mole, López, should be a healthy sign that real competition has returned to the Bernabéu, and that Iker Casillas will now accept it. It is surely positive that a week from the beginning of the season, nobody knows who the goalkeeper will be.

Now there seems to be genuine competition in a versatile squad that seems happy to have cast off the darker days of the Mourinho regime. Fabio Coentrao and Xabi might yet depart -- the latter would be something of a shock, but you never know -- and Carvajal looks like he might start next weekend. But, personnel aside, there's a contended look to the fat cats of Madrid this summer. Barcelona have had their issues but seem to be sorting them out. Nevertheless, they must be looking nervously to the west at recent developments at the Bernabéu, with the arrival of Bale a distinct possibility. It would be nice if this season could throw up a few unexpected challengers, but if it doesn't, there'll still be plenty to keep us interested.