Guiza set for another career adventure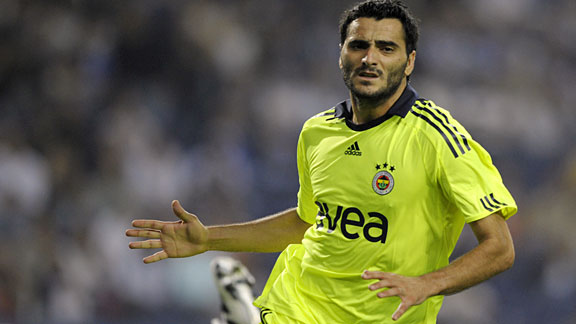 GettyImagesDani Guiza has travelled far and wide in recent years.
Among the loudest noises of the current Spanish summer have been the laments as one international attacker after another left the Primera Division for a richer and more upwardly mobile foreign club. The exits of Roberto Soldado, Fernando Llorente, Jesus Navas, Alvaro Negredo and Joaquin Sanchez have led to much wailing and gnashing of teeth, particularly among fans of La Liga's "other" 18 clubs.

The departure of the last Spaniard to win the Primera Division's top-scorer prize has, however, been less traumatic, with Dani Guiza's free-transfer move from Getafe to Paraguayan club Cerro Porteno being greeted with more smiles than sorrow. That is, if people noticed at all.

It was left to Guiza to talk up the move at his presentation in Asuncion on Monday.

"This is another new adventure for me," he told his new club's fans. "I hope all goes well and I can score a lot of goals. We want to go as far as possible and hopefully win trophies."

The word "adventure" was well-chosen, and it's not the first of Guiza's career. Until his mid-20s a talented but erratic centre-forward who bounced around Recreativo Huelva, Barcelona B, Murcia and Getafe, he then scored 27 goals (no penalties) in 37 Primera Division games for Mallorca in 2007-08. This won the Andalucian the Pichichi trophy (which the Marca newspaper awards every season to La Liga's highest goal scorer) and a place on Luis Aragones' Euro 2008 squad. Guiza played an important role as an impact substitute at the tournament, especially when replacing Fernando Torres against Russia in the semifinal and scoring Spain's killer second goal with just his second touch.

That summer brought reports of interest from clubs including Arsenal, Inter Milan, Roma and Valencia. But after the tournament he joined Aragones in moving to Fenerbahce, for a reported €15 million fee on a salary of €3 million a year. That move was brokered by Guiza's then-partner, Nuria Bermudez. Bermudez, although a FIFA-certified representative, was then more (in)famous in Spain for discussing her sex life on late-night TV and making disputed claims to have bedded both David Beckham and Cristiano Ronaldo. However, she had been a positive influence on Guiza, getting him to settle down and focus on his football.

Neither their personal nor professional relationships survived the move to Turkey, however, and Guiza's public reputation also started to suffer. Bermudez began appearing regularly on trashy TV talk show "Salvame Diario" to discuss the breakup and accuse Guiza of not caring about their son. The lowest point was possibly a live, on-air fight between Bermudez and Rocio Aranda -- Guiza's first wife and the mother of his first child. His mother, "Pepi," also decided to get involved in the public name-calling, with predictably cringe-inducing consequences.

Bermudez admittedly has a talent for one-liners ("With me, Dani was European champion; with you he was relegated to the second division," she once told Aranda), but none of this was too dignified or did much for Guiza's reputation. For many Spanish, he was the typical dumb footballer with more money than sense, a feeling heightened by his purchase of his white Aston Martin and decision to spend €88,000 on a private jet to Istanbul so his dogs would be more comfortable on the flight.

While the various women in his life continued their squabbles on Spanish TV, Guiza was seeing out his three-year contract at Fenerbahce, playing fewer games and scoring fewer goals while slipping from the national team picture. He returned to Getafe in summer 2011 saying, "I want to be the same player as before," but (perhaps without Bermudez's influence) he was not. He played 32 games in his first season back at the Coliseum Alfonso Perez but managed just three goals. 2012-13 brought a series of clashes with coach Luis Garcia, reportedly over lifestyle and fitness issues, and finally a short-term loan move to Malaysian club Johor.

Such a slide would leave most players wondering where it all went wrong, but Guiza himself can see the bright side of his wandering career. He told AS.com recently that he had no regrets about the move to Turkey. "Fenerbahce is a very big club, and I will always be grateful to them," he said then. "I spent three marvellous years in Turkey. I won one league title and a Turkish Supercup there."

He was similarly positive in that interview about his time in Indonesia, where he scored eight goals in 13 games. "It was spectacular. I loved the place. I enjoyed it so much, and I hope I can return there someday. The send-off from the fans was very emotional."

The reception in Paraguay of the news of his signing for Cerro Porteno has been less positive, with local journalists writing features similar to this one wondering what the potentially title-challenging club, who are managed by former national coach Francisco "Chiqui" Arce, are thinking.

Guiza -- still only 32 -- seems not too worried about his reputation preceding him. He told sceptical reporters at his presentation that his plan was to win over any doubters "if not by goals, then by hard work and sweating for the jersey."

His new club's supporters are probably unsure what to expect in the coming weeks and months. But, given the twists and turns of their new No. 9's career path to date, it's unlikely to be boring.