Fast-flowing Griezmann ready for Champions League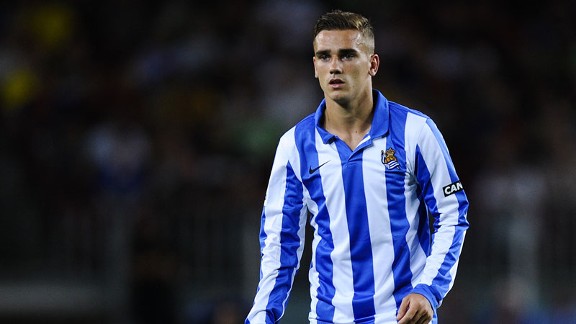 GettyImagesAntoine Griezmann is tipped for a bright future at Real Sociedad.
As we arrive at Real Sociedad's preseason training camp, deep in the Essex countryside, the players are stretched out into the foyer, ready for their next test of strength -- four hours of canoeing in a fitness and team-building exercise.

One of the team's stars, French winger Antoine Griezmann, is getting used to putting in the hard yards after Tuesday's tour-opening friendly at Norwich. "It was pretty physical," Griezmann says, smiling, sitting over a particularly frothy latte to steel himself. "We managed to play our game, though, and I loved the stadium. The atmosphere and the feeling around the stadium lifted us. We don't really have that sort of game in Spain so it's ideal to toughen us up for the Champions League."

It's something Griezmann has had to face for a long time. Looking back on an accomplished beginning to his professional career, it seems extraordinary the 22-year-old was rejected as a kid in France for being too slight. "Every time someone said 'no' to me, it was because of my size and because I wasn't strong enough," he remembers, "but fortunately, I was brought to Real Sociedad. I don't hold any grudges about it."

The move made him, and Griezmann has flourished in surroundings that have suited him. "I guess I'm more used to the Spanish culture than the French," he says. "It's 14 years now that I've been in Spain. When I speak to my dog, I speak to him in Spanish; my girlfriend's Spanish. So my life is a bit more Spanish than French. I'm part of a different culture, that culture of technique, of a possession game, whereas in France, it's more about power."

The recent ascent has been even more rapid since Griezmann made his debut in September 2009, with La Real in La Segunda. "It's been a long journey," he says, "but from the second division to the Champions League, it happened very quickly." Given that journey the player and club have made together, it was fitting that it was Griezmann's early goal in last season's final game at Deportivo La Coruna that sealed a spot in the Champions League playoffs.

"It was a really emotional moment," he says. "It was a huge match [Depor, too, needed to win to stay up], with a lot of pressure, so it felt good to score the goal that sent us into the Champions League. Now I hope I can help us stay in the competition and why not score the goal that puts us into the group stage?"

Griezmann will come up against some familiar faces as he aims to do it, with La Real drawing Lyon in a reprise of the pair's 2004 meeting in the last 16. Having grown up an hour from that city, it's a twist of fate that pleases him. "It's practically next to my house," he says, grinning, "where I'm from, and I've got lots of mates from the national team who play there, too."

It's made clear before our chat begins that Griezmann wants to give the subject of his current ban from the national team a wide berth -- he, along with four teammates, including Yann M'Vila, were harshly punished for a night out while on under-21 duty. Yet it is apparent Les Bleus are not far from Griezmann's mind, even if he is focused firmly on La Real.

"In football, everything's possible," he says on the future possibility of playing in France. "For now, I'm good here. I'm having a great time. Whatever happens, I hope that I go back to France to wear the national team's shirt."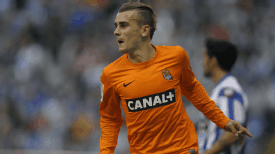 GettyImagesAntoine Griezmann's goal sent Real Sociedad into the Champions League and relegated Deportivo.
If Griezmann and La Real can reproduce their extraordinary feats of the second half of last season, a call-up in 2014 seems inevitable. Having seen a season that began with a 5-1 thrashing at Barcelona end in triumph, he is convinced perseverance is the key. "We built up confidence in ourselves and in the game we were trying to play," he recalls, "and the planning of [now-ex-coach] Philippe Montanier really helped us. We kept winning and winning, and that extra confidence allowed us to push up towards the top of the table."

Was there a particular moment that made La Real believe? Griezmann responds without a second's hesitation. "The first match against Malaga [in November]," he says. "Before that, we hadn't won away, but that showed us that we could beat anyone away from home, and we took that feeling forward for when we visited all the big teams."

The biggest of those have strengthened this summer, Griezmann believes, despite losing their coaches. "Barca and Madrid brought some great players in," he points out. "Neymar, and notably [Asier] Illarramendi from us. It's a disappointment, but it's great for him. It's good for our club, to bring in all that money, and it's good for the Spanish national team to have someone like him playing for one of the biggest teams."

Despite Montanier's exit to Rennes, there is a feeling of continuity in San Sebastian, with his erstwhile assistant Jagoba Arrasate taking over. "It's good for us to have him becoming the coach," Griezmann says, nodding, "because he knows us like the back of his hand, how we are, how we work. He has the same playing style as Montanier. We feel great with him. Hopefully the results will prove it."

Success has certainly bred the appetite for more. "We really have the desire to play in the Champions League right now," Griezmann says. "In the dressing room, the feeling is that we don't want to wait anymore. We want to be there. Nobody's getting big-headed. We're a group of friends. We're always together in the evenings, mucking about and joking with each other. But we're serious about wanting to be in the [Champions League] group."

As he prepares to leave and don his life jacket, Griezmann tells us as a parting shot to look out for Inigo Martinez, "one of the best center backs in Europe. One day, he'll go to a huge club and everybody will know who he is." We later find out Martinez has been called up by Vicente del Bosque. If La Real's game is as good as Griezmann's soothsaying, the Champions League should watch out.