Summing up Barca's summer of drama
This is the week the Spanish champions returned to training.

This is the week in which La Liga's finest will play their first preseason match.

This is also the week when they were forced into the cut-price sale of a 24-karat diamond mined from their own quarry ("cantera"), the week when the greatest manager in their history savaged the club president in public and the week when there has been so much finger-pointing going on that you wonder whether anyone has a spare digit to keep firmly on the pulse of what's happening.

So, in short, here are five things which summarize Barcelona's remarkable summer so far:

1. All that glitters isn't gold

There was a moment, during Brazil's Confederations Cup coronation, when it may have looked as if Barca's €57m purchase of Neymar was daylight robbery. He was the tournament's decisive player.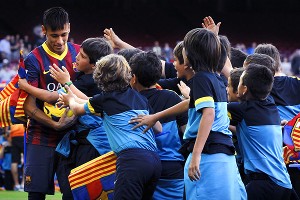 David Ramos/Getty ImagesNeymar's signing looked like a steal, but what does it do to Leo Messi's future at Barcelona?
If you took an objective valuation of his "worth" before and after Phil Scolari's side bulldozed everyone, there might easily have been a 25 million euro difference. The marketing men at the Camp Nou may well have been thinking of whether the offices could be redecorated with diamond-encrusted carpets, emerald-studded wallpaper and solid-gold goalposts installed at pitch level. Because this kid is a machine for printing money.

Every single senior Barcelona player has talked, on the record, about the Brazilian's exuberant talent and briefed, off the record, that he appears to be one hell of a nice kid when you meet him. To add a little touch of tabasco to the cocktail, Neymar is a footballer whom Real Madrid craved but couldn't sign and whom Bayern tried to use Pep Guardiola to tempt to Munich -- he chose Barca. Long before Johan Cruyff went on the record, I outlined my critical view that (a) his position was far from the priority signing; and (b) that there is a patent threat to Leo Messi's uninterrupted feeling that the Camp Nou is where he wants to be, where he's valued and where he is team leader.

Cruyff went so far, mischievously, to state that if HE were the man in charge of bringing Neymar to this Barca team then it would indicate, strategically, that he was preparing for the sale of Messi. Cruyff, undoubtedly, allowed his anti-President Rosell feelings to guide a heat-seeking media missile toward the Camp Nou offices there. But no matter.

Neymar, thus far, has made Rosell look like the man who invested in VHS just as Betamax raised its prices. Good luck to the little scamp; he can certainly play. Right man, right club, right time? That will remain up for debate over two, perhaps three seasons. Nevertheless, the golden hue which hung over FC Barcelona in light of Neymar's terrific tournament didn't dazzle for long.

2. Auf Wiedersehen, chico

No matter how you dissect it, Thiago's situation has been mishandled. Barcelona knew he had a clause in his contract which stipulated his 90 million euro buyout clause would drop to a mere €18m if he wasn't given a stated amount of playing time in season (which I understand to be 60 percent of available minutes).

Whether, in retrospect, that was a good clause upon which to sign off last time Thiago's contract was extended is now a moot point. What perhaps needs closer inspection is (a) How much Barcelona took this eventuality into account when Cesc Fabregas was signed; (b) Whether it would have been wise to augment Thiago's playing time in the last games of the season in order to ensure his get-out clause didn't lower to the point of easy accessibility for predators; and (c) Whether the player knew, without having to check, that he was an important and highly valued player for the imminent future at Barcelona.

If that wasn't the case then the club, realistically, should previously have sold him for a high fee -- taking a proactive stance.

Long before he scored an audacious hat trick in the final of the UEFA European U-21 Championship, it was clear that, while there are rough edges, this is a potentially fabulous player. One of Manchester United's recruitment team told me in the middle of last season that they tried to sign Thiago in 2011. Barca weren't interested in selling. He explained that United's calculation told them that Fabregas and Thiago weren't both going to get sufficient game time in a midfield containing Xavi, Iniesta, Busquets, Song and Adriano.

Mazinho, Thiago's USA 94 World Cup-winning father, knew of United's long-standing interest. Pere Guardiola, Thiago's agent, was in receipt of a lucrative salary offer for the player in light of the fact that United were ready to pay the €18m get-out clause. Trouble flared when other contractual issues were discussed and over the issue of who was liable for any Spanish tax payable when the buyout clause was exercised.

Increasingly it became clear that however much United, as a club, wanted Thiago as an underpriced but valuable asset, David Moyes had other, bigger priorities. Pep sniffed an opportunity, Bayern sat around the negotiating table and Barca received 22m guaranteed with, potentially, another 1m to follow. Something like 15-20m short of the player's more accurate value. But significantly more than United were going to have to pay.

He leaves, unsatisfied, underpriced, to a sense of disquiet from the FC Barcelona members and is joining the menacingly powerful German side which put seven goals past Barca while completing a trophy treble last season. Pats on the back for anyone in Catalunya? Anyone? Anywhere? No.

3. "He started it." ... "No! HE started it."

On which subject. The soap opera off the pitch has been unfortunate, personal and damaging. What's more, it threatens to become more bitter and more unforgiving -- perhaps as early as next week when Barcelona travel to play Pep Guardiola's Bayern Munich.

What happened was that during his team's preseason Guardiola decided to go on the front foot regarding several subjects. He said it was false that he'd told Neymar that Tito Vilanova wouldn't be able to handle having him and Messi in the same team. False, too, that he'd told the Brazilian not to go to the Camp Nou -- simply that he'd attempted to find out whether moving to Bayern Munich would be possible and attractive. Pep, in that tone of cold anger he finds natural, made clear his view that president Rosell had failed to respect "boundaries" following Guardiola's move to New York and request to be left alone.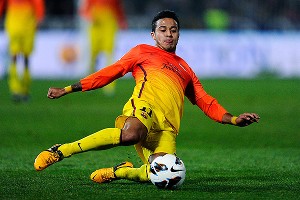 David Ramos/Getty ImagesThiago left Barca for a powerhouse Bayern club at a bargain price.

Further, he hinted that Rosell or his acolytes had somehow influenced the spate of stories in the Catalan media about Tito and Pep now not enjoying the same friendship. While it was certainly interesting to hear Vilanova state on the record that he'd felt let down by his friend who didn't visit him during the long cancer treatment he underwent in N.Y., it probably wasn't a useful thing to prolong in the media. Rosell had his bite at the cake, appealing for there not to be a division into camps of those who were "for" and "against" Guardiola, etc.

At the heart of this is an issue I treated in my book: "Barca: The Making of The Greatest Team in the World." President Rosell is fundamentally and vehemently anti-Cruyff and anti those who come from the "Cruyff school." This type of fratricide amongst the recent participants in FC Barcelona's football greatness was only a matter of time. There will be more. Those who escape with credit include Andoni Zubizaretta: "I've gone over and over this and decided to say nothing"; and Leo Messi: "It's between Pep and Tito, none of my business." Bravo to them.

What all this underlines is (a) What a remarkable period of stability and intelligence there was between 2003 and 2011 at the Camp Nou; (b) How stormy the immediate future looks to be. How interesting that FC Barcelona feel that they no longer need Emili Ricart, the physio to whom Andres Iniesta says he owed his 2010 World Cup. Ricart has been dispensed with and Iniesta says that he's "made the people who need to be aware, aware of my feelings."

Good job there, Barca. Way to go.

4. Is the emperor wearing anything?

Last season Barcelona shipped in just about enough goals to cover the accumulated total of any two of their previous five or six seasons. Last season Barcelona went out of the Champions League semifinal on a 7-0 aggregate. By midsummer they have failed to incorporate a top-class central defender in time for him to start preseason training.

It appears that some at the Camp Nou seem to feel that Carles Puyol hit 35 really quickly because he was only 26 just the other week and his three consecutive knee operations since 2011 ... well, how could that possibly affect his ability to play 60 games a season?

There was long, hard deliberation, apparently, about getting rid of Eric Abidal, who wanted to stay and who, if fit, remains world class. And there was a great deal of effort and cash outlaid on buying a striker who was far, far from being a primary priority. So, in summary, it's currently a case of Emperor's New Clothes. Everyone else can see that dropping just one little garment will leave Barca denuded at the back -- but their football department doesn't think that clothing is that big a deal during the summer.

Sure, in due course, that might be addressed. But why not a priority? Why not with work which had been initiated and then brought to fruition weeks, even months earlier? Why not with the intention of making sure that everyone else on the playing staff is aware that there is now intense competition for places rather than ... "It's OK, there's nobody else breathing down my neck." Not smart.

5. Departure of the prodigal son?

When a senior player at Manchester United knows as early as May that his club is going to launch a full-on offensive to sign Cesc Fabregas, then you know the story has substance. He's been briefed by those who run his club.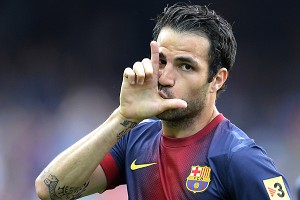 Lluis Gene/AFP/Getty ImagesCesc Fabregas has stated his desire to stay at Barcelona, but could United be lurking?
Such was the case. Barcelona have so far declined to formally admit that United bid for Fabregas ... but they did. Unless this is the most pure and innocent "Let's just put in an offer of 30 million euros and see what they say" transfer since Sir Alex bought Eric Cantona while Howard Wilkinson was on a fishing expedition for Denis Irwin (which I doubt), then who is encouraging them to believe that he's (a) buyable; (b) wants to leave?

To this point Fabregas' level of success would leave 99 percent of players breathless. Seven trophies for club and country in the past two years; more goals, more appearances than he was scoring or being given at his previous club; home, near his family and now a father for the first time. Right now, it's a glass-half-full, half-empty scenario for him. Yes, it's clear that he wants to not only play still more regularly but in a position he can make his own. Yes, he'd like to be recognised as a more fundamental player and to be given a little bit more generosity, patience and affection by the Camp Nou crowd and local media.

However the prospect of playing behind Neymar and Messi must be interesting to him, Thiago's departure opens more space for him and Xavi is not getting younger. Fabregas, on and off the record, says he's determined to stay, Vilanova emphasises that he wants to keep the player -- good times lie ahead. Don't they? The darkest scenario, for Fabregas, is that it transpires someone at FC Barcelona is secretly encouraging United to bid so that they can hold their hands up in semi-horror and say: "Well, we certainly don't want to sell but ... at this price we have to ask the player if he wants to go."

But even the transfer market isn't THAT Machiavellian ... is it?