Adios to a tortured Temporada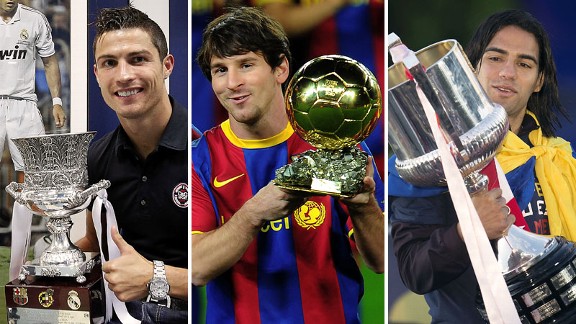 Getty ImagesCristiano Ronaldo, left, Lionel Messi, middle, and Radamel Falcao all left their mark on the 2012-13 La Liga season.
Goodbye to Temporada 2012-13 in Spain -- a season of loss, pain, grief and, regularly enough to give us our fix, some quality football breaking through the dark clouds.

It began with the immensely sad deaths of young Betis defender Miki Roque and the tremendous character Manuel Preciado, who was to coach Villarreal this term. Just as the year turned, we had news of Tito Vilanova's renewed fight for a healthy life. The season ends with Espanyol's Victor Alvarez requiring heart surgery in order to continue earning his living and Eric Abidal, despite a miraculous recovery from liver surgery to top-level football, being told that Barcelona no longer believe he's worth investing their money in.

- Barca finish with 100 points
- Mourinho wishes Madrid 'much happiness'
- Real Sociedad qualifies for Champions League
- Higuain confirms Madrid exit

Along the way, Real Betis have continued their upward push -- in Pepe Mel they have a genial, intelligent, dignified man. Real Sociedad have found a confidence and a rhythm, which make them great fun to watch, and Valencia, in Ernesto Valverde, have discovered a man able to ignore the financial trauma and restore convincing attacking football.

The three titles were shared between Barcelona, Atletico and Madrid, but will the fact that neither UEFA tournament final featured a La Liga club begin to indicate that asset-stripping of Spain's impoverished clubs and the all-out war between Madrid and Barcelona domestically are combining to do material damage?

The tide has washed Falcao up on the beaches of Monte Carlo and will sweep away many more -- Fernando Llorente, Gonzalo Higuain, Manuel Pellegrini, Jose Mourinho, Joaquin, Isco and Michael Essien included.

But overall, it has been fun. Here are the podium positions:

Team of the Year

Really, there are three candidates: Malaga, Atletico Madrid and Barcelona.

Bronze goes to the lads from the Rosaleda -- Malaga -- imploding just over a year ago, on the point of losing all their stars and their manager and in receipt of a UEFA ban. Throughout the season they've gone unpaid, they've been kept in the dark, and they've had to work double because the club didn't have the wherewithal to buy.

An epic elimination tie with Barca in the Copa, hovering around the European positions all season and within seconds of the Champions League semifinal. Terrific performance.

Silver to Atletico Madrid. Diego Simeone has instilled a cohesion and intensity at Atletico. While Falcao's departure will mean that brilliance in the transfer market is now required, it's clear this is a squad that has an established footballing ethos and a winning attitude.

A Copa victory, Champions League qualification and an end to the Clasico hoodoo? Brilliant season.

Gold to Barcelona. Their first half of the season was nearly faultless and, to boot, damn exciting. Domestically, they played like Mozart composed.

To cope with Abidal's absence was hard enough. But to lose their coach for a significant chunk of time to a cancer battle, to see captain Carles Puyol succumb to surgery (again), to have their keeper Victor Valdes declare that he'd like to leave and for Leo Messi to pull up injured in the home straight -- to not only win the title but equal Real Madrid's record of 100 points and victories in a season dictate this has been a title win of pretty epic proportions.

Player of the Year

In a year when Barcelona have played a little patchily at times -- particularly in the early spring -- but still won the title in fine style, it's more evident that the player of the season has, again, been Leo Messi.

Even though he's had his first major injury problem since before Pep Guardiola took over, his work, his goals, his assists and his leadership in key moments separate him from even Cristiano Ronaldo, who, I think, has again been admirable.

But if there were a surprise candidate for player of the season, particularly as he really performed for less than half that period, it would be Diego Lopez.

Marooned on the bench more often than not at Sevilla, this was a terrific asset going to waste. Mourinho, not Real Madrid, was smart enough to spot the opportunity and repatriate the towering keeper to the club where once before he lost a custody battle for the Real Madrid goalmouth to Iker Casillas.

Lopez's dignity, work rate, reliability and plethora of wonderful saves put him even closer to Messi than Ronaldo. A proper comeback story to put Rocky to shame.

Manager of the Year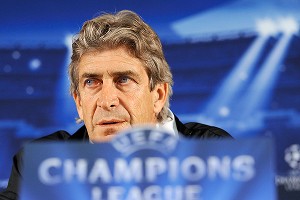 Fernando Veludo/AFP/Getty ImagesManuel Pellegrini enhanced his résumé as a leader at Malaga.
This is the category where, I think, there's no real contest. Mourinho has tied his own laces together, Vilanova has rescued his health, Philippe Montanier probably overachieved at Real Sociedad, and Ernesto Valverde's cameo at Valencia has firmly enhanced his reputation.

But Manuel Pellegrini towers over everyone. To take an angry, confused, betrayed and unpaid group of men and unite them is usually the territory of Clint Eastwood or Telly Savalas, where Hollywood is involved and we all know there will be a happy ending.

However, the Manchester City-bound Chilean cajoled and coaxed the men of Malaga into such fine shape that they nearly made the last four of the Champions League, kept the Rosaleda healthily full, noisy and entertained and all the while laid on flowing, entertaining football.

Pellegrini, meanwhile, was being kept in the dark, treated like a stooge, yet his honesty, clarity, intelligence and dignity never wavered. Inspirational.

Thanks, Engineer. We are going to miss you.

Match of the Year

This is where we separate into two groups -- those who opt for quality, and those who opt for width.

Three matches really stand out for the latter band of merrymakers. In April, Betis, who share a city with Sevilla, found themselves 3-0 down at home in the derby match, and it was like the end of the world.

This proud, ingenious club had already been utterly ripped apart in the first derby at the Nervion (5-1), meaning that it was shaping up as zero points and an 8-1 aggregate defeat. By the end, it was a 3-3 draw thanks to 89th-minute equalizer by Nosa Igiebor, who had been racially abused by fans and who celebrated his goal by letting them know what Neanderthals they are.

Same scoreline, thousands of kilometres to the north, featuring the royal family. Real Sociedad 3-3 Real Madrid. Some lovely goals, open play, little sophistication -- two teams going for the throat. But the element that raised this above your ordinary six-goal thriller was -- here he is again, folks! -- Diego Lopez.

As his defence parted and the sumptuous Xabi Prieto weaved his magic, the giant keeper put on an exhibition of agility, split-second reactions, winner's mentality and defiance. Chapeau.

The winner in the "feel the width" category: Deportivo La Coruna 4-5 Barcelona. A Messi hat trick, initial domination by the visitors, a rotten referee, nonstop goals, a never-say-die attitude from the Galicians, a volcanic seaside atmosphere and, once Javier Mascherano was sent off, a real chance that Depo might somehow win this remarkable contest.

But for my taste buds, the most savoury dish all season was the return leg of the Supercup -- a clasico, a marker from the reigning champions after their 3-2 defeat in the first leg and a night of nonstop excellence. Madrid won 2-1 and might have scored seven but Barcelona, even once Adriano was sent off, fought like tigers, Messi scored an outrageous free kick, and Barca nearly drew.

There was technique, intelligence, creativity and belligerence, and all of that was laid on at the highest pace at which football can be played. Winner winner chicken dinner.

Biggest Surprise

Some will opt for Valdes announcing midseason that he's had enough of life at the Camp Nou. Without doubt, I was taken aback.

Real Sociedad battling with such flair and attacking intent toward the verge of the Champions League, mounting a thrilling unbeaten run in the second half of the season, certainly counts as a surprise.

Barcelona opting to hand temporary charge to Jordi Roura when Vilanova underwent extended radiotherapy in New York -- surprisingly loyal in the modern game? What would you have done in team president Sandro Rosell's place?

However, I don't think there's anything to touch the feeble, lumpen way in which Madrid defended their title.

Mourinho doesn't play each week, miss the chances, miss the tackles or fail to kill games off when they are there for the taking. However, he mishandled preseason training, allowing his squad to start the campaign half-cooked. His Art of War tactics against his players, the media and fans failed miserably. Both subconsciously and publicly, he gave up the Liga campaign far too early in order to put all his eggs in the Champions League basket.

Just as Barcelona wobbled, Madrid weren't intense in their pursuit. The surprise? It was a superb title win last time out, the club has a clutch of extremely good footballers, and Mourinho has a winning track record. This was a big old belly flop.

Biggest Talking Point

Ahead of the financial crisis at the Liga clubs, ahead of Mourinho's grand diva performance (look at me, look at me), ahead even of his needlessly arrogant and callous treatment of Casillas and ahead of the question of whether an era is ending at the Camp Nou comes the revelations of the past few weeks, bravely led by the football newspaper Marca, concerning match-fixing.

Although their accounts are anonymous, if you trust their journalism -- and I do -- they have exposed some remarkable testimonies that make clear that the ebb and flow of dirty money is there for those who want to tinker with performances and results. The revelations come against a backdrop of Levante being investigated by the Spanish League over suspicions raised by one of their players about a home defeat to Deportivo La Coruna.

Javier Tebas, the new League boss, has made some strong assertions of his own, and this has the feel of a genuine push toward exposure, punishment and eradication. For so long as this column is published, it will support those efforts.

And Now The Quick-fire Round

Saddest Goodbye (Non-human category): San Mames. The Cathedral it has always been nicknamed, a place of worship it has always been. Angular, interesting, authentic and atmospheric. This was the final hurrah. We'll all miss it.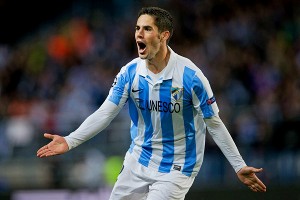 Jasper Juinen/Getty ImagesReal Madrid should make a play for Isco before he follows his manager to Manchester City.
Biggest Revelation: Having already given a gong to Lopez, this is a split decision between Isco and Raphael Varane. The former is a visionary, brave, technical gem of a footballer, and I fervently hope he's not sold to Manchester City so that La Liga remains blessed with his talents. The latter is an ice-cool wrecker and destroyer of velvet elegance. An athlete, a reader of the game and frighteningly quick, he was the determining player in the two Real Madrid-Barcelona Copa Del Rey semifinals. Florentino Perez and all Madridistas should kneel down in front of Zinedine Zidane, who plucked Varane from the grasp of Manchester United, and sing his praise ever more.

Most Underappreciated: Valdes is an easy winner. Time and again the Barcelona players who have ripped up the history books tell you that this guy is the one who requires far more praise, far more kudos -- that he's perfect for their system, that he saves them over and over.

Yet when he wanted to address some changes in his training regime, the club wasn't interested. It gave him the "Listen, son, you're not Messi, mind your manners" treatment. What an own goal. Some fans won't know what a leader they had -- until he's gone.