Neymar/Messi could make Barca ill
Can you recall the age at which you learned, probably to your cost, that your parents (and Shakespeare, who first gave prominence to the phrase 400 years ago) were bang on the money when they droned on that "too much of a good thing can be bad for you?"

Perhaps, dare I say it, alcohol was involved?

One of the most common modern versions of the saying is that someone was "like a kid in sweetie shop." It implies that, let loose in a candy store, someone of a childish disposition will:

a) initially feel total euphoria
b) show little restraint
c) pretty quickly require a sick bag

My impression, augmented by last weekend's signing of Neymar, Brazilian star in the making, is that Barcelona's President Sandro Rosell, his key football employees Andoni Zubizarreta and Josep Maria Bartomeu plus large swathes of the Catalan football media have extremely sweet teeth. And may eventually feel the need of a robust receptacle into which they can, well ... barf.

A year ago, Barcelona completed a piece of repatriation, one they could have avoided had they not allowed Jordi Alba to escape as a kid.

However, to sign a world-class flying machine of a footballer who is young, understands the Barca playing system having been reared there and who is a fine technical player with a pugnacious attitude for 14m definitely counts as making a regrettable situation better.

Having said that, I think that the initial enthusiasm (mine included) for the idea of having two similarly talented, athletic and attacking full backs in the current Barcelona setup has proved somewhat questionable.

Tomas: Neymar is good Barca business

Going forward, Barcelona have continued to look extremely hard to combat because both Dani Alves and Alba almost perpetually come up with attacking solutions as overlapping wingers given that they are exceptionally gifted, swift players. However, the lack of a tall, defensive full back, given Eric Abidal's absence, has cost them, more so than the flying twins on either flank have gained them.

This season, Barcelona conceded 17 goals en route to semifinal elimination in the Champions League -- the figures for 2009, 2010, 2011 and 2012 were 13, 10, eight and 10 -- a calamitous difference.

In La Liga at this stage it is 39 goals conceded compared to 27 last season, 20 the term before that -- you get the picture.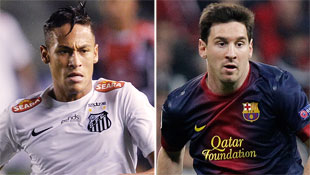 Getty ImagesThere's nothing to suggest that Neymar and Lionel Messi can't work well together at Barca, but there is cause for concern.
Now before the small of brain or the willfully obstructive have a seizure, I'm clearly not arguing that the fact Barcelona have conceded almost double the goals this year than in any two of the previous five seasons combined is wholly the fault of their flying wing-backs. But it has been a massively contributory factor. Teams get more crosses in, teams score far more back post goals; as such, it has been (wait for it) too much of a good thing. Barcelona opted for more of the sweet stuff and forgot that some restraint, some protein and some balance in their diet might be preferable.

Get where I'm going?

Nearly three years ago when I began writing my book on Barcelona, I estimated that President Rosell was likely to go for a "vanity" signing, one that would leave his mark on club history and produce (hey presto!) "his" Leo Messi.

Thus we have Neymar.

Obviously this is a young man of talent. Extreme talent. It's a fact that other important clubs wanted to sign him. Perhaps, given the fact that worthwhile people -- including players from the Brazil national team and his former coach at Santos -- say Neymar's a good, serious pro, he'll fit in well at Barcelona, learn the rules and succeed.

Perhaps. But even if he does, then at what cost?

The guy's talent and humility have so far impressed Xavi, Andres Iniesta and Messi. Again, I concede that. Moreover, all of us who earn a living in Spain should be very pleased that this quicksilver, anarchic talent has moved to La Liga and not the Premier League, Serie A or the Bundesliga. In the old days you'd have found this guy learning the ropes in Europe at PSV Eindhoven, or perhaps Deportivo La Coruna like Romario, Ronaldo, Bebeto and Rivaldo before him.

This time, personally, I'd have been more impressed with his degree of 'fit' at Real Madrid. They require a player of magic like him, someone who is different to Ronaldo but who can take some of the weight off his shoulders. Perhaps I'm wrong, but Neymar might have been Madrid's Ronaldinho. Too late now. I'm not going to find out whether that idea was well-founded or not.

Yet here's the rub. With Messi, potentially the greatest player ever, in the squad, do Barcelona really need Neymar now? No, they don't.

Does his arrival, in time, offer the possibility of destabilising Messi in terms of football, marketing and prestige? Yes, it certainly does.

No matter how well-grounded the personality or how team-oriented the man is, football promotes jealousies, comparison, insecurities and rivalry that, although potentially productive, can also destroy harmony and undermine success. You know this to be true as surely as I do.

But most intriguingly of all, what happened to the Barcelona system? What happened to 4-3-3 with wingers, width, a pressing and forward players who stretched the pitch wide open vertically and horizontally?

Self-evidently, Neymar can play wide -- he can rampage in off the left, or more likely, the right touchline. But he is categorically not a winger in the mode that the Barcelona of Guardiola's era used.

Moreover, some of what makes Neymar remarkable rather than just very good is that he's capable of dropping into just the same middle pitch space that Messi inhabits, successfully, and dribbling past three or four players.

A good thing? Obviously, yes. Does he give assists? Yes, even more prodigiously than he scores. But is his natural feeding ground very similar to Messi's? It most certainly is. But does he press like the most successful Barcelona sides of recent seasons did, with David Villa, Pedro or most especially Samuel Eto'o at their most voracious? No.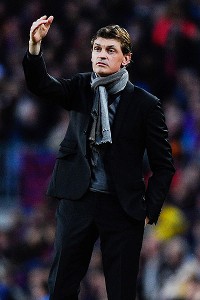 David Ramos/Getty ImagesTito Vilanova will relish the chance to work with Neymar but must acknowledge that tactics and formation must change in order to make it all fit.

What seems gloriously obvious to me -- and I cannot fathom why more are not analysing this with clear eyes -- is that this player who threatens the harmony between Messi and Barcelona but who doesn't correct a sufficient amount of their current flaws goes firmly against the reason that Tito Vilanova was appointed a year ago.

Back then, the board and the President wanted continuity of the Guardiola ethos. They wanted the same values, the system to be maintained, the verve and the rigour to be buffed up -- but they didn't want a new philosophy.

One year on they are within their rights to change their mind and to retain the possession philosophy but to experiment with 4-4-2 or 4-2-3-1 in order to make sense of the Messi-Neymar tandem.

But equilibrium is important. Correcting flaws is important. Restoring the fear factor that teams used to feel when they had the ball and attempted to play out of defence against Barcelona -- all that appears to me, objectively, to be important.

If between them, the Barcelona coach, Messi and Neymar find compromise, understanding and enjoyment in the new status quo, then fine, this could be fun and fascinating. He will also sell the brand, earn money, score goals, make Asia and parts of South America swoon, keep Nike happy and, you betcha, he'll be happier in the limelight than Messi is.

But is this the right move for the current Barcelona requirements? Or is it sufficiently too much of a good thing that the Catalans will need the sick bag ready to follow on from the initial feast upon which they gorge themselves?

Time will tell and I wish all parties the very best of luck.

If my cynicism is wrong (and I don't mean after one year, but after two or three) then I'll be happy to compliment those with better long-term vision than I have. If Neymar does succeed and Messi (or his entourage) do not feel marginalised, dethroned or tempted to leave, then mea culpa for my cynicism.

In the meantime, don't eat all those pink sugary candies. They are scrumptious but they'll make you ill eventually.

Three Cheers for The Little Guy With The Chippy Attitude: Taking all objectivity into account I was just delighted that Osasuna's thrilling 2-1 win over Sevilla at the weekend guaranteed the Navarran side's permanence in Spain's top division and I ask you to join me in celebrating.

This hasn't been a particularly glorious season for them but Osasuna are one of Spain's heartbeat clubs. In an era when neutrals, particularly those outside the country, yearn for the league to be less predictable and for the top two teams to be given a bloody nose more regularly, Osasuna are one of your candidates.

The ground, Reyno de Navarra, is small but regularly noisy and hostile (in a sporting sense). Pamplona is a one-club city and so the fans roar with an extra level of pride and cultural identity. The players feed off it. It's a "proper," old-fashioned (in the good sense) footballing outfit and what's more, Osasuna has had a pretty notable level of success in recent seasons.

Over the last decade or so, on Liga duty, the Navarrans have defeated Real Madrid five times home or away and drawn four. They have beaten Barcelona four times and drawn six. In 2005 they made the Copa final. In 2006 they finished fourth. No correction needed -- fourth! And in 2007 they were one away goal away from the UEFA Cup Final.

That this smart, enjoyable, belligerent and admirable club remains in the Primera is a filip for those who despise hegemony and who root for the little guy with big ambition.

Kangaroos, Courtois and the lack of Big Black Clouds: Until this week I'd guess that the Atletico Madrid fans thought that they simply couldn't be happier with their on-loan keeper Thibaut Courtois, whose talent is as imposing as his height and physique.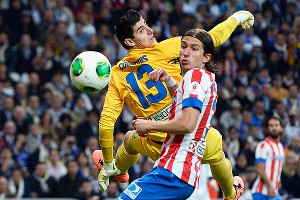 Pierre-Philippe Marcou/AFP/Getty ImagesAtletico goalkeeper Thibaut Courtois could be a Barcelona target after Victor Valdes leaves.

This Belgian behemoth capped two extraordinary seasons at the club (farmed out by Chelsea) with a display against Real Madrid in the Copa del Rey final that nobody who saw it will ever forget. Madridistas will revisit it in their nightmares for generations to come.

Then, just to add cream to the coffee, Courtois, evidently no shrinking violet, starred in the rabid celebrations the night after the final when fans chanted along as he sang "Bounce, bounce, bounce little kangaroo ... let Madrid gently position their disappointment where the sun doesn't shine."

Okay, I've cleaned up the words a little and, believe me, there is at least the hint of rhyming and scanning in the untranslated Spanish version. So just imagine how this went down with the massed ranks of Colchoneros.

Correct, quite well.

But this week, just as Radamel Falcao succumbed to the frankly unappealing life in Monte Carlo playing for a 15m-euros tax-free year and beside the Mediterranean for a team where everyone is just fawning with appreciation to have you there, Courtois embellished his previous achievements.

Falcao, Atletico's best player, has gone. Not all the transfer fee will recur to the selling club. Diego Simeone also renewed his coaching contract there based on "continuity" and "stability."

As for the young Belgian, he's en route to becoming the world's best keeper. No question in my mind about that.

Had he said: "Merci, au revoir and thanks for the memories but I'm back off to London," the euphoria in the red-and-white sector of the Spanish capital would have been quickly replaced by a whopping big black cloud.

While Chelsea's Petr Cech has been a central element in their "winning" mentality over the years, there must be some debate about whether selling him and installing Courtois is the right strategic move.

Although Jose Mourinho may still take over and rip up the plans, the simple fact that Courtois chose to declare, in public, that he'd appreciate the chance of staying one more season at the Calderon is a huge relief for Atletico's football planners, his fellow players and the still celebrating fans.

As Oscar Wilde, a massive Atletico fan in his day, once remarked to me over a cerveza: "To lose one superstar may be regarded as a misfortune. But to lose to in the same week would have seemed like carelessness."

On which note I'll leave you.