And so, inevitably, to the second Clasico of the season (with another just over five weeks away). I sold you the sizzle last week, but I'm certain the sausage didn't let you down.

Five goals at the Camp Nou, drama, controversy, some sublime football, and now we have the denouement.

It's interesting that both combatants have made what can be considered expensive, slightly controversial signings which remain open to some critical analysis.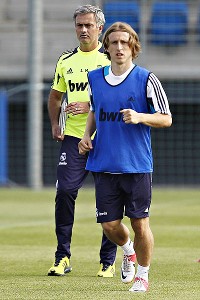 Jose Mourinho now has Luka Modric in his squad to play alongside, or instead of, Xabi Alonso.

Luka Modric finally touched down at the Bernabeu on Monday, having seemed to hover over the place since early June. I'd guess the little Croatian was pretty bemused that although it had taken Madrid a fine old time to tie up his signing, he was then whipped into a private flight, an instant medical examination and then a hurried news conference all within the space of a few hours. But Luka, don't forget that Madrid stumbled to that shock defeat at Getafe, so the balm of your words ""When I first heard Madrid were interested, nothing else mattered" was much needed.

It seems inconceivable that he plays Wednesday against Barcelona, not with such irregular training over the past month. But I seem to be in the minority as one of those who finds Modric's purchase eminently understandable. He gives Mourinho far, far greater license to play 4-3-3 when he chooses to, he allows the Special One to play Modric next to or instead of Xabi Alonso -- vital given that there is an absurdly excessive burden of importance placed on the Spanish international.

Madrid simply cannot afford Alonso to be absent or off form for more than about six or seven minutes. But now, finally, it has an adequate backup.

Moreover, Modric's arrival should put pressure on Mesut Ozil to work harder, build his stamina and not to feel complacent about his place in the starting XI.

Barcelona's newest signing, Alex Song, on the other hand, might just get some minutes against Madrid. He brings muscle, some creativity, youth and a certain degree of positional flexibility to Barca. I must say he wouldn't have been my choice, not because he's a footballer with numerous deficiencies, but because it seems acutely clear, to me, that Tito Vilanova requires extra cover in central defense, where Song can deputize, but only to a moderate level.

However, on reflection, there could easily be an added value in going for Song. He can play in right midfield if needed, letting Xavi rest, and above all he can ensure that Sergio Busquets feels a challenge for his place now that Javier "The Little Boss" Mascherano seems to be permanently converted to center half.

It may be cliched, but it's a truism nonetheless that a visit from Barca can't be bad medicine for Mourinho and Madrid -- at least not up until the hypothetical point when they win the Supercopa.

Mourinho called Madrid's performance at Getafe "unacceptable," and that was spot on. Ragged, lethargic, increasingly self-indulgent positionally, lacking team shape and lacking team spirit -- how diametrically opposed to the adjectives you'd have used regarding Los Blancos for 85 percent of last season.

The concept of Barcelona visiting will have sharpened minds from first thing Monday morning. Sore limbs, bruised egos, burning ears from choice Special One invective -- all will be replaced by a searing need to raise their game and defeat Barca.

It has been a long time -- 15 years in fact -- since the Catalans have experienced the orgasmic schadenfreude of celebrating a trophy win in the Santiago Bernabeu. That instance was Sir Bobby Robson leading Barca to a 3-2 win over Real Betis in the Copa del Rey final and, would you credit it, Jose Mourinho was by his side on the bench and well remembers the gleeful hoisting of Catalan flags and illicit playing of the FC Barcelona "himno" on ghetto blasters.

He will shiver at the idea of repeat scenes this week, not only in the Bernabeu but with Real Madrid as the victim.

Last season, the final of the Copa was expected to be played at the Bernabeu again, with the Barca and Athletic fan bases crying out for the extra tickets at the second-biggest stadium in Spain, rather than at the Calderon where there were 30,000 fewer seats. Try as they might, the Spanish Federation couldn't persuade Real Madrid president Florentino Perez to let them rent the stadium, with the final word being that there were some repairs due on a few of the toilets, which made it inappropriate to host the final.

Here you need to be aware that one Spanish word for the toilet is "vater," and the more cynical Catalan journalists dubbed Madrid's unwillingness to risk Pep Guardiola finishing his reign by celebrating with a 14th trophy right in the heart of the Bernabeu as ... "Vatergate." Of course.

But beware. Barca played poorly at Osasuna, sneaked the three points and defended poorly at home to Madrid in the first leg of the Supercup. Not only is this tie very far from over; the stimulus to Mourinho and his normally excellent team of overturning the 3-2 deficit and firmly damping down the crisis talk by winning the Supercup at home and sending Barca back home with broken spirits will be an intoxicating one.

Seconds away. Round 2.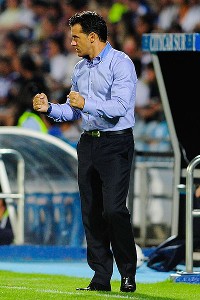 Luis Garcia is both a hidden treasure and an acquired taste, a manager who doesn't espouse the kind of football for which La Liga has gained fame.
The best manager you've never heard of
I'll forgive you if you don't know all that much about Real Madrid's weekend conquerors Getafe. I'll even forgive you if you watched shots of the winning coach and wondered whether Luis Garcia might be some sort of genetically modified cross between Tom Hanks and Ray Liotta.

In fact, he's the impossibly good-natured 39 year-old who has somehow made himself an utter nightmare for Jose Mourinho since the Portuguese arrived in Spain in 2010.

From that date, the Special One has faced Garcia's Levante and then his Getafe four times away from home. In the first season Mourinho drew 0-0 at Levante, lost 2-0 at Levante in the cup, clung on for a very hard-earned 1-0 win at Getafe last season, then lost 2-1 this weekend at the same venue.

During that time, Garcia's Levante registered a 1-1 home draw with Barcelona, and his Getafe side last season famously defeated Pep Guardiola's troops 1-0 in what proved a pretty fatal blow to their title chase. Above and beyond these major scalps, during his two full seasons in Spain's Primera Division, Garcia has defeated Atletico Madrid (twice), drawn with and beaten Valencia (3-1), put five goals past Sevilla and generally posted notice that he is a burning young talent.

His low profile is not governed by his achievements, merely by the fact that the biggest home crowd he's ever coached in front of was 20,000 when Barcelona came to the city of Valencia and drew 1-1 with Levante.

Although Garcia was the toast of the Camp Nou on Sunday night, and pretty damn popular over at Atletico Madrid, too, he is both a hidden treasure and an acquired taste.

He receives relatively little coverage and is thrown relatively few bouquets by the Spanish media -- and there may be an explanation for that.

While Getafe played an absolutely commendable 90 minutes -- in which, despite the illegal use of a hand by Colunga before Abdelaziz Barrada's winning goal, they might have scored more -- Garcia doesn't espouse the kind of football for which La Liga has gained fame.

By no means is his philosophy of football that of a philistine, nor is it knuckle-dragging or monotonous. However, he wouldn't consider himself a devotee of the sort of sweet, flowing, one-touch-and-move brand of soccer which, say, Barcelona and, last season, Athletic Bilbao have put in vogue.

"If you take away the Spanish national team and Barca, then I don't see anyone else winning with this style of one-touch passing football" Garcia comments without any edge, or sneer. "As a coach, I emanate from a generation influenced by Arrigo Sacchi at Milan, and latterly by the achievements of Rafa Benitez. I teach my players that football has room for all styles to be valid. You can easily sit back a little, put the other team under ferocious pressure with your pressing of them in possession and play very directly once you win the ball. It's all valid."

Especially if your team conjures a win in a local derby against Real Madrid using precisely that smash-and-grab mentality to perfection.

Beyond the disappointment everyone associated with Los Blancos will feel, the big sadness was that the world watching this game saw pretty vast empty spaces in the Coliseum Alfonso Perez -- inexplicable and inexcusable as far as most will be concerned.

I'd like to explain the 48 percent attendance (compared to capacity) with the idea that it was Sunday, it was a late kickoff (21:00) and the ticket prices were extravagant. But that's not enough.

Last May for the final match of the season with a 19:00 kickoff and much cheaper prices, only 9,000 turned up at Getafe to see them lose to Zaragoza.

This club and Rayo Vallecano vie for the third and fourth spot in the hierarchy of clubs in Madrid and, frankly, those who run Getafe must sometimes wonder why they bother.

Not Garcia. "What I say to the players is that we don't have a 'bad' support, we just have fewer supporters," he says. "Only 9,000 tend to come but they give all their loyalty and passion when they do. I'll fight for those 9,000. Even if there were only 3,000, I'd feel the same, and my players must too." They did on Sunday.

(PS: Stay tuned, folks. The Barca side Garcia's Getafe beat last season is back at the Coliseum the round after next, right after the FIFA international break, following which the big teams with lots of Spain players often tend to stumble. So genuinely, stay tuned.)

Falcao's production is close to Messi-like
Even before the Champions League begins, it's just a luxury to be able to say that we can anticipate two exceptional weekday matches and two trophies being awarded in advance of this weekend's Round 3 of matches in La Liga.

Time to look at the Spanish Supercup second leg in a minute, but I'm filled with curiosity and anticipation about how Chelsea will cope with not only Europa League winners Atletico Madrid but with Radamel Falcao in particular when the two teams face each other in the UEFA Super Cup on Friday.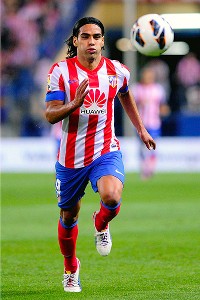 GettyImagesFalcao scored 36 goals in 49 games last season for Atletico Madrid, proving why he is arguably the purest striker currently in European soccer.

For a second or two, we'll let the Colombian striker's numbers do the talking. If you take the past three seasons and the two league games of this one, Falcao has scored 111 goals in 139 matches -- frighteningly close to the stratospheric scoring rates of the world's two great strikers, Leo Messi and Cristiano Ronaldo.

During that time, he's won nine trophies, including back-to-back UEFA Europa League titles with Porto and then Atletico.

This guy -- whom friends, family and fellow players have nicknamed "the tiger on the pitch" for the past 10 years -- is so versatile, with such a mix of power and technical mastery that he puts me in mind of Gabriel "Batigol" Batistuta.

Poor old Athletic Bilbao (Marcelo Bielsa out before the turn of the year, anyone?) have really suffered at Falcao's hands. Monday night's 4-0 thrashing contained a hat trick for the tiger, and he could easily have had two more. But he'll have to be content with seven goals in three matches against Bielsa's team.

Above all, I'd pay good money to spend a week observing Diego Simeone's training sessions and listening to his team talks.

The bottom line is that Atletico Madrid, often a shambolic entity, took far, far too long to repatriate the Argentine coach, who absolutely loved playing for the Colchoneros and often made clear his desire to return as their manager. Since taking over in the middle of last season, their trajectory has been unstoppable, but so has some of their football.

Only the opportunists would say that Atletico Madrid has a squad replete with players whom we all claimed were going to be world-beaters. Instead, there has been a gentle but consistent upping of the quality, a reduction in the average age, a vast improvement in both the players' athleticism and the consistency of their work rate. They are bristling with confidence, giving them an explosive edge.

Sometimes I wonder whether it's the fact that you wouldn't dare take a bad performance into Simeone's dressing room -- although I'm certain he wouldn't do it, I'm even more certain that he has the capacity to boot seven shades out of a disobedient player and leave him locked in the showers before sending the rest of the team home quivering wrecks.

Be that as it may, the European champions Chelsea won their coveted big-eared trophy through much merit. But against Barcelona and Bayern Munich, you had two sides whose strikers were misfiring in the semifinal and final, respectively. Which is something you couldn't accuse Falcao of right now. In theory, it should contribute to giving us one hell of a game Friday evening.