Atletico grit trumps pouty Madrid in Copa final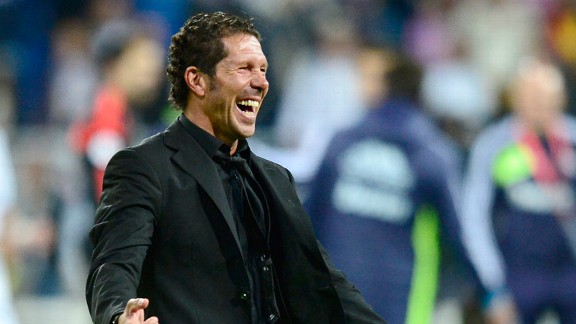 Javier Soriano/Getty ImagesDiego Simeone captured his third major trophy as Atletico manager with Friday's 2-1 Copa triumph.
The only thing which will be quivering more than the woodwork at the Bernabeu will be Jose Mourinho with indignation.

For a bad loser at the best of times, this defeat, Real Madrid's first to Atletico Madrid in 14 years, means that if he leaves this imperious club at this juncture, he'll have won in three years -- after the investment of hundreds of millions of euros -- the same number of trophies, three -- as Atletico's Diego Simeone, who inherited a relegation-menaced club 17 months ago. Who's the Special One in reality ...?

- Mourinho: Atletico 'lucky' to win Copa
- Match Report: Atletico 2-1 Real Madrid

And when you assimilate the fact that Madrid bossed most of the game, played by a considerable margin the better football and cracked the ball off the posts three times, it's easy to feel sorry for proper warrior players like Cristiano Ronaldo, Sergio Ramos and Xabi Alonso, who will be feeling like their worlds have caved in.

But, in the middle of the chaos, where was Mourinho? Even if you didn't know the answer you could guess.

Before this night, his greatest humiliation, the defeat which did him the greatest personal damage, had been losing 2-0 at home in the Champions League semifinal to Barcelona in 2011.

That night he asked his players to defend as if they were a third-division side lucky enough to have drawn a big dog in the Cup as they massed the ranks behind the ball and ignored Cristiano Ronaldo (and the fans) beseeching them to attack.

Pepe did what Pepe does and was sent off. Mourinho did what Mourinho does, abused the officials and was sent off. Postmatch he was an embarrassment.

In this Copa final, with his team on top but unable to deploy the winning punch, he again erupted in a fit of childish pique and was sent off. He wasn't there when his side needed him, he refused to go up and accept his runner-up medal -- he let down his players, employers and fans.

"This is the worst season of my career, it has been a failure," said Mourinho afterward. Again, for Mourinho, it was all about him.

The man who scored the winning goals for Atletico the last time they won this derby, in 1999, Jimmy Floyd Hasselbaink said after the match: "It was one of those moments when he definitely gave Atletico Madrid a boost with his sending off."

Nothing in his dismissal influenced the way in which first Mesut Ozil, then Cristiano Ronaldo and finally Karim Benzema hit the woodwork in a display of just how superior Madrid were in large swathes of the game.

Nothing in his petulant, self-indulgent behaviour inspired Thibaut Courtois to pull off a string of good saves and one, from Ozil, which will rank in the all-time "no puedo creerlo" (I don't believe it!) moments in the entire history of this glorious competition.

But when legs were tired, when discipline was ragged, when Atletico went to 2-1 up, when a tactical reordering might have made a difference, where was Mourinho?

Skulking where he shouldn't have been -- just like all the news conferences he shunned, just like the time he snuck up on Tito Vilanova and poked him in the eye, just like his previous expulsion in the big moment.

He was absent from the crucial moment, just as he'd been absent from the players' "bonding" lunch earlier this week; no longer a popular leader; no longer respected for his treatment of Iker Casillas, Sergio Ramos, Cristiano Ronaldo and Pepe.

He is a man for statistics, Mourinho, and does his research. He must have known, very well, that referee Clos Gomez had previously shown 14 red cards (six to Madrid players) in his past 19 Real Madrid matches. He must have known in advance that abuse from the touchline would leave Madrid short of their "leader."

So, what of the other coach?

The psychology of this man, Diego Simeone, seems to be something special. Just after naming his starting XI a good day ahead of kickoff (both rare and risky), he admitted that Madrid have the better side and, boy, did the first 90 minutes show that.

Even if Alonso looked just a little bit short of his most emphatic, energetic best, he, along with the majority of his teammates, made better decisions, was more alert and created the more flowing, more inventive football.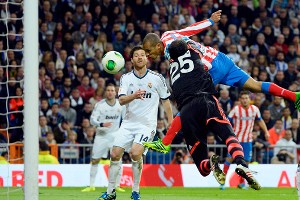 Pierre-Philippe Marcou/AFP/Getty ImagesJoao Miranda's near-post header will forever live in Atletico Madrid lore.
It took real majesty, absolute brilliance for Madrid not to equalise once Miranda's header from Koke's right-wing cross gave Atletico the lead.

Adrian, on for Diego Costa, was self-indulgent. He did the one thing which Simeone teams are not allowed to do -- he stopped working. He let Angel Di Maria run away from him in the 108th minute and the Argentinian then showed his heels to Juanfran. The cross was exquisite, Ozil was loitering with intent at the second post and his finish was nicely lifted, gently in the other direction to Courtois' body movement. Textbook.

But the Belgian, ironically an employee of the club where Mourinho craves a new job, Chelsea, somehow got his arm and his body onto the German's effort and lifted the ball over the bar.

It was jaw-dropping. It was one of the great reaction saves I've seen.

Poor old Ozil had already been given a celestial hint that this wasn't his, or Madrid's night, when Benzema's shot cracked off the post and the German put a left-footed power drive right on target only for Juanfran, a Real Madrid youth product now wearing the red and white, to use his body to block a goal right on the line.

However I'd propose to you that there's a better candidate ... if you have any sympathy for the runners-up. Ronaldo's early header was another of his top-quality goals, a brilliant leap, perfectly placed and emphasis again on what a terrific athlete he is.

You want intelligence? His second-half free kick, which he shaped to hit over the wall on a right-to-left curve, instead mimicked an old Ronaldinho trick.

As the wall jumped Ronaldo stubbed a daisy-cutter under the studs of the players' boots and it, too, smacked off the post.

And then the culmination of a swine of a night for CR7.

I think his red card in the 114th minute was a travesty. If, and I mean IF, his flailing boot caught Gabi on the tip of the nose (and I still have grave doubts about that) then, fine, perhaps his second booking. Perhaps.

But for him to receive a straight red for what looked to me like a massive piece of Hollywood acting by Gabi wasn't just. The whole farrago came from a proper, old-fashioned "right through the back of the man" lunge by Gabi on Ronaldo.

To my way of thinking that was, automatically, a red for the Atletico captain and the game might have swung there and then -- no ball, straight through the back of the Portuguese, no control, intent to damage. The perpetrator escapes and the victim is sent off. Wrong.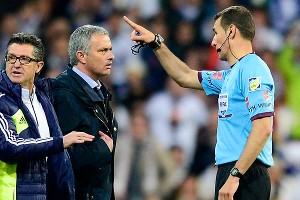 Javier Soriano/AFP/Getty ImagesAfter barely budging from his seat for the first hour of Friday's Copa final, Real Madrid manager Jose Mourinho was sent off by referee Clos Gomez for his antics while disputing a 77th-minute foul.
Clos Gomez was a man all alone in a sea of sharks in this match. There was diving, play-acting, aggression mixed with testosterone and fueled by a snarl. Don't get me wrong, I prefer my football very intense. But this guy had his work cut out as almost every player tried to gain an advantage any way he knew how.
For major parts of the final I thought the official did well, kept his discipline and his calm and made firm, clear, usually correct decisions. Eventually he was a little overwhelmed -- but not wholly his fault.

While all of this was happening, what we like to call a "rammy" where I come from broke out on the touchline. Diego Costa, Pepe and Karanka acted abominably, but right in the midst of it all, trying to calm people down and dragging combatants apart, was Iker Casillas.

Dropped and persistently badmouthed in public by Mourinho, this fella is a symbol of the dignity and the intelligence of Real Madrid. The Portuguese ends his reign in ignominy; Casillas keeps on looking for the right thing to do until the end. The gulf in class between the two men is greater than their two-decade age gap.

Given the incredible nature of Real Madrid's misses, Courtois' saves and the way in which the red card incidents went in favour of the underdog team, there will be a whole host of people saying "name on the cup" and "it was meant to be."

And there was a little nod in the direction of 1999 in that back then both Casillas and Karanka were on the bench for Real Madrid as they lost this city derby (26 matches ago) for the last time before this night. On the bench at the Bernabeu this time ... Casillas and Karanka. Twilight Zone.

So, this became an occasion for Atletico to savour the champagne flavour of success, for some of Madrid's players to lick their wounds after dignified efforts and for the men in power at the Bernabeu to be clear -- it's well past time for a better, braver, more honest, more dignified and, dare I say it, more talented and more appropriate coach.

Those of us who tell it clear and honest know this to be true. However, this was a thrilling, interesting, climactic night which had moments of quality. So let's close on one.

Ronaldo's goal was good. Miranda's goal was definitive and Courtois' best save was incredible.

But as the ticker tape settles and as people look back on the first big moment when things turned toward Atletico, they will see and give more appreciation to Senor Radamel Falcao.

When he picks the ball up in midfield he has dragged Raul Albiol with him. The odds are against the Colombian.

But this is a guy whose record in finals since moving to Europe isn't dazzling, it's blinding.

Before this game he'd started five finals in Portugal and Europe while playing for Porto and Atletico Madrid, scoring eight times and winning every single one of them. Knockout.

So, naturally, he held off Albiol, jinked one way then the other, showed some sleight of foot, set off on a wee sprint and laid the perfect pass into the path of Diego Costa who duly scored. Exquisite.

Before the match the last Atletico coach to win a Cup final against Real Madrid at the Bernabeu (the venue where los Rojiblancos have now won nine of their 10 Copa finals), Luis Aragones, commented that he thought Falcao was a little "leggy" after being asked to carry the team all season again. It proved to be true, but the Colombian worked and harassed and provided and sweated his guts out for a team victory. He's a class act.

I wonder, Jose, when last did you aspire to being that?