What should we make of Barcelona's La Liga title?
The past few weeks have been full of Barcelona's players and staff emphasising that any feeling that the title victory isn't all that impressive, that it doesn't need to be properly celebrated or appreciated is false.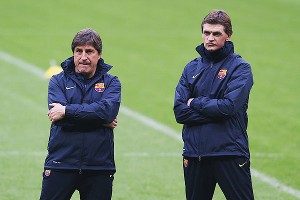 Alex Grimm/Bongarts/Getty ImagesIt's been a trying season for head coach Tito Vilanova (right) and assistant coach Jordi Roura, but it ultimately ended with the La Liga title.
They have taken turns, Andres Iniesta, Jordi Roura, Gerard Pique and a handful of other voices, to dispel the idea that because the second half of the season hasn't been nearly as impressive as the first, and because the Champions League semifinal was humiliating, the initial work is in any way undermined.

Well, beauty is in the eye of the beholder.

To me, this title -- won Saturday after Real Madrid drew 1-1 with Espanyol -- will potentially become an acquired taste, like fish, gorgonzola or coffee when you are a kid.

Not necessarily easy to understand but richer the older you get.

So much has happened post-Christmas that I'd guess it's easy, particularly for the neutral football fan, to forget the tidal wave of adrenalin which was there to be enjoyed in the first few months of the season. Never before in the history of La Liga had a side ripped 55 points out of a possible 57. Every footballer, every staff member looked switched on, refreshed, working with zip and confidence. Even if one or two perhaps felt they deserved more game time, David Villa in particular, the mood was positive and the tension of fighting for places kept things competitive.

Within the first four league matches, two away games underlined the story beautifully.

I was tipped from within the dressing room in the pre-season that the players had made an informal pact to hand it right back to all the sides that had damaged them on the road last season.

During that dynamic, robust, record-breaking Real Madrid 2011/12 season triumph in which goals and points flowed like a river, Los Blancos had made a wonderful habit of winning away -- particularly at the most difficult venues.

In comparison, Pep Guardiola's final season was littered with dropped points in stadia in which the crowd and players were hostile and Barcelona seemed unable or unwilling to match the frenzy.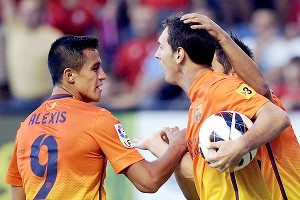 Rafa Rivas/AFP/GettyImagesBarca was on fire during the first half of the season, including when Lionel Messi's two second-half goals gave the side a key win at Osasuna.
This time they won each of their first two away games, but specifically against sides that had done painful damage to them last season. First at Osasuna, where a dramatic 3-2 defeat last spring pretty much kissed goodbye to a realistic title challenge by allowing Real Madrid to go 10 points clear. Then there was the turgid 1-0 defeat at Getafe in autumn 2012 that prevented Guardiola's last season from ending with an away win in each of the three Madrid stadia.

This season, despite some bumpy moments in Pamplona, each result was reversed and six away goals were scored. It was emblematic of their desire and their buzzing fitness.

In turns Barcelona played with verve, with electric movement, with gritty determination -- all the elements needed to suggest that something special was building.

Madrid came along in the Liga clasico and scored twice, for the fourth successive time at the Camp Nou, but it felt then like more than a straight punch-up between Cristiano Ronaldo and Leo Messi, who shared all four goals evenly. Instead, it was another warning that Los Blancos had lost any fear of playing Barcelona away from home (a fact underlined in the Copa del Rey semifinal), but this draw remained the only two points surrendered in the first half of the title chase.

I well remember the day in December when I landed in Madrid to interview Vicente del Bosque only to be greeted by a chirping chorus of missed calls and text messages on my mobile phone given that the news of Tito Vilanova's second cancerous tumour next to his saliva gland had broken while I was on my flight.

It felt to me hugely unfair, quite aside from the risk to his health and his family's happiness, that a man who had been faced with the mammoth task of replacing Guardiola and who had seemed to be quite in his element in doing so had been struck down for the second time in a year. In the words of Barcelona president Sandro Rosell, what remained of the title chase was always a distant second to the health and wellbeing of the club's coach.

How fundamental was his absence to the defeat at Real Sociedad after the turn of the year when a clear lead was somehow transformed into a loss? How fundamental to the draw with Valencia, consecutive defeats to Real Madrid and a 2-0 flop in Milan?

There was less magic, more tiredness, more mistakes, more raggedness in the second half of the season, and the hard thing now is to assess it properly when there is the clouding factor of Jordi Roura, Vilanova's assistant, taking charge for a couple of months and that of the decision Barcelona took in how to manage the whole, draining situation.

Honestly, I think that only automatons could fail to have been affected by the fact that in a time when about half the squad were having a first, second or even third baby, there was a beloved team mate, Eric Abidal, in the midst of a long, emotional fight back from liver transplant surgery while Vilanova was undergoing radiotherapy in a Manhattan hospital.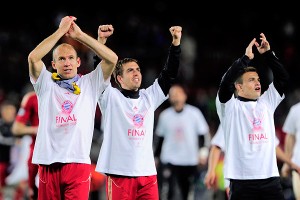 Josep Lago/AFP/Getty ImagesBarcelona can celebrate their league title, but they won't forget that Bayern defeated them 7-0 on aggregate in the Champions League.
The top footballer's life is, by definition, a selfish one. Family, friends, real life -- it's imperative that to a certain extent these all take a back seat. Be fit, be rested, be sharp, be focused, be ruthless -- but don't be affected by doubts over the meaning of life, grief, tiredness, boredom, family responsibility, depression. These sentiments are all enemies.

But they are real. It's a hard fact that Barcelona's squad is made up of a tight-knit bunch who feel the all-for-one-and-one-for-all sentiment when it comes to the battle for trophies.

Just as half of them were bringing new life into the world, they were reporting for training duty at a club where two friends were fighting death.

Some of the dip, some of the vulnerability in the second half of this title-winning term came, I'd argue, from external, unpredictable sources.

But it's clear that some of the reason the Barcelona 'wise-men' have been reminding everyone associated with the club to celebrate this 22nd Spanish title properly is that air has seeped out of their balloon recently.

Yes, it's vital to win your domestic title, and yes, it was made clear by Xavi, Pique and Valdes that taking the championship back from Real Madrid was seen as an imperative.

But shaping up like a Champions League-winning team in the winter only to end up 7-0 whipping boys for Bayern does have a dulling effect on the natural ebullience caused by lifting the league.

And what of the competition?

Many will grumble about the 'quality' of Barcelona's fourth title in five years because Real Madrid haven't made a good job of their league defence.

Split apart by internal feuding, patently undercooked for the demands of life on the road in the first couple of months after the pre-season training and unable to score goals at the same thunderous rate as last term, Madrid have been willing accomplices to Barcelona.

Some will, of course, point to the emblematic nature of Madrid only drawing at Espanyol to give Barcelona the title with Vilanova's squad at home watching on television.

Just one more reminder that, this season, Madrid 'weren't able to ... .' Right now, ahead of the suddenly much less important tie at the Calderon against Atletico, some of Barca's stats are relatively impressive. The title is won with four games to spare, maximum points in those matches would equal Madrid's total of last season and Messi is striving to hit new goal-scoring registers. Again.

However, 37 goals conceded in 34 games is pretty atrocious by this club's standards, and the fact that adequate corrections haven't been made points to a negative trend.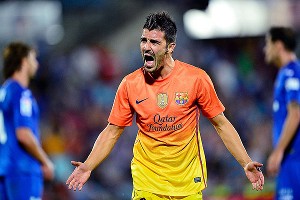 Gonzalo Arroyo Moreno/Getty ImagesDavid Villa returned to Barcelona from a horrendous leg break.
There is a feeling of a lack of balance, lack of resource equilibrium in this squad, and in some parts you can hear the creak of age. Victor Valdes doesn't want to stay on, Carles Puyol keeps suffering debilitating injuries, Xavi's pace against Bayern Munich (just as against Chelsea last season) will make his fans quiver with nerves and, yes, Madrid should have mounted a much more unified, powerful challenge.

But to win against the backdrop of Villa returning from an horrendous leg break, of Vilanova's illness and absence, of Abidal's long fight for health and fitness, and of the impact of Guardiola's departure means that if there is any sense of being 'underwhelmed' drifting around Catalunya, I think that will begin to dissipate as the days roll by.

An acquired taste, then, this league title. But one which will either grow or diminish for Barcelona's fans and the independent media based on the conclusions and actions which the club's decisions makers draw from this long, tiring, sometimes inspired but often confusing Spanish championship.

If this title serves to teach about weaknesses and how to remedy them, it will be a vintage trophy win.

But if it merely serves to paper over the cracks and is used simply as an excuse to crow at Jose Mourinho, its value, in time, will seem greatly diminished.