Real Madrid must be at its best to beat United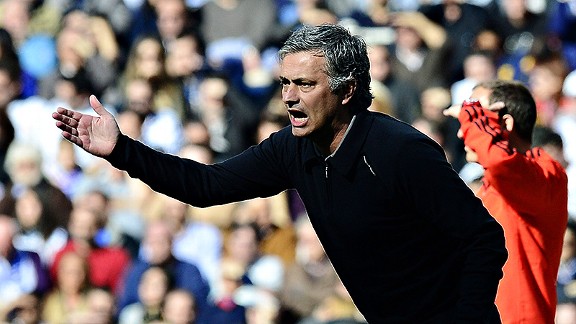 Javier Soriano/AFP/Getty ImagesJose Mourinho has put tension and drama behind him and has Real Madrid in fine fettle ahead of the trip to Old Trafford.
Despite the absolute superiority they have demonstrated over FC Barcelona in the past two matches, the suspicion remains that Real Madrid will have to produce their best performance of the season to eliminate Manchester United from the Champions League on Tuesday night.

Capable of it? Fit for purpose? Yes.

However, it's very far from guaranteed. One of Madrid's greatest problems this season has been hitting and then maintaining its top form. Fitness has been an issue. The alertness of mind and crispness of passing that stems from being on top of your game physically has ebbed and flowed. Sometimes, like a long-wave radio signal, it's loud and proud. Sometimes a fog descends, and if there's a clear voice in there, it's impossible to be sure.

Rigg: Real completes dream week of Clasicos
Okwonga: Kagawa gives United a CL quandary
Marcotti: Monday Musings

In the first match it seemed clear that over the final 20 minutes United was fresher, more full of conviction and still motoring. Since then, Jose Mourinho has taken the wise option of augmenting his players' work rate and not giving them too much rest. Some have had to do double training and some have spent extra time in the gym, while one or two, Gonzalo Higuain particularly, look as if a kilo or perhaps two have been shed.

If you were Sir Alex Ferguson, who commissioned a private jet to get over to Barcelona for the Copa Del Rey semifinal last week, one key thing would make you suspect that a different Madrid awaits at Old Trafford.

Last season had its share of rifts and high-profile spats within the Bernabeu but there came a certain stage when Mourinho put emphasis on his "special" moniker.

Having had tiffs with (no prizes for guessing) Iker Casillas and Sergio Ramos -- both of which reached the national press -- it was apparent that once the team started motoring, Mourinho kept an increasingly low profile. There was a famous clearing of the air after a toothless draw in Santander, plus a squad BBQ that seemed to help morale and fostered unity.

As a natural harmony spread throughout the squad and the slight divides in the dressing room narrowed because of a shared desire to win trophies (and to beat Barca), the coach knew it was time to keep a lower profile and not to seek controversy where it didn't exist.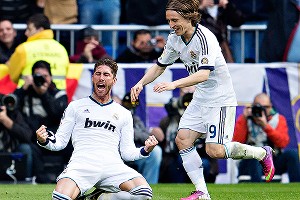 Dani Pozo/AFP/Getty ImagesSergio Ramos was a prime antagonist for Mourinho earlier in the season; now, he's leading by example in the Real defense.

Madrid, week by week, grew stronger and harder to beat. And so it has been this year since Casillas got injured. The pretty farcical exercise in announcing that Adan was in better form and needed to replace Casillas was immediately exposed once the club captain was injured, Adan dropped and Diego Lopez signed from Sevilla.

That was, really, the last time there was an unnecessary fuss and polemic surrounding the Spanish champions. Since then Mourinho has largely favoured the Henry Jekyll ethos and rejected too much Edward Hyde behaviour. OK, when Ramos made such a hash of defending against United's opener in the Santiago Bernabeu, Mourinho made his displeasure clear. Fair enough.

But I was struck by what Ivan Campo, a central defender in the last Real Madrid team to win at Old Trafford (2000) said when comparing then and now.

"This is a Mourinho team -- his players and his personality. When we won in Manchester back then, en route to winning the Champions League, things under Vicente del Bosque were much more relaxed. Now there's too much fuss and 'noise.'"

Well that was true in part this season, but not now. And I think it's a good health check.

One of the principal hurdles for Spain's champions is that United is savvy to Madrid's exceptional power on the counterattack, and because of Welbeck's goal in the first leg, the home side doesn't have to chase a result.

Being a Ferguson team they will, of course, go after a goal or two. But having shown tremendous discipline in Madrid and not getting caught out on the break, it's hard to imagine United suddenly throwing caution to the wind.

Which means Mourinho's team will need to be savvy. Angel Di Maria has the most assists in the tournament thus far, so between him and the magical Mesut Ozil, the task will be to find space and exploit it intelligently.

As for Higuain and Karim Benzema, each of whom will get a share of the game, this is the time to show the clinical ruthlessness of last season -- not the erratic sloppiness of this term.

Then there is Ronaldo. Equal top scorer in this tournament, the man with the most efforts on target and, according to Xabi Alonso, the "most ambitious guy I've ever met." At regular intervals during his time in Madrid, the Portuguese has yearned for his old club. I know this because some of those he phones at United just to chew the fat still feel affection for this phenomenal player and would have him back in an instant.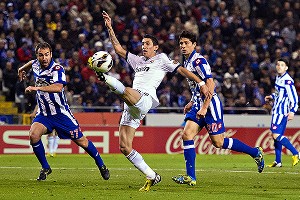 Gonzalo Arroyo Moreno/Getty ImagesAngel Di Maria will be expected to contribute plenty of scoring opportunities for Cristiano Ronaldo and Co. from wide positions.

There are growing rumours, well-founded I believe, that United's incoming sponsors would like to help the club repatriate him and that it may become our soap opera of the coming months.

But for now, this is Ronaldo's opportunity. He has shown, with some authority, that those who used to inanely suggest he wasn't a "big-game" player talk nonsense. His record at Madrid is utterly phenomenal but also includes big goals against Barcelona, Atletico Madrid and Bayern Munich in the biggest of matches: Clasicos, city derbies, Copa Del Rey finals and the Champions League semifinal.

It's true that United managed to shut down Madrid's supply line to him in the first meeting, and if they have the same trick up their sleeves, then it's down to Ronaldo to provide something exceptional. Whether Ferguson needs to resort to a machete or machine gun remains to be seen. But he was the first, truly, to recognise that Ronaldo was an absolute great and not just a pony with a trick or two.

United holds a distinct advantage thanks to the away goal and should prove to be more confident, athletic and fitter opponents than Barcelona have been in the past two Clasicos, deserving to begin as narrow favourites.

But I have a suspicion that this is Ronaldo's stage, this is his moment, and even if it takes extra time and penalties, Madrid may have a surprise up their sleeves.

Barca sleepwalks back into familiar territory: The last time Barca played with such weakness and lack of conviction, it was spring 2008. They were thumped 4-1 at Real Madrid and booed into the Champions League semifinal by their own fans after a stumbling and confused performance against Schalke 04.

What happened next was revolutionary and Pep Guardiola, correctly, is given a great deal of the credit. The Barca B team coach was promoted, insisted on shipping out Ronaldinho and Deco and tightened standards from top to bottom throughout the club. Training, personal discipline, diet, team-building, scouting, sleep, travel -- nothing was left untouched.

Yet what always struck me at the time was that nobody had acknowledged -- in fact I think that nobody had actually noticed -- that so many small details of daily work had been allowed to slip so far. Apart from the Brazilians' nightlife there was no excess, no footballing debauchery -- just a lack of attention to detail.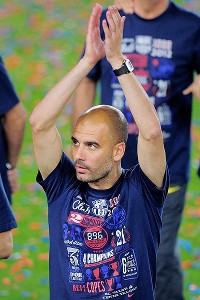 Josep Lago/AFP/GettyImagesBarcelona must learn from its past -- in particular, the 2008 rebuild that saw Pep Guardiola installed as manager -- in order to avoid a difficult future.

In due course, Guardiola's ferocious work standards and his ability to produce magical, convincing discourses that inspired the playing group were a powerful combination. Daily work changed, attitudes tightened and trophies soon followed.

Often ignored is that summer 2008 was the last time there was a major overhaul of personnel at the Camp Nou. Or at least the last major successful one. Nine players were moved out -- Edmilson, Deco, Ronaldinho, Zambrotta, Oleguer, Giovani Dos Santos, Santi Ezquerro, Lilian Thuram and Marc Crosas -- and while neither the signing of Martin Caceres or Alexsandr Hleb worked, those of Gerard Pique, Dani Alves and Seydou Keita certainly did.

It was also the culmination of two successful summers, having added Thierry Henry, Yaya Toure and Eric Abidal the previous year. Henry, Toure, Abidal, Keita and Pique added height, power and athleticism to a diminutive side, and while the emphasis was still on possession, using quick passing to unlock defensive sides and a heavy premium on the magic that Messi, Xavi and Iniesta could produce, there were different resources -- particularly in attacking and defending set plays.

Txiki Begiristain was the guy who did so well in adding very specific players to complement the geniuses emerging from Barcelona's own youth system. Although he was just joining Manchester City at the time, I know that last summer he felt his former club had reached a crossroads. Begiristain believed that it was only "most" not "all" of the answers that lay in promoting from the club's cantera (youth system), and that two world-class signings were needed to meet certain deficiencies in the squad. Furthermore, in order to generate a general pulling-up of bootstraps, the competition for places would be fiercer.

Because of transfers and illness, Keita, Toure, Henry and Abidal have been significant absences, as the height, pace and headed goals have noticeably not been properly replaced.

Of last summer's signings, Jordi Alba looks tailor-made for the club and his value will increase the more he settles in and the more he has a settled, effective defence beside him. However the signing of Alex Song never looked right and he has done little to advance Barcelona's cause. They had Thiago Silva as their priority and when PSG spent more on him than the Catalans could afford, the balance was never going to be addressed by buying a central midfielder who might be able to function as a centre back.

Keita was the only significant departure in the summer -- that because of a change in his tax regime. Some of the lessons of summer 2008, when a sieving out of certain players and the influx of new, hungry men had a catalytic effect, have been forgotten. After all, it's both the weeding out and the buying that help a club undergo regeneration.

In recent months the degree of focus on Barcelona fielding an XI created within their own nursery has grown overly inflated. It's admirable that so many high-quality footballers have been groomed, but inevitably, that process needs topping up. Guardiola knew that, as did Begiristain, but some within the technical department at the Camp Nou have either ignored the fact, misinterpreted it or simply made ill-judged choices (Song, Alexis).

Current results are poor but the overall position at Barcelona need not be so dramatic. Summer 2008 showed that the right correction can have immense results. What's worth emphasising to those who think that a La Masia XI and a certain playing style is of paramount importance is the old economics trick question.

The teacher asks the kids: "Why is Ford in business?" They answer: "To make cars." But the answer, of course, is to make profit.

I remember asking Guardiola about Barcelona's playing style and how important it was that it was attractive. With all due respect to the fact that he adores what the club's footballing philosophy represents, he pointed out: "We only play this way because that's the best way for us to win. It's about winning."

Winning sometimes requires different priorities, harder choices and a tougher mentality than has been on show over recent months at FC Barcelona.