Muddled responsibility at Madrid, Barca ignoring Villa
It seems pretty well established that the phrase 'Victory has one hundred fathers but defeat is an orphan' emanates from the Italian Renaissance but was made popular in modern culture by U.S. President Jack Kennedy in 1961 following the Bay of Pigs disaster.

Real Madrid coach Jose Mourinho paraphrased it after his team, the Spanish champions, slumped to a spineless 1-0 defeat at Granada a couple of days ago, saying, with dripping sarcasm, that "when we win you say it's the players who auto-manage and when we lose it's my fault -- so this defeat is my responsibility".

So, to avoid one of the worst journalistic flaws -- hypocrisy -- you'd have to say that Mourinho has a point.

I am one of a clutch of journalists who trust their Madrid sources and who've been pointing out that some of the positive work in recent weeks has flowed from the Real Madrid squad taking much more 'personal' responsibility for their plight.

Senior, 'winner' players have banded together, resolved to set aside as much as possible of their manager's eccentricities, provocations and rows so the squad can work harder, become fitter and more focussed.

Thus, they believe, Madrid can come much closer to punching at, rather than below, its weight.

Some of the performances -- the first two of the three straight games against Valencia (7-0 aggregate), the second half of the 4-0 hammering of Getafe and the superb Copa Clasico 1-1 draw last week -- backed that information.

Los Blancos played with pace, invention, diligence and remorselessness, and they didn't need a second invitation to put an opponent away if a first was offered.

For those who don't know Spain's geography, Granada is one of Andalucia's most ancient and attractive cities, and the ground where Madrid suffered unmercifully last season, only winning controversially in the dying seconds.

Last weekend's defeat, courtesy of the first own goal of Cristiano Ronaldo's career, adds itself to losses at three other Andaluz stadia this season -- Sevilla, Malaga and Betis.

But those all happened before what some of us have been reporting as a 'sorting out' of the problems and a patent upward gradient in the form-graph.

So what the hell happened in Granada?

If we were right to report the pretty open news from the training ground that there had been a concerted 'Let's ignore the mess the boss is making of this season and show some collective pride and hunger' effort, and to claim credit for accuracy when things were beginning to look 'fixed,' then it would be both mean-spirited and hypocritical to say that it's all Mourinho's fault all over again.

Some of his players looked apathetic; those who were trying their hearts out lacked self-belief and spark or anything approaching clinical decision-making.

The player group will need to examine, closely, whether they have been making all the necessary sacrifices and whether they are really prepared for a month that will include two Clasicos and two Manchester United ties.

Nevertheless here are some questions I'd like the great man to answer. I'm genuinely puzzled.

Last season he used Gonzalo Higuain and Karim Benzema in the same team, either for the entire game or for chunks of time when one came on as a substitute, on 20 occasions in all competitions.

When the Frenchman and Argentinian were on the pitch, Madrid, en route to a glorious title win, won 16 times, drew once and lost only three matches. During those 20 matches Madrid scored 51 goals, and it's noticeable that many of the times when Higuain and Benzema coincided on the pitch Madrid either won away from home or turned a deficit into a victory.

Now, not all tactics in football are either perpetually successful, nor do they automatically present a case for repetition. But to find that Higuain and Benzema have only been used together in the team five times this season and that the gap between the last two occasions spans September to January makes me puzzled.

Another tactic that has largely been discarded is Mourinho's famous, and often successful, 'trivote.'

A trivote, in this case, means taking a double pivote (when two organizing, defensive, firm midfielders play next to each other -- say, Sergio Busquets and Xabi Alonso) and adding a third player of the same genre, Michael Essien, for example -- not an out-and-out creative talent like Xavi or Andres Iniesta.

There were a handful of occasions when Mourinho applied the tactic last season -- notably away at Valencia during a fabulous 3-2 win for Los Blancos.

At the time, in great good humour, Mourinho said there would need to be a new phrase invented for the three-man version of the double pivote -- he didn't like or recognise 'triple pivote.'

He suggested 'trivote' because he didn't accept that a midfield of Alonso, Sami Khedira and Lassana Diarra was negative (particularly compared to his previous three-man midfields comprising Khedira, Pepe and Alonso), given that he asked Khedira to burst forward, break defensive lines and get on the end of chances in the opposition penalty area.

It felt like the best and freshest of Mourinho at Madrid. It felt a little like the best and freshest of Mourinho at Chelsea where, when he had Arjen Robben, Didier Drogba and Damien Duff up front, he often played a 4-3-3 formation that was both muscular and daring.

So without hypocritically blaming Mourinho for the paucity of Madrid's performance in Granada I'd ask: Why the hell has he torn up such a successful playbook?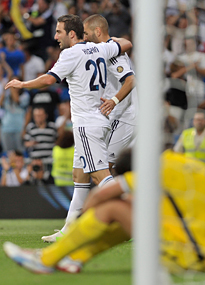 GettyImagesGonzalo Higuain and Karim Benzema were key to success last season
Benzema duly came on for Higuain at half-time in Granada -- but wasn't there an evident case for both men staying on, given how poorly Angel Di Maria was playing?

If, and I think this is clear, both strikers are a kilo or perhaps two above their happiest experiences on the weighing scales, then is getting more and more playing time not part of the solution? If sharpness is an issue, then ditto.

Aside from the patently successful tactic last season of them being strike partners, it's notable that at this point last term they had 36 goals. Currently their total is 21.

Equally, Khedira departed at half-time -- taking away one of Madrid's most powerful and consistent players this season.

Now it would be myopic and petty to say: "The coach got all the substitutions wrong so the defeat is his fault." Mourinho regularly takes risks, makes audacious changes and regularly gets dividends.

But viewed in advance, this match cried out to have a midfield of Essien, Khedira and Alonso and a strike force of Higuain, Benzema and Ronaldo so that Madrid won the midfield area, played high up the pitch thanks to firm pressing and allowed Khedira to break forward, with Essien and Alonso backing up, to create problems for the opposition and solutions for the visitors.

And when Mourinho criticised players like Marcelo for being "tired," having not played in midweek against Barca, then he must have himself to blame, to a degree, given that Marcelo has been shunned in recent games, while opportunities to feed him match fitness via 30 minutes here and 45 minutes there have also been discarded.

If the players have been architects of their recent strong form, and I'm quite sure of that, then they have to share a very firm chunk of the blame for playing like inebriates for much of the Granada match.

But their coach has given the impression, for some time, that his attention is being snagged by other matters, including his future, and the victim, aside from the team, is a playbook that worked so brilliantly last season and cannot, feasibly, have passed its sell-by date this quickly.

Explanations on the back of a postcard and addressed to Don Florentino Perez,
Re-election Campaign
Not Happy
Santiago Bernabeu
Avenida de Concha Espina
Madrid

---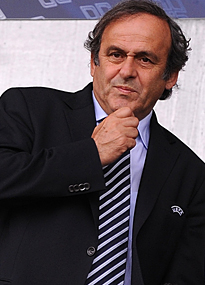 GettyImagesMichel Platini: UEFA chief and champion of FFP
When UEFA introduced the concept of Financial Fair Play there were some who doubted that it could or would be enforced.

UEFA President Michel Platini was a principal architect and he made the claim that his organization was responding to repeated demands from major clubs and associations for action to regulate spending and to seek equilibrium between those who mind their books and those who are happy to, or able to, incur massive debt.

An affidavit for his claim came from Spain this week. It transpires that the league and some governmental sporting agencies have agreed on a new financial regulation of some significance as of this summer.

Before June 30, clubs need to demonstrate an equilibrium between expenditure and income and to show that the budgets they announced at the beginning of the season remain truthful and accurate, not hypothetical.

If the clubs fail these tests they'll be banned from transfer operations in that market because the league will refuse to transfer their registration documents -- required for a players to make a move and play for another team.

Like the greater FFP scheme, let's see how things work. But even a small step toward realism, sanity and salvation is to be applauded.

---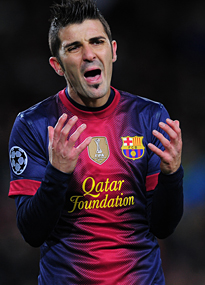 PA PhotosDavid Villa: The answer to Barca's issues
There's a touch of 'It's the Economy, Stupid' about Barcelona's current woes.

A couple of weeks ago Xavi Hernandez commented that the side was playing so well that pretty much their only problem was that chances in front of goal were being created and shunned on such a regular basis that the league leaders were failing to kill games off. "We have to put our opportunities away," he confirmed.

Then, after the Valencia draw at the weekend, Jordi Roura admitted that his team lacked freshness and could have finished more crisply. So what's the matter with Barca's technical corp?

On the bench they have the man who is Spain's all-time international goal scorer. On the bench they had a guy who didn't play against Madrid in the Clasico and thus was fresh. And on the bench they had a guy who had played out of his skin against Osasuna the previous week, working for Messi, creating a couple of goals and looking full of lively invention all night.

What more do they want -- laser eyes, the power of flight and the ability to shout 'flame on' and do a Johnny Storm?

Stranger things have happened than a club deciding they want to 'mob' a player until he leaves. Stranger things have happened than a mega-footballer like Messi preferring to play with Pedro and Iniesta up front instead of David Villa.

But he was one of the motors of Barcelona's remarkable 2011 season, he very nearly has one goal every two games for the Camp Nou club across 100 appearances, and the last time out with Messi it was clear that the hatchet was buried and Villa's form was back to its best.

If Barcelona want to make the business of winning trophies still harder, then it's their own affair -- no skin off our noses.

Yet in Villa the Catalans potentially have the guy to guide them back to Wembley and to win the Champions League again. If they haven't broken his spirit before that.