Memo to United: Something wicked this way comes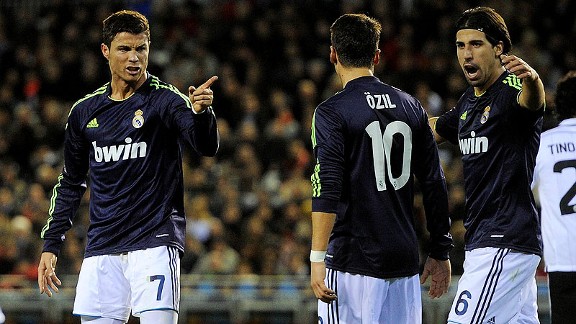 Gonzalo Arroyo Moreno/Getty ImagesReal Madrid put the hurt down on Valencia this past weekend, an ominous sign for Los Blancos' upcoming opponent in the Champions League.
Back when Real Madrid needlessly dropped two Champions League points at Manchester City in November, Jose Mourinho was at his jaunty 'best' for the post-match television cameras in England.

"Every time I have won the Champions League I've finished second in the group" was how he brushed aside concerned questions about Los Blancos' failure to convert patent superiority into a win.

At the time what jarred a little was his blatant disregard for the maxim that "there's no 'I' in team." But on the basis of the remarkable, devastating show his team laid on at Valencia last weekend, Mourinho may just be beginning to regret that Madrid finished behind Borussia Dortmund in Group D.

Several times this season I've written of my conviction that if Mourinho can set aside whatever strange agenda he is pursuing (opening war-fronts left, right and center) then his own talent, married to the top-class squad he possesses, would make Real Madrid proper contenders to win the Champions League.

-Video: Valencia seek Real revenge

But timing is everything in this competition. The process of football husbandry, which can regulate when your team has its best stamina, is playing with the most pace, and when keeping injuries or suspensions to a minimum is the second most important component (apart from depth of talent) a club can boast.

The premium for winning your Champions League group is that you play the knockout away tie first and finish with a home match when you try and seal qualification.

Traditionally, the idea of home advantage, while not absolutely imperative, has been important.

However, such was the power of Real Madrid's play last season en route to the La Liga title that whether they played Manchester United home or at Old Trafford first would have been pretty much irrelevant.

Not so this term.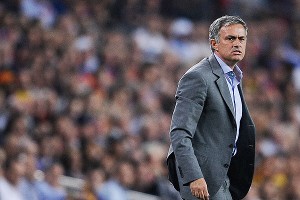 AP Photo/Manu FernandezReady for a fight: Jose Mourinho has the edge against Sir Alex in head-to-head contests: six wins, six draws and two defeats.
But the confidence, athleticism, precision, aggression and ruthlessness of Madrid's performance at the Mestalla in thrashing Valencia 5-0, despite both Sergio Ramos and Pepe being absent, indicates that with three weeks remaining before this titanic clash of two of Europe's nobility, the Spanish champions are moving towards their most devastating.

Notably, the most threatening part of Madrid's play was the immense speed and efficacy of their counter-attack.

Sir Alex Ferguson's most valuable scout, his brother Martin, will be filing red-letter reports that it is even more of a capital sin to lose cheap possession to Real Madrid anywhere in the Spaniard's half of the pitch than to do so in the thirty meters in front of David De Gea's goal. If a team allows itself either to be caught too high up the pitch, or with the defensive players dragged too far either to the right or the left when Madrid (on their Valencia form) get hold of the ball within 10 or 15 meters of their own goal-line, then punishment via the concession of a goal can be only seven or eight seconds away.

However, there is a truism that it's far easier to play counter-attack football at its absolute finest and most dangerous when you are away from home. Most clubs feel the need to oppress visiting opponents -- either because of their own playing style or because the home fans who pay at the gate demand it.

Some of United's home results in recent seasons -- Basel, Benfica, Everton -- hint at that tendency, and there is no question in my mind that, at the moment, Madrid's players are at their most comfortable and confident away from the Santiago Bernabeu where Mourinho has been routinely booed in recent months and the debate about whether Antonio Adan or Iker Casillas should keep goal has been a damaging presence.

So I'd be willing to bet that irrespective of the potential advantage of playing the second leg at home, Mourinho wishes that he was travelling to play United at Old Trafford in three weeks' time rather than hosting Sir Alex Ferguson in Madrid.

There are also one or two stats to further that.

Mourinho, and Real Madrid as a separate entity, are unwanted opponents for Ferguson and United at this early stage of the competition, which the Scot (and Los Blancos, for that matter) most yearns to win.

If the Portuguese doesn't quite have a hex on Ferguson, his numbers still don't make pleasant reading for the Red Devils. Thus far the two men have faced each other on 14 occasions -- Ferguson always at United, Mourinho at Porto, Chelsea and Inter Milan. The balance of results are in Mourinho's favour: six wins, six draws and two defeats, which is a significant margin.

Included in Mourinho's healthy balance are the 1-1 draw (albeit with a goal which should have been ruled offside) at Old Trafford that put United out of the 2004 Champions League, which Porto went on to win, and the 2-1 away win for Chelsea to eliminate United from the 2004-05 League Cup semifinal as the Blues went on to win that tournament, too. Then there is the historic head-to-head between the two clubs, which Real Madrid edge ahead in with three wins, two draws and two defeats. But two of the Spaniards' victories came at Old Trafford, and their 4-3 defeat there the last time the two sides met would always signify an unacceptable number of away goals conceded.

The short way to say it is that Mourinho's Madrid may be awakening from their deep sleep at just the wrong time for Ferguson and United, but I suspect it would be to their still-greater advantage if the first part of this engrossing tie were in Manchester rather than Madrid.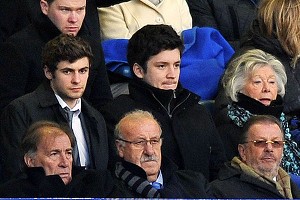 Paul Ellis/AFP/Getty ImagesVicente del Bosque was recently at Goodison Park to assess Michu.
Del Bosque's selection dilemma
Vicente del Bosque paid a rare visit to England the other weekend and if you are a morose 'cup half-empty' type, then you'll be panicking because of it.

On the other hand, if you are 'cup half-full and I wasn't thirsty enough to drink any more than that, thank you,' then it's a jig of delight you should be doing all around the living room floor.

The first category applies to those panicking about the trials and tribulations this season of Spain's principal goal sources: David Villa, Fernando Torres, Alvaro Negredo and Fernando Llorente. The second category is about the bubble of optimism available if you look at the options which the Spain coach suddenly has in front of his nose.

Del Bosque has often given the impression that proving yourself in English football is about as impressive as knowing how to tie your own boot laces. Arsenal's Mikel Arteta never got a look in for the Spain squad, Jose Enrique shone at Newcastle and is now a mature and important force at Liverpool ... but, nothing.

The big breakthroughs for Alvaro Arbeloa, Gerard Pique and Cesc Fabregas (either in terms of debut or being considered a sure starter for the national team) didn't come until they'd quit the Premier League for La Liga again.

So for Del Bosque to journey to the Premier league indicates he went with his serious head on.

The reason is Miguel Perez Cuesta, aka Michu. He's cracked in 16 goals for Premier League surprise team Swansea, and there were Del Bosque and his assistant Toni Grande (Big Tony) in the main stand at Everton 10 days ago to watch the striker.

If you are the optimistic, 'half-full' type of dude, then what does this signify? Well, Michu is not only scoring freely, hitting goals against top-class opponents like Arsenal and Chelsea, but it's important that if he's going to edge his way into the squad for either the crucial World Cup qualifying matches in Spring or the Confederations Cup held in Brazil this June, he's going to have to compete with a little clutch of free-scoring strikers to do so.

Roberto Soldado is captain of Valencia, has 17 goals in 32 matches during a deeply difficult season. Plus, he scored a crucial away goal for Spain's 1-0 victory in Georgia last autumn.

Suddenly Aritz Aduriz at Athletic Bilbao, the man who made way for Soldado at Valencia, has 16 in 27 appearances (the best statistic of his career at this part of the season) and is playing as well as he did when he was a regular in the Spain squad around 2009.

Ruben Castro, for the second consecutive season, looks utter class up front for Real Betis and has scored 13 in 21 matches -- not to forget Iago Aspas, recently mentioned in dispatches by Del Bosque, and Cesc Fabregas, who has looked deadly in front of goal for Barcelona.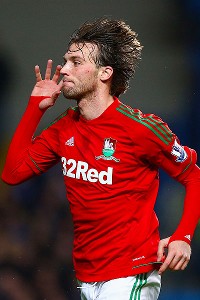 Clive Rose/Getty ImagesMichu has been a hit for Swansea, but will he fit into Spain's national team?
But, really, it's just as well there's such a plethora of options for the world champions with interesting matches against Finland and France coming up in March, plus a friendly against Uruguay on Feb 6 in Doha. The situations which Torres, Villa, Llorente and, to some extent, Alvaro Negredo are having to deal with look both serious and hard to resolve.

The arrival of Rafa Benitez at Chelsea hasn't had quite the palliative effect which Roman Abramovich patently thought it might and Torres still appears short of both pace and confidence. Villa has hit patches of lovely form this term, but has neither been blessed by long spells in the first team or pardoned by injuries. Llorente, because he won't re-sign for Athletic, is being ostracised by Marcelo Bielsa and is now, naturally, short of form and confidence.

Better that all this happens now when there is only a Confederations Cup to deal with, and not a World Cup. But, as Del Bosque himself would caution, better to get to the World Cup finals in order to defend the trophy. No? His job, given that there's little he can do to solve the domestic travails of his main men, is to sort the wheat from the chaff when surveying Michu, Castro, Aduriz, Soldado and Aspas.

Goals -- yes, they all provide them. But which of them has extra class, works best for the rest of his team, has a personality which will mesh with the existing La Roja talents and which, if asked, could sit out almost all of a tournament and then come on to make a crucial difference like Fabregas, Jesus Navas, Santi Cazorla, Juan Mata and Llorente have already shown they can do?

Good luck to all of them. Del Bosque has a habit of taking his time and getting it right. Watch this space.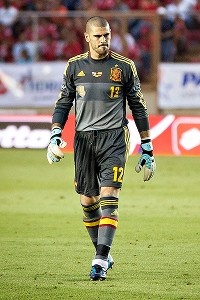 Javier Rodriguez/Getty ImagesVictor Valdes should not be faulted for wanting to play at another club after years of service at Barcelona.
Valdes is no traitor
Finally, a word of complaint to the reporters and columnists in Catalunya who dared to call Victor Valdes "treacherous" or "disloyal" for his decision not to renew his contract at FC Barcelona. In my view, the best keeper in the club's history and certainly a servant who has been professional, assiduous, honest and loyal to this date deserved much better.

His one-on-one saves have become a feature of Barca's recent Clasico victories and their Champions League triumphs. His footballing skills are of the highest level and so is his competitive spirit -- this is a real street fighter.

How can he be castigated for either having the sense of adventure needed to decide that he wants to sample another football culture or for having the bravery and honesty to announce the decision rather than hide it in the traditional football manner and lie to teammates, media and fans alike. I'll never understand it.

Honor in football should apply to fans and journalists not just footballers and managers. Valdes deserves respect, appreciation and the chance to complete what will probably be his final Camp Nou season without being doubted or criticized at every turn.