Spanish football sets the standard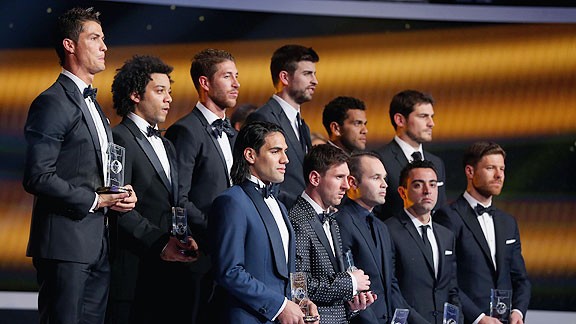 Alexander Hassenstein/FIFA/Getty ImagesThe proof that the Spanish game reigns supreme was on full display in FIFA's Best XI.
What a night for Spanish football.

I've long held that despite the 'up and at 'em', thud and blunder of the Premier League, the pockets of quality in English football and the tremendous fan culture there, La Liga is far and away the best pound for pound league anywhere in the world.

- Messi wins fourth Ballon d'Or
- Tomas: Messi golden again

Perfect, no chance. Flawless, no way.

But head and shoulders above any other championship, specifically because of the domination by players of exquisite skill, technique, intelligence, diligence, flair and fun.

Football is partisan, thank the good Lord above for that, and so there are many aficionados who defend their preferred championship: Serie A, Ligue 1, the terrific Bundesliga and, of course, the elephant in the room, with almost equal vehemence as if they were a Juve fan arguing with a Milanista, a Spurs supporter haranguing a Manchester United diehard or a Bayern Munich season ticket holder locked in a telephone booth with the head of the Borussia Dortmund supporter's club.

Each title chase has its merits and, of course, having been born and bred somewhere, you will naturally feel drawn to the rivalries 'sold' to you by your dad, your uncle and your older brother. Bragging rights over regional rivals or the big city clubs in your country could be such a strong opiate that accurately appreciating 'foreign' football might be difficult.

But the professional football world voted in Autumn 2012 and, to accompany Spain's on-pitch domination of both club and international football in recent years, the voice of the professional game yelled: Espana, La Liga, La Roja ...... MESSI.

Whether or not you agree with the composition of the FIFA/FIFPRO XI for 2012, we are told that over 50,000 fellow professionals voted for Iker Casillas; Dani Alves, Sergio Ramos, Gerard Piqué, Marcelo; Xavi, Xabi Alonso, Andres Iniesta; Cristiano Ronaldo, Radamel Falcao, Lionel Messi.

Every single one of them is either Spanish or plays in La Liga.

Now, of course, my Twitter feed was immediately bombarded with football fans demanding to know whether I agreed with the selection of this player or that (with the two fullbacks featuring most often in people's incredulity).

But the point is that this was part of what has become the most definitive, most democratic and, I'd say most accurate channel for football's voice to be heard in the entire history of the professional game. Every FIFA captain had the chance to vote (although you'd love to hear the full reason why Ronaldo just couldn't manage it), as did every FIFA coach.

There was a third, equally sized, group of journalists who are France Football correspondents and known, in theory, for their aficion for the international game.

Fans and their voice are not only important, I recognise that it is often from the most attentive and educated supporters that you hear the best sense and the most accurate prognosis in football. But there are many dozens of ways in which fans' voices can be heard (most specifically the Uefa.com team of the year) so their absence from this process can't be held up as a major flaw.

And I think it's important to add another point.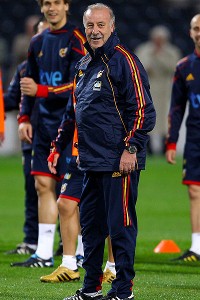 Alex Livesey/Getty ImagesSpanish national team manager Vincente del Bosque took home the award for 2012 FIFA Coach of the Year.
If there was a player or two who you think shouldn't have been in that XI, then please don't sell me the idea that some sort of 'marketing' or 'over-exposure' is what clinched his place. One of the things which we constantly hear, and which I have no doubt whatsoever is true, is that the English Premier League is king of world saturation.

The EPL and its clubs market better, have been marketing longer, are more professional, have a better television rights deal and are wealthier because that TV rights deal is sold to more countries around the world for a better price.

If a Wayne Rooney, or a Robin van Persie, or a Didier Drogba is missing from that XI in your view, then it's not because they didn't have the worldwide platform on which to sell their wares. In short, the football world is head over heels in love with the skill, technique and the flair you see in Spain.

Now, Messi, before I'm lambasted, clearly isn't Spanish. Nor is Ronaldo and ditto for Jose Mourinho. But again, all six nominees for the two main mens' prizes, coach and player, were either Spanish or were sought out and brought to Spain.

To go just a little further, it was in Spain where one or two people both spotted the diminutive Messi and put faith in him. You'd like to think that he would have prospered wherever he was, but what we do know for sure is that Spain has been the ideal nesting place for him.

Equally, it was on the training fields at FC Barcelona where Mourinho received his first breaks as an assistant coach (from Louis Van Gaal), so much so that a) he yearned to return to the Camp Nou and his agent pushed immensely hard for Mourinho to take over from Frank Rijkaard and b) doing an Alex Ferguson-Liverpool and 'knocking Barcelona off their... (expletive deleted) perch' has been his life motif for the last three seasons.

Ronaldo? Well he dreamed of joining Real Madrid.

It was the absolute persuasive powers of Ronaldo telling Ferguson at Manchester United that it was a boyhood dream for him to join Los Blancos and triumph there which helped persuade the Scot, patently against his basic preferences, to sell the striker -- even for a world record fee.

La Liga, and Spain's football public, values talent. Not height, nor power, nor the ability to kick the ball a long way -- talent, talent uber alles (or 'encima de todo', as the Spanish would actually say).

That the modern Spanish concept of what football 'is' -- how it should be scouted, youth-trained, coached at the top level and played -- has been embossed in gold filigree right now seems to me to be particularly emotive.

One of the main architects of Spain's current subjugation of the football world retired last week. Johan Cruyff moved to La Liga forty years ago, and aside from short sojourns in the States and then back in Holland, he's been central to Spain's footballing philosophy ever since.

It was his school of thought which began valuing intelligence, control, technical ability, skill and spectacle when Barcelona developed its footballers. His Dream Team taught thousands of young players and coaches around the peninsula how glorious -- after an age of Catenaccio in Italy and effort over ingenuity in La Furia Roja -- soccer might be.

Talent schools all over Spain's professional game have long been putting a premium on retaining possession, pressing, playing in the opposition half as much as possible, brilliant ball control, 100 percent success rates in routine matters like passing and first touch -- now we are seeing the dividends.

Cruyff's mantra, and this is important, is:

"My mentality has always been to create and to do so based on quality, clear intentions, top quality work and a good basic idea. In football it's not the same thing to coach as it is to teach. There are many coaches in the game, but too few good teachers. In football there are two things: One is the result, the other is what youngsters see and feel and are inspired by when they watch. That's why I'm famous, that's why people write about me still. The work I've done has always been so that young people have something valuable to copy and imitate -- work ethic, comportment, willingness to try new things and accepting victory and defeat with similar grace."

Cruyff coached his last match in charge of the Catalan XI (a 1-1 draw against Nigeria) last week, and if he's gone, the loss of his magic (a word I believe is appropriate) will be felt.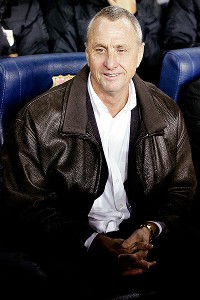 Josep Lago/AFP/Getty ImagesJohan Cruyff's influence is seen now more than ever in Spanish football.
But his legacy is absolutely enormous -- perhaps the single most important man in the history of professional football -- pound for pound.

How appropriate that the Ballon D'Or Gala was full of his 'grandchildren' -- Messi, Xavi, Iniesta, Pique, Alves and Pep Guardiola -- such a short time after Cruyff's last match.

And I think that his words about teaching and coaching offer some partial optimism for England (if anyone feels a bit sore that no EPL figures made the team or either of the shortlists).

Recently, I helped arrange for the team which I grew up supporting, Aberdeen, to go and spend quality time watching the youth development setup in action at Barcelona. The Catalan staff made them presentations to accompany what the Scots had seen on the training pitch and in matches. It's one of dozens and dozens of 'tutorials' which Barça are happy to engage in every year. Prior to Euro 2012, I was in the company of the Irish FA who told me they'd sent good numbers of staff over to Barça's training ground on two occasions -- again, they were offered unconditional help.

Moreover, when I was at the Spanish Football Federation Christmas lunch, I was seated next to one of the great developmental brains of their setup and he told me that not only had he recently been invited over to the Football Association's St George's Park to give a seminar, he admitted that the Spanish Federation routinely share everything they have learned while developing this golden footballing era.

Weren't they jealously protective of such date and experience? I asked him. "No, it's for the benefit of the game. Football will be better the more these ideas and philosophies are shared," he told me.

I'm in two minds about how I would act in their place.

The philosophical stance they have adopted is admirable and speaks of a profound love of the game. It's a tone which Vicente Del Bosque adopted when accepting his Ballon D'Or award and talking about his affection for those who "protect and love the game."

True altruism is at play. Whether there is a temptation, as I suspect, to jealously guard the recipe for success -- Spanish football is ignoring it.

I think it's plain to the eye that Cesare Prandelli not only attempted to emulate some of Spain's footballing philosophy in recent seasons but won Italy friends and matches because of it. Not only is the Bundesliga a thumpingly healthy product right now, it is beginning to breed a raft of immensely technical footballers who fit in seamlessly at any top league in the world because they are both powerful and bursting with ability.

So, this is England's moment. Their youth has been watching Spanish football on Sky Television week in week out for approaching 20 years -- as has the professional game there. I believe there is a generation of kids coming through who know, precisely, how they feel about playing football 'the Spanish way.'

The new FA training centre, St George's Park, is finally opening and should usher in a culture of better training and development for players and coaches. But in the meantime, Spain is happy to open its files, its PowerPoint presentations, and to share its Midas touch.

After a night when English football was not present at the top table of the world game I think that's too good an offer to refuse.