Five Spanish stories for 2013
New year, new challenges. The football will be exquisite, and there's a good chance that more European trophies will reside in Spain come May. But what will be the key storylines in 2013? Here are five. Not necessarily the top five, but a handful that not everyone is talking about when perhaps they should be.

Just one more hoop to jump through

At first glance it may seem a little churlish, but Spain, at least from the purist point of view, have one outstanding task at hand.

Perhaps it's a little contradictory for it to be me calling out for 'more please' from Vicente del Bosque and his squad given how easily riled I am when the boors and the ignoramuses criticise La Roja's style of football or even whisper the 'b' word (Boring, but don't be using it in my earshot).

However, I think that the great match computer in the sky has triumphed again.

Let me explain it this way. For those of you who prefer dry figures and computer printouts, there is no question -- none at all -- that this Spain era is the greatest in the history of international football.

A number of teams has come close to the 'triple crown' of winning three straight tournaments -- be that two continental crowns and the World Cup, or two of what was once called the Jules Rimet trophy and one continental crown.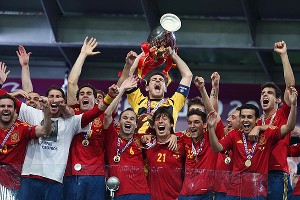 Gu Zhichao/Getty ImagesThe Spanish national team has some unfinished business.
Germany and Brazil came oh-so-close in the past and, sure, there will be some who reckon that the 1970 World Cup-winning side was a better XI than Spain could muster if you picked the best 11 from the last three tournaments. Fine. I'm not certain I agree, but when it comes to past versus present, it's all about opinions. We won't be staging that particular match any time soon.

But the fact remains that Spain won the three big tournaments back-to-back, one of which was in another continent -- a feat previously accomplished by Brazil, who did so in Sweden and Japan/Korea.

I was lucky enough to tramp each long mile across Austria, South Africa, Poland and Ukraine, and in addition to what the record books say, I'd judge Spain to be the best, pound for pound, because of the vast number of different tests -- climate, pitches, travel, quality of opponents, temperatures, and massed defences -- which they faced. They have earned the phrase on the Spanish crest, Plus Ultra, further beyond -- this era has known no boundaries.

However, it's a quirk of fate that Spain has beaten all the great names at one time or another -- France, Italy, Germany, Argentina, England, Holland during the four and a half year stranglehold on world football -- but not Brazil.

The calendar hasn't paired them and, in fact, Spain haven't beaten the Canarinha in a competitive match since the Italian World Cup of 1934.

OK. In recent years, Brazil has been slightly more of a brand than a cutting-edge international team. But they are growing and, what's more, this summer's Confederations Cup and the World Cup to follow 12 months later are both in their backyard.

While France are proving obstinate viz qualification for the world showdown in 18 months, Spain are at the Confederations as reigning world and European champions.

The initial groups have kept the hosts and the world champions apart but they are seeded to meet in the final. To Brazil, Spain remain upstarts and I promise they will reserve special effort and special intensity to the task of pulling their shorts down. For all of us, statisticians and football fanatics, it's going to be intriguing to see how well La Roja handles the test. Time to put a golden-yellow ribbon on the trophies.

Perhaps the more important plebiscite at the Bernabeu doesn't concern Iker and Jose

Of course, during the first part of this new year the magnifying glasses will be trained on every glance, every raised eyebrow, every facial twitch through which the media, particularly Spanish television, can interpret the state of play between Jose Mourinho and Iker Casillas.

I stated my view here on ESPN when Casillas was dropped that Mourinho, or any sane coach, MUST have the right to drop who he chooses to -- so long as it is for purely football or disciplinary reasons, and not some other agenda. That Casillas was dropped for football reasons is risible. Discipline is something which only Mourinho can fully define. Truthfully, it was a move which smacked of an agenda -- but the coach will stand or fall based on results.

One of the major problems with all the contradictory and polemic things which Mourinho has been doing of late is that it moves the debate away from where, precisely, are Real Madrid are. Their title win last season was powerful, intelligent, remorseless, stylish and often thrilling. But their defence of it has been that of an eight-stone weakling. Not good enough.

Yet their squad is certainly good enough, once it clicks again, to eliminate Manchester United and go as far as the final -- IF they shake off their lethargy. Los Blancos reported back for training at the beginning of this week, ahead of most clubs and certainly sooner than Barcelona so, perhaps, they'll be out of the blocks more powerfully in 2013 than was the case in the last few months.

But, again, I fear that's not the nub of the debate. By the end of the season, Real Madrid must hold presidential elections. If I was a card-carrying, subscription-paying Madrid member (socio), I would be having serious philosophical doubts about my president.

Since he first came to power in 2000 until now -- via a sprightly hiatus under Ramon Calderon -- Perez has mixed the sublime and the ridiculous. There have been passages of absolutely transcendental play and decisions of clownish silliness. Exceptional, talented, dignified coaches have been tossed like trash -- Jose Antonio Camacho, Vicente Del Bosque, Manuel Pellegrini -- while very high quality footballers, Samuel E'too, Juan Mata, Wesley Sneijder and Arjen Robben have been discarded ludicrously early, cheaply or needlessly.

Only recently, and Mourinho is on the verge of earning credit for this, are youth team products beginning to look like they might have a prolonged future in the first team. That's because Perez has fostered an ideology that is about buying long and selling short. Nuts.

This is not, under any circumstances, a personal attack. Some of Perez's achievements, and those of his lieutenant, Jose Angel Sanchez, have been impressive -- but they have not, in my view, had a consistent, clear, and well thought-out central ideology.

Real Madrid is a club of such stature, such ambition and a banner carrier for elegant, successful football that, if I were a socio, I'd be very keen to be certain that there is no better candidate out there before Perez is re-elected for another mandate. Rumours persist of a president who will try to reunite Del Bosque with his former captain at Madrid and former director of football while Spain won the World Cup -- Fernando Hierro. Neither man will return while Perez remains in charge.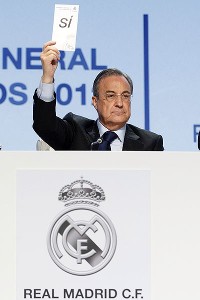 Angel Martinez/Real Madrid/Getty ImagesElections will be held soon in Madrid and many wonder how many 'Si' votes current President Florentino Perez will receive.
Of course the rules state that any Presidential candidate (with his board) would need to raise an affidavit of something like $80 million dollars so for all of you who are scurrying to phone the local Rotary Club or Golf Club President to see whether he'll stand and make you Chief Executive if he beats Perez in the vote, think again.

Perhaps Perez, who is now floating grandiose plans to enlarge and to cover the Santiago Bernabeu, is the best way forward. I don't see it that way, but perhaps he is. What is essential, however, is that his platform is tested this time, that he's not elected unopposed and that the widest possible field of talented candidates is flushed out.

In the midst of a financial crisis, with Barcelona looking set to be, at least, competitive for the next few years, and with both Mourinho and Cristiano Ronaldo looking ready to haul up their caravans and move on -- this is one hell of an important election for the mighty Real Madrid CF.

It's only rock 'n roll, but they like it at the Camp Nou -- yes they do...

I have a particular regard for the Glimmer Twins of FC Barcelona -- Gerard Pique and Cesc Fabregas just have to be the Mick and Keith of Catalan football.

Two immense talents, full to the brim with energy, creativity and talent -- but not shy of enjoying the full depth and colour of life. But this is the year when the childhood friends will become fathers for the first time. And I hope this is a season when both of them (whether they end with one, several or no trophies) feels that the fates haven't conspired against them.

Take Pique. Last season he had to struggle, for the first time, with repetitive injuries which took the edge off his form, his fitness and his confidence to the extent that despite winning four club trophies and the European Championship, 2011/12 will nag away at his psyche for some time yet.

Pep Guardiola misjudged when to reinstall the now-fit Pique to the first team, and Barça paid a heavy price. It's not a coincidence, in my view, that the Blaugrana lost really sloppy goals to Chelsea away and Real Madrid at home in the 2-1 Liga defeat when Pique was relegated to the bench. Nor that Chelsea didn't score either of their goals in the 2-2 semifinal second-leg draw which eliminated the holders until Pique was off the pitch with a horrible concussion.

His summer at the European championships was exceptional, his partnership with Sergio Ramos awesomely athletic, smart, quick and powerful. (Please note that Spain's surprise home draw with France recently also came when Pique was missing. He's a vital part of both of his teams).

Right now, he's in the absolute peak of form and, what's more, head-over-heels in love with Shakira. Good luck to them both.

Now Cesc. He, too, suffered last season. I thought his football was intelligent and dangerous. And when he linked play with his friend of 10 years, Leo Messi, it was mesmerising. But because his preseason had been low-grade, thanks to the tardiness of his transfer from Arsenal, the second six months at Barca were tough. He found his head spinning from the complexity of demands forced by Guardiola's already highly technical system. This was a difficult task given the former Arsenal captain had been away for so long and was then asked to play a variety of positions.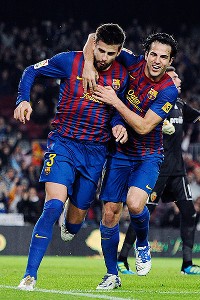 David Ramos/Getty ImagesFuture fathers Gerard Pique and Cesc Fabregas are playing some of their finest football right now at Barcelona.
Like Pique, Fabregas had an awesome summer. Sharp, quick, determined, free-scoring, and nerveless in the penalty shootout win over Portugal in the semifinal.

Again, he has had a blistering start to the term. Suddenly free-scoring again and comfortable up front, he's also developed an aptitude for supplanting either Xavi, or more regularly, Andres Iniesta in midfield. I contend that, particularly in the United Kingdom, Fabregas is badly undervalued. To have a leader, a competitor like him, the ideal blend of La Masia technique and Premier League snap 'n snarl, is priceless.

It's down to Barça's Glimmer Twins and their band members whether a full house of silverware ends up as their prize this season. But what I do hope to watch is the pair of them at their athletic peak, unhampered by burn-out or injuries, so that the year of their parenthood is accompanied by great professional satisfaction.

Always fix the domestic problems before turning creative attention elsewhere

No harm to the old boy but I'd rather not hear much more of Barca President Sandro Rosell's 'New! IMPROVED!!, all-singing, all-dancing' Champions League plans. He put them forward in the autumn -- some 64 clubs would take part in his revamped format -- and I must say that while I oppose his idea, I'm all for healthy debate and majority rule.

If the masses want it, then fine. More fool them.

However, once again, he's ignoring something more fundamental. More players in Spain are going without wages and more clubs teeter on the brink of financial meltdown. Not new, you might say. Fine, but the previous levels of debt continue to worsen during the world economic crisis, from which Spain is suffering more than most.

One example, patently, is Valencia CF. When the world shifted, they were left with too many players, too high a salary bill, poor saleable assets, plus their original stadium and the debt incurred by their half-built new mega-arena the Valencian regional council staked them.

The banks, jumpy even then, accepted that there was a greater good, that the financial house of cards would be badly damaged if they didn't find solutions and, gradually, President Manuel Llorente has stripped away nearly 200 million euros of that debt. If the exact same situation had never happened, but suddenly erupted over the next couple of months, I'm not sure that the same solutions would either be sought or available.

The pattern of excessive wage bills, decreasing revenue, empty seats at stadia, overpriced tickets, ludicrous kick-off times and badly split television revenue persists up and down Spain's professional divisions.

The Liga Profesional de Futbol is often blamed for some of the mess but I'd also propose that it's culpable for lacking the driving, relentless will to address the problems, impose solutions and to knock the heads of club presidents together often enough. This is a time in Spanish football history when men of vision, courage, compromise, honesty and diligence are needed like never before.

I've met them, too. Levante President Quico Catalan and Betis' Miguel Guillen are perfect examples of the clear-headed, dynamic and youthful business brains which the LFP and Spanish football desperately need to be turned towards salvation and renovation.

The English Premier League is, of course, constantly held up as a paragon of clarity, marketability, wealth, reliability and strategy, but it had to start somewhere. It needed the English equivalent of Catalan, Llorente, Perez, Guillen, Jose Maria del Nido, Rosell to combine and overthrow the ancient regime. Look at the Premier League now.

So, with respect, it's not time for Rosell to be looking outwardly and suggesting revenue-oriented changes to an already superbly functioning machine like the Champions League.

It's only, and I mean only, at times like this that I'll ever turn to Shakespeare, but the bard had a phrase for this: Physician! Heal thyself! And hurry up about it too.

For how long can we keep the goose which lays the golden eggs on overtime?

Finally -- to asset stripping. The perfect storm right now is composed of Spain being deeply wealthy in terms of technical talent, and church-mouse poor in terms of its bank balances. Stop for a moment and recall the fact that it's only two handfuls of years ago that Spaniards really didn't go to England, not even on holiday.

The pioneers, Chapi Ferrer, Gaizka Mendieta and Fernando Morientes, waited until towards the end of their careers and had mixed feelings about the experience. Then the kids, Fabregas and Pique and finally the mini armada: Alvaro Arbeloa, Xabi Alonso, Pepe Reina, Fernando Torres and more.

Now it's mass migration. When I was growing up, it was a serious and extremely firmly held view that you "didn't win the title in England without at least one, preferably three, tough, talented Scots in your squad". Now it's Spaniards. From what I gather, we can expect to see David Villa, Fernando Llorente, Iago Aspas, Nacho Monreal, Isco and quite possibly Thiago in England next season -- there will be numerous other cameo players in the next two transfer markets.

While that's not unilaterally negative for Spain, obviously, it does put a strain on the food cycle. Is the talent production line REALLY so good that it can keep on filling the gaps without a break for the maturing and experience processes to kick in? Will departing stars mean diminishing crowds, lower season ticket numbers and a weaker bargaining position for television rights negotiations? I think you know the answer.

When the tax rate in 1970's Britain started to reach the stage where you had to pay businesses just so that you could work for them (only joking, but it was moving that way in the last financial crisis which bit the UK this hard), we suffered what was called the brain drain. Top talents in all fields simply wanted to go to a less draconian tax regime in which it wasn't the more successful you were, the poorer you became. Spain, honestly, needs to find ways to protect its football industry so that the same vicious cycle doesn't pick up speed and become irreversible.

Happy New Year.