Jose Mourinho's set piece problem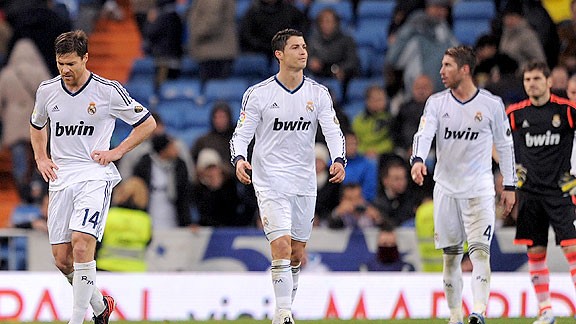 Denis Doyle/Getty ImageSomething's not clicking with Real Madrid this season. What will Jose Mourinho do about it?
One thing I've always found amusing about the Jose Mourinho box of tricks is that he breaks an eternal rule of sleight of hand but still holds most of his audience in thrall.

Take a mighty magician or a street hustler -- some consider jaunty Jose the former, some the latter. What they share is that they distract from what they are doing. They don't ever say "Look, what's happening here is that the thing I'm doing with these props or my left hand is pure distraction while I make this hen swallow a donkey." They make us watch one thing -- often it's amusing -- while the real action is taking place up a sleeve or in a top hat.

Not Jose. Throughout his managerial career he's been confident enough to announce in public that "Look, what I'm doing is causing a fuss, making a joke, having an aggressive go at somebody or using provocative language in the media with the simple objective of making sure that an internal problem with our morale, organisation or form is covered up."

He tells the media, most of us swallow it up nicely and praise his skill set even more; then the legend grows. And that engine is obviously fuelled by the fact that he wins big trophies at regular intervals. New country, new club, more silver.

But I'd say it's obvious that our job, if we are honest and committed, is to smile at the fun of the fairground and allow the fancier writers to knock themselves out with it. Yet we should not lose sight of whether Mourinho the Mighty's glamorous assistant is, or is not, actually being sawn in half.

Had Juan Albin not rammed home the late equaliser at the Bernabeu on Sunday, then Real Madrid's consideration in the broadcasts and newspapers that followed would have been less grim: "Not the worst performance in history, plenty of chances scorned, too tight for comfort -- three points."

Also, the point gaps they suffer in relation to Atletico Madrid and Barcelona wouldn't have increased, and Barca, in particular, might have had the slightly harder task next weekend when they travel to Valladolid while Madrid face Malaga.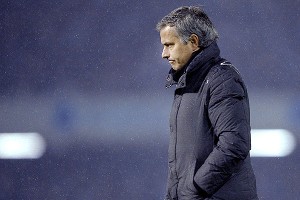 Miguel Riopa/AFP/Getty ImagesJose Mourinho has been great at the Bernabeu but his team's slackness when defending on set pieces is torpedoing Real Madrid's season.
It's feasible that had Madrid won 2-1 against Espanyol, there's a scenario in which Barca draw in the freezing high plains of Valladolid, Madrid beat Malaga and what was an 11-point gap becomes nine. With a winter break upon them, a Clasico at the Bernabeu in the spring and things could still be pretty interesting.

Instead, Madrid conceded a corner and there was a certain inevitability to what followed.

At the beginning of the year, Madrid (still coached by Mourinho, mind) faced Malaga in the Cup. For a short while, it was mayhem. Manuel Pellegrini's side kept scoring from the dead-ball situation, the crowd was utterly infuriated and it took a fightback of pretty epic proportions in order to turn the match round 3-2, but there was patently a fault line at the back.

Ever since, Real Madrid have made it a beloved habit to lose a flood of goals from dead-ball situations. Corners and free kicks are sent in to the middle and either a man in white is outjumped, he goes the wrong side of his opponent, he's not marking well enough or there are a series of half-executed clearance attempts that look liked a crazed mix of pinball and football.

It was the latter against Espanyol.

On the theme of Jose "Yes, I'm the Great Distractor" Mourinho, I think it's important that when he departs Real Madrid, the postmortem on the fact that he could and should have achieved more doesn't fixate on his wars with the media, his desire to rearrange who has power or who develops the club's football philosophy (i.e., not Jorge Valdano), but rather on the kernel of his work.

A central part of the "gross/net" debate about how to evaluate his work will be this failure to organise against the ball being played into the middle of Madrid's penalty area. Something to be held in mind analytically is that when a cross from open play, a corner or a free kick comes in against Real Madrid, there will often be as many as four (occasionally five) of the same players who defend together for Spain: Iker Casillas, Sergio Ramos, Alvaro Arbeloa, Xabi Alonso at dead-ball situations, and occasionally Raul Albiol.

Spain not only don't lose a great deal of goals to headers, they also don't lose many goals full stop. I find it very odd that, even given the absence of, say, Carles Puyol or Gerard Pique, the same guys are so fallible for their club.

Moreover, it's Mourinho's job to fix it.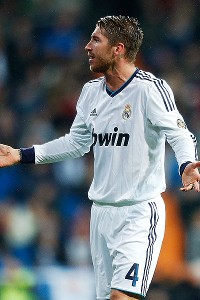 Gonzalo Arroyo Moreno/Getty ImagesIt doesn't matter who steps up to organize things on set pieces -- Sergio Ramos would be a good choice -- as long as someone takes charge.
Just as the massive part of an iceberg is under the water, the part that the public can't see is the training ground life of a football outfit. The paying punters are mostly aware it's there, but what matters to them is that the players are a little bit like Santa Claus or Tom Cruise -- sure, they probably exist (don't they?), but where they are and what they are doing until Dec. 24 or the premiere of a big movie isn't of too much interest.

Fans see their players on match day or in the mixed zone interviews afterwards and then, for the vast majority of supporters, that's it until the next game. But the job of much of the football media is to set up camp at the lush green fields where battle is planned -- and I can tell you that there has been more than ample time, resources and brain trust available around the Valdebebas training ground for the Madrid coach to iron out this kink.

Mourinho says he's worked with his squad sufficiently and given them sufficient instruction for the habit to be broken. But that's evidently not the case. And it has now reached the stage at which I'm certain I can hear the word 'INCOMING!!!' screamed at full voice as the men in white shirts hit the deck and cover their heads while the ball is hovering around the Madrid penalty box.

Now, I'm not going to try to be clever and propose all the solutions. These are top athletes, and smart football men. They're mostly tall -- both Ramos and Pepe are very good at attacking headers of the ball (extremely good in Ramos' case) -- yet it has become a long-term diffculty.

Therefore I'd expect that there must be a number of problems to be addressed in order to stem the flow of this particular type of goal. However, like a holistic medic might always try to discover whether the fact that you wear pink socks with those lovely green golf trousers is the real reason your wisdom teeth need removing, it's probably useful to look for wider causes.

One small note, which I'd have said has been easy for Mourinho's coaching staff to copy and paste, is the fact that Barcelona have at times been similarly vulnerable. They address the problem with the algorithm that "if we are not excellent at defending the set play, perhaps we should concede fewer of them."

Barcelona's players are specifically taught to try to eradicate fouls within striking distance of the penalty box and to work on giving away fewer corners. Without anyone shouting "Eureka!" or falling out of the bath, it hasn't been the worst idea in the world.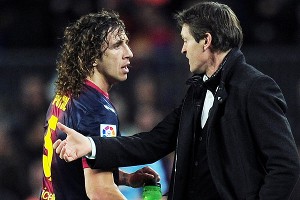 Lluis Gene/AFP/Getty ImagesExacerbating Real Madrid's struggles is the fact that Barcelona, despite being clear atop La Liga, has looked vulnerable at times as well.
It's also true that at the very top level of sport -- and that is what we are dealing with here -- the margins are so small that psychology often makes a crucial difference. You only have to look at a couple of recent goals against Madrid to accept that this is a partial cause.

Take the second time Valladolid went on the scoresheet the other week. Ramos is busy organising and looking around to check other peoples' positions while he's touch-tight with Manucho. But he's behind the striker, like two excited teenagers queueing to push into a pub at opening time, instead of being on the goal side of his man.

So if the ball from the corner drops short of Ramos, it will fall onto Manucho's head and the Spaniard cannot get there. Which is exactly what happens: an error of judgement, but defending set plays is a systematic thing.

There should always be a voice, and a commanding one at that, whose work includes a much lower-grade marking job at a set play but who is ordered to spot-check that the boss' instructions about how to defend (and how to take up the correct positions) are being applied by his teammates.

Be it captain Casillas, or Ronaldo at the edge of the box; it doesn't really matter. But get that spot-check right before passing on the information instantly and with command -- then minute errors can be eradicated before the ball is sent in and the goal is conceded.

Mourinho is an interesting man and at the beginning of the year he spoke well on the UK station BBC Radio 4, talking about emotional intelligence and the great skill of being able to see something once, in the heat of battle, before analysing, communicating it well and correcting it.

He also talked about inculcating that ethos in his players. The Portuguese manager pinpointed that to sit in in front of a screen and watch tapes over and over again makes it easy to form a cogent, useful report. The job of a scout, agent, football director or football analyst in the media was much easier than his, because he had to see something once from a distance and use a snapshot view to get important decisions right.

The interesting thing with regard to this flaw is that he's achieving neither. In match situations the error is repetitive, and even given the time and technological resources available, Real Madrid are making very slow progress in addressing the dead-ball menace on the training ground.

Were I Florentino Perez, particularly with Ppresidential elections in view, I would be asking myself, "Is my coach paying full attention? Is he distracted? If so, then why?" I would be asking: "Are the players simply ignoring his orders, over and over again -- thus could the problem be in my playing staff?"

And right now I'd be asking whether, if corrected, Real Madrid would stand a materially improved chance of winning one of the two major trophies that still remain for them -- the Copa del Rey and, most importantly, the UEFA Champions League.

Of course, the answer is: "Yes."

All told, it's an interesting moment for all the great strategic brains currently kicking about the Santiago Bernabeu. Interesting too for us to discover which remedies are chosen, why and how quickly they are applied.