Lionel Messi's record illustrates his peerless drive to be the best
What Leo Messi will tell his son Thiago, and then his grandchildren, in turn, is that the night he beat Gerd Muller's 40-year-old record of 85 goals in a calendar year Barca won the match.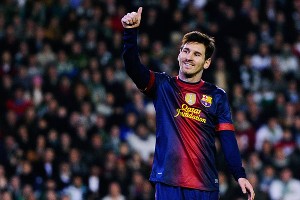 David Ramos/Getty ImagesThe Great One gives the thumbs up after surpassing Gerd Muller's 40-year-old record of 85 goals in a calendar year.
So remarkable is the feat that Messi has just achieved -- think of being the only man EVER to achieve something and to have defeated a record nearly half a century old -- that it's understandable if fans and media all over the world have become somewhat obsessed with his pursuit of Der Bomber.

Not Messi.

Make no mistake, Barca's No. 10 feeds off challenges. But the more important part of his greatness, more important than his capacity to leave Pele's calendar-year record in his wake some weeks ago and now surpass Muller's, is that the 25-year-old is driven by the lure of his team winning trophies

There was a neatness in how he achieved this -- the first La Liga goal in this 11-month avalanche came against Real Betis back in January. But his motor isn't fueled by personal achievement -- acclaim like this, or the fourth straight Ballon d'Or I'm quite convinced he'll win in January (making him the first man to achieve that record), are simply the rungs up a long ladder to the trophy presentation for La Liga, the Champions League, the World Club Championship or the Copa Del Rey.

If you are not sure about that then reflect on this. Back in April, Messi missed one of the minute number of important chances which have fallen his way this year that he's failed to take. It was the penalty against Chelsea which, if converted, might well have sent Barca to the Champions League final in Munich (ironically home to Muller and his extraordinary career). In the dressing room, post elimination, he cried. Hunched over his bench, inconsolable for the team loss and his failure as part of it.

Just recently, Messi described it as "one of the worst moments of my career," and "something I'll never forget."

I've been present at some of Messi's previous records -- youngest hat trick scorer in a Clasico, equaling Jose Altafini's 1963 record of 14 goals in a Champions League season, heading past Edwin Van Der Sar to make the first goal he scored against an English team also the one which won Barca the 2009 Champions League final. Speak to him afterward and his goals are just a detail, something which fall as easily to him as flying and soaring does to an eagle. They can because they know they can.

But I'm old enough to remember Muller. So Sunday, Dec. 9, when Messi relegated Der Bomber to second place on the all-time lists, I'd like to make a point that what unites them -- the utter ruthless desire to win team trophies -- is greater than the single goal, scored in the city of Seville to defeat Real Betis, which now separates them.

Goal machine, yes, all-time great, yes. Natural born winner -- yes, still more loudly.