Real Madrid must take bigger risks and build for the future
At a time when most of those who write or broadcast about Spanish football find their inspiration in Leo Messi, Cristiano Ronaldo, Andres Iniesta, Iker Casillas and their ilk, I'd like to begin by sharing my admiration for Alvaro Arbeloa. He's a sharp guy with an enquiring mind, a good sense of humour and a genuine understanding that this is all a big game of marbles -- not to be taken brutally seriously once the battle dies down.

Arbeloa has a big medal cabinet in which the World Cup triumph will always feature most prominently.

I doubt he'd claim to have the identical skill set as Xavi Hernandez, but I'd bet everything I'll ever own that he's a gem to coach. Win his respect and you've got a terrific athlete who'll never, ever voluntarily give second best.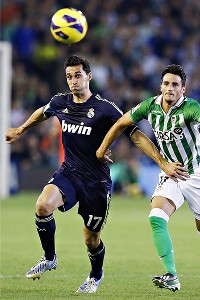 Angel Martinez/Getty ImagesAlvaro Arbeloa took to Twitter after Real Madrid lost to Real Betis in an effort to disarm Los Blancos' critics.
Not too long after the impact of Real Madrid's limp performance in defeat to Real Betis at the weekend was beginning to set in, Arbeloa took to Twitter. He attached a long speech from a movie -- not "All the President's Men," not "Pulp Fiction," not "Chariots of Fire," not "The Great Dictator." From "Ratatouille" -- yes, the Pixar movie about a rat who becomes a master chef in Paris.

This is what he quoted. It's spoken originally by Anton Ego (Peter O'Toole), the haughty food critic whose world is shattered by the brilliant cuisine of Remy the rat: "In many ways, the work of a critic is easy. We risk very little, yet enjoy a position over those who offer up their work and their selves to our judgment. We thrive on negative criticism, which is fun to write and to read. But the bitter truth we critics must face, is that in the grand scheme of things, the average piece of junk is probably more meaningful than our criticism designating it so."

Not your average idea, nor the average means of communicating from a top-class footballer -- full of wit and inventiveness, it made me smile.

He'd anticipated that some media pundits, like Tomas Roncero (wearing a Real Madrid tracksuit top while filming his judgment for AS newspaper) would produce polemic pieces like his: "Mourinho's thrown in the towel."

Madrid's coach has gone out of his way recently to say antagonistic things about the Spanish media, those in the capital too, and it means that when his team stumbles you'll not be able to hear the boos for the sound of knives sharpening.

But just to emphasise that Arbeloa is the kind of man I described earlier, one of his Twitter followers warned him that while his sentiment applied to systematic, willfully destructive critics, there was a healthy need for constructive, well-argued criticism.

Arbeloa agreed and (in Twitter-speak) re-tweeted.

So perhaps he'll permit me to be influenced by his choice of medium and throw some of the Rodgers and Hammerstein musical "South Pacific" back into the mix. Part of what makes life so hard for Real Madrid is the kind of performance Barcelona produced on Sunday.

The football world goes a bit gushy and puts on new-age music while soaking in a bath full of lily petals and jasmine over the fact Barca won 4-0 with 11 players (Victor Valdes, Martin Montoya, Carles Puyol, Gerard Pique, Jordi Alba, Xavi, Sergio Busquets, Cesc Fabregas, Pedro, Messi, Andres Iniesta) who at some stage were all developed within the club's Futbol Base (youth) system.

Personally I think it's laudable, but I'm not Catalan.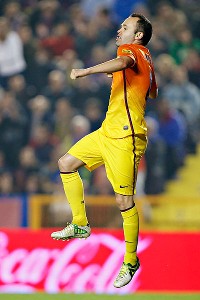 Jose Jordan/AFP/Getty ImagesWould Real Madrid be smart to adopt the Barcelona playing style? It would be a long process, but could pay dividends down the line.
The fact of where these players were trained geographically doesn't make the old breast swell with patriotic pride. The added fact eight of them are also Catalan-born is impressive and certainly gives their coach a "plus" when it comes down to how much defeat and victory means to the players while they are striving for one and striving to avoid the other.

But what stirs me most is the way that Barca played on Sunday in ripping Levante to shreds in Valencia.

The way in which they have been trained, the automatic meshing of gears like the cogs in a well-made timepiece -- that's what moves me.

In "South Pacific," Bloody Mary sings to Joe Cable (a potential match for her daughter): "Happy talk, keep talkin' happy talk. Talk about things you like to do. You got to have a dream. If you don't have a dream, how you gonna have a dream come true?"

Barca play like this because they have for a long time had a dream, they've taken a risk. They have risked the idea that a single philosophy -- owning the ball, doing quick, instinctive, intelligent things with it, and winning it back as quickly as possible -- will endure all the fads, all the trends, all the changes in physique and financing which modern football can throw at it.

To me it wasn't the players' nationalities at the Ciutat de Valencia stadium, nor the fact they were specifically trained in the Camp Nou's satellite pitches which stood out. It was what they did with the ball.

It's like bottling the power of Ali at his best, the lithe grace of Mikhail Baryshnikov and the creativity of Seve Ballesteros.

Messi broke records, Tito Vilanova did, too, and Iniesta was just sublime (three assists plus a goal).

But when Xavi recalled Louis Van Gaal's dream of Barca one day playing with 11 home-bred footballers, he touched on the central reason the league leaders play this way. (The Dutchman actually said in November 1998 that "Everyone needs to believe in the same idea. It's very important that, in the end, Barca could win the European Cup with many players born and trained in Catalunya.")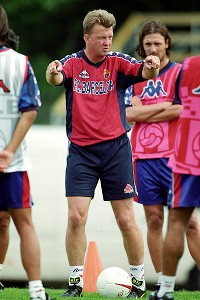 Getty ImagesFormer Barcelona manager Louis Van Gaal espoused the ideal of building the side around a single footballing principle.
While Van Gaal was actually only a caretaker for the philosophy, which was originally founded and then developed at the Camp Nou by his archenemy Johan Cruyff, it is a fact Van Gaal believed in the La Masia XI and he backed it by giving debuts to a young Puyol, a young Xavi, a young Valdes and the young Iniesta. What's forgotten is that when Van Gaal was publicly espousing this philosophy and risking youth products in his first team, FC Barcelona were in a far worse state than Madrid are now.

The power of the dream was sustained even in winter 1998 when Van Gaal began to speak publicly and privately about his ideal, despite Barca losing embarrassingly a number of times in the league, being knocked out of the Champions League and there being a massive, media-driven witch hunt against his work.

Moreover, Barca B (where the successful youth-team products do their final training) were rooted near the bottom of their division and their assistant coach, Ronald Koeman, announced that if he'd known how things were, he'd never have taken the job.

Chaos.

Yet Van Gaal kept plucking the young bucks out of the youth system and promoting them. Thus he has partial fingerprints on the current success.

What's ironic is that at the time, some 14 years ago, Jose Mourinho was one of Van Gaal's assistants.

He saw what it took to be brave and visionary then and what the rewards can eventually be.

But that doesn't seem to attract him.

Jose Mourinho has brought success to Real Madrid and last season's football not only possessed an identifiable style, it was both victorious and entertaining. But to hear Betis coach Pepe Mel admit that part of his tactic against Madrid was to cede them possession of the ball because they were "far less of a threat when they have to make the play" than when they break down an opponent's attack and then counter would send a chill down my spine were I a Real Madrid socio or director.

For all the needless talk of a Plan B from some of Barca's more mundane critics, is it possible that Mourinho's coaching book is actually limiting some of the wonderful and creative players he possesses? I think so. Madrid remain a squad full of magnificent talents and it's far from inconceivable that they might be walking out at Wembley on May 25 ready to contest the Champions League final -- on form they are that good.

But right now they have already shed 13 points in La Liga and no Madrid coach who has lost those many by this stage has avoided the sack. In their truly big matches thus far, they have been defeated by Dortmund, then drawn with the German champions thanks to a last-minute equaliser from Mesut Ozil. They have drawn with and narrowly avoided defeat at home to Manchester City and they have a win, a defeat and a draw against Barcelona.

There hasn't been an instance when the Spanish champions have been able to show a fluent progression from what was achieved last season -- in fact, not even to match that level.

On Monday, Mourinho told the media: "I don't want anyone else to speak out for the team. The club rules here and I'm just an employee. It's the club which has to decide whether it's happy with me. It's possible that at the end of the season the club isn't happy with my work and it feels that there are things to improve and to change."

All that despite having stated bluntly on Saturday night in Sevilla that, "At Madrid, I'm the only one who complains about things in public but then it's me who's the bad guy all the time."

If that wasn't a petition for those around him -- directors, players, the director of football -- to speak out for the team, then I don't know what was.

Last week, with far more to concern him, the Special One took a potshot at UEFA after the Manchester City draw for not giving him a presentation for what he considered to be his 100th match as coach in a UEFA competition.

What drives a 'great' man to that kind of pettiness? If it matters so much, and it shouldn't, then do it in private. Who else cares? Was it more important than Real Madrid qualifying or how quickly he could get his troops ready for the hostile night ahead at Betis?

In the end, Mourinho will move on -- my personal bet would be that the end of this season is increasingly likely. And on the Happy Talk theme, even the "Ratatouille" one -- what kind of playing philosophy will be left?

Real Madrid possesses 15 or 16 top-class footballers, one or two promising kids and a global debt of more than 500 million euros. I know from studying Spain closely that there isn't a Madrid player who can't adapt to the patient, possession-based, quick-footed football which is a close offshoot of the Barca style and which has made La Roja dominant.

Because they haven't trained in it relentlessly all their working lives it sometimes comes less naturally, but they are easily capable.

So why on earth would Pepe Mel be happy to tell his players that they'd be safer if Real Madrid were gifted the ball and were offered the chance to make the play?

Arbeloa's right. Cheap criticism is worth less, far less than even the poorest attempt to build something, to create, to take a risk. But Madrid, as a club, need to create more, to take bigger risks -- to build.

Barca's policy isn't morally superior, it isn't automatically better to have their side stocked with home-trained players. It is centrally about how well they have been trained, how effective the philosophy is and how brutally they apply it on the pitch.

This is as good a time as any for Madrid to aspire to the dream. Adopting a central playing philosophy, picking coaches and scouts and youth players to complement it, working toward it and ensuring that the current crop of excellence provides the vanguard for what will, naturally, be a long, patient process.

Introduce whatever elements Real Madrid feel are vital to their identity, but, basically, match Barcelona at their own game -- perhaps even better them. Now, how exciting would that be, Remy?

Dream the dream.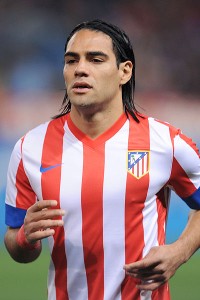 Denis Doyle/Getty ImagesFalcao and Atletico Madrid face Real this weekend, and then Barcelona in December.
Madrid derby

Now for the Madrid Derby. Brace, brace.

If you reach for the dictionary and read the definition of pyrrhic it would say the following: Real Madrid 1-3 Atletico Madrid, October 1999. It was the last time the Rojiblancos defeated their dominant neighbours -- a time before Tweeting, Facebook, Trending, Sub-Prime, Kardashians, Tea Party and the Special One.

Atletico won that match, thrillingly, causing John Toshack to be sacked as Madrid manager, had the Liga top scorer (Pichichi) in Jimmy Floyd Hasselbaink, but still ended the season relegated. Meanwhile Real Madrid appointed a promising young buck called Vicente Del Bosque, lifted the European Cup in Paris less than six months later and immediately began the Galactico era.

Right now Diego Simeone, Falcao, Thibaut Courtois, Arda Turan, Raul Garcia, Diego Costa and Juanfran Torres look equipped to finally put an end to that 12-year drought. They may even do that on Saturday.

It'll be an almighty collision.

But their directors, management and fans need to understand that whether they win, lose or draw at the Bernabeu on Matchday 14, that's not the main point. Atletico have the attitude, work rate, talent and manager to push Barca all the way and, what's more, they travel to the Camp Nou in mid-December for a match of still greater importance.

Atletico's fans yearn for a win over Los Blancos, they yearn for an end to the horror of being mocked within their own city for more than a decade. But a draw on Saturday, then a good result in Barcelona plus the platform to challenge for the title as the crucial spring months come around would be more satisfying than winning this Saturday, then spinning out of the title challenge on a wave of euphoria.

This is a big month for Atletico -- psychologically as well as in football terms.