It's about the trophies, stupid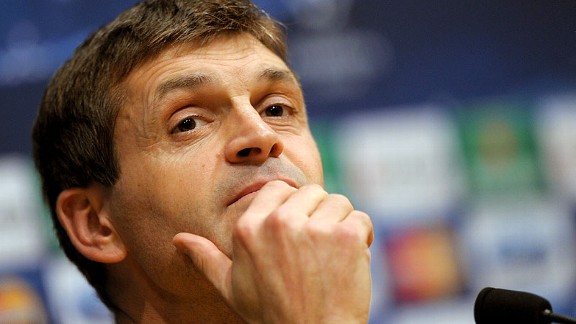 Lluis Gene/AFP/GettyImagesTito Vilanova and his Barcelona side continue rewrite the record books, but will making history take away their hunger for trophies?
A famous Manhattan resident, Josep Guardiola i Sala, always used to claim that "praise makes you weak."

If he is right, then FC Barcelona need to be very careful to turn a deaf ear to sugary words and attempt to avoid even a glimpse of the Catalan newspapers or else they will be in trouble. The reason? Well, if records were trophies, then Tito Vilanova would already be gaining healthy ground on what Guardiola won during his four glorious years.

The slightly bumpy but nevertheless firm 4-2 win at Mallorca continued to establish Vilanova as the coach with the greatest start to any Barcelona campaign in the 83-year history of La Liga. Better than Johan Cruyff, Ferdinand Daucik, Terry Venables and Sir Bobby Robson. Better than Helenio Herrera, Louis van Gaal, Frank Rijkaard ... even better than Guardiola. Just think of it.

Ten wins and a draw -- not bad, particularly in the circumstances of succeeding a gargantuan figure like Guardiola while having suffered a plague of defensive injuries.

Moreover, Barca's stats have now equaled the two best 11-game beginnings to any La Liga campaign -- a record held by Real Madrid (in 1968-69 and 1991-92). Victory at home to Real Zaragoza would put Vilanova's squad within touching distance of the all-time best start to any La Liga campaign by any Spanish club.

That all-time stat belongs to Radomir Antic's aforementioned 1991-92 Real Madrid side. To surpass them, Barca would now need to defeat Zaragoza at home, Levante away then Athletic Bilbao at the Camp Nou in their next three La Liga matches.

An interesting but too quickly ignored record also fell just over a week ago when the defeat of Celta gave Sergio Busquets the record for quickest player to 100 victories in La Liga history -- reached in 126 games across four and a third seasons. Barca suffered only five defeats in those 126 Liga matches -- a firm indication of Busquets' importance to the team and its system of play.

Meanwhile, back on Planet Messi, our diminutive friend finally eclipsed Pele's scoring record of 75 goals (66 for Santos and 9 for Brazil) in the calendar year of 1959. The fact that Messi's last three goals have been: (1) in defeat to Celtic, (2) a horror error by Mallorca keeper Dudu, and (3) a cracker that shouldn't have stood because Alexis was in an offside position, which affected the keeper, means the record has arrived in bittersweet fashion.

However, by the company you keep shall your reputation be valued.

Look at the names Messi is now overtaking. Only one other footballer has ever won three straight Ballons d'Or (Michel Platini) -- Messi equalled him and stands to move into splendid isolation when he lifts the trophy again in January. At least that's what I believe will happen. The only other men to hold three are Johan Cruyff and Marco van Basten.

In terms of scoring, Messi now has twelve matches to score the ten goals that would put him all alone as the greatest scorer of goals in a calendar year ever. In the entire history of organised soccer. Really, we should be counting down the games like we did the first moon landing. This is remarkable stuff.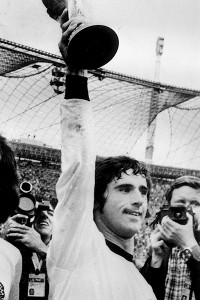 Getty ImagesGermany's Gerd Muller's record-setting scoring exploits with Bayern Munich never translated into European trophies at the club level.
It is Gerd Muller, Der Bomber himself, who holds the all-time record of 85 goals for Bayern Munich (72) and Germany (13) in 1972. Messi versus Platini, Cruyff, van Basten, Pele and Gerd Muller.

OK, though, brakes on and back to the intro.

Records are not prizes; records are not what motivate Messi, Vilanova, Xavi, Carles Puyol, Pique and company. Really and truly, they are not.

And quite right, too.

Take a look back at the 11-game stats that Barça just equalled.

The Real Madrid of the legendary Miguel Munoz did win La Liga in 1968-69, but it came in a championship in which they could get away with drawing 11 times, nearly half of their 30 games, and only scoring 46 times. Different, gentler times.

Antic's Real Madrid fared quite differently in 1991-92. Their all-time high-water mark came from 13 wins and two draws in the first 15 matches. But then a defeat to Atletico Madrid signalled a run of three wins in eight, and while they stayed serenely on top of the division for 31 weekends, they eventually lost the title on the last day to Cruyff´s Dream Team.

So much for records, no?

Even Messi's spectacular numbers need a touch of caution. Muller was astonishing. Built like Romario, but stronger. Brilliant in terms of position and as smart as he was muscular. He could finish acrobatically, sneakily, but above all he had that thing that I believe unites Messi with Jimmy Greaves -- the ability to put the ball in the net with the simplest trajectory and the minimum thought if that's what the situation requires.

1972 was an axis year between the 1971-72 and 1972-73 seasons, during which Bayern won the title twice and Germany won the European championship. However, Muller's biblical flood of goals didn't make Bayern trophy winners in Europe -- they lost the 1972 European Cup Winners' Cup semifinal to Rangers and were thrashed the following year in the European Cup (Champions League now) by Cruyff's Ajax who, at one stage, led the tie 5-0. In each of Muller's most golden seasons, Bayern also lost in the German Cup quarterfinals to Cologne and Kickers Offenbach, nor could they get out of their German League Cup group, let alone win the competition.

So Muller holds the best calendar year total for goals. Yet despite how prolific he was as a scorer, his club still only won two of the seven trophies available across those two seasons split by his avalanche year of 1972.

If Messi's annus mirabilis were to help Barcelona win, say, one of the three trophies left to them this season, having already lost the Spanish Supercup to Madrid, then none of the principal characters at the Camp Nou would be satisfied. Scoring 86 times would then become next to irrelevant to this hungry Argentinian genius.

It's little wonder that the Catalan media are "echando flores" (talking flatteringly) about Vilanova's opening salvo -- he's able to present powerful numbers and a decent trajectory. But he and his major players would do well to remember Guardiola's paranoia that praise weakens faster than rust in winter.

This is a tough audience tonight

There was a legendary old Music Hall in Glasgow -- most of you won't have heard of it -- called the Empire. Glaswegian wit and humour were so razor-sharp, so constant, that amusing its citizens became a daunting task. If an entertainer had the great misfortune to be from south of the border, it was a potent cocktail. Nervous, laboured AND English ... those were worse odds than the rebellious slaves, Christians and war captives had when thrown to the lions in the Roman Coliseum. The venue became known as the "English Comedians' Graveyard" -- even the most famous were booed, jeered off and had pipes, bottles and insults hurled at them.

The Empire closed eight months before I was born but its legend lives on, and I think I've found its reincarnation -- the Mestalla Stadium in Valencia.

This is one hell of a tough crowd, not to say perverse.

Not long ago Valencia were emerging from a few years being run by a president who was as much use as a chocolate teapot. The real estate crisis left them with a half-built new stadium, an old one that was impossible to sell and, worst of all, half a billion Euros of debt.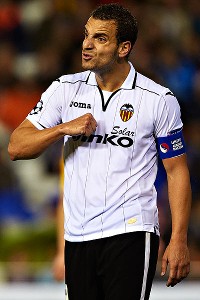 Manuel Queimadelos Alonso/Getty ImagesDespite winning with bargains like Roberto Soldado while reducing the club's massive debt, Valencia president Manuel Llorente still got no respect at the club's annual shareholders' meeting.
From that point forward their president has been Manuel Llorente. Under his firm guidance, Valencia has slashed the debt by €183m in three years, decimated the wage bill, sold the prime playing assets transfer market after transfer market, bought for low fees and immediately seen those new players double or treble their worth, plus the team has consistently qualified for the vastly lucrative Champions League.

Next week they play Bayern Munich, and a win will not only put them in the next round, it would guarantee many more millions in windfall, unbudgeted revenue. It hasn't been a smooth season but there is a sense of the pieces beginning to click into place, augmented by inflicting Atletico Madrid's first defeat in addition to seven goals in two games against BATE Borisov, a team capable of beating Bayern.

However, the annual shareholders' meeting last week was like a London comedian cracking jokes about kilts and bagpipes at that old Glasgow Empire. A former president, Paco Roig, started dealing Llorente verbal uppercuts and right hooks -- much to the enjoyment of the assembly.

Llorente was attacked for not having sold the old stadium (in the middle of the worst economic slump since the Great Depression), for not having completed construction of the new one -- despite the bank involved having been one of the principal problems in the entire Spanish economy -- and was savaged for his salary.

Roig, to a great deal of rah-rah appreciation, claimed that Llorente had been a Real Madrid supporter when he'd first been introduced to the Valencia board (Getafe president Angel Torres is a Madrid "Socio," or member, but that hasn't stopped Getafe consistently beating Los Blancos under Torres' reign). On it went -- season ticket prices too high and too much paid out in loan interest.

Honestly, it seemed farcical to me. Perhaps Llorente doesn't wear Valencia pyjamas to bed, perhaps he has, in the words of one critic, "been working harder to keep the bank happy than to reduce the price of season tickets." But it was either the idiocy or lack of foresight of previous presidents that left Valencia in debt to the tune of €530m. How Llorente and his football staff have managed to slice the debt by nearly €200m and still remain competitive seems to me to be a modern miracle.

Perhaps there are better men and women out there to engage in saving Valencia, but there is no margin for error.

The crowd didn't particularly like Unai Emery's football, and players didn't grieve when he left. But that was a football decision. If his successor, Mauricio Pellegrino, doesn't function, he can be replaced, and there is the potential for a short-term turnaround.

However, if the banks and other creditors lose faith in Llorente's plans, or if he were succeeded by someone not as able, then the very existence of Valencia CF would be at risk. His is a much more fundamental and reputation-sensitive job. I don't think the treatment he received at last week's shareholders' meeting reflected anything like that reality.

Singing in the rain

It should have been a farce. The ball could barely move across the flooded surface, David Navarro should have been sent off minutes after the start for an elbow that threatened to break bones around Cristiano Ronaldo's eye, and the players brawled at the end of the match in the tunnel.

But what the 2-1 win at Levante actually ended up being is pretty nearly Real Madrid's most impressive, most ballsy and most threatening display of the season. No Karim Benzema, no Gonzalo Higuain, no Sami Khedira, no Marcelo, and playing at a ground where Jose Mourinho has so far suffered a draw and two defeats.

There was so much water on the pitch I swear I caught the ball-boys and assistant referees doing some fly-fishing while the ball was at the deep end. Yet Real Madrid worked, fought, clawed, showed smarts and produced a couple of moments of real quality to win three vital points in what was a night of synchronized swimming with knuckle-dusters.

If Mourinho's players can bottle, distil and imbibe this spirit from now on, this season, Champions League, Copa and Liga may yet hold some grand prizes for them.