The Special One's point to prove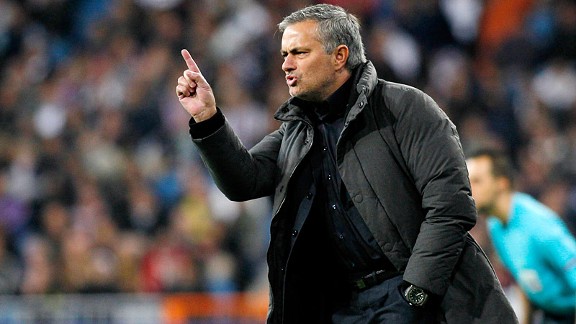 Elisa Estrada/Getty ImagesJose Mourinho has picked a fight with Madrid B coach Alberto Toril, underscoring the club's failure to develop and promote young players from within.
I'm not going to waste time asking for sympathy, because he doesn't need it, but I think it was more than somewhat unfair that Jose Mourinho's achievement in becoming the fastest coach in Real Madrid's history to reach 100 victories has been reduced to less than a footnote this week.

OK, the 4-0 victory Saturday over Real Zaragoza was their brand of football at its most constipated, and for most of the first half against Borussia Dortmund, it looked as if Mourinho's players had lead in their boots and feathers between their ears.

But the Liga victory kept the pressure on Barca, closed the gap on Atletico (with the Madrid derby looming) and Los Blancos managed to rescue a point, though during parts of the match against the German champion, they looked incapable of aspiring to that.

So, not great, but not the absolute worst working week there's ever been.

Saturday saw Mourinho leave great figures from Madrid's past, with 100 wins in 133 games, followed by Miguel Munoz (140 games), Leo Beenhakker (162), Luis Molowny (172), and Vicente Del Bosque (184).

But he set a fire last week, and its flames consumed what should have been a proper chance to doff our caps to a significant achievement and to analyze whether the champions are within touching distance of recovering their blitzkrieg playing style, or about to suffer their third consecutive defeat away to Levante, where they lost in both La Liga and the Copa Del Rey last season.

Of course, it's the fierce spat between Mourinho and his Madrid B (Castilla) coach Alberto Toril that has taken our eyes off the ball these past several days.

Perhaps that's what Mourinho wanted. He does love a "dummy." He's the football equivalent of the old gag in the movie where the bad guys are chasing, say, Bob Hope, and Bing Crosby will pretend to be an innocent passerby and point in the opposite direction while announcing "he went that-away!"

Jose "Misdirection" Mourinho is a character the Special One likes to inhabit.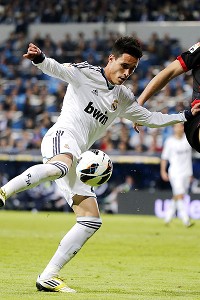 Angel Martinez/Getty ImagesJose Callejon has come up through the Real Madrid system, but will he be given enough opportunities to thrive? Time will tell.
But one of the reasons I mention all of this is that he's genuinely opened up a valuable debate on a topic I think he's got right and Madrid, institutionally, has wildly wrong.

The scenario is this. For some time now, the youth players (canteranos) have believed that Mourinho is not the kind of top-team coach who is going to seek to promote them into important first-team action, unlike Sir Alex Ferguson or Pep Guardiola or even Roberto Di Matteo (who started Ryan Bertrand instead of Fernando Torres in the Champions League final).

For some time now, there has been very little relationship between Toril and Mourinho. In strict working terms, if Mourinho wants a Castilla player, he sends a messenger to pass on the request. The two men don't have a shared agenda and Toril, to be frank, is a legacy from sporting director Jorge Valdano, whom Mourinho came to regard as an enemy and forced out.

So when Mourinho compensated for the absence of both left backs, Marcelo and Fabio Coentrao, in four of the past five matches by using either right-footed midfielder Michael Essien or Alvaro Arbeloa, it was the cause of much criticism in the Spanish media.

Mourinho set his stall out with both force and clarity. He pointed out that Toril was using Nacho mostly at center back when he was needed at left back, and added that a handful of players either were being used in a position that was unhelpful to their advancement, or in a playing system that he wouldn't be using in the first team.

Moreover, when Jose Rodriguez scored a cracking goal in the Copa del Rey against Alcoyano last week, having been promoted from the youth system, Mourinho again pointed out that Rodriguez wasn't getting sufficient minutes with Castilla.

Now, simply because Mourinho isn't a coach famous for picking and developing youth-system players at his previous clubs doesn't suggest for one second that he doesn't know precisely how a really good and efficient youth structure should work. There are those who point to the fact that Madrid's cantera, often called La Fabrica (the Factory), earns the club decent money because the grand majority of its products are sold.

In my opinion, this is valuable, given that unless you have the limitless petrodollar wealth of PSG, Zenit, Chelsea and Manchester City, then a youth-system production line has to fund itself via sales.

Yet the whole row at Real Madrid has raised the philosophical question: What is a cantera for?

Madrid have had 59 youth-system debuts for the first team since Del Bosque took over in 2000. But the nine coaches since only have given 18 of those youth products more than 10 games to prove themselves. That is insufficient.

Of the 59, only Arbeloa (perhaps Esteban Cambiasso and Raul Bravo at a pinch) really made anything of their time at Madrid. Perhaps Jose Callejon still will.

It's a pathetic record for a great club and still more miserly when you recall that Florentino Perez's original promise on taking presidential power in the 2000 elections was to make the club great via 'Zidanes' y 'Pavones.' The theme was to sign great footballers but to develop them, too -- Zinedine Zidane and Paco Pavon (at that time considered a defensive prospect).

No one will convince me that footballers like Juan Mata and Roberto Soldado wouldn't have a senior, starring role in the current Real Madrid and still more importantly I think it's impossible to fathom why Samuel Eto'o -- Madrid's Lionel Messi -- was never properly used by the club, sold to Barcelona and left to win umpteen trophies there, plus three Champions League medals with Barca and Inter.

There was a day when the combination of Raul Gonzalez, Iker Casillas and Guti, all proud products of La Fabrica and all diehard Madridistas, were not only good enough to form the bedrock of this club's first team, but when the Real Madrid members adored them still more than Figo or Hierro or Ronaldo because they were "our" boys.

I recall being in the Bernabeu in winter 2002 when Ronaldo had just won the FIFA World Player award and the stadium announcer intoned, "Please welcome on to the pitch Real Madrid's winner of the World Player of the Year ... Ronaldooooooo." The Brazilian, then in his absolute most ruthless goal-scoring mode and about to bring titles to Los Blancos, wasn't quite booed onto the pitch, but the deafening chorus of "Rauuuuul, Rauuuul ... Rauullll" made it 100 percent clear whom the crowd preferred and dearly would have loved to be rewarded with the world prize.

It's an anecdote but I swear that the Real Madrid socios are not even a drop of sweat different from those at FC Barcelona. They want trophies, they want style and if that can be achieved with their own home-bred boys, then the triumph will be sweeter than nectar.

What I would say must be a little galling for Mourinho -- who, remember, desperately wanted the Barca job before Pep Guardiola was given it – is that the Camp Nou system not only produces pearls like Messi, Xavi and Andres Iniesta, but a constant stream of footballers like Carles Puyol, Victor Valdes, Sergio Busquets, Pedro, Jordi Alba, Gerard Pique and Cesc Fabregas among others.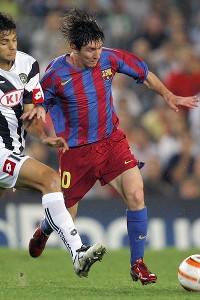 AP Photo/Bernat ArmangueAt Barcelona, which churns out its own stars like Lionel Messi (seen here in 2005), all teams below the first XI teach the same system, same values, and demand the same attitudes.
Just around the corner lie Rafinha, Deulofeu, Sergi Samper, Sergi Roberto, Grimaldo, Dongou, Patricio and countless others of extremely tempting quality.

Yet Barca manages two things that Madrid does not. Firstly, every single team below the first 11 plays the same system, teaches the same values, demands the same attitudes to the ball and how to use it – it's a proper system.

Secondly, there are, and have been for some years, good channels of communication between the board, the first-team coach and the academy of coaches who train the 12 layers of youth development underneath Messi & Co.

This means it is made crystal clear to each coach that his task is to develop, hone, and educate these unpolished gems, and to make them as close to the 24-karat Camp Nou variety as possible.

It's not about promotions, it's not about youth cups -- it's about development.

Those who are A grade will be retained unless there is a triple-A grade player in front of them -- such as in the cases of Mikel Arteta and Pepe Reina.

Those who are B grade will, just like at Madrid, be sold for sizable fees.

The fact that Madrid's Factory isn't calibrated the same way seems to me to be an error. We live in a financial recession, UEFA is introducing Financial Fair Play, the fans yearn for home-bred heroes, top quality kids will look at Real Madrid and Barcelona and if they are scouted at the age of 11, 12 and so on they will probably choose with their allegiance. By 15 or 16, they, their parents and their agents will clearly reckon that progress to the first team is vastly, vastly more likely at Barcelona.

Whatever Mourinho's agenda in criticizing Toril and criticizing the way in which his club's system is set up, I think he hit home with a number of points.

That he did it in public rather than calling a technical meeting and including either vice president Jose Angel Sanchez and/or Perez means that he had a reason for making it public.

But for those who care about Real Madrid's youth development -- indeed, even if it's simply about its world-wide reputation -- the sight and sound of Mourinho dealing out verbal hooks and jabs at the club and the system and Toril must have been painful and viewed as gratuitous.

What a wonderful benefit for Madrid and indeed for the Spanish national team if Barca's greatest rivals simply assimilated and applied the philosophy which has been churning out exceptional home-made players at the Camp Nou for nearly 14 years now (since Puyol and Xavi were breaking through).

And a small aside: Mourinho has achieved almost everything at club level, although it's clear that he still wants to win the Champions League with Madrid and a major English club, too. However, there is a gap on his CV -- the place where it should detail his impact on the culture and youth development of one of his clubs.

Such an achievement wasn't originally necessary when he had major money to rely on at Chelsea, Inter and Madrid. But if he could correct that and encourage a re-assessment of Real Madrid's development policy and, who knows, give Joselu, Alex, Nacho and Jose Rodriguez, more opportunities to prove themselves, then the Special One's reputation would grow and glow.