Does Real Madrid have the stomach for the fight?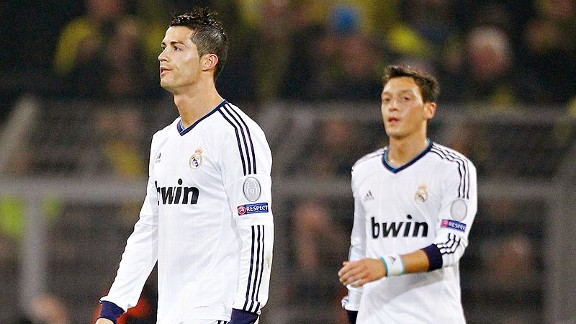 Boris Streubel/Getty ImagesReal Madrid needs to dig deep to help bridge an eight-point gap with Barcelona and Atletico Madrid. Are Jose Mourinho's men up to the challenge?
Here we are a quarter of the way through the Spanish domestic season and it's Halloween, a time of tricks and treats. So when better than to examine five things we have learned about La Liga in the 16,200 minutes of football we've seen so far. Let's start with the reigning champions and defeated Copa del Rey finalists because it's clear that they have both found themselves coping with the same enemy.

1. Relentless hunger can only come from within -- no matter who the coach is
When Pep Guardiola chose Manhattan as his family's residence for at least a calendar year it was to put distance between him and European football. Time for a break. But you can bet your bottom dollar that along with watching large doses of English Premier League football, the Bundesliga and Serie A, the 42-year-old Catalan will have tracked the Spanish season remorselessly. Watching how Real Madrid's and Athletic Bilbao's last few months have evolved will have underlined to him the wisdom of taking a break, perhaps even helped him assimilate one or two new reflections about his final year in charge.

I argue that because the way in which the Spanish champion Real Madrid and the club that was a glorious but unfulfilled runner-up in the Copa del Rey and UEFA Europa League, Athletic Bilbao, have coped since then has underlined some of the threats that afflicted Guardiola's last months at the Camp Nou. It also helped underline how spectacular his four-year achievements at the Camp Nou were. (To say nothing of Sir Alex Ferguson's stunning longevity at Manchester United.)

Take Real Madrid. Last season they were admirable. From the point at which their season grew wings (in September just after losing to Levante and drawing with Racing), they showed almost nonstop hunger, ambition and dedication to their task, with a get-the-hell-out-of-our-way attitude.

It was a title victory with laurel wreaths. But Jose Mourinho has repeatedly indicated his belief that their hard-won foliage is crushed and squashed thanks to some of his squad resting on them this term. For example, as recently as mid-October, he told France Football: "We've not yet achieved the same level as last year in terms of the quality of our game and our results. That was incredible. We just have to improve in one area -- our heads. Out motivation wasn't as high as it should have been and we've suffered a bit as a result. But we're recovering and everyone knows how strong we are. There's not much to choose between ourselves and any other team."

It's important to lay down a thought here: Neither Mourinho nor Tito Vilanova, let alone Iker Casillas, Sergio Ramos, Cristiano Ronaldo, Lionel Messi, Xavi ... or indeed Diego Simeone and Radamel Falcao would imagine that the eight-point gap Atletico Madrid and Barcelona have established over Madrid at the top of la Liga is unbridgeable. Many stranger things have happened.

However, it's a horrible handicap for the champions, and the coach obviously reckons that some of his foot soldiers came back to battle this season having relaxed, forgotten the killer instinct and feeling underwhelmed at having the sergeant major yelling at them on the parade ground.

Athletic Bilbao are a slightly different case study. There is no transfer market for them; they can't force players to look over their shoulders nervously and up their performance because a talented Brazilian or Frenchman has been signed. But their performance from the last days of the season (beaten six-nil on aggregate in their Europa League and Copa del Rey finals) until now (mired in the relegation zone) has shown the burn-out factor.

A player leaked the angry, hurt talk that their coach, Marcelo Bielsa, gave after the Copa del Rey final defeat to Barcelona. Javi Martinez could hardly wait to take Bayern Munich's offer of new employment, and Fernando Llorente has occasionally rowed with the Argentinian coach.

The players consider Bielsa what the Spanish call "pesado" -- someone who wears you down and extinguishes a spark of joy by going on and on and on about something.

Physically, Athletic found the demands of running endlessly in training and playing high-tempo football in three competitions hard last season -- and harder still this time. Thus it has been an underwhelming start to the season from two of Europe's standout teams of 2011-12.

Mental and physical burnout, injuries, summer tournaments, bad luck, focus -- they are all in the mix.
But it is the degree of natural competitive hunger that each player in the two squads possesses that will chart how quickly the quality of last season resurrects itself. The "I will not be beaten" and the "I WILL show everyone that last season wasn't a flash in the pan" sentiment is what drives the good player to become great.

So back to Manhattan and Pep Guardiola hunkering down and avoiding Sandy in New York. I bet he'll be thinking: Now people will begin to understand how hard it was, how much of an achievement it was to keep going like we did and win 14 trophies in four years.

I think that Guardiola would admit, happily, to having been a bit "pesado" too -- always tight on discipline, always demanding more, perpetually pushing players to greater heights. It came at a cost, and both he and his former squad will have benefited from the break. And right now there will be one or two fans and players at Madrid and Athletic Bilbao wondering how they kept the hunger that long during those intense, fevered four years.

If Madrid can match that desire and consistency this season, we are in for some fun over the coming months.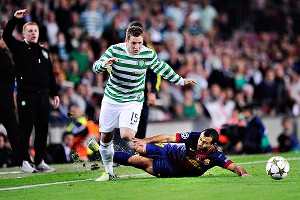 David Ramos/Getty ImagesBarcelona's injury-hit back line has struggled to keep up at times.
2. If Barca can get the defence fit and stop conceding early goals, the big trophies are beckoning

Lies, damn lies and statistics, they say. And I guess that's not too far from the truth. Vilanova has not only impressed with his calm, articulate football intelligence, but a win at home to Celta Vigo this weekend will set him up on the pantheon -- alone -- as FC Barcelona would be off to their best start to a campaign.

Better than Pep Guardiola's 2008-09 treble team and how they started?

Well, statistically perhaps, but the results have helped mask an unhealthy trend that Barca will either have to end or face paying the bill for. On five occasions this season, Vilanova's side has had to fight back from being either a goal or two goals behind (Madrid, Osasuna, Sevilla, Spartak, Celtic).

For us neutrals it can make barnstorming entertainment. It shows character. But it's not the mark of champions. Sure, champions have that in their locker. Guardiola's treble-winning side constantly produced late goals either to draw, win or emphasise a winning margin (just think of how Andres Iniesta's added-time goal at Stamford Bridge put Barca in the Rome Champions League final of 2009). But his was a clinical, ruthless bunch. When you interviewed their opposition that year, they constantly told you what a pain in the butt it was to play Barca. If you had the ball, they were on you like oversized piranhas. If they had the ball, then keeping up with them was like trying to flick the light switch and sit down on the sofa before the electricity reached the bulb. Impossible.

That's not what this current squad is achieving. Yet.

Too often they are going behind in matches; too often goals are being conceded cheaply. The solution, given how well Vilanova's side are beginning to perform creatively, is simple to pinpoint but hard to achieve.

Should the doctors and the physios and the masseurs be able to keep Gerard Pique and Carles Puyol fit for 85 percent of the remainder of the season, and if Eric Abidal's body doesn't betray him again (incredibly, after a liver transplant he's already very close to full training with the squad and thus a return to first-team action before the turn of the year), then Barca will be quicker, taller, stronger, more mean-eyed and more experienced at the back.

At which point, all other injuries being equal, most teams won't be able to live with them.

3. Radamel Falcao is the greatest No. 9 striker in the world by a country mile
To establish Atletico Madrid's credentials as a title-winning team, Los Colchoneros will have to pass a couple of tests before this column reaches out once again for the "Five Things" template in a couple of months' time. In just over four weeks, they have their "Albatross" match -- the Madrid derby, a game they've not been capable of winning for well over a decade. Currently they are in shape to reverse that trend, and if victory doesn't come this season then some fans must believe they'll never again see Los Blancos beaten by Atletico.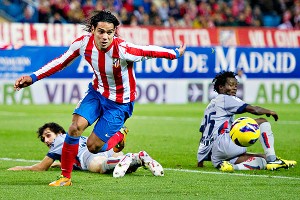 Jasper Juinen/Getty ImagesAtletico's title credentials rest heavily on the shoulders of Falcao.
The next test is a standard one for any club that tilts at the biggest prizes. If Diego Simeone's side can deal with the supposedly "easier," lower-profile sides (remember Guardiola's Barcelona losing to Numancia away and Hercules at home, and Mourinho's Real Madrid losing to Levante, drawing with Racing Santander and losing his nine-year unbeaten record at home to Sporting Gijon), then they are proper contenders.

Los Rojiblancos have Getafe and Depo at home before the next Madrid "Derbi" just over four weeks away. They must arrive at the big test having made easy meat of the lesser challengers, because that's what title contenders do.

But now comes the biggest examination of Atleti's credentials.

In Falcao, the brilliant Colombian striker, they have the best No. 9 in the world. In terms of movement, finishing power, confidence, agility, instinct, positioning, combination of aerial and physique and above all intelligence, Falcao doesn't have an equal today as a central striker.

What's more, he doesn't have a soaring ego. When I spoke to the South American as he was winning the clean sweep with Porto, he told me: "I don't like the fact that, particularly back in Colombia, guys like me are the new rock stars. It used to be cinema actors and pop singers who caused the media to go wild, put them on the front page every day. But now it's footballers, it seems. So if I go out for a meal and a glass of wine then suddenly I'm living the 'rock-and-roll lifestyle.' But it's not true, I can go out and have a drink with a meal without getting drunk. However, despite those drawbacks, I don't mind the fame which comes with achievements."

The last Atletico coach to win the Spanish title, Raddy Antic, believes that "they have become the hardest-working team in the league so far."

He doesn't like the idea of coming up with a best-in-the-world tag, but he's nonetheless wowed by the Colombian.

"I'm enchanted by the way Falcao plays, how hard he works, but above all how he's become the symbol for all the players in this group to unite behind," Antic said. "Sometimes you get a guy whose play and personality are so good that it becomes contagious for the rest of the squad and he just naturally becomes their leader. That's what I see in Falcao, and what's even more exciting is that there's more to come from him. I see some similarities in this team if you compare it to mine which won the league and the cup in 1996. The hunger, the work and the quality of the football. Will they win the title? All I'd say is that right now they aren't inferior to any side in the league and nothing they are doing invites doubts."

It wasn't for Antic to say, but here is the doubt. Falcao's leadership and goals-per-game ratio mean that were he to be absent, Atletico wouldn't suddenly look like a one-man team but definitely a lesser one. On the injury front, let's just hope he's blessed with good fortune. But when Porto recently filed some tax returns and made it clear that they paid nearly 20 million euros in fees to agents after the transfer of Falcao, it appeared to indicate that he remains one of those players whose rights are partially owned by a company, partially by the club.

Which means that should a mega-offer come in during the winter market there is, at least, a discussion to be had. Common sense backs the idea of the South America striker finishing this season and doing so well that his value soars still higher. But the mega-wealthy petro-dollar clubs are beginning to set new rules. I fervently hope Falcao isn't sold during this season, thus leaving him to continue proving he's the best No. 9 on the planet and allowing Atletico freedom to shoot at the title.

4. Pepe Mel is a coach I'd hire in an instant
At the time of writing, Real Betis are hovering just outside the Champions League positions. Indeed, the Sevilla club is fast becoming the kind of rival that the biggest sides won't want to catch on a good day. But this isn't the sole reason for my appreciation of their coach. Pepe Mel first impressed me a couple of seasons back when his Betis side drew Barca in the Copa del Rey. At the Camp Nou not only did Betis attack cleverly, they came up with novel ideas about how to tie Barca's laces together. One was the idea that if the home side had a goal kick, then Betis would push four or even five players right up around Jose Pinto's goalmouth so that he couldn't take a short kick to a defender and Barca couldn't begin to build from the back as they love to. Pinto was forced to kick the ball long, old-school style, and given that Betis often won that aerial challenge, Guardiola's side spent parts of the night confused and uncomfortable. It's like a punchline that Barca still produced some genius (another Messi hat trick) to win 5-0, but the second leg proved we were watching an interesting phenomenon when Betis thumped Guardiola's team 3-1.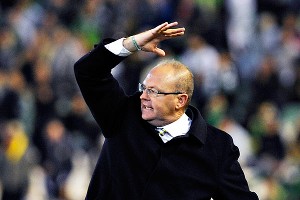 Cristina Quicler/AFP/Getty ImagesPepe Mel has led Real Betis out of dark times.
Last season, Mel went to Osasuna in December not having won in nine league games and lost again. Betis are in administration and use a number of loan players, so relegation would have been catastrophic. His president, Miguel Guillen, and the administrators, including the influential Jose Antonio Bosch, decided to strongly back Mel and the team immediately went out and beat Valencia and Atletico Madrid back to back. They finished mid-table, and they are more than consolidating this term.

Mel loves good, attacking football, but in practical terms explains that "this season we've tried to make the transition from attempting to play like Barcelona to attempting to play a little bit more like Real Madrid."

It's a slightly more practical, slightly simpler, slightly more counterattacking style, but still fun to watch. The team is defending slightly better within the context of not having any serious money to go out and improve the quality of players significantly.

But now Mel is talking the inspirational stuff. "I yearn to be in Europe" he says. "And not just for my holidays".

Bosch admits, "at first when we took over the club Mel and I would circle each other a bit warily, we came from different viewpoints and the strange fact is that the world of football is irrational. In fact, that irrationality is what keeps it going. If you applied any sort of normal rationality and looked at the entire structure objectively, then the football world, as we know it, would probably disappear. But passion and dreams are what make it survive."

Mel is a man in whom passion and dreams can be vested -- someone with vision, honesty, hard work and daring. Bosch concludes the argument: "Now he and I get on marvelously and he fills us all with great optimism for the entire project. I wasn't really a football guy before; now all I want to do is get in the stadium, see us go one up and pray fervently that we hold on to that lead."

Mel is a proper football man leading a proper football club out of dark times and into a much more enjoyable present and future.

5. Sometimes you just have to do what you are best at

We seem to live in football times when black is red and red is white. A left back is a right back, a central midfielder is a central defender, it suddenly isn't important to keep a settled back four if it's more fun to change the defence almost every week. Jose Mourinho can joke about Gonzalo Higuain playing at left back and the media wonder whether to take it seriously. Positional rules are for suckers.

Those are the trends, although I have to admit that I think it's all gone a little bit radical.

Back at the beginning of the season, I was talking to Roberto Soldado -- a cracking footballer, a bright guy and someone who feels the weight of responsibility of captaining his hometown team on his shoulders. He told me how his new coach, Mauricio Pellegrino, was asking the team to work a bit harder in defending, to play a little less expansively and to conserve leads rather than to see a third or fourth goal.

All very fine.

Soldado felt that this might need him to refine his game. More defending, more dropping deep to produce link-up play, less selfishness positionally.

His work rate has been top class this season, but the team struggled to produce wins and murmurs grew about whether Valencia could continue to drift away from the Champions League positions, given their absolute need to keep debt problems at bay by qualifying for that lucrative competition.

Then suddenly Soldado just reverted to his previous out-and-out centre forward play, he produced a brilliant hat trick away in Belarus against BATE Borisov, and you could sense an enormous sigh of relief around the club. They felt that they were back on track again.

Sometimes it's important that a pivot anchors the midfield, that a winger remains high and wide not tucked in as an auxiliary defender, and above all that a natural goal scorer is put as close to the danger area as possible. Black is black again.