Malaga masterful in Matchday Three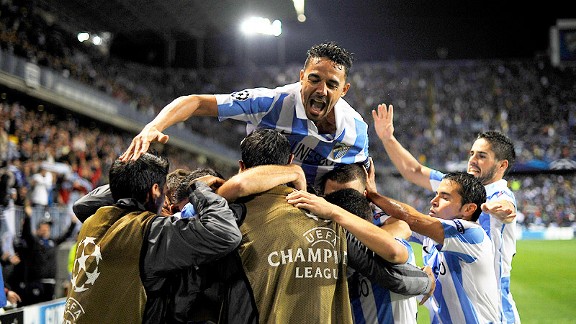 Jorge Guerrero/AFP/Getty ImagesNo Santi Cazorla? No problem. Malaga has been superb so far this season.
If the European football season were a DVD and you could press the pause button right now, then pound for pound you'd find Malaga Club de Futbol in the gold medal position.

They're not the only unbeaten squad in the Champions League but they do possess a 100% record, they are the only team not to have conceded a goal (in five matches rather than three because they had to get through the qualifying ties) and this week, to the sound of a primal roar of both joy and disbelief from their long-suffering fans, they beat the seven-time European Cup winners AC Milan at La Rosaleda and sent the Rossoneri home pointless.

That achievement nuzzles up quite nicely to Malaga's previous 3-0 destruction of the vastly wealthy Zenit St Petersburg (a team able to spend 100 million euros on its transfer deadline day to buy Hulk and Axel Witsel) on Matchday One.

Clearly, David is getting a taste for slinging a big stone between Goliath's eyes.

If you look at the fact that Malaga is a Champions League debutant and that the starting XI was patched together at the last moment, it's all pretty impressive.

Without spending a thin dime, Javier Saviola, about to be without a club as the transfer window closed, was seized and signed. No fee. Midfielder Manuel Iturra's arrival was identical and Francisco Portillo was promoted from the youth ranks while Roque Santa Cruz came on loan from Qatari-owned Manchester City.

But if you throw in the fact that the owner, Abdullah Ben Nasser Al-Thani, has been intensely difficult to tie down regarding his responsibilities in the financial organisation of the club -- plus the tough time that both the Spanish revenue department and the players themselves have had in getting paid on on time -- then it's clear that what Malaga has been able to achieve since the arid, frightening time in the summer when there appeared to be a total implosion taking place is quite remarkable.

So to Wednesday's 1-0 win. The grandees of Milan are not having a good time of it right now in Serie A. Accepted. But it must be noted, too, that this team from a relatively modest fishing city on Spain's southern mediterranean coast beat the Rossoneri without three key players: powerful French central midfielder Jeremy Toulalan, wily and athletic full back Nacho Monreal and goal machine Julio "The Beast" Baptista.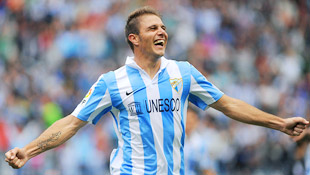 Jorge Guerrero/Getty ImagesIt's hard to pinpoint just one factor behind Malaga's success, but Andalucia-born winger Joaquin, who scored the game-winner vs. Milan, has been immense.

About a month ago I argued that football needs creators, those figures that can build carefully, artfully and while coping with unecessary pressure being heaped on them. Manuel Pellegrini is nicknamed "The Engineer" and true to his moniker, the cogent parts in this team mesh together beautifully in a well-oiled, efficient manner.

No way is Malaga the best side in Europe, nor does it have the deepest squad in terms of talent. But there are exciting things happening here. Outside Malaga, there's been little credit given; despite Al Thani's initially grand investment in the transfer market, the club boasts five players in the first team squad who were born in Malaga plus another, Joaquin, who is from Andalucia.

It would be very easy for Pellegrini to turn out a perfectly competitive side with nine Spaniards in it; at a time when it has been natural to laud the achievements of the FC Barcelona cantera (youth system), I'm puzzled as to why more praise isn't being directed at those who run the Malaga cantera, those who scout there and the way in which players such as Isco, Portillo, Juanmi and Recio are being developed.

The spirit of a football club is an intangible -- you can't put it on the balance sheet, you can't absolutely guarantee it and you can invest huge sums in chasing the dragon of success without necessarily achieving the high of that "all for one, one for all" mantra.

Midway through this week's victory I saw clear evidence that, talent aside, Malaga is blessed with the power of that intangible. Joaquin stepped up to take his second penalty in two matches ... and missed his second in two matches.

It would have been easy to imagine the mighty Milan taking the reprieve and stuffing it right back down the new boys' throats. But from the instant the ball skidded off the top of the Rossoneri bar, the crowd roared the winger's name -- "Joaquin, Joaquin, Joaquin ..." -- into the dark, rainy night.

He told me afterward that his immediate thought was, "Oh no! Not again! Why me?" and that it was hard not to let the incident mess with his concentration.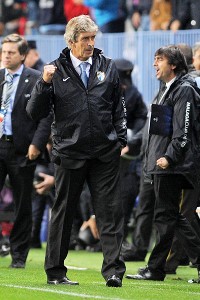 Gonzalo Arroyo Moreno/Getty ImagesManuel "The Engineer" Pellegrini has galvanized this Malaga squad despite financial uncertainty, turning a hodgepodge of a squad into a sharp, confident attacking team.

But no teammates remonstrated and not one of them even showed a glimpse of dismay.
The fans were neither nervous nor rancourous. Joaquin himself moved on believing that another great chance would fall his way and that he'd convert it. So for the second match in a row, Joaquin did in fact erase his missed penalty with the winning goal.

One of the local players, rampaging right back Jesus Gamez, managed to put into words the spiky, aggressive unity that will see Malaga through some of the bumpy weeks this demanding season is going to bring them.

He is testimony to the fact that in the first full season of the Al-Thani project, there were many weeks when Malaga were fighting the drop. Pellegrini, the club's Chilean coach, insisted that his side would continue to play football properly, avoid any temptation to gain short-term success with either crude or defensive football and must bond together.

Now, here they are. Survivors of the owner's bizarre behaviour this summer, survivors of the worrying talent drain over the past couple of months and if not kings of Europe, then certainly the dauphins.

"It was very hard to stand by and watch what was something like a collapse during the summer," Gamez confirmed. "We had fought hard for one goal: a great Malaga. And that was about to go to ruin because of a lack of responsibility from some of lead the club. But we decided that the project just could not disappear. So I have to give the dressing room guys and the technical staff a 10 out of 10 for what they did and what we are achieving.

"Everything that happened simply reinforced the unity which exists in our changing room, offered Gamez further. "The players and staff saved the club. No one offered an explanation about what was going on."

What about coach Pellegrini? "He's made our style of football second nature. He's almost 'mechanized' our decisions, movements and ideas on the pitch so that we play a certain way without even having to think about it. Always with ambition, always with an attempt to show style and hunger to win."

Finally, Al-Thani was at the Rosaleda on Wednesday after five months hidden away somewhere in his own neck of the woods. Nice of him to turn up. Typical of him to do so when there was some proper glory at stake.

"Of course we are going to invest again," was his easily made promise.

But his course of action is simpler than that. Settle the bills, pay the outstanding wages, make sure The Engineer has access to one or two well-selected additions to the squad from January onward and then, perhaps above all, make sure that Pellegrini isn't tempted by more major offers from Serie A, England and perhaps even elsewhere in La Liga. After all, his exceptional ability to unite a squad, make them clear about their footballing philosophy and to make the sum greater than the whole of the parts casts him in a fantastic light.