Del Bosque's baffling decision to leave out Juan Mata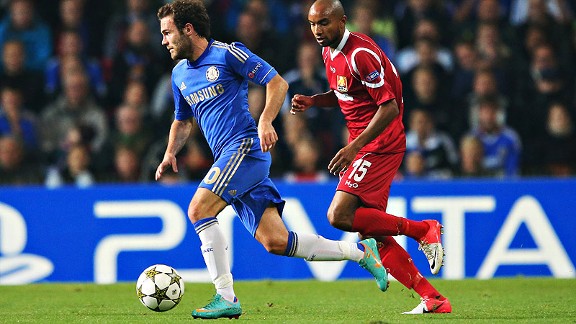 Andreas Hillergren/EuroFootball/Getty ImagesChelsea's Juan Mata is in sizzling form, but Vicente Del Bosque said he couldn't find room for him on the squad ahead of World Cup qualifying.
Because of the extraordinary footballing resources Spain possess and, equally, because of the way La Roja have been able to steamroll the world's opposition over the past four years, there hasn't been a deeply risky and controversial decision to be made since Luis Aragones dropped his captain, Raul Gonzalez, and then kept the door closed irrespective of how much his form and goal scoring record improved.

Dropping Fernando Torres for a friendly last spring? Sticking with the double-pivot system of Xabi Alonso and Sergio Busquets in the face of criticism after losing to Switzerland in the World Cup? Not taking Roberto Soldado to Euro 2012? Pairing Sergio Ramos and Gerard Pique in central defence at the same tournament? No, these decisions were not even within telescopic sight-range of the divisive stance on Raul, whose absence/presence polarised Spanish opinion for years.

For a while the "Raul decision" looked to have become personal, the team's erratic form was blamed on his absence, and no matter how well he played neither Aragones nor, later, Vicente Del Bosque showed any inclination to restore the man who was then their all-time top scorer.

It proved to be an inspirational call, but it was a hot, hot potato for a long time.

But now we have a proper contender. The scenario is this.

Just after winning their third straight major international tournament, Spain's captain, Iker Casillas, complained that the tournament holders should be pre-qualified, along with the hosts, for the World Cup. He pointed out how strange it would be if a country were ever denied the opportunity even to defend their title.

Personally, I had sympathy for his secondary point, but none for the first one.

Having to qualify is healthy. It should be within the grasp of a world title holder. Plus, some of the smaller to middle-rank nations have every right to wish for and receive the champions in their qualifying group, thus spreading enthusiasm, aspiration and revenue generation round their country if and when the World Cup holders come to town.

Yet it would be odd if, by some quirk, the following tournament did take place without the holders.

Be that as it may, there has been sufficient noise and hoo-ha over the progression of Real Madrid under Mourinho this season, and the recent Clasico, that the business in hand for Spain this next week has drifted off the agenda.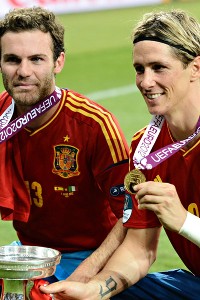 Franck Fife/Getty ImagesIf there's one player who can bring out the best in Fernando Torres, it's Mata.
Which has left the extraordinary decision by Vicente "Safe Hands" Del Bosque to drop the in-form Juan Mata looking both interesting and disturbing -- for those of us who work in this country, anyway.

Spain's matches are Belarus away on Friday (and while Aleksandr Hleb's side has already lost to France, please do not forget that during qualification for Euro 2012, Belarus took four points out of six from Les Bleus), followed by France at home on Tuesday.

Given that Spain desperately want to avoid the lottery of a playoff, finishing top of Group I (which is completed by Georgia and Finland) is the only direct route to the enticing Brazilian World Cup in 20 months' time.

Spain has qualified for the last two major tournaments with a 100% record each time, but there were some bumpy moments along the way. Right now, I'd argue that there are just enough problems for there to be a hint of vulnerability.

So let's just look at how the World Champions shape up, shall we?

Iker Casillas remains in very good form but, behind him, Victor Valdes isn't exactly having an impressive start to the season, and Pepe Reina simply looks like he's not enjoying his football right now. Goals are flowing past him, as he's committed his share of errors.

At the back there is no Gerard Pique and no Carles Puyol, while Javi Martinez had a very difficult summer (an awful Olympics followed by a nasty and protracted transfer departure to Bayern Munich), and what little football he's played this season has come in midfield.

In midfield, Santi Cazorla is the shining light … but will he start? Andres Iniesta, for his part, is just back from injury, and while I'm personally delighted to see Benat Etxebarria being rewarded for months of impressive play at Betis, it remains only the third national squad in which he has featured.

Up front, the problems are well-chronicled. David Villa needs more game time, Roberto Soldado (who got the nail-bitingly late winner in Georgia last month) isn't in prolific form, and while Torres appears to be gathering both form and fitness, his prowess has usually looked most effective when in tandem with a certain Juan Mata.

What the late victory in Georgia emphasised is that no matter how much Spain control a match, if there is a tough away tie and the opposition are happy to put 10 men behind the ball and hope for a breakaway goal, it can be a troublesome night. This is especially true if La Roja are not at their absolute sharpest.

Belarus will be chilly, hostile and not for the faint-hearted. Martinez has already admitted "Franck Ribery [his teammate at Bayern] has already warned us how tough a side the Belarussians can be. It's a match to take seriously."

The following Tuesday at the Vicente Calderon could, actually, be very close to a make-or-break occasion. Didier Deschamps' side aren't an out-and-out match for Spain, but this is a group in which no slip-ups will be permitted and where, should France get any kind of result, Del Bosque's men would be left with the challenge of winning every remaining group match, including the return one in Paris.

A situation to be avoided if possible. Thus it's hard to see why Mata is still not required. He has four goals for Chelsea, has shown buzz-bomb energy and has also provided a handful of goal assists.

No question that the former Oviedo, Real Madrid and Valencia man has been one of the standout players in England this season, even after he had a difficult Olympics.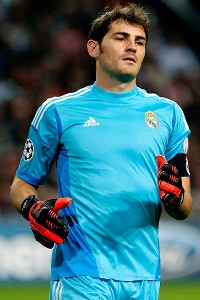 Antonio Villalba/Real Madrid/Getty ImagesIker Casillas thinks the World Cup champions should not have to go through qualification to defend their title.
Mata's role at the European championships was brief, but I watched him work assiduously in training, and when he came on in the final he scored. Having him for the next two games looked a no-brainer, and it was a shock when Del Bosque simply said "We couldn't find a place in the squad for him."

Mata, typically, expressed careful disappointment without losing his temper in public. "I was pretty confident I'd be listed in the squad, and I was full of enthusiasm at that prospect," the Chelsea man pointed out. "I've not spoken to Del Bosque but I'll just continue to work hard. What's clear is that I'm in the best form I've shown since arriving at Chelsea -- working hard, enjoying my game, sitting top of the league and the Champions League group, too."

Unless Mata committed some sort of sin during the Olympics which the outgoing coach Luis Milla has reported back to Del Bosque -- something of which I'm currently ignorant and would strongly doubt -- then it's bizarre that his form hasn't earned him a starting place in the team, never mind a slot in the squad.

He is quick, inventive, scores goals, makes goals, innately understands how Torres is best served up with chances and won the Champions League final last season. Just the guy to have to turn a tough game in your favour; just the right moment of personal form via which to produce a famous cameo role.

The next two games were previewed by Spain captain Casillas when he pointed out: "We showed how difficult it is to go on and on winning matches when we got a small fright in Georgia and only pinched the winner late on. Every single national team which plays us treats it like a life-or-death match. They each think that this is the way to get a famous victory over us. We've had four great years together and like anything in life there's got to be a 'sell-by' date on the most veteran players. Personally, I want to keep going for as long as possible because as long as you have pride, hunger and confidence you can continue. But after the World Cup in Brazil, I think there will be some squad changes."

However, as he himself argued in the summer, getting there is the first issue. Spain remain eminently good, but a little groggy right now. This is the time of year when their bad post-tournament defeats against Argentina and Portugal damaged their prestige in recent seasons.

If, by some quirk, Belarus and France prove indigestible rivals over the coming week, then the absence of tricky, loyal, quick, clever, in-form Mata will become a matter of state.