Ronaldo and Messi share the honors in Clasico
BARCELONA, Spain -- We have all heard the expression "You can get too much of a good thing," but Sunday night at the Camp Nou was proof that it's incorrect. I simply couldn't have too much football like this. That feeling you have when reading a great book that has hooked you for two weeks, night after night, turning the pages with adrenalin rushing and a feeling of anticipation every time you pick it up -- this Clasico, which ended in a 2-2 draw, was that times a thousand.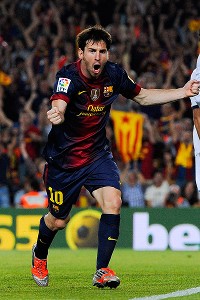 David Ramos/Getty ImagesAfter all these years, Lionel Messi is still able to raise the bar and leave us in awe of his talent.
Two completely different footballing philosophies, each brilliantly displayed. And the two most outstanding strikers in the world seeming to be humming the old Irving Berlin number "Anything You Can Do I Can Do Better," as Lionel Messi and Ronaldo exchanged stunning goals, invention, heart-stopping moments, courage, passion -- sheer joy.

The vast, open-windowed press box on top of the main stand at the Camp Nou leans down over the technical areas like some kind of football greenhouse where you grow journalists. If you are at the front, you can just lean out and look down to the little dramas that happen on the pitch -- arguing with the linesman, consulting coaching assistants about a tactical change, substituted players throwing their boots around in anger -- you know, that kind of stuff.

And I swear that I saw shock and awe among the Barca technical staff and substitutes when Messi scored his second goal to put the home team and Liga leaders 2-1 up in the second half, having trailed to Ronaldo's fierce but saveable first-half left-footed shot.

When the Messi free kick (the second he's rocketed past Iker Casillas this season) screamed into the bottom side panel of the Madrid net, there was a primal roar from the 98,000 Catalans packed into this grand old arena. But my attention was drawn to the celebrations of the Barca bench. They all leapt out in exaltation and ran halfway down the pitch in joy. And what they were doing -- these experienced, hardened pros who have "seen it all" -- was holding their heads in amazement and turning to each other with expressions like: "Did you see that, did you SEE what he just did?"

That image will stay with me for a while.

I'm meaning to convey the idea that even the guys who live on Planet Messi every day, who've known him for 12-plus years now and see his genius in training week after week, were slack-jawed.

However, there might have been another part to the celebration -- and that element might have been pure relief.

There was a stage in the first half when, not for the first time this season, Madrid could (and should) have been three goals ahead. Not only did Dani Alves allow CR7 all the space he needed to thrash his fifth goal in the past five Camp Nou Clasicos, Sergio Ramos missed a free header, Karim Benzema miscued a decent chance and then he also hit the woodwork.

At no stage had Barca been poor; in fact, they were controlling the ball elegantly. Yet for all the in-fighting at Madrid, the fury of Jose Mourinho at his team after the Getafe and Sevilla defeats, for the fact that Casillas had to take to social networking, dripping with sarcasm in joking that HE was the leak from the dressing room to the Madrid media (and that he'd been Deep Throat during Watergate), the La Liga champions were as ruthless, quick and precise as they'd been last season.

No messing around, lots of movement, and shark-like when they smelled Barca blood. Real Madrid have my respect for the degree to which they have perfected their playing style -- when it works, like this, it's stimulating to watch.

The long and short of being dragged back to equal terms when they might have been three up was partly misfortune and partly credit to Messi's football brain.

The deflections and mini collisions that caused chaos in the area just in front of Casillas weren't predictable, but the little Argentinian anticipated them. So when Ramos and Pepe failed to clear the decks, there was the little imp to collect, shuffle and score his first goal -- Messi's version of the old Bill Haley tune "Shake, Rattle and Roll."

I've often written for ESPN about the Ronaldo-Messi thing. And given that we all talk so often about who's the best in sport, the fact that a world referendum on who's the daddy is taking place now is fascinating to me.

All the FIFA captains, all the FIFA coaches and a smattering of talented journalists are about to decide whether Messi, Ronaldo or, at a pinch, Andres Iniesta will be elected as the world's best. It's a field of three, I think. I won't labour the point, but I state it as a fact that while Messi would be perfectly happy to win again, Ronaldo actively puts high, high priority on winning such things. Nothing wrong with that.

So here we were, nearly 100,000 of us in the stadium and about 400 million of you around the globe, watching these two artists splash paint on the green canvas.

The Portuguese, so misrepresented in my view, so often unfairly criticised, was already properly in pain from an exuberant attempt either to emulate Icarus or to score with an overhead kick by the time he ripped through to collect Mesut Ozil's assist pass and score. Again. Under pressure, 2-1 down, in danger of dropping 11 points behind Barcelona in the league, in pain ... no problem to Ronaldo. I like that. Don't you?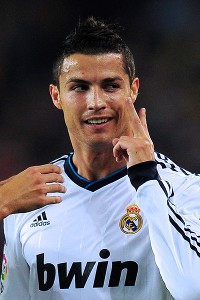 Lluis Gene/AFP/GettyImagesRonaldo had an eye for goal, even when he found himself in pain.
2-2 and Ronaldo to score had been my prediction prematch so, for this weekend, I'm relatively satisfied with reading the runes.

But what does this really mean for the rest of the season?

First, there was ample proof, for me at least, that when these two sides play somewhere near their best they are just that: the best.

Second, it's clear that Mourinho has had a great deal of justification when he's said in recent interviews that part of his annoyance is that his players can "do it when they want." They can.

Third, there seems to me to be a massive gap in significance between an 11-point lead (double figures in October) compared to eight. It makes Barcelona massive favourites to win the league, but it ain't over. Not even close.

Mourinho said before the match that a draw would constitute a good result for him. So in theory, he should be satisfied. But Real Madrid didn't win when they might have done, and they allowed Barcelona to concede the first goal in a Clasico for the 10th time since Pep Guardiola took over, but not convert a lead into a victory.

That will irk the Special/Only One.

However, the Catalans finished more strongly. In the dying minutes of the match, Pedro bent a shot just past the post and Martin Montoya hit the bar, having given a very promising cameo performance after replacing the injured Alves. And had Messi released one pass with a little more accuracy, Barca would have been away, one-on-one, with Casillas.

Kudos to Tito Vilanova in that, more or less, his strange bet to put Adriano in the middle of the defence -- not Alex Song, whose defensive credentials the coach has been describing with conviction -- didn't look as crazy as it had prematch. But more kudos to Ronaldo and Messi. They were fantastic, and we should be grateful to live in such privileged times for football fans. Hope you enjoyed it too.

If not ... what's wrong with you?