Time for Spanish football to take a stand against racism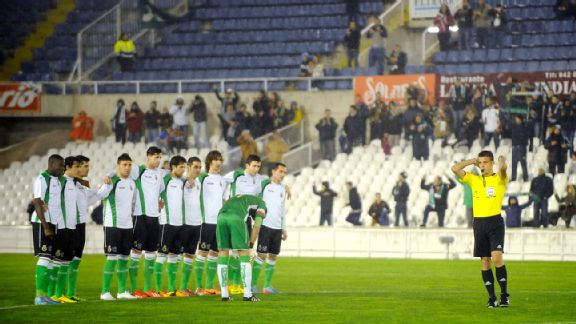 ANDER GILLENEA/AFP/Getty ImagesRacing's brave choice was applauded by the footballing world. It's time for the same solidarity to be displayed with regard to racism.
It's not a simple job to try to explain the part horror story, part dark comedy at Racing Santander football club over the past three years, but suffice to say, it is the living nightmare of every single supporter across the planet.

In 2011 the club was "bought" by an Indian businessman, Ahsan Ali Syed, who faces fraud accusations in Australia and whose Western Gulf Advisory sports holding parent company has been dissolved and put into administration in the country where it is based, the Netherlands.

During the utterly shambolic and hideously embarrassing months that followed, the club has been relegated twice and been through seven managers, the players haven't been paid, angry fans have attacked the board in the presidential box, and Racing have, effectively, been mugged. Brutally.

A couple of weeks ago, the players refused to participate in the Copa del Rey semifinal against Real Sociedad unless the puppet president, Angel "Harry" Levin, put in place by Ali Syed, resigned. When Levin refused, the players turned up but wouldn't play.

- Corrigan: Standing up for their rights
- Report: Racing banned from 2014-15 Copa del Rey
- Lowe: Copa run sheds light on Racing's woe

It wasn't a move without a bill to pay. According to the rules, Racing will be fined a hefty five-figure sum and will be banned from next season's competition. But it has been a move universally greeted as important, dignified, supportable and something that might have played a significant part in saving this club, which will be 100 years old this month.

Within a few hours of the players' protest, an action that generated worldwide publicity, the AFE professional players' union in Madrid dipped into its emergency fund to pay some of what Racing's footballers were owed. And within a few hours of that, the puppet president was sacked by a global movement of Spanish judges, the shareholders and the Dutch administrators, and an entirely new board, led by popular figures associated with the club and the city, took over.

The controversial cup tie had been attended by 7,000 fans; the next game, under a new president, had a 16,500-person crowd.

Thousands of new season tickets were bought (in February, mind) as a show of both moral and financial support for a much-loved club that had been "liberated."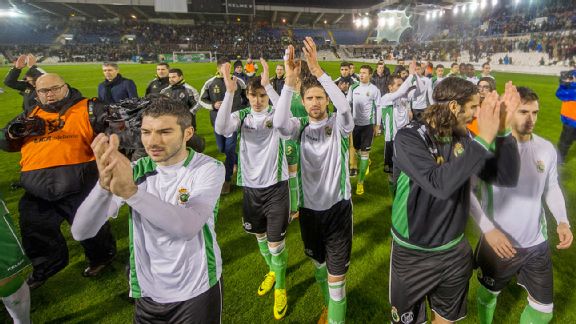 Juan Manuel Serrano Arce/Getty ImagesThings have improved for the Santander club since taking a stand.

Before attributing magical powers to the Racing Santander "strike," it's worth arguing that the players' union might have stumped up in due course and the president might have been ousted, but the squad brought things to a head.

The players turned the spotlights of the sporting world on their stadium, El Sardinero, and that's no easy feat. They spoke for the fans who wanted to scream, "Enough! NO MORE!" They managed to impose themselves on a situation hitherto completely out of their control -- unfair, unnecessary and potentially criminal.

Their act was well-planned, well-signposted, well-coordinated, well-executed and well-received. How often do you get to do something like that in life? With the club now led by one of Racing's ex-players and a famous actor, who knows what lies ahead?

"We are taking over from the worst directors in the 100 years of the club's history," new president Juan Antonio "Tuto" Sañudo said. "The club is in an even worse state than we expected. Every time we try to solve one problem, more debts and costs appear. Something like this was to be expected, but not this bad."

Partly I mention the above because it's worth celebrating a minor Racing victory after three years of defeats. Also, partly I mention it because of what I witnessed last week in the Santiago Bernabeu.

It was a slight fluke that I heard and saw the vicious, unacceptable and disgusting racial abuse of Marcelo by many, indeed the vast majority, of the couple of thousand Atletico fans who were still locked in the Real Madrid stadium.

Working for ESPN FC, I had chosen to stay in the press tribune, bitterly cold though it was, rather than head down to the press room inside the stadium. Old habits die hard. As Marcelo and other substitutes came out to do their warm-down, those Atletico fans would proceed to show their rank stupidity, noticing him and beginning monkey chants.

The players jogged from the South towards the North stand and stopped to stretch in the goalmouth that was directly underneath the upper tier where the police had kept the away support until the Madrid fans cleared the stadium and the operation to patrol the Frente Atletico away from the Bernabeu could begin.

This vast stadium was 95 percent empty so the brutal chanting seemed extraordinarily loud and echoed around the walls. Marcelo simply stopped, hands on hips, and looked up in utter bemusement. His body language wasn't challenging and wasn't angry, just seeming to say, "What the hell motivates you to behave so incredibly moronically?"

He seemed deep in that thought as the other players jogged off, and he joined them after a few lost seconds. As he ran to the other goalmouth, the song changed. "Marcelo is a monkey" -- the crowd put words to the previous oafish noises.

As the players ran back to the Atletico end, it was monkey sounds again, and then, to the fans' glee, they saw a little kid running out on the pitch to jump into Marcelo's arms. Supposing this was his son -- it was indeed Enzo -- they sang, "We hope your dad dies," while admittedly neither boy nor man appeared much affected by the horrific abuse.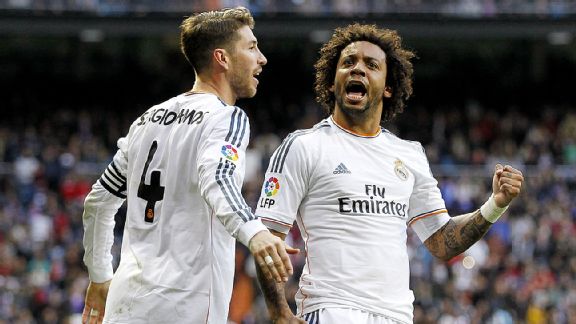 Angel Martinez/Getty ImagesCredit to Marcelo for not letting the vile abuse impact him, but the racist chants should have incited rage and action in all of us.

Bang in the middle of writing my postmatch column for ESPN FC, there wasn't time to stop and think of which news outlet to phone or how to broadcast the news, so I took to the modern idiom: Twitter. Within a few minutes of posting my anger and disgust, Sky Sports News had phoned me up and put me on air, and the story was suddenly out.

What followed was interesting. The majority of Spanish media I saw first thing the next morning seemed to either believe, or hint, that Sky Sports News reporting racism was the story.

The act of saying it happened was more newsworthy in Spanish media than what actually happened.

The previous night, informed of what happened, colleagues Sid Lowe and Pete Jenson had added to the reporting via Al Primer Toque radio station (first item on the show, and on their podcast), The Guardian and the Daily Mail online. I was glad of that added reporting for a subject that needs to be exposed, repeatedly, until change is seeded.

Overall in Spain, there was a slight sense of "this might not have happened" or "perhaps this is just another foreigner who overreacts" -- certainly the Spanish news machine didn't spring into action. By the next day, AS newspaper had put up an online video referring to "yet another lamentable incident of racism in our game" -- the right tone, the right response at last.

However, things didn't really solidify until Marcelo himself used Twitter to thank those of us who had exposed the story and offered him support, promising that (A) he'd never be adversely affected by racism, never give in to it and (B) his son slept soundly and untroubled by the events that night.

- Marcelo: Racism will never affect me

But that was that. No follow-ups, no investigations, nobody pushing for action and reaction from Atletico, from the Spanish Federation, from the players' union. The subject was swept under the carpet. Away draws, managerial merry-go-rounds, ligaments and starting XI's were, again, much more important.

Over and over again, I've been asked about what Spain is lacking in its social and sporting makeup to not only allow this to happen, but to not be active in seeking to root out and defeat racism.

What is clear is that the country I was born in, the U.K., was once as bad, if not worse. But a process of education, direct action, policing and cultural change at least turned things around so that if there is racism today in sport or society, it is reported and acted upon, and it is perpetrated by only the minority. Things are, if not perfect, a little healthier.

Truthfully, I think the only answer is long term. Schools, television, radio, churches, universities and media all need to engage in an active campaign of education that, I accept, might take a generation to achieve positive change.

But it's never too early to start. In the meantime, I'm convinced that long-term education and cultural change aside, this subject needs to be highlighted, scrutinized and made unacceptable.

I believe that players hold the first answer. Whether a team walking off a pitch in support of abused teammates is achievable or desirable I think is open to debate.

The Racing Santander players took action that was coordinated and at just the right moment. Behind them was a movement of three years that was heading towards culmination, and they, bravely, decided to lance the boil.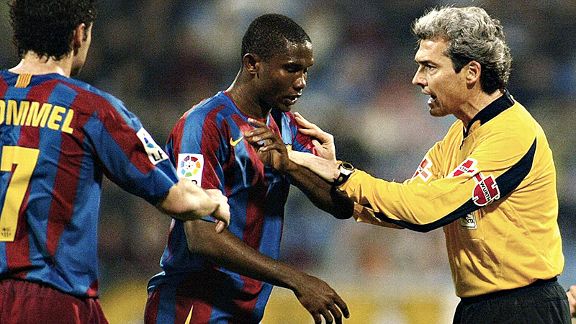 Cesar Rangel/AFP/Getty ImagesSamuel Eto'o stormed off in 2006 when racially abused by Real Zaragoza fans. Perhaps more such actions will finally force the authorities to confront the issue.

However, I recall the fuss caused around the world when Samuel Eto'o, victim of equally vile racist abuse when Barcelona were playing at Real Zaragoza, stormed off the pitch and continued playing only when persuaded by his teammates.

There is a case to be argued that when black players in Spain unify, coordinate and come to a conclusion about what they believe are the correct, positive, supportable actions, then a major step forward will have been taken. I just don't understand why this isn't taking place right now. Club colours shouldn't divide; it's time for those whose skin colour causes them to be criminally abused to find a medium via which they can discuss, agree and then put into action the adequate remedies.

Would perpetually walking off render racists more likely to abuse or less? It's a moot point. Would the act of walking off or refusing to play in a certain stadium be beneficial due to the worldwide attention and a subsequent call to action from the Spanish Football League and Spanish Football Federation? Perhaps.

But, typical for a journalist I suppose, I think the other key action is communication. Fair enough that Marcelo chose to respond via Twitter. It's the medium I chose to report the news quickly. However, I strongly believe that it is time for all footballers, not just the black footballers, in Spain to make an active point of coming to the mixed zone after any match during which a teammate or opposition player has been racially abused and condemning it.

The power that today's star footballers hold over the opinions of young fans is extraordinary. Those "heroes" can help lance today's problem and begin to sow the seeds of change for the future, with kids growing up knowing that their heroes actively oppose racism.

I want to hear Andres Iniesta and Xavi pointing out that they do not find it acceptable to hear Camp Nou fans or Zaragoza fans engaging in such behaviour. I want to hear Sergio Ramos and Iker Casillas doing the same if or when they hear Los Blancos fans doing it to a opponent, just as I want to hear them speaking out in support of Marcelo or Pepe when they are targeted by opposition supporters.

Ditto for every team that covets and is given major media coverage in Andalusia, in the Basque Country, in Valencia ... everywhere.

When presidents campaign for re-election, they must add "No to Racism" to their manifesto. This includes those players who themselves are abused. It's time for them to have a voice -- hopefully a coordinated one.

There is power in taking charge of your situation, as the strong men of Santander showed. There is power in saying, "Not acceptable." Power in saying, "We demand respect." I've spoken to black players in Spain who, quietly, felt it was just the price to pay for living and playing in a superb country and superb league. I don't think that's an acceptable stance anymore.

Unity, proactive action, a firm voice, education, spotlighting the racists, spotlighting the clubs and associations that do too little or nothing at all. That is the first step.

But it cannot be the media alone. Players, managers, administrators, presidents, fans -- we all have a choice, we all have a voice.

Please spread the word, please actively pressure La Liga's players (and not just the media) that it's time to begin the counter action to these hideous, oafish, racist morons.
--
Martino caps Cappa about Messi: It's getting easier to like Gerardo "Tata" Martino with each passing week. Barcelona's Argentine coach has brought common sense, good humour, tolerance and patience to a tough job this season, and his recent thoughts on Leo Messi add to that overall appraisal.

His countryman Angel Cappa -- in his day assistant coach at FC Barcelona and occupant of the same role at Real Madrid under Cesar Luis Menotti and Jorge Valdano, respectively -- recently offered up his opinion that the greatest player of modern times had lost his "passion" and his "mad hunger" for football.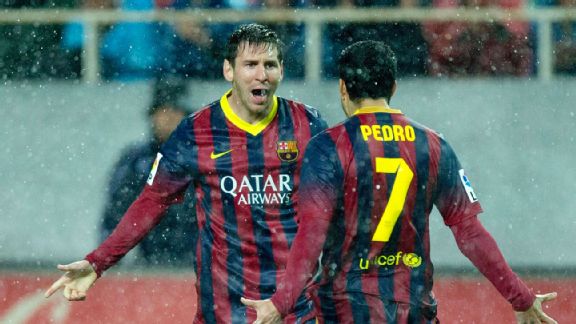 Gonzalo Arroyo Moreno/Getty ImagesAgainst Sevilla, Lionel Messi showed that his passion for the beautiful game is as strong as ever.

It was then and remains now just the oddest thing I've heard in years. You might argue, as the majority of those eligible to vote in the Ballon d'Or did, that Cristiano Ronaldo had a better 2013; you might point out that Messi has had a bumpy time recently with injuries.

Equally, should you choose, you might opine that Messi is being played, or permitted to play, too deep in a No. 10 role rather than the "False Nine" that turned him from a good footballer into a great one under Pep Guardiola.

You wouldn't automatically be tried as a heretic, either, for speculating that Messi's mind might drift towards how best to portion out his energy between the remainder of Barcelona's trophy quest this season and Argentina's "Holy Grail" of winning the World Cup in the Maracana stadium in July. Fine.

It's also true that Messi must wish that there wasn't constant speculation about his coach's tenure at the Camp Nou, about the departed club president, about Neymar's price or his value at Barça -- these things can burn you out.

But anyone who suggests for a second that Messi has somehow broken his umbilical relationship with the ball, his symbiotic requirement to be central to any football match he plays in, is either short-sighted, utterly ill-informed or being malicious.

Regardless of whatever drove Cappa to propose this nonsense, I liked Martino's dry remark that "it would be nice if people would just leave Messi alone for a couple of days." No drama, no polemic -- just an acidic reminder that if people have nothing better to say than what Cappa came out with, it's better to say nothing at all.

Immediately afterwards Messi ran the game at Sevilla, scored two lovely goals and romped through the driving rain, skipping across puddles in doing so. He won three points, which Barcelona desperately needed, but he also showed his absolute, unquenchable love for the ball and all the things he can do with it.

Even if he spoke in jest, the fact that Cappa subsequently concluded, "It was as if my remarks stimulated him and he wanted to retort to me," just shows that (A) he knew damn-all about the subject in the first place and (B) Martino was right on the money when, in so many words, he hinted that Cappa should cap his stream of nonsense.

Hail Super Jupp: When Mundo Deportivo newspaper in Barcelona celebrated its annual gala recently, Jupp Heynckes spoke very movingly about Tito Vilanova and why the Catalan, not him, should be regarded as "Coach of the Year, 2013."

Few knew that the newspaper had sounded Heynckes out about accepting the award himself, and the 67-year-old German absolutely, steadfastly insisted that Vilanova deserved the award. More, Heynckes offered to attend and present the prestigious award to the former Barcelona first-team coach -- something that wasn't possible simply because Vilanova is still guarding his health and fighting resiliently in his cancer treatment.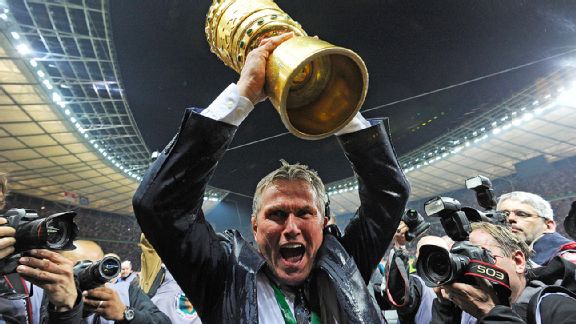 Johannes Eiselle/AFP/Getty ImagesHaving won everything there is to win with Bayern, credit to Jupp Heynckes for supporting Tito Vilanova over collecting another award.

So Heynckes, slayer of Barcelona in the Champions League last season and winner of the fabled trophy treble, turned up and handed the trophy to Barça director of football Andoni Zubizarreta in his stead. Over and over he insisted that Vilanova was the rightful winner -- not simply for his elegant and brave fight for good health, but because of the brand of football Barcelona played in winning La Liga.

Whether you agree with him or not, it's worth noting that Heynckes showed immense generosity, style and humanity in his words. What a lovely footnote by the German to the most glorious sign-off from full-time coaching any club manager has ever produced.