Luka Modric's value at Real Madrid finally appreciated
Some called it the Battle of the Bernabeu; others appealed for somebody to please think of the children.

At times during Wednesday night's Copa del Rey semi-final first leg between Real Madrid and Atletico Madrid, there was something cartoonish about the violence. The game's lasting image might just be that screenshot of Pepe's snot heading out of his nose and towards Diego Costa's face, while two of Real Madrid's three goals came via fortunate deflections. Studs were shown and bodies thrown. When Alec Baldwin turned up on the club's TV channel afterwards, he was just another actor at the Bernabéu.

But it wasn't all bad, and not just because the atmosphere and intensity made this compelling viewing.

Somewhere in the middle of the diving and the pushing and the kicking and the gouging, Luka Modric played football.

While all around him people lost their heads, he kept his. He also kept the ball. No one on the pitch completed more passes than he did and when he was finally withdrawn with ten minutes to go, the Santiago Bernabeu chanted his name. It is not a stadium especially given to chanting players' names, but this was not the first time.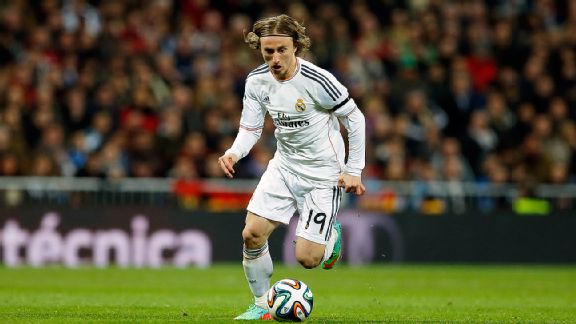 AP Photo/Paul White)Luka Modric is finally living up to his massive transfer from Tottenham at Real Madrid under Carlo Ancelotti.
The cliche says that in games like this -- nasty, brutish and short -- talented players hide and little guys go missing. Some cliches are true; this one is not. Wednesday night was another demonstration. Down under the main stand, a silver crucifix hanging from his neck, Modric described this as the "perfect game." Far from passing him by, the game passed by him. Every time he got hit, and he got hit often, he got on. When he evaded challenges, it was not fear but efficiency. Every time a team-mate had it, he wanted it; every time he had it, he gave it. Every time he seemed to be cornered, he found a way out.

Modric has become central to Real Madrid's ambitions, and "central" is the word; only Pepe, Ronaldo, Ramos and Benzema have played more minutes, his involvement within games is constant, always close to the ball, often in contact with it, and there's a confidence about him now that is contagious. His team-mates seek him out, the trust in him has grown and there's a kind of swagger in his play, carrying the ball forward, linking midfield and attack.

"Modric's ability resides in that fantastic capacity he has to advance with the ball," Carlo Ancelotti says.

Meanwhile, only six players in the league have completed more passes than him, a list perhaps surprisingly led by Rayo Vallecano's Roberto Trashorras, and he has five assists in the league.

But it is more than that. If no Madrid player has a better pass completion ratio, it is also true that no midfielder has won back possession more than him. He has committed only a handful of fouls fewer than Sergio Ramos. So much for that being the role of the big, powerful athlete, dedicated only to destruction. On Wednesday night, Real Madrid's success was built on intensity and then intelligence; Modric was at the heart of that. Compete first, create from there. He even cleared Diego Godin's header off the line at 2-0, an intervention that could prove decisive in Real Madrid reaching the final.

Luka Modric was signed at the very end of the transfer window in 2012. He cost over thirty million euros and the move cost him: he later said that not having a full pre-season with Madrid had made his adaptation harder. "The first year at a new club and a new type of football is not so easy for any player," Ancelotti says.

In February of last year, Modric admitted that he was not completely satisfied with his performances since joining. Two months before, a poll on Marca's website -- a readers' poll, note, not the newspaper itself -- named him the worst signing of 2012, the "fiasco," with 32.2 percent of the vote. Some critics too considered him a failure. Some thought he was, bluntly, just not that good.

In part, it was tempting to see that judgment as having its roots in a basic misunderstanding -- one that began with a failure to grasp what Modric really was. Many in Spain, possibly even most, saw him as a media-punta, the creative midfielder playing just behind the striker(s), even though he played deeper at Spurs. When it was put to them that Modric was a player who should play further back, as involved at the start of moves as at the end, the idea was usually rejected. Most doubted that he had the ability to control the game. It might not have helped either that he was not Spanish.

Even that superb performance at Old Trafford did not entirely change things. Modric started seventeen of the last nineteen league games last season (compared to eight of the nineteen before then), Jose Mourinho increasingly impressed by him, but doubts remained; his position shifted occasionally there appeared to be a reluctance in much of the media to appreciate his contribution. Some held to the idea that he could not be a central midfielder.

In the summer Asier Illaramendi and Isco were signed, a new generation. Two players who could and probably occupy his position(s) but Ancelotti announced: "Modric will not be sold." Few would have rebelled had he been, including many at boardroom level.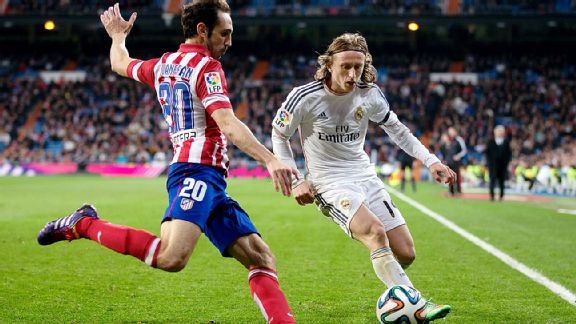 Gonzalo Arroyo Moreno/Getty ImagesDespite his lack of athleticism, Luka Modric has proven himself to be solid at defense along with his playmaking ability.
Last season Modric tended to be either one of two central midfielders at the base of a triangle or the more creative midfielder at the front of one. Now, that triangle is the other way round and a little further back, with Alonso slightly deeper, Modric slightly to the right and Di Maria slightly to the left (with a tendency to drift wider than Modric). Modric's position, his role, is what gets called a volante: similar to that of Xavi Hernandez at Barcelona. Modric, though, is more mobile. To use the Spanish term, he is more vertical.

Real Madrid's formation has evolved and shifted until it fit Modric perfectly, not least because his performances have warranted that. Now the formation appears stable. Once Xabi Alonso had returned from injury early in the season, the midfield three was, from right to left: Khedira-Alonso-Modric. Sami Khedira's injury brought a shift to 4-2-3-1 that meant that Modric's natural position did not really exist. Now it is back to 4-3-3 again, but there is a different, more controlled, more creative feel to it now.

As Madrid's assistant coach Paul Clement explained: "When Alonso came back fit we played with Alonso, Khedira and Modric and we think we found a nice blend of experience and qualities for those different positions. But Khedira got injured. What were we going to do? We had a real long discussion Carlo, Zidane and myself about it. Is the best thing now to slot a player into that position because the team have found some nice continuity now in that shape? Or do we change the formation again based on the players available? And we decided to change the formation to go with two central midfielders and to play Isco behind the striker."

The shift, in short, was away from Modric and towards Isco? "Possibly," Clement replied, "but Luka is such a good player I think he could play in that Isco position too. I think he can play next to Alonso or next to Illaramendi in a two or he can play on the side of a three. I don't think his position is the pivot [the sole deep-lying midfielder] because he has got a lot of attacking creative quality."

Then Clement added: "So far it is working quite well but who is to say we wont change back again?"

That was in December and Madrid have indeed shifted back again. Back towards Modric back towards a system which Ancelotti believes suits Modric perfectly because it allows him to move forward with the ball but also come back to receive and play, drawing closer or further away from Xabi Alonso as position, pace and the game dictates. Against Atlético Madrid, neither Illaramendi nor Isco played. Modric did and it was a familiar line-up.

All season, Ancelotti has talked about the importance of balance. With Luka Modric, he has found it. This system benefits Modric. And that benefits Real Madrid.