The La Roja case for Raul Garcia, San Iker and Barca's defence
If you take a glance at the superfluity of world class midfielders upon whom Spain can already call, then it's barely credible that one more candidate to make the plane to Brazil with the world champions has emerged.

But that's what has happened at Atletico Madrid and, what's more, he has a chance to reinforce his credentials against a handful of World Cup winners in the two Madrid 'derbi' battles which will determine one of Spain's Copa del Rey finalists over the next week.

His name is Raul Garcia, he's 27 and right now it wouldn't be hard to argue that, of all the candidates through which Vicente Del Bosque must perm, the free-scoring, Navarran born No. 8 is having the best season.

Ostensibly his competition is devastatingly fearsome.

The obvious candidates are Xavi, Andres Iniesta, Xabi Alonso, Sergio Busquets, Javi Martinez, Santi Cazorla, David Silva, Juan Mata, Jesus Navas, Cesc Fabregas, Thiago, Koke, Isco, Asier Illarramendi, Ander Herrera and Bruno. Not to mention Borja Valero who's enjoying the time of his life in Florence right now.

We can argue, later, whether you categorize Navas as a winger or a midfielder, Silva as a second striker or midfielder and Cesc as a 'false nine' or a striker, etc. But Del Bosque named nine midfielders for World Cup 2010 and ten for Euro 2012.

Right now, so long as they are fit, I'd say the first ten on the list above are certainties for the plane. Which would either leave one from Thiago, Koke, Isco, Illarramendi, Ander and Raul Garcia filling an unprecedented 11th midfield berth in an outfield squad of nineteen -- or not one of them travelling to Brazil which, in the cases of Koke, Isco and Thiago is hard to conceive.

So what makes Raul Garcia's case?

At this stage of the season he has fulfilled three different roles -- highly important substitute, regular first choice midfielder...and striker.

A trajectory which shows his evolving importance to coach Diego Simeone.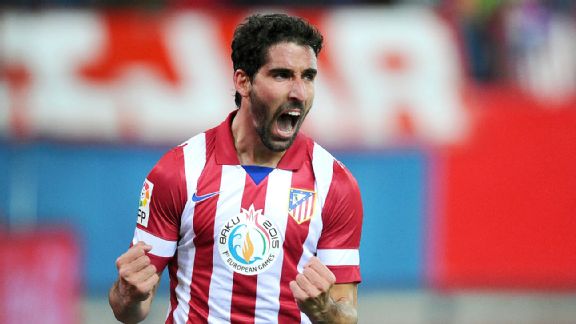 Denis Doyle/Getty ImagesRaul Garcia has had a career year for La Liga leaders Atletico Madrid.
He's never scored at a higher rate in his life. His Champions League stats alone stand out -- six games, Group winner with Atleti, three goals and two assists. Overall he has thirteen goals, six in La Liga four in the Copa and those three in Europe. Those have come in 1,554 minutes meaning a goal every 119 minutes. Right now he'll be Spain's most prolific midfielder (taking into account he's played up front much less than Cesc has).

Even given all that you'd say that his task is enormous -- how to outshine some of the other runners and riders is no small question. He'd also need to win Del Bosque's trust -- the Spain coach is not someone prone to whims and flights of fancy.

But Garcia is emblematic of what is happening at Atletico under their Argentinian coach.

He always had that super-valuable knack of when to arrive at the edge of the box -- but now he's burying more of his chances.

He always had an aerial ability which is greater than his 6' foot height says it should be -- now he's much more regularly culminating set plays with a goal or an assist.

Never particularly rapid, that tendency for all Simeone's players to 'give' a little extra every day in training has sharpened up both his anticipation and those first few yards in a sprint either for the ball or away from an opponent once possession is won.

There are other minor positives too. Many international coaches know the benefit of grabbing hold of a 'golden' time at a particular club. Team-mates who know each other and like playing together. Guys who are "in the zone" both playing and training-wise. Players between whom there is a "connection."

All of which puts David Villa, Koke, Diego Costa, Garcia and Juanfran in with just that slight extra chance of being selected to defend Spain's World Cup.

Then, of course, there is the ultimate litmus test.

If Garcia can play his part in elevating Atleti (top alone in Spain's La Liga for the first time in eighteen years) beyond Real Madrid in the Copa and AC Milan in the Champions League then perhaps Del Bosque won't be able to ignore him.

The Goalkeepers

On which subject we are approaching, four of the most important matches of Iker Casillas' recent career spread over the next five midweeks. All being well, he'll play Atletico Madrid twice, Schalke away in the Champions League and then there's the small matter of whether he keeps his place as Spain's No. 1 goalkeeper when there is a re-run of the Euro 2012 final, Spain vs. Italy, at the Vicente Calderon stadium in Madrid.

Casillas has borne his exclusion from the top spot at his club with precisely the kind of dignity and competitive spirit you'd have imagined.

Dropped unnecessarily and unfairly by Jose Mourinho, there has nonetheless been a firm vein of common sense in Carlo Ancelotti's decision (strongly guided by his goalkeeping coach Villiam Vecchi) that because Diego Lopez completed far more of preseason training and played terrifically in the latter months of La Liga 2012/13 he should command the first choice slot.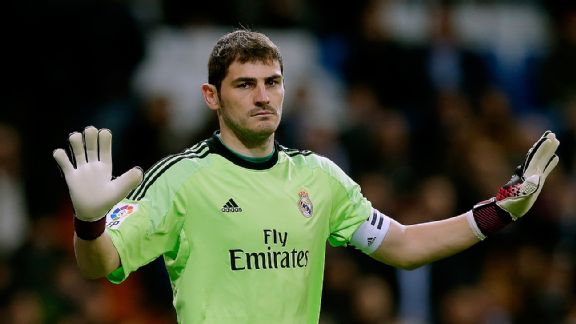 Helios de la Rubia/Real Madrid/Getty ImagesIker Casillas will be tested in some of the biggest matches of his career, featuring for Real Madrid in the Copa Del Rey and Champions League fixtures.
Yet the fact remains that the Real Madrid captain returns to the starting XI at the Bernabeu on Wednesday night having set his club's all-time record for the consecutive minutes without conceding a goal. Moreover, in the short period during which Atletico has been in the ascendancy in this divided city, it happens that Diego Lopez has been in goal for Madrid's last two consecutive 'derbi' defeats. Not that he's really had any culpability for the three goals which brought Simeone's team the Cup final and victory last time out at the Bernabeu in the league.

It's as if Casillas is the last thorn in Atletico's side.

Between 1999 and 2013, they found it impossible to defeat los Blancos and now that they have done so they immediately face a new 'barrier' in that Casillas returns to mind the nets in the Copa semi-finals.

In fact, Casillas has never even once lost competitively to Los Colchoneros in a match when he's conceded a goal.

The last Atletico 'derbi' win prior to the Copa final nearly nine months ago was that Bernabeu win in 1999. Casillas started on the bench, Albano Bizzarri conceded all the goals in a 1-3 defeat before being sent off. Casillas took over the gloves, but didn't concede again.

'San' Iker then went 24 straight matches against the red and whites without defeat, 22 of them in La Liga.

How he performs now is far more important to him than he would ever admit publicly. He's a team man, he'll play for the team, play for the fans who want revenge for that Copa final defeat, play to win the trophy -- particularly if it happens to be Barcelona waiting in the final.

But it's how sharp he continues to look, how much he can influence the result of the semi-final ties which will influence whether Del Bosque picks him for the Italy match.

The fact of whether Iker has another guaranteed game in mid April, the final, is also crucial with a view to how much match practice he can get between now and the couple of friendlies Spain will play prior to their opening World Cup match against Australia.

Thus, also, with a view to whether he remains Del Bosque's 'go-to' goalie.

Clearly there is the Champions League and perhaps San Iker can earn himself another seven games -- all the way to the final in Lisbon.

But all kinds of threats lie in wait there and, this close to a final, he 100 percent requires to make this his declaration of intent viz-a-viz Spain, Del Bosque and the World Cup.

After that there's a good deal of soul-searching and agonizing to do. To stay and win his place back at the risk of another season on the bench? To leave and to turn his back on his home city when his newborn baby is just a year old? When he expected to retire in seven or eight years as perhaps the standout all-time Madrid legend?

Strangely enough his rival in the Atletico goal has similar questions to face -- albeit at the inaugural stage of his career.

Thibaut Courtois is quite exceptional -- not only a superb keeper, tall and intimidating as is the modern way but he's a a winner. His spirit, his defiance, his excellence and his attention to detail has rubbed off on the rest of the squad almost every bit as much as the demanding, hungry ways of the coach Diego Simeone.

Chelsea still own his registration and would be crazy to let him go, at any price. But it's clear from Petr Cech's recent performances that he doesn't envisage himself relinquishing his first team place any time soon.

Does Courtois return and accept bench time until he wrenches a place from Cech?

Does he set the 'Iker' terms -- that he's willing to accept only playing in the Cups and the Champions League?

Does he send Jose Mourinho an ultimatum: 'Make me first choice or I want to leave?'

Two absolutely superb goalkeepers, two different careers, two brain-busting dilemmas.


The Defence

Beyond his tactical selection in the Champions League semi final first leg back in 2011 it's beyond rare to think of Jose Mourinho doing FC Barcelona any favours. Not since he was a young thruster of an assistant coach under Louis Van Gaal in the late nineties at least.

However, given the woeful state of Barça's defending in their 3-2 home defeat to Valencia last Saturday they truly needed Mourinho's Chelsea to puncture Manchester City's sheen of invincibility.

At a bare minimum Xavi, Cesc Fabregas and Gerard Pique will have been watching live on Monday night as Manuel Pellegrini's side lost 1-0 at home and showed the first signs for months that they may have off days, just like normal people.

But heaven help Tata Martino's players if they are lulled into any false sense of complacency.

Valencia have had a pretty awful time of it in recent months: for sale; nearly sold; not sold; soul searching; soul destroying.

Still, under Juan Antonio Pizzi (an ex Barcelona striker) they pitched precisely the right battle plan for a win at the Camp Nou.

Quick, physical, willing to take risks, aggressive in every tackle and every header -- not perhaps as laden with talent as City but with every bit the 'English Premier League' mentality.

The win underlined a couple of things. Over the last few months Victor Valdés has been exceptional (as is the case with his deputy Jose Pinto in the Cup and when Valdés has been injured), but as soon as he had a flaky match Barcelona shipped three goals.

Sergio Busquets, too, has had a terrific season -- but if he misses a tackle, if his level drops one iota then Barcelona's midfield allows the failings of the back four to be magnified.

The Barca back four is not, suddenly, woeful. Far from it. It has been constructed, largely, to attack. To storm up the pitch via full backs who become either wing backs or outright wingers and via Gerard Pique and Carles Puyol each of whom have been scoring recently.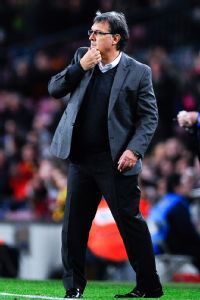 David Ramos/Getty ImagesThe pressure is on for Tata Martino as Barcelona's defensive frailties have led to a substandard January for the club.
The concept was that the pressing, high up the pitch, would be so ferocious that the midfielders would be making easier tackles that the opposition team would be outnumbered -- not that Barcelona's mid three would, as now, suddenly find two or three opponents buzzing around them.

What was designed and developed over the years by people like Rinus Michels, Johan Cruyff, Frank Rijkaard and Pep Guardiola was a system. Not just a good group of players but a system.

Tinker with the system and no matter how good the individual players are, things will start to go awry. Barcelona still press well -- but not all the time and not high up the pitch.

When the perfect storm happens and Barcelona don't mark a man in midfield or miss a tackle then suddenly the decision making within Barca's back four can look suspect. Front foot players don't always make great 'thou shalt not pass' defenders.

Without anyone getting hysterical about the comparison I saw things about Valencia's win which were reminiscent of the brutal way Bayern dismantled Barcelona last season.

Shoulder charges won, 40/60 jumps for headers lost by the player with the advantage, tackles lost and nobody there to try to support the beaten midfielder or full back, greater speed and commitment from the visitors in white.

And with all due respect to the warrior footballer Javier Mascherano is -- smart, articulate, full of football nous: he's no centre half.

Could it possibly be that the biggest favour done this weekend wasn't that of Chelsea to Barcelona in reducing City from invincibles to simply intimidating? Perhaps it was the fairly straightforward game-plan which Valencia showed Real Sociedad -- Wednesday night's Copa Semi final opponents at the Camp Nou.

Beaten at home, off the top of La Liga, home crowds dropping and facing a still-daunting tie at Manchester City -- now the Cup assumes a very, very high degree of importance for Tata Martino and his suddenly listless team.