Racing players stand up for their rights
Racing Santander's players walked out onto the pitch as normal, and took up their usual positions before kick-off for Thursday's Copa del Rey quarterfinal second leg. But after Real Sociedad had put the ball in motion, the team in green and white ignored their opponents and instead immediately gathered in the centre-circle, where they stood arm in arm.

The visiting players passed the ball among themselves for about 40 seconds before it was knocked out of play. When no Racing player moved from the centre-circle to go and take the throw-in, referee Jesus Gil Manzano spoke to the Racing captain Mario Fernandez and told him that they risked conceding a walk-over. Fernandez said he was well aware of what they were doing, and the official blew his whistle to end the game.

Embraces between players of both sides then took place, and the Racing players went to salute the 7,000 fans inside El Sardinero. These were fully behind their team -- with banners proclaiming 'Chorizos [crooks] out of Racing' and the club anthem being sung lustily as the players saluted the stands. Other professionals watching elsewhere -- including Pepe Reina, Alvaro Negredo, Roberto Soldado and Gerard Deulofeu -- tweeted their support and admiration for what they had seen.

It was the emotional culmination of a tense few days in the Cantabrian capital. On Tuesday, Mario, backed by the squad, had read a statement at the club's training ground giving the 'either they go or we don't play' ultimatum. The players said they had not been paid since the autumn, despite president Angel 'Harry' Lavin regularly promising publicly to use funds generated by a cup run -- which has seen top-flight Sevilla and Almeria overcome -- to deal with the situation.

Coaching and other staff at the club backed the players' move -- as did Cantabrian regional president Ignacio Diego and mayor of Santander Inigo De la Serna, as well as fans and ex-players groups. The squad continued to train during the week, and give media interviews publicising their situation, while Lavin said he had no intention of giving in to players who ''should respect their positions'' in the club's hierarchy.

On Thursday morning, Racing's squad trained as normal [or as normally as possible], with the hope still that the board would accept they were no longer wanted and the fixture would be played. At lunchtime in a city-centre hotel, the squad and coaching staff met with the Spanish players union [AFE] chief Luis Rubiales and agreed to stick to their guns. There was speculation that Lavin would bow to the pressure and step down, or that a court could make a special ruling to force him and his fellow directors out.

The minutes before kick-off were surreal -- with everyone waiting to see what would happen and Spanish TV and radio commentators unsure if the game would go ahead or not. But the players -- who had spoken with their Real Sociedad counterparts in the stadium beforehand -- stuck together and the carefully choreographed protest went ahead with maximum impact both in Spain and overseas, especially in areas where the game was supposed to be televised like the UK.

Racing coach Paco Fernandez told a news conference afterward that his side had sacrificed the opportunity to play in one of the biggest games of their lives in order to stand up for what they believed in. Attacker Mariano summed up how his teammates had felt: "We wanted to play, but we do not want our rights to be trampled on." Real Sociedad captain Xabi Prieto said his joy at making the semifinals had been tempered: "Some comrades are going through a really bad time. It is nothing positive."

Thursday's protest was not the first at El Sardinero recently. During last-16 Copa first leg against Almeria earlier in January, Racing's players began the game by standing still as statues for the first 20 seconds without making any effort to chase their opponents, while 'ultras' at that game attempted to invade the directors box to confront Lavin before police intervened. Racing drew that game 1-1, then went on to win the second leg 2-0 at Almeria a week later -- after travelling the 1,000 kilometres across Spain by bus on the day of the game -- but still they were not paid, and finally their patience ended.

Racing, a founder member of La Liga in 1928, were a well-established top-flight outfit -- if heavily indebted -- when supposed Indian millionaire Ali Syed bought the club in January 2011. 'Mister Ali' was invited in by former president Francisco Pernia, amid talk of investing 90 million euros and building a club capable of challenging for trophies. This move was widely welcomed at the time -- including by local politicians and the Spanish media -- but the takeover quickly turned sour.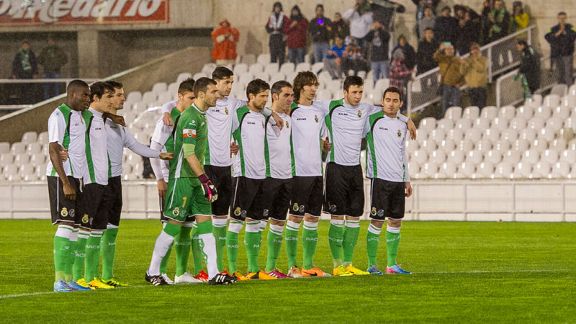 GettyImagesRacing Santander's players stand on the field in protest on Thursday night.
Players had to be sold, not bought, and Racing have since been relegated twice in succession, received a controversial bailout from the Cantabrian regional government, and remain in danger of going out of business completely with debts of over 50 million euros. Meanwhile criminal proceedings have been launched against both Syed and Pernia, who is widely believed to remain in control of the club, with Lavin seen as a stooge who has no background in football but is a long-time friend and associate of Pernia.

The club could now be fined up to 12,000 euros and banned from the Copa del Rey next season. Players could also face sanctions, but seems unlikely as the Spanish FA has already made it known that it is sympathetic given the circumstances. More concerning for everyone in Santander -- and further afield -- is the fate of a club which remains in danger of disappearing completely.

While the players were due back at training on Friday morning to prepare for Sunday's Segunda B game at home to Cultural Deportiva Leonesa, a board/shareholders meeting had been set for lunchtime. Dutch lawyer Onur Aslan, who has taken control of Syed's company WGA Sports Holding, had planned to gain control of the club at this meeting, but Lavin has vowed to keep fighting to remain in control.

So the club's future still remains very much up in the air; it is likely to only be sorted out after more long, drawn-out court battles. Even if a new board does come in over the coming months, huge sums of money will still need to be found to pay the club's huge debts, starting with the many months of back wages owed to players and staff. Once the club does eventually get back on its feet, however, it will be the players who refused to take anymore last night who will long be remembered.