Remembering Real, Barca, Spanish football's humble beginnings
January 29, 2014. Jose Mourinho's lip curled and his brow lowered. His Chelsea team dominated but had not been able to find a way through against West Ham and when Frank Lampard's shot was saved by Adrian in the final minute, their last chance of securing a vital victory deserted them. Mourinho was not happy; West Ham manager Sam Allardyce was. When he was told about the Chelsea coach's dark mood, he burst out laughing.

"I love it!" he said, slapping the desk. "He just can't take it, can he? He can't take the fact that we out-tacticked [sic] him."

Mourinho thought there was something primitive about those tactics. Deeply defensive. Anti-football. West Ham had parked the bus. Or the stage-coach, perhaps. "It's not easy to play football when only one team wants to play," Mourinho complained. "This is not the Premier League, this is not the best league in the world. This is football from the 19th century."

The images came easily: long shorts and moustaches, heavy ankle-high boots, studs nailed onto the soles. Footballs that split your head open should you be stupid enough to head them ... and everyone, but everyone, pouring forward.

Oh.

Primitive? Perhaps. Defensive? Not exactly, although the image of a massed-ranks of footballers throwing themselves before the ball, bodies lying everywhere fits better. The opening line of Jonathan Wilson's book, Inverting the Pyramid, reads like the start of the bible and sums it up brilliantly: "In the beginning there was chaos."

England's influence
Sheffield FC were been founded in October 1857. The club, which defeated Hallam FC 2-0 on Boxing Day that year in what is largely considered the first official match, is still there on the Penistone Road across from Sheffield Wednesday's Hillsborough, a sign proudly declaring it the world's oldest football club. The meeting at the Freemason's Tavern that laid down the rules of the game was still six years away, and football was far from organised. Mostly, teams just chased after the ball and when they got it, they headed straight for the opponent's goal.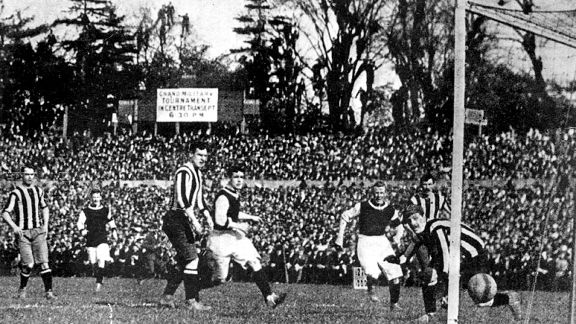 Hulton Archive/Getty ImagesFootball in the sport's early days was disorganized, exciting chaos.

No one out-tacticked anyone. Teams played a 1-2-7 formation insomuch as they played a formation at all, with Scotland lining up in a new 2-2-6 formation in the first international against England. 2-3-5 eventually became normal, but that was much later. It was not until the 1920s that anything that could truly be considered tactics existed, Wilson writes. As for defending, in the 1888-89 season in England there were just two 0-0 draws.

The English were pioneers and considered experts; it was from there that the game spread. Here in Spain, there is still a kind of reverence to the English game, even if it's some joke from which we have never moved on.

The British influence in developing the game is apparent too in the names of clubs like Sporting Gijón and Athletic Club de Bilbao, not to mention the language employed: fútbol, córner and orsay (offside) have resisted, despite the Franco régime later seeking to "nationalise" language.

The first games were played by Britons working in shipping and mining and the first club in Spain, Recreativo de Huelva, was British-founded too in December 1889. There is still a supporters' club there named after Alexander Mackay. Nine years later, Athletic Club de Bilbao was founded. Their kits have been taken from Blackburn first and Southampton later.

Such influences also spread to Spain's biggest clubs. When Madrid and Barcelona first faced each other in 1902 at the hippodrome that used to be around five minutes south of where the Santiago Bernabéu now stands, an Englishman called Arthur Johnson was among the goalscorers. According to an account left by Julián Palacios, the man often presented as Madrid's first president, Johnson was "the only one who really knew what he was doing... he took the game very seriously. He got married here in Madrid on a Saturday and turned up to play a match on the following morning."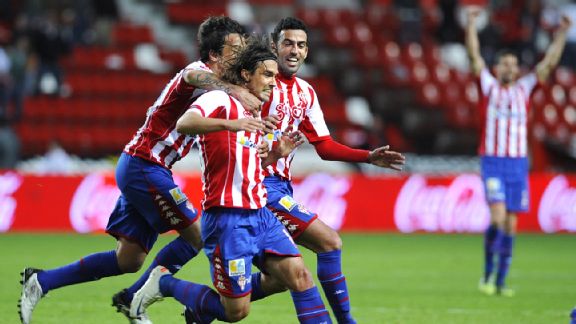 Rafa Rivas/AFP/Getty ImagesYou can still see the British influence in clubs like Sporting Gijon, teams that retain their original 'English' names.

He didn't just play, either. Two months earlier Johnson had published instructions for footballers in Heraldo del Sport.

"Given the authority that Mr Johnson has in football," Heraldo concluded, "his advice should be taken very much in mind, borne as it is from the experience he has gathered in his battles with the best English teams." There is also a first hint of tactics, or at least positions, and passing. (Yes, Spain's passing game started with an Englishman.) More important though was his desire to avoid wasting time. Reading it now over a century later, you can almost feel the exasperation:

First. A game should not start until both teams have named a leader so that he can order and distribute his teams in the way he considers most convenient. This measure would also have the advantage of avoiding excessive chat and arguments that sadly exist at the moment.

Second. Players should always stay in the same position and not swap from one position to another, the main advantage of this measure being that each player will know his team-mate's game and will learn to help them in the case of need or danger. The system employed right now in which every player constantly changes his position is not football.

Third. Players should be swifter and more alert when it comes to retuning the ball to the field of play when it goes beyond the touchline. If this is done, an hour and a half would be enough time to play a match, instead of the two or three hours that are currently used and which are mostly spent chatting and smoking, etc.

Fourth. More attention should be paid to "combination" (the return of the ball from one player to another) because right now it is conspicuous by its absence.

That was in 1902. When it comes to the two Spanish teams that most shaped Mourinho, the two teams that dominate football across the country and arguably the biggest two on the planet, nineteenth century football virtually doesn't exist.

Big clubs from humble beginnings
For Barcelona, life started at a gymnasium off the Ramblas by a Swiss businessman called Hans Kamper, who later adopted the Catalan "Joan." For Madrid, life started surrounded by fabrics and threads, rolls of cashmere, cotton and lace in the back room of a fashionable textiles shop called Al Capricho on calle Alcalá.

The Solé gym in Barcelona was on carrer Montjuic del Carme, barely a few hundred yards from the Canaletes fountain, the point to which Barça fans still rush to celebrate titles. The textiles shop in Madrid stood just downhill from the Puerta del Sol, the capital city's central square, barely five hundred yards from the statue of the goddess Cibeles where los merengues celebrate theirs. These days it is a bank. The bank, in fact, that sponsors the Spanish league.

Al Capricho was run by two brothers, Juan and Carlos Padrós. Javier Igual sits in a bar near Alonso Cano metro in Madrid, its walls covered with bullfighting memorabilia. Javier is the great nephew of Carlos Padrós. He recalls his mother telling stories of her grandfather. She remembers him being "severe," "frightening" and patrician.

Family dinners were formal occasions where they barely spoke. Carlos was tall and wore an impeccable suit and a beard you could hide a badger in. Juan too wore a beard, but he was slighter, more balding. They were also from Catalonia, a "revelation" that was gleefully splashed across the front page of the Barcelona-based sports newspaper El Mundo Deportivo -- ninety-three years later.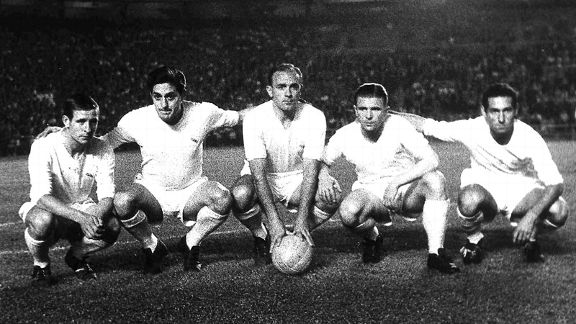 Staff/AFP/Getty ImagesReal Madrid enjoyed inauspicious beginnings against Barcelona. It wouldn't be until the 1950s that the club established itself as a footballing power.

On Sunday December 27, 1992, the paper gave its first six pages over to Real Madrid -- something it only other does when there's bad news from the capital -- colouring the cover blue. The headline read "A Catalan founded Madrid." The story was described by the paper as the revelation of the year, a scandal that would embarrass Madrid.

Madrid had normally presented their first president as Julian Palacios, even though the official documentation showed it to be Juan Padrós. When the then Madrid president Ramon Mendoza did hold an event in Padrós' honour, the paper noted that he "avoided any mention of his Catalan origin, purely because he had no idea." It is striking that no one thought to mention it. Padrós is a clearly Catalan surname; it was not exactly difficult to guess where the founding brothers might have been from.

El Mundo Deportivo alleged that Madrid had failed to recognise their founders precisely because they were Catalan.

"I must admit, my brother and I had wondered that once or twice," says Javier. "But I don't think that was the reason." More likely is the fact that the brothers, who became involved in the founding of the Federation too, left under a cloud and ended up living solitary, isolated lives. And to judge by the club's official history, written in 1952 and from which virtually all the subsequent accounts came, there was a more simple explanation.

The history notes: "In toughest moments Madrid has been more Spanish and more Madrileño than ever... in glorious moments, it has offered up its triumphs to Spain."

But that is not the really telling line, or at least not the only one. Just as significant is a recurring obsession: time. By looking beyond the Padrós brothers to those who formed part of the forerunners to Real Madrid, founding the club in sporting terms if not legal ones, Madrid claimed for itself an earlier history, a tradition that goes back further and one that that predates Barcelona. If so, that idea was not pursue with great zealousness. Barcelona were formally founded in 1899, Madrid in 1902, and those dates are officially recognised, entirely unquestioned.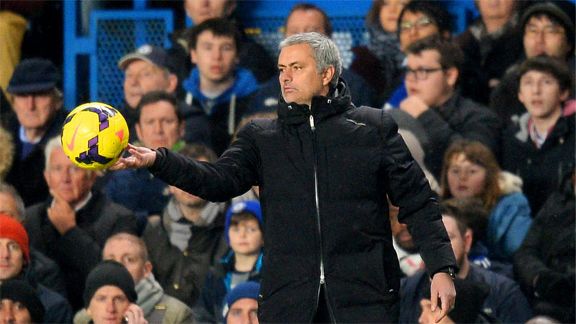 Mike Hewitt/Getty ImagesJose Mourinho's '19th century' remarks were witty, but wide of the mark.

When Madrid lost the first meeting between the sides, Barcelona beating them 3-1, the local media said the whites could be satisfied. After all, they were relative newcomers. "Madrid defended themselves well against Barcelona's players who, it was clear from the first moment, had a considerable advantage in physical faculty and experience of the game," reported El Imparcial.

"It was the most competitive of games," noted Heraldo, "and the public enthusiastically applauded the notable labour of the players, especially the Madrid players who performed in a way that no one could have expected given that they have been playing for so little time and the young age of the majority of them."

That game in 1902 was arranged to celebration the coronation of the king, the first Copa del Rey. The Spanish league did not begin until 1929. It was won by Barcelona while Madrid won it in 1932 and 1933. There was only one 0-0 draw in that first season.

FC Barcelona began with a sixty-three word classified advert in the newspaper Los Deportes inviting those who wanted to arrange games to turn up at the papers' offices. Twelve people showed up. Madrid began with informal games in the Retiro park that were fortunate to attract six or seven a side. "We wasted a lot of time smoking and drinking," one participant recalled. By the time they met at the hippodrome, interest was growing though. Around two thousand people attended, sitting on chairs rented from a trader in the Rastro market.

Not that everyone was impressed. Not because it was defensive, not because it was primitive and not because only one team tried to play. No, this was far worse. One report dismissed football as immoral, describing it as a game played by "shameless youths daring to run through the streets in their underwear and probably mentally diseased."