Rosell out, Bartomeu in: Barcelona's new era begins
At face value, it has been an inglorious few days for Football Club Barcelona.

The sound of the revolving door in the president's office. The need to publicly open up the entire transfer transaction which brought Neymar to the Camp Nou from Santos. And the rumblings from socios (club members) as well as legal authorities in Spain and several interested parties in Brazil that this isn't over yet.

None of these developments could be called optimal while Spain's reigning champions prepare to reach the Copa semifinal, defend their league title in a breathless push toward the winner's line between three pretty evenly matched runners and, most importantly, attempt to atone for the hideous embarrassment of last season's Champions League campaign when they travel to Manchester City in a couple of weeks.

Thus, while on-field challenges are tangible, the situation off the field is somewhat murkier.

Rosell departs ... again

This is the second time Sandro Rosell has made a unilateral decision to walk away from high office at the Camp Nou.

From 2004-05 onward, I have been a Rosell skeptic. Not an outright opponent but a disbeliever. Any football man who professes to have Barca at heart, who also detests Johan Cruyff's influence on the club and wishes to drive a wedge between the Dutchman and developments at the Camp Nou, is utterly deluded, in my book.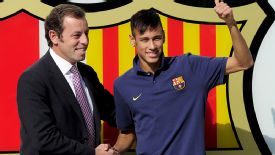 GettyImagesRosell and Neymar pose after the Brazilian signed a five-year deal with Barcelona in 2013.
This latest episode has been, I believe, reasonably well foretold in numerous columns I've written, arguing that Rosell's great challenge was to avoid making Neymar a "vanity signing."

It has always appeared to me that Rosell keenly felt the need to repeat his excellent "I hold the key to this" work in securing Ronaldinho's services in 2003.

The Brazilian was utterly catalytic at the Camp Nou; many from the Joan Laporta-Rosell administration subsequently called him their "rock-and-roll" signing.

At a time when Barcelona had been rudderless and steering toward the rocks, at a time when the incoming administration needed a "sleight of hand" operation to pretend that they might secure David Beckham when in fact Real Madrid had long since sewn him up, Ronaldinho's capture was Barcelona's splitting of the atom.

He revitalised their fans, their football, their results, their world profile and their sponsorship potential. Indeed, there was also a time, from 2004 to 2006, when it appeared we might be talking about one of the all-time great players, and not just at Barcelona.

However, for various reasons that dream was truncated. Ronaldinho, having mentored Lionel Messi, lost his discipline, his physique and his place at the Camp Nou.

Football is cruel. We are cruel. Very, very few of us now recall with any frequency the utterly sensational time when Ronaldinho was king of Europe. Messi's subsequent genius and his role, under Laporta's presidency, in what many would argue was the greatest football of modern times -- perhaps of all time -- has somewhat eclipsed what went before.

Rosell, it was always clear, wanted to re-establish himself as top dog, presidency-wise. Bringing Neymar to the club was an "I'll show Laporta who's best" sentiment.

The player himself is of extreme talent, has evidenced first-class professionalism since moving to Spain and, in the natural course of things, can become among the top two or three footballers in the world.

But I have always argued that Rosell's overweening drive to sign Neymar held threats: to harmony with Messi, to a diminution of pressing in Barcelona's attack and now, it has emerged, to the president's own tenure.

I think those outside Spain must find it utterly bemusing that the pain of Barca losing out on Alfredo Di Stefano to Real Madrid all those years ago (an absorbing soap opera of a story best documented in "Fear And Loathing In La Liga" by Sid Lowe) still influences their actions.

The horror of the memory of Di Stefano joining Barca but then leaving, instantly, to join an ailing Real Madrid -- and thus make them Europe's strongest club for the next 10 years -- is seared on the souls of many Catalans, so the idea of being pipped by Madrid for Neymar was as attractive as pepper spray to a protester.

What that produced was a precipitated rush to get the deal done, ahead of the stated idea that Neymar would leave Brazil only after the World Cup, and in the rush many questionable decisions have allegedly been made:

- The decision to pay Neymar's father's company N&N nearly 50 million euros in total in order to secure the player's signature.
- The decision to apply strict confidentiality to the financial strategy and its components, irrespective of the fact that a central part of Rosell's 2010 campaign was "transparency in front of the club's socios."
- The decision to leave it to Santos whether the actual transfer fee paid (17 million euros) was split properly with the two other entities who owned a part of the player's registration.
- The decision to ignore the legitimate demands of one particular socio -- Jordi Cases -- for openness: There was a point at which all of this could have been lanced and Rosell and Barca could have been made to look like a "listening, flexible" duo.

Those decisions have cost Rosell his presidency.

- Corrigan: The making and breaking of Rosell
- Legal action over Neymar leaks?
- Barcelona detail Neymar deal

While his reputation has been sullied by consistent media stories all summer regarding fees that he is alleged to have been paid in relation to the Brazilian Football Confederation (CBF), these allegations have not been proved, and Rosell has not chosen to take legal action against them.

Thus, in plain terms, he leaves claiming total innocence, simply because one Barcelona socio was infuriated by a lack of transparency in the Neymar deal and insisted in pursuing every legal means to enforce public scrutiny of the operation.

Football democracy "works" in a member-owned club.

To most people who are tired of football's propensity for double-speak, inflated fees and totally unnecessary hyper-secrecy, this will seem not only fair but also a cause for street parties, ice cream, jelly and ticker tape.

It is important to note that Rosell believes his family and home have been directly menaced, and these have been fundamental factors in his decision.

If this is true, and I have no reason to doubt it, then those who perpetrated these acts are scum.

No matter what divergence of opinion there was over Rosell's stewardship of the club, he deserves protection against anyone who is low enough to take these criminal actions.

Nevertheless, he departs the Camp Nou looking either like a man who anticipates that questions remain that he may wish to answer while not holding office at FC Barcelona, or like a man who once again can't handle the heat and should have stayed out of the kitchen in the first place.

Rosell in review

How will his presidency be remembered? The age-old debate arises here: trophies or trajectory? It's an undeniable fact that the excelsior match of Barcelona's entire history in UEFA competition took place under his mandate: against Manchester United at Wembley in the 2011 Champions League final.

Football so pure, so convincing and so uplifting is played rarely, and almost never in a showpiece final at the end of a season when legs and minds are tired and pressure can choke a player.

For me, though, Rosell had next to nothing to do with that triumph. He had won the presidential election with a huge mandate the previous summer and he patently feels strong love for the club, and thus I'm perfectly happy that he was able to bask in that golden Wembley glow.

But that team, that performance, that philosophy and that manager owed little, if anything to him.

The other eight trophies which will stand on his record in three and a half years of leadership must lead to a conclusion that Rosell and his board provided, at least, some of the right conditions in which the team could perform. How many presidents of any club can point to an average of three trophies per season?

On the Cruyff issue, I've made my point. Having said that, for Rosell to make it his very first business on winning the election to badmouth Cruyff's appointment as the club's first honorary president was a petty act.

Indubitably, Rosell has attempted to be true to the Barcelona credo by approving the budget for the club's coaches in the "futbol base" youth system to become full time. Equally, he has advanced the cause of the Oriol Tort-La Masia residency at the club's Joan Gamper training ground.

Rosell's presidency saw through the on-time, on-budget construction and inauguration of this building which is aimed at producing world-class, homebred footballing talents. He merely inherited the project, but firmly shepherded it to completion.

Yet this, too, is contentious. The company that was contracted to sell publicity space on the Oriol Tort building is attempting to sue the club for issues which don't require unraveling here. What it does do is leave another part of the Rosell legacy not untainted.

Then there is the removal of UNICEF as the principal identity promoted on Barcelona's playing kit, plus the introduction of the Qatar Foundation/Qatar Airways in its place: a divisive decision.

The Camp Nou patently needed the sponsorship income to allow the club to expand in certain areas and to address the soaring debt (reduction of which is something this administration has managed very healthily).

UNICEF are still beneficiaries from FC Barcelona and are still publicised (if less prominently), but there are many who think that the strategic move away from a shirt deal that underpinned the motto "Mes que un club" ("More than a club") and toward outright commercialism eradicated something special established by the previous era.

Those who read this will, of course, have their own views. Personally, I believe that the transition could have been handled more strategically, with perhaps a choice of sponsor which better fit with the previous incumbent (UNICEF).

Then there is the Pep Guardiola issue. Whatever else was in his mind, however tired he was, it was evident that there wasn't the best feeling between the club's most successful manager and the president.

The overall lack of "feeling" might have been circumstantial and it might have been based on minor misunderstandings, but whichever way you twist the kaleidoscope, Guardiola's era ended with him on far less good terms than he had been with Rosell's predecessor and with the coach pretty wounded about the way in which Tito Vilanova's succession was announced.

Then there was the way that Eric Abidal was treated, with a very public promise to renew his playing contract as soon as he returned to the first team following cancer treatment. That promise was reneged upon, after which the defender was shown the door.

A new era begins

It doesn't automatically make Josep Maria Bartomeu a fabulous president and the right man to take Barcelona forward until the 2016 elections, but given the unnecessary, ill-planned nonsense which went before, the actions of the last few days have been like the dawning of a bright, new, blue-skied day.

Almost before Rosell had left the building, Bartomeu had arranged a press conference of quite epic proportions during which the Neymar deal was broken down into every tiny piece and laid bare for the world to see.

The very thing which caused Rosell's downfall -- transparency, or a lack thereof -- was somehow instantly available and, moreover, endorsed by Bartomeu.

Granted, the message was that Neymar's father lifted the "secrecy clauses" that allegedly had been the barrier to Rosell's explaining the deal in the first place.

However, if Rosell had wished fervently to stay, could Neymar Snr not have been convinced to agree to this disclosure 48 hours earlier?

Bartomeu's actions were of a man who understands that you can communicate, win friends, earn respect, and treat the fans and the media with respect without the world falling off its axis.

By contrast, Rosell had given the impression that he knew better and we didn't need to know. The media were to be avoided, and as for the socios, well, he didn't answer their call when Cases began to ask questions, the motivation for which was really only for the voice of the voters to be heard.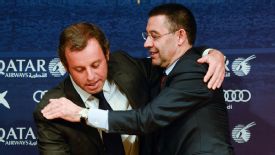 GettyImagesBartomeu hugs Rosell as the outgoing president announces his resignation.
Since taking over, Bartomeu has taken questions on radio and television, has visited a prominent local newspaper and has very openly held out olive branches to Cruyff and Manchester City chief executive Ferran Soriano, with whom Rosell had been at odds.

Moreover, Bartomeu's wise idea was to go to the dressing room at the training ground and immediately address the players. He wanted to show the squad that the ship is steady but also required the same message back from them. The briefing from both sides was that this was precisely what happened.

But Bartomeu also told the players in so many words that he expected the visit to be the first and last of its type. No presidential interference in the dressing room: precisely the right message, and precisely the right temptation to avoid.

In the space of a handful of days, Bartomeu -- admittedly a close friend of Rosell's -- has shown how awry things had gone under his predecessor by showing that he will operate the club completely differently.

The players

Although the current era still has its roots way back in the beginning of the modern project, when Joan Laporta won the 2003 election, let's limit this point to the last four-plus years.

Since 2010, this squad has learned that some of them were spied on by private detectives hired by ex-President Laporta. They have seen Guardiola depart, burned out. They have witnessed cancer attack the careers of Vilanova and Abidal.

Since 2010, Barca's players have had four head coaches (Guardiola, Vilanova, Jordi Roura and Tata Martino) plus three presidents (Laporta, Rosell and now Bartomeu).

Since 2010, they have seen Real Madrid lavishly outspend them in the transfer market, while Messi has seen his personal fitness coach promoted away from his successful duties and Andres Iniesta has seen the club get rid of the physio who he was responsible for getting him in shape to win the 2010 World Cup.

Against this backdrop and despite key members of the squad either feeling the breath of Father Time down their neck or wishing to leave, like Victor Valdes, Barca have kept setting unbelievable standards.

Rosell's leaving is just a microcosm of the general toll it takes to be at this club and to consistently attempt to equal or supersede what has gone before.

Yet this squad, even given adjustment and improvements, keeps on tilting at more prizes, greater excellence, more goals, longer unbeaten runs, unbroken league leadership in a calendar year, more Ballons D'Or, more Zamora awards, more Golden Boots, more trophies and more resilience when they are defeated. All in pursuit of one goal: continued domination of the football scene.

Day in and day out they practice, they cope with pain, they burnish their competitive hunger so that it doesn't rust, they cope with boredom, they cope with stress, they produce spectacle and they show pride in their work.

They can't allow temptations or pressure to get to them. They don't even get decent holidays. Do they get enough recognition for doing this while all around them others at the club crumble away for one reason or another? No, they don't.

Goodbye, president Rosell. Before you left, I wish you'd asked Messi, Xavi, Valdes, Iniesta or Puyol what it's really like to put the club first.