Wile E. Coyote versus the Road Runner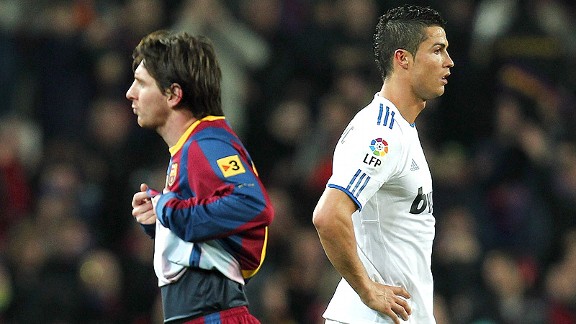 Angel Martinez/Getty ImagesMessi and Ronaldo prepare to face off just as the voting has begun for the trophy C-Ron covets, the Ballon D'Or. Who will get the better of the standoff?
We are all complicit in the building up of the arms race between Leo Messi and Cristiano Ronaldo -- because it's fun, because it's interesting and because it's quite appropriate as they are the twin superpowers of the world game. Irrespective of the silken tapestry of talent available on the lush baize of the Camp Nou on Sunday, and your personal preference might easily be for Xabi Alonso, Xavi, Karim Benzema or Andres Iniesta, many who will watch the 83rd Liga Clasico in Barcelona will have the Argentinian-Portuguese referendum as a tasty side dish.

The debate over which of them is better rages on and can induce bar fights, purple-faced apoplexy and, I very much hope, intelligent debate.

You see the forms for the 2012 Ballon D'Or award have just begun to drop through the letterboxes of FIFA captains and coaches around the globe, and as we speak, the elite band of football writers nominated to add their votes will be scrutinising the criteria and wondering whether to vote with their hearts, their heads or politically.

Whether this subject dwarfs or even equals the importance of the match itself is not something I'm particularly interested in, only that there's a fascinating Wile E. Coyote-Road Runner thing going on here.

The current terms of the award are based on how the player has performed in 2012, how his team has performed, what trophies have been won, what level of excellence he's brought to the game, his fair play and, as something of a tiebreaker, the broad canvas of his career.

Basically, there is sufficient room for manoeuvre that you can select an in-form, top-level player and vote for whom you want in good conscience.

For all the trophies won in May, or the summer, there remains this tempting, delicious window of opportunity between October and mid-December when a really keen candidate can -- if you like the image -- have the last word.

I'm talking about powerful performances in epic games like a Clasico, goals and style in outings for the national team in qualifying for Brazil 2014. These things do win votes. We've always known work colleagues, perhaps even family, for whom the most convincing voice is always the last voice ... but not necessarily the best argument.

So, Wile E. Coyote?

Well, I make no bones about re-emphasising that Ronaldo really, really, really wants to win this award. He's the catcher, the one who's willing to order intricate devices from ACME to get what he thirsts after, the one who wears his heart's desire on his sleeve and then looks agonized if this ain't his day.

Messi is the Road Runner, who looks amused, indifferent, and then presses the super-accelerator button before taking off in a cloud of dust.

Ronaldo has unashamedly set out to prove that he's the best player in the world. Anyone who knows him knows that.

What I respect about him is that this burning current of lava within him doesn't force a fiery path toward him being excessively individualistic. He is a better team player now than he's ever been. It's just been his great misfortune to live in the same era as this unbelievable kid from Rosario, Buenos Aires.

What's more, Ronaldo is one of the principal architects of dragging Real Madrid into this Clasico in better form than you'd have thought possible during the miserable defeats against Getafe and Sevilla and the increasingly amusing rows which regularly bubble up from the Madrid training ground like belches from an overfed gourmand.

Ronaldo has scored when he's off form. He's scored when he's the only one properly on form and now he's scoring for fun. Six in the past two matches, two of which have been divine, particularly the lofted bunker shot over the Ajax keeper on Wednesday night, an elevation and definition which might have aided one or two at Medinah this past weekend.

Messi? Well, he's a bit of an old bag of bewilderment at the moment. About to become a pop for the first time, he's quick to admit that the jet-lag, no-sleep impact has been hard to assimilate since he returned from duty with Argentina a couple of weeks ago. He so adores little kids that you'd imagine this is as stressful for him as for any new parent waiting for a first child to be safely delivered.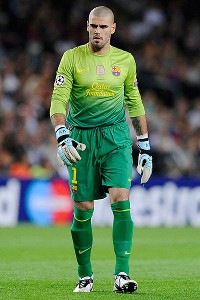 David Ramos/Getty ImagesOne of the key battles in the Clasico will be Victor Valdes trying to stop Cristiano Ronaldo.
They are human, these gods of football.

However, despite the fact that Messi is playing quarterback football right now and reversing his previous answer to why he became prolific, his impact on Barca remains awesome. In seasons gone by, every time you asked him about why his goal-scoring production increased with G-force speed after the arrival of Pep Guardiola, Messi would reply, "Simple, he put me closer to the goalmouth of the opposition."

True it was, but now it's not.

Suddenly looking for Messi is like searching for that five bucks you've lost and finding the note down the back of the sofa. "Oh, THERE it is! How did it get there?"

Deeper and deeper he goes in search of "better" space like a restless author in search of the great American novel.

Yet he's provided Barca's last four assists, scored 10 times already this season and remains capable of zapping from invisible to imperious in the time it takes for the electricity to arrive in the lighbulb when you flick the switch.

So the contrast will be enticing on Sunday. And I'm sure that it will entice a few votes in one direction or the other for the Ballon D'Or. As an aside, yes, I'm aware that the journalistic vote gave Andres Iniesta the UEFA Best Player award a few weeks ago and that his winning the Ballon D'Or would bring the house down in Spain.

But the maestro is more for the cognoscenti, a player who has to perform off the back of an injury absence and may not be quite as ready to make this the launching stage for his late vote run. His chad may have to hang for a game or two.

However, despite all this there are two different battles I'll be more interested in this Sunday when the Clasico gets going. Ronaldo not only comes into this match with six goals in his past two games, he has four in his past four visits to the Camp Nou. His battle with Victor Valdes has suddenly tilted, firmly, in his direction.

Meanwhile, Messi's battle with Iker Casillas is an epic, truly a long-running, 45-chapter novel worthy of Dickens or Balzac.

The Barca kid rammed a hat trick past Casillas to announce his arrival back when the Catalan side were clinging onto Madrid's coattails and then commenced to cut Casillas' back four, and his goal net, apart as if he had a scalpel in his boots. Goals on the run, goals from distance, fox-in-the-box goals, dead-ball goals -- the lot.

Then, gradually, both Madrid and Casillas got a grip. The goal flow has gently tapered downward. Casillas utterly loves the challenge, and Messi appreciates that.

This week, Messi told my friend Luis Martin in El Pais: "I had great fortune to score repeatedly against Iker when I began playing Madrid and I hope it continues, but he's saved many, many goals against me, too. He's one of the best I've seen, very quick, very talented. Winning against Madrid is the best, it's just so important to everyone in every sense and you remember all of them. That's also because they are very, very good. On the break, they'll bury you and their transitional play is lightning quick. Perhaps I best like playing at the Bernabeu because winning there is great, of all the Clasicos perhaps I'll take the Champions League semifinal win in Madrid as the best."

And it's the speed of Madrid which is beginning to trouble Barcelona. As a unit the Spanish champions are more confident about their identity, their play and what to do if they fall behind against any rival. But it's the Ronaldo-Valdes thing which interests me, too.

For a long time, Valdes earned his corn as the single most successful one-on-one goalkeeper I've seen since Peter Shilton and Peter Schmeichel.

But what Ronaldo has been doing for some time now is avoiding such situations when trying to score against Barca. His heading power has always been awesome, but he also now strikes the ball quickly when he sees a chance to attack Valdes' goal. Don't let the keeper get set, don't try to go into "whites of the eyes" territory. It's a little thing, but scoring rates like his goal per game across what will soon be 160 appearances for Madrid are fueled by such filigreed preparation.

It's a truism that whichever goalkeeper does best on Sunday will go a long way to winning this match for his team, but how Valdes copes with Ronaldo (a striker who could literally haunt your dreams) and Casillas fends off Messi (a lad who must have cost the Madrileno some sleep in seasons gone by) will interest me as much as the title chase, the Ballon D'Or, the clamour over Catalan roars for independence (which we'll inevitably hear).

I can practically taste it now. Bring on the world's greatest football match.